Finding the right Numpad for you isn't easy. Someone who is looking for a separate Numpad typically needs it for a reason, so ensuring the Numpad fits their needs is important.
Typically, most people would simply use the inbuilt Numpad that most keyboards or laptops have. For some of us though, that isn't an option.
Ensuring you get a Numpad that fits your hand comfortably and works well is just as important as finding one that looks cool. If you happen to find an ergonomic one that has switchable keycaps, well, that's just perfect.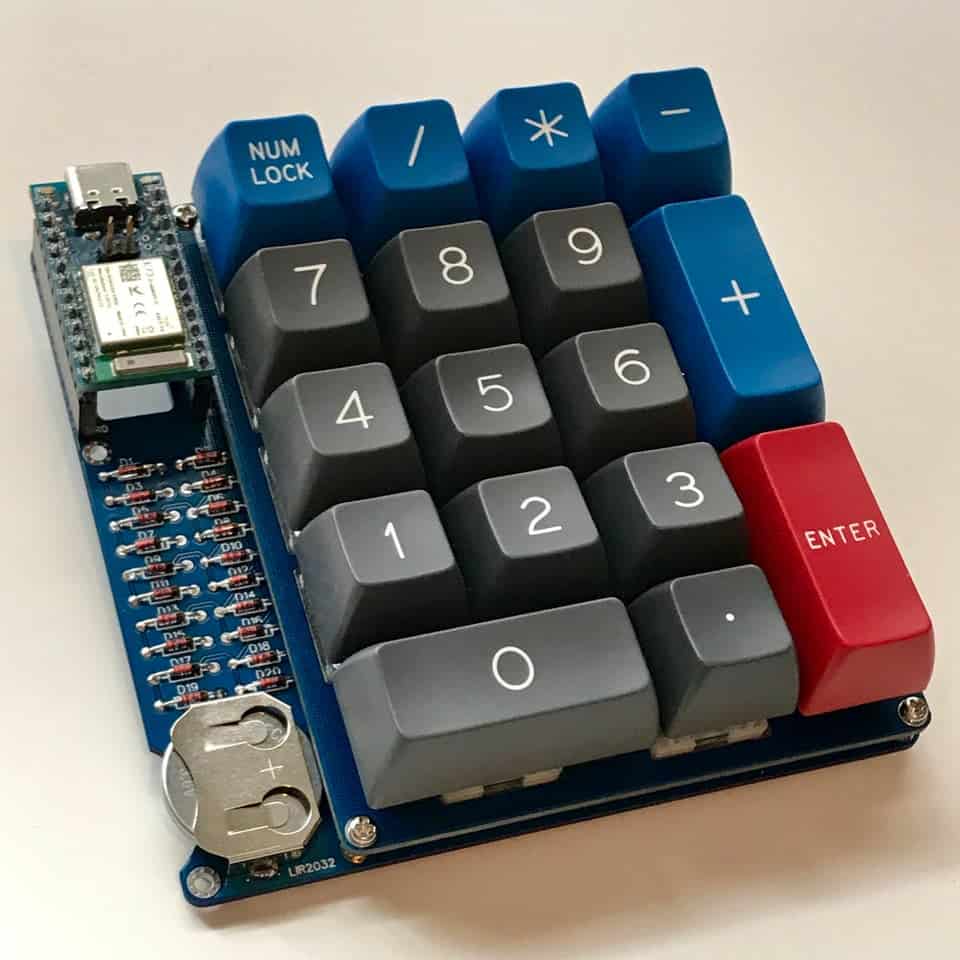 This article is going to cover not only why you might want a Numpad but why you might want a mechanical one specifically. We will also briefly touch on what makes a good mechanical Numpad before launching into what I think the 5 best mechanical Numpads are.
If you were hoping for a quick and easy-to-digest answer, the table found before the reviews here to help. Just find it and click on it in the table of contents to skip right there!
What are Numpads used for?
A Numpad is most often used for doing mathematical sums and calculations easily. The standard Qwerty keyboards contain all the necessary numbers and symbols along its top row, so it is still possible to do these calculations without a Numpad.
However, the Numpad is far easier to use and much quicker for someone comfortable with the layout of a calculator. As you can see, the Numpad has its functions and numbers arranged just as you would on a calculator, phone, or any other kind of mathematics device. The position of each key is already ingrained in our brains to some extent unless you never grew up using any kind of calculator.
Furthermore, the ability to use one hand alone to do your calculations makes performing other functions far easier. You can use your left hand to navigate the computer as normal, typing in letters as needed when using processors such as excel, while freeing up your right hand to quickly enter long strings of numbers.
The Numpad can also have programmable functionality such as additional arrow keys, page up and down keys, or standard punctuation functions. This increased functionality is invaluable for anyone who spends a lot of time pouring over spreadsheets and whatnot. Even someone who doesn't ordinarily do that many calculations can benefit from the increase in usable keys.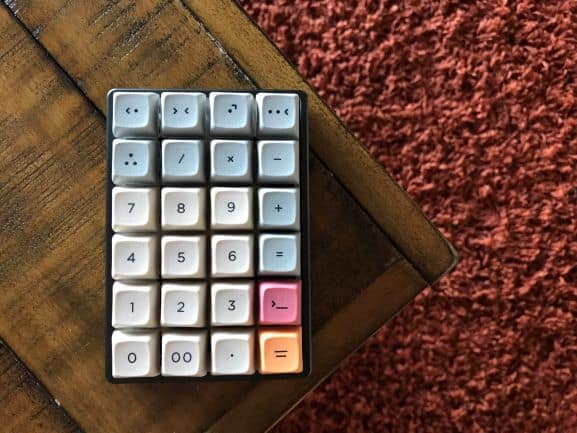 Not all keyboards come with a Numpad as default. Smaller keyboards often sacrifice the Numpad for size and portability, gaming keyboards especially as they see very little use in most games. That being said, some games would benefit from the extra keys.
Having a detachable Numpad that you can bring with you and use only when needed is far more convenient. It would fit inside your laptop bag alongside a small keyboard, whereas if they were forcibly joined neither might fit at all.
Why Might you want a Mechanical Numpad?
There are quite a few reasons that one might want a mechanical Numpad. Aside from the above-mentioned functions of a Numpad, that are obvious reasons you might want one, there are a few more that are more to do with comfort than function.
A separate Numpad allows you to reposition that part of your keyboard to any part of your desk or workspace comfortably. Since someone with arthritis or carpal tunnel syndrome will find typing hard, being able to make micro-adjustments to benefit each hand. Since using one keyboard can be so painful, a separate Numpad might not only be recommended but needed.
Why you might want a mechanical Numpad specifically is a little bit more preference-based. For example, if you are someone who prefers a more tactile and sensory feedback based keyboard a mechanical keyboard is surely the way to go.
Mechanical keyboards typically have a lower point of actuation as well as a "click-clack" feedback noise to help you know when the key has been fully pressed down.
For someone doing fast calculations knowing that you have indeed fully pressed the key down is important to ensure you don't make any mistakes. When you are typing, miss-spelling a word can always be amended later on. It might impact the flow of the work if left uncorrected but it isn't all that problematic with a little reviewing.
With calculations though, if you mistype and don't immediately catch it every single thing else you type from that point on will be wrong. Or at least different than what you were expecting. It cant be edited out either, you would be forced to start again.
Imagine if you were typing out a long email at work and you later realized you misspelled a word right at the beginning. But, instead of being able to cut the word out and replace it, you had to delete everything and start over. Accuracy on the Numpad is important.
The 5 Best Mechanical Numpads
Price comparison chart for all 5 Numpads:
| Numpad | Price Comparison |
| --- | --- |
| Cherry G84-4700 | $$$ |
| Jelly Comb Mechanical Numpad | $ |
| ABKO Hacker k522 | $$$$ |
| Varmilo VA21M Panda | $$ |
| Real Force 23 U | $$$$$ |
Per Amazon rules, I can't disclose exact prices. This is a visual representation of the price compared to each other. The more "$" means a higher price comparatively.
So, the 5 best mechanical Numpads can be found in the following section. They are in no particular order, as best is so subjective.
These 5 are well balanced, weighing price and functionality against style and customizability. Any of these 5 Numpads would be a great addition to your arsenal of keyboards, so it's perfectly fine to pick your favorite based on design.
None will break the bank, but be prepared to pay for different keycaps if the base ones don't suit your style.
Remember, a good Numpad can make the difference between comfort and pain if you have carpal tunnel. So trying to find the most ergonomic one is heavily advised.
Cherry G84-4700
First, we have the Cherry G84-4700. This Numpad is perfect for travel and transportation. It is small. Very small. It is only about 2 inches by 4 inches, making it easy enough to fit into your pocket.
If you are familiar with the brand cherry, you know you are getting a high-quality product. They have a reputation for quality and value for a reason. Since it is cherry, you should know that you are going to be getting a very customizable product too.
All cherry products are compatible with each other. If you want to switch out the switches, keycaps, or even software it is simple and easy to do. Or, at least it is simpler and easier to do than competing products.
Features
The Cherry G84 might be small, but it makes up for it in functionality and customizability. You wouldn't think such a small Numpad could do so much, but it does.
Because it is so customizable, most of its features are based around what YOU can do to this Numpad. If you are someone who doesn't see the appeal of programming your Numpad to do cool things, then many of these features will perhaps be uninteresting to you.
Here is a breakdown of all the most important features of this Numpad.
Very small and lightweight, perfect for carrying around with you or fitting into even the tightest of workspaces.
Keycaps can be switched out for any cherry keycaps, or most other brands to be fair, so you have a lot of creative freedom.
Cherry MX switches are top of the line.
Programmable keyboard to increase functionality.
Various inbuilt double function keys.
Black and gray simple design – professional looking (if you want it to be).
Low profile switches, comfortable point of actuation.
Final thoughts
This Numpad is great, it does everything you could want a Numpad to do. Cherry has made it easy enough for you to make the Numpad your own if you so wished.
You could argue that being so small has its drawbacks, if you have big hands this might make it harder for you to use. While its programmability is good if you aren't comfortable doing this the price of the Numpad may outweigh its value to you.
If you'd like to learn more or read more reviews, check it out on Amazon.
---
Jelly Comb Mechanical Numpad
This is the best "budget-friendly" keypad on this list. The Jelly Comb Mechanical Numpad is precisely what you are looking for if you want a Numpad that feels like you are typing on an older calculator.
It has high profile springy keycaps that will provide the much sought after click-clack sound so many people crave from mechanical keyboards and Numpads alike.
It has ergonomically shaped keys making it comfortable as well as easy. The curve and shape of the keys vary from top to bottom, making it more comfortable for your fingertips than most other Numpads'.
Features
The Jelly Comb Mechanical Numpad is not as programmable as, say, the Cherry. But it does a good job of being sleek and simple. If you arent confident in your programming ability, the Jelly Comb might be for you.
If you suffer from carpal tunnel, then this Numpad is definitely for you. Here is a breakdown of all of the Jelly Comb's most important features:
Simple and sleek design, very smart looking, perfect for the office.
High profile keys.
Very tactile feedback.
Braided USB cable – long-lasting hard to damage.
Very, very, ergonomically shaped.
Curvature for comfort and pain relief.
Cherry MX switches.
Final thoughts
The Jelly Comb sacrifices increased functionality for comfort. This isn't necessarily a bad thing unless you are someone who needs the extra functions.
It cannot be programmed to do as much, at least not easily, so you are going to have to rely on other keys elsewhere for extra functions. But, you are going to find it very comfortable.
If you have arthritis or carpal tunnel, then this Numpad might just be your saving grace.
If you'd like to learn more or read more reviews, check it out on Amazon.
---
ABKO Hacker k522
This Numpad is another one great for traveling. Since it is wireless, you are going to find it very easy to pack into your laptop bag and use it in tight spaces.
It does everything a Numpad needs to do and does it well. The ABKO Hacker k522 is very similar to the Jelly comb in a lot of ways. It too is very ergonomically designed, it too curves to the fingertips to make it easy to use each key. It too has a raised profile which can be seen as good or bad depending on your perspective.
But, what it does differently is providing you a few more function keys. These plus the fact it is wireless will likely be the decider when choosing whether or not this is the keyboard for you.
Features
The ABKO Hacker K522 is a great little wireless Numpad. If you are looking for portability, this is the one for you. If you aren't a fan of battery-powered keyboards in general, then it perhaps isn't. Here is a breakdown of all the most important features of this Numpad:
High profile keys.
Ergonomic in shape, layout, and key design.
22 keys (more than many other Numpads').
Braided cable – strong and long-lasting.
Cherry MX Switches.
Backspace + Tab keys.
Sleep function to improve battery life.
Final thoughts
The ABKO Hacker k522 is a great Numpad, it does everything that you could want and does it well. Its only real problem is the battery life, which isn't the best. It's not terrible, but it can be a bit of a let down if you cant charge it often.
If you are traveling and the Numpad dies, well then you're out of luck. This isn't a fault of this Numpad in particular, but all battery-powered ones.
Many people don't like the extra keys, as they mean increased size. But, if you require extra functions then, of course, that can be seen as a good thing.
If you'd like to learn more or read more reviews, check it out on Amazon.
---
Varmilo VA21M Panda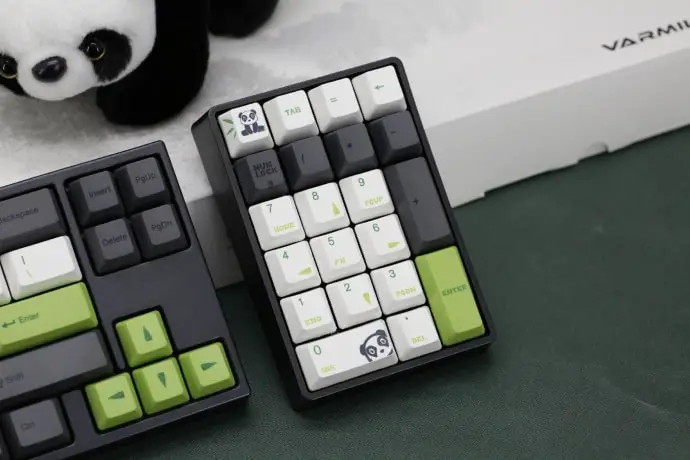 This Numpad is one of the "Budget-friendly" ones on this list. Being just slighty more then the jelly comb. The price will depend on the specific sub-model that you choose.
The Varmilo VA21M panda is just one particular design that you might want to choose from, in my opinion, it is one of the best.
This Numpad is compatible with most cherry switches and keycaps, so you are going to have a lot of creative freedom. Unlike the other Numpad's on this list, this one comes in a nice array of colors allowing you to have some immediate creative freedom. Not just with aftermarket products.
Features
The Varmilo VA21M Panda is a great Numpad for its price, it doesn't quite have all the bells and whistles that some of the alternatives have, but it still holds up quite well. If you are looking for a product that is cheap in price, but high in quality, this one is for you. Here is a list of all the Varmilo's most important features:
Cherry MX switches (but can be others, if you like).
Multiple different default colors, not just black.
6 key rollover.
Compatible with all operating systems.
Low price
Very sturdy and resilient.
It comes with a 60-inch cable, so although it isn't always wireless it can be positioned almost anywhere.
Final thoughts
The Varmilo is a great Numpad. If I had to choose one for someone who is getting their first Numpad but isn't too sure they will use it every day, I would choose this one.
I like the fact there is a panda on the Numpad, but if you don't that's fine too. You can easily switch the keycaps off for any other Cherry keys. That's part of what makes this Numpad great.
If you were hoping for programmability, you are out of luck. While it can be done it isn't very easy and there are very few functions you can create without a lot of prior programming knowledge.
This one isn't available on Amazon. Check it out at mechanicalkeyboards.com. There's also a matching keyboard by this company at Amazon.
---
Real Force 23 U
The Real Force 23U is both the plainest and simple looking Numpad and the most customizable. It is quite an interesting choice, as you will soon see.
The real Force makes use of 4-dip switches so the Numpad can be various physical settings. That plus the programmability of the device means you can make this Numpad your own, feel free to tweak it to your heart's content.
It is the most expensive on this list, but the price is by far worth the product you are getting in return.
Features
The Real Force 23U does everything you could want a Numpad to do. It has untold customizability, which is limited only by your willingness to learn and your creativity. Here is a breakdown of all its most important features:
Customizable keycaps.
Black on Black design.
4 Dip Switches.
Cherry MX switches.
High versatility and programmability.
Customizable keys.
23 keys.
Tactile switches but relatively quiet. Great for the office.
N-key rollover.
Final thoughts
This Numpad is by far the best on this list if the price is not a problem for you. It does everything well, it can be changed and molded to be whatever you need it to be.
That being said, it can be hard to get your head around some of its more complex settings.
If you don't like the black on black design, you will need to pay for a new set of caps. Which, on top of the price of the Numpad itself, might be a bit much to stomach in one go.
If you'd like to learn more or read more reviews, check it out on Amazon.
---
Conclusion
Hopefully, this article has made it easy for you to decide which Numpad is the right one for you. Or, at least easier. Finding the right one can be a little tricky, once you get it right though it's well worth it.
If you are willing to learn how to make the most out of your Numpads programmability, you are going to get way more bang for your buck buying either the Real Force or the Cherry.
If you are looking for simplicity, then go for the Panda. If you are looking for a balance of both, then either the ABKO or the Jelly Comb might be right up your alley.
Good luck and happy typing!
If you want to see more of my product reviews, check out my Guides and Reviews category!