Mechanical Numpad has become a trendy input device in today's business and gaming industry. The perfect substitute to full-length keyboards capable of inputting numeric data and being programmed to perform other functions, mechanical Numpads are just easier to handle. For today, we've got another one of the popular mechanical Numpads in the market – the ABKO Hacker K522 Mechanical Numpad. 
You might be wondering, is the ABKO Hacker K522 a good mechanical Numpad option? Well, that's precisely what I'm here to tell you.
In this article, I will talk about the build quality, design, keycaps, switches, features, pros and cons, and everything in between of the Hacker K522 mechanical Numpad. I'm going to provide you all with a complete ABKO Hacker K522 Mechanical Numpad review. So, before you make any buying decision, make sure you read this article till the very end.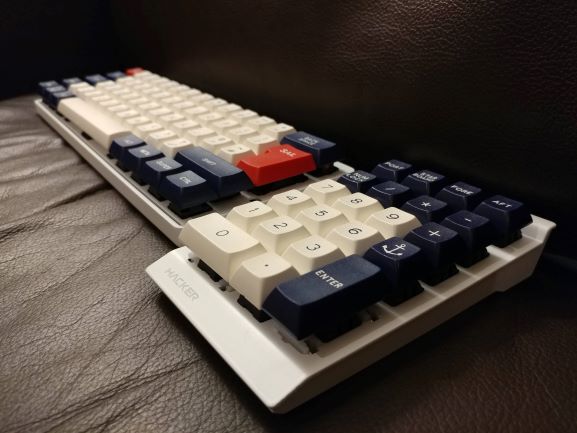 In a hurry? Get the ABKO Hacker K522 on Amazon!
What's in the Box?
When I bought the K522 mechanical Numpad, I found the box pretty normal and compact, while upon opening the box, the packaging was fairly neat and tight. Here are the things that I found inside the box of the Hacker K522 Numpad.
The Numpad Itself.
USB Power Cable (Attached).
Instruction Manual for usage ease.
Suppose you expected it to have additional accessories like a keycap puller, extra keys, or other elements. In that case, I'm afraid that's not the case, but that's because it is meant as a Numpad and not a full-on standard-sized keyboard, so the lack of additional accessories is justified and shouldn't be considered a flaw when it comes to the ABKO Hacker K522 Mechanical Numpad.
Beautiful Design and Good-Quality Build
The ABKO Hacker K522 Mechanical Numpad is a compact Numpad featuring 22 keys, including a few additional function keys that provide a lot of ease of use to the user when it comes to software or gaming usage. Still, it comes for quite a high price at the same time.
This mechanical Numpad comes with a step-up sculpture that is quite ergonomic and feels natural to the user's fingers. Along with that, it comes with a stylish and elegant design that makes it perfect for any computer setup.
The curves and edges of the Numpad are amazing, and there are 4 rubber feet at its bottom which is good for keeping it in place and prevent it from sliding. The K522 comes with a metal body that is heavy and solid.
Overall, the design and build quality of the ABKO Hacker K522 Mechanical Numpad are both great. It is built to last a long time because of the durable and strong design. So, these elements are surely some of the strong points of the ABKO Hacker K522 Mechanical Numpad.
Decent Keycaps and Legend Imprints
The keycaps on this mechanical Numpad are made of low-quality ABS plastic, which feels incredibly smooth when touched. That is the only bad part when it comes to the keycaps of this mechanical Numpad because these keycaps aren't very durable.
The legends on the keys are imprinted through the laser printing process, which introduces a beautiful look and provides no bump when you're using the keycaps. The Laser-printed legends are also fade-resistant, which is a great functionality.
Including that, everything from the look of the keycaps to the plastic's feel and everything else is great. Overall though, I think they could've done a much better job and could've gone for PBT keycaps with the overall pricing they've put on the mechanical Numpad.
Amazing KAILH Blue Mechanical Switches
One of the best things about this mechanical Numpad is the key switch used in it. The Hacker K522 utilizes the KAILH Blue Mechanical Clicky switches, which are amazing without any doubt.
The Actuation point of the KAILH Blues is high, and the switch's tactility is superb as well. The keypress requires more force than standard keyboards and Numpads, which gives you the mechanical feel. The acoustics of the keys are pretty hearable; that's why these switches are dubbed Clicky.
Overall, the keypresses are smooth, comfortable, mechanical, and provide an amazing tactile bump. They're almost at the same level as Cherry MX Blue Mechanical switches, saying a lot for them. So, in terms of mechanical switches, the K522 is a real beauty.
Power Cable
When it comes to powering up the Numpad, you're going to need a USB port because it comes with an attached USB cable that is finely insulated and is pretty long in length.
The cable is approximately 5.9 feet long, which is pretty great because a longer cable helps in ergonomic usage. You don't have to tug on or stretch to use the Numpad continuously; you can use it from a good distance without experiencing any problems.
Great Features of the ABKO Hacker K522
So, you're interested in what the ABKO Hacker K522 Mechanical Numpad has to offer in terms of features? Lucky for you; I've made a list of all the great things I found in the Numpad that you'll enjoy if you buy it. Let's take a look at these features.
Compactness – When it comes to compactness, this Numpad is exceptional because it packs many great functions in a small form-factor and can be used next to a TKL keyboard or on its own if you're performing data-entry functions.
Stylish Design – The color, printing, as well as curves and edges make for a beautifully designed mechanical Numpad that looks and feels gorgeous, minimalistic, and quite decent next to all your computer setup components.
Mechanical Keys – The Numpad uses KAILH Blue mechanical clicky switches, which are on-par with the Cherry MX Blues in terms of acoustics and tactile feedback overall clickiness of the keys, which feels incredible to mechanical switch enthusiasts.
Num Lock and Tab – Using the Num Lock function, you can access the secondary functionalities of all the keys on the K522 Numpad, and there's also a Tab function on the right-end, which makes data entry pretty easy and efficient.
Ergonomic Design – The ABKO Hacker K522 Mechanical Numpad comes with a decently ergonomic design due to the step-up sculpture and inclined placement of the keys for a natural finger feel.
A Few Problems with the ABKO Hacker K522
Before you order your own ABKO Hacker K522 Mechanical Numpad, there are a few things that you should look at. There are a few demerits and flaws in this Numpad, along with the many features and benefits. Here I've talked a bit about them.
ABS Keycaps – The keycaps used in this Numpad are made of ABS plastic which is honestly a letdown. ABKO should've included PBT plastic keycaps at this price, which would've been better in terms of quality and durability.
Expensive – Another problem with this Numpad is that full-sized keyboards come for less than its price. So, you might have to think twice before you buy this Numpad.
No RGB – RGB is a huge factor in the gaming use of any peripheral. The ABKO Hacker K522 doesn't feature RGB, which takes away a bit of gaming glam from it, in my opinion.
ABKO Hacker K522 vs Jelly Comb Mechanical Numpad
On its own, the ABKO Hacker K522 Mechanical Numpad seems fairly decent, but when compared to another incredible product from a popular competitor, the Jelly Comb Mechanical Numpad, how does this mechanical Numpad fare? Let's take a look.
When it comes to mechanical switches, the K522 is superior to the Jelly Comb Mechanical Numpad because of the better quality KAILH blue switches compared to the Outemu Blue switches that are used in the latter mechanical Numpad. The same is the case for legend imprinting and many other features as well.
But when it comes to the Jelly Comb Mechanical Numpad's splash-proof ability, the K522 doesn't have an answer. Also, the affordability is where Jelly Comb beats the Hacker K522. But the build quality of the ABKO Hacker K522 is worth the price, in my opinion.
Is the ABKO Hacker K522 worth the money?
Finally, the million-dollar question is, is the ABKO Hacker K522 Mechanical Numpad worth the money? Yes, I believe it is. The amazing switches, along with the steel body, laser-printed legends, sleekness, and the overall beauty of the Numpad and its functionality, make it a great choice. And you should surely get it if you're interested in it.
Interested? Get the ABKO Hacker K522 available on Amazon
Conclusion
The ABKO Hacker K522 Mechanical Numpad is an amazing mechanical Numpad that is highly effective when it comes to work and casual usage as well. But that's only the case if you've got a huge budget. 
I assure you if you buy this Numpad, you're going to have an incredible time using it. But if you don't have the funds to get it, I would suggest you go for a cheaper alternative like the above-mentioned Jelly Comb Mechanical Numpad or another similar device. Overall, getting this Numpad would be a good decision in the long run. So, if you have plans for the future and you want to invest in something that would help you with your projects, this would be a great choice. I hope you have an amazing keyboarding experience!