Whether you're looking for a mechanical Numpad for your spreadsheet or work-related calculations, or you're thinking of getting a few extra keys along with your compact TKL mechanical keyboard, the Jelly Comb Mechanical Numpad might be exactly what you're looking for.
You might be wondering, is the Jelly Comb Mechanical Numpad any good? If that's the question whose answer you're looking for, then you're in the right place. Because that's precisely what I'm here to tell you.
In this article, I will talk about the build and design of the Jelly Comb Mechanical Numpad, the features, pros and cons, value, and everything in between. I'm going to review the Jelly Comb Mechanical Numpad completely. So, make sure you read this article completely before you make a buying decision.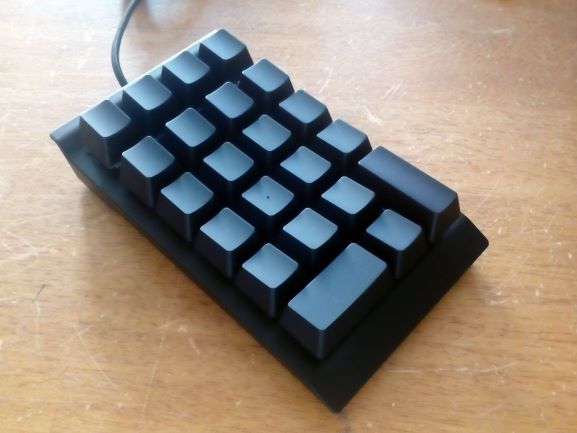 In a hurry? Get the Jelly Comb Mechanical Numpad on Amazon!
What's in the Box?
This mechanical Numpad comes in a compact and well-designed box. Once you've bought the mechanical Numpad, here are the components you're going to see upon opening the box.
Jelly Comb Mechanical Numpad
USB Power Cable
Instructional Manuals
There aren't any excessive elements and components like a keycap puller, extra keycaps, or anything, but that's because the Jelly Comb Mechanical Numpad is very cheap and already offers more than other Numpads in the same price range, also because it is a smaller compact Numpad and not a full-fledged standard keyboard.
Decent Design and Strong Build Quality
The Jelly Comb Mechanical Numpad is a compact Numpad with 22 mechanical keys offering a lot more than just basic numbers and special character input to the user.
The mechanical Numpad design is quite a small form-factor and compact even though it houses many more keys than a regular mechanical Numpad. There is a steel front plate that provides a bit of strength and durability to the Jelly Comb Mechanical Numpad. The Numpad looks very sleek, and even though the base of the frame is made of plastic, the stability and durability of the Jelly Comb Mechanical. 
Numpad is very great, and it can withstand a lot of force, offering no flex whatsoever. Overall, the design and build quality of this mechanical Numpad is one of this keyboard's better qualities. For an affordable price, you're going to be satisfied with what you're getting in this Numpad.
ABS Keycaps and Pad Printed Legends
This Numpad uses standard ABS keycaps, which aren't the most premium in quality, but the feel of the keycaps' smoothness is quite good, and the overall keycaps look very nice as well.
If you're concerned about the legend imprints, they're pad printed which means that there are chances of fading away over time if you've used the Numpad for quite a long time.
In comparison to other Numpads having PBT keycaps and Laser printed legends, this mechanical Numpad doesn't stand out, and that's a huge bummer seeing that the rest of this mechanical Numpad feels pretty great.
Incredible Clicky Outemu Blue Switches
At such a small price, finding mechanical switches can be virtually impossible. Still, Jelly Comb has come up with a great option that allows you to get the amazing clicky tactile feel of mechanical keys at a small price. The Jelly Comb Mechanical Numpad uses Outemu Blue Clicky mechanical switches. These switches are pretty great in comparison to the Cherry MX Blue mechanical switches.
They provide a very nice tactile feel, and the acoustics are pretty loud as well. The clickiness is amazing, and the mechanical feel of the Outemu blue switches is pretty incredible. So, if what you're looking for are mechanical switches that come with a loud clicking sound and a huge tactile bump, then this mechanical Numpad has what you want in the form of Outemu Blue switches.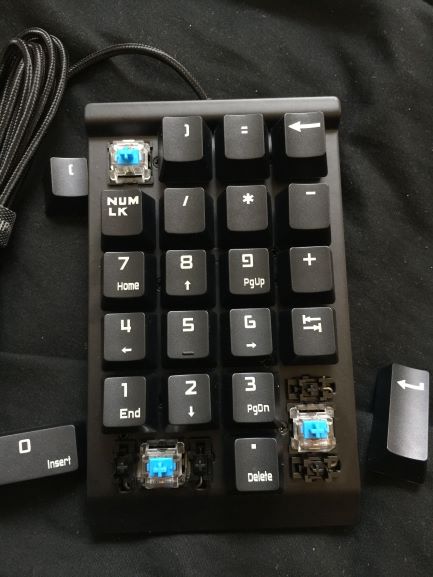 Power Cable
Usually, mechanical Numpads from other companies come with standard insulated cables short in length and cause tugging and stretching problems reducing ergonomic feel.
But when it comes to the Jelly Comb Mechanical Numpad, it comes with a 5 foot USB braided cable that you can use at a good distance from your computer without feeling out of place or uncomfortable. This cable ensures that you have quite an ergonomic experience with your Numpad usage.
Amazing Features
The Jelly Comb Mechanical Numpad has more than any I've used up to this point when it comes to features. For reference, here is a list of all the incredible features that the Jelly Comb Mechanical Numpad comes with, so you don't have to scour the internet.
High-Quality Mechanical Switches – Finding a mechanical Numpad is difficult in itself. But finding a mechanical Numpad that offers high-quality Outemu blue switches at a small price is nearly impossible. That's why when Jelly Comb provided mechanical switches in their mechanical Numpad along with a reasonable price, it was a great move, one that gamers and workers loved a lot.
Compact and Sleek Design – The overall design of this mechanical Numpad is exquisite. Usually, Numpads are simple squares or rectangles. Still, when it comes to the Jelly Comb Mechanical Numpad, it is compact and has many curves and edges that make this Numpad beautiful and sleek in design.
Splash Proof and Drop Resistant – Another feature that you might only see in full-sized keyboards is splash-resistance. Well, Jelly Comb has made their Mechanical Numpad splash-proof and even drop-resistant, which reduces the possibility of it getting messed up due to accidents very slim, which is great.
Plug and Playability – One great thing about this mechanical Numpad by Jelly Comb is the fact that it doesn't require you to install any drivers or software applications to get it started. All you need to do is plug in the device, and the plug-and-play feature of this Numpad will allow you to use it right away without a problem.
Affordable Pricing – Typically mechanical Numpads are very expensive. Niche keyboard manufacturers are designing mechanical Numpads, and due to their high-end features and element components, they've priced them quite high. But Jelly Comb has made things perfect for computer users because they've priced this Numpad very affordable.
Smooth Keypress – Although the Numpad uses ABS keycaps with pad-printed legends, the keycaps are still of decent quality. This decent quality allows the keycaps to feel very smooth and good to the fingers. That's why the overall keypress and feel are great compared to other Numpads you might find in the market.
Num Lock Functionality
There is also the Num Lock button present in this keyboard, which allows you to use the additional secondary functionalities assigned to the Numpad keys. This works like a charm for the people who're using this Numpad for work-related computer usage, especially spreadsheet editing and creation.
A Few Demerits
Now that we've looked at the features and benefits let's look at the other side of the coin and look at what Numpad's problems have. Even though the price point of this Numpad is tiny, there are some problems I couldn't overlook.
Keycaps and Legends – As I said before, one of the few things I disliked in this mechanical Numpad is that the keycaps are ABS. In contrast, they could've been PBT, and the legend imprints are pad printed instead of laser printed, which is also quite a bummer because these things make them less durable.
Customization Limitation – There isn't any customization software that allows you to change the mappings or reassign different keys and their functions to other keys even if you want, which isn't the best thing this mechanical Numpad.
No RGB lighting despite open design – If you're a gamer and use this Numpad next to your beautiful RGB backlit gaming keyboard, the Numpad would look tame because there is no RGB lighting in the keyboard despite the open switch design that this mechanical Numpad comes designed with.
Interested? Get the Jelly Comb Mechanical Numpad available on Amazon
FAQs
Is the Jelly Comb Numpad Worth the Price?
So, the million-dollar question that arises is, is the Jelly Comb Mechanical Numpad worth the price? Yes, I believe it is. Even though there are a few problems with this Numpad, the features and benefits outweigh the cons, and the overall price is so slim that you're going to find incredible value with this Numpad. So, if you've got a slim budget, you should buy this mechanical Numpad and have a go at it, because in my personal opinion, it is a cool gadget without a doubt.
Does the Jelly Comb Numpad Work with a Mac?
Many users have issues using the Jelly Comb Numpad with a Mac operating system. This keypad is better suited for Linux and Windows. With an adapter, this keypad can work great. However, out of the box, this keypad is not a good option for Mac users.
Does the Jelly Comb Numpad Work with a Chromebook?
The Jelly Comb Numpad works fine on a Chromebook but some users report issues with the num lock key. This is an issue with the operating system and not the keypad itself. If you're looking for full functionality you may need to look for another Numpad. But if all you need is the top layer, (numbers only) then it's a good choice for Chromebook.
How to Get the Other Keys on Jelly Comb Numpad to Work?
To access the other keys on a jelly comb Numpad, such as backspace, arrow keys, del, ins, etc, you will simply press the Num lock key. If the blue light is on, then you are in num lock mode and will be able to access the second "layer" on the keypad.
Conclusion
The Jelly Comb Mechanical Numpad is a great option if what you're looking for is a solid, good-looking, standard Numpad device to put next to your compact 60% or TKL keyboard for a full keyboard feel and gaming or work usage. Here we have discussed the pros and cons of a popular mechanical numpad. If you liked the features of Jelly Comb Numpad, it's time to make it yours!
So, I'd say you should surely get it if you're dealing with a small budget. I assure you, you're going to have a great time using this mechanical Numpad and that you're going to be satisfied with your decision. I hope that you have an amazing keyboarding experience with your Jelly Comb Mechanical Numpad.