Mechanical numpads come in extremely handy for calculation work and provide you with extra buttons if your software work requires it or the video game you love to play. For these reasons and more, ROTTAY has stepped forward and brought forth their affordable and accessible ROTTAY Mechanical Numpad out in the market.
You might be thinking, is the ROTTAY Mechanical Numpad any good; Well, that's exactly what I'm here to discuss with you.
In this article, I'm going to talk about the ROTTAY Mechanical Numpad, its design, build quality, features, and specs, along with all the pros and cons it comes with. I'm also going to be answering a few frequently asked questions, so make sure you read this article completely before you end up making a buying decision regarding this numpad.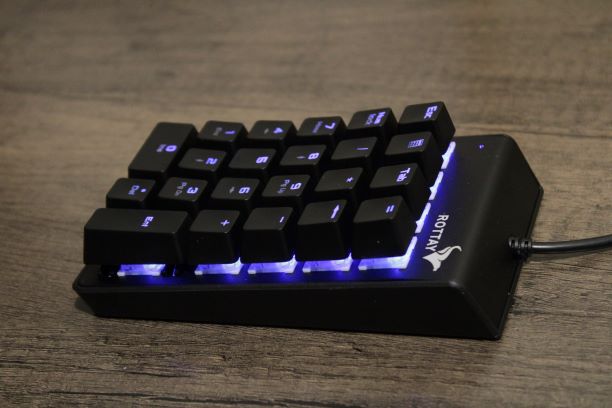 In a hurry? Get the ROTTAY Mechanical Numpad at Amazon.com!
ROTTAY Mechanical Numpad
ROTTAY Mechanical Numpad is a numpad that comes with high-quality mechanical switches and 22 dedicated individually functional keys with Blue LED backlighting in a compact form.
It is one of the cheapest and most affordable mechanical numpads you can find in the market, and it comes with many amazing features. So, naturally, I had to get my hands on one of them. So I ordered one for myself to review.
What's in the Box?
I received my package of the ROTTAY Mechanical Numpad a couple of weeks ago and only recently opened it. My first impressions were of amusement because I didn't expect such a decent casing for a cheap mechanical numpad like this one.
It was decently packaged and pretty safe inside. Upon opening the box of the ROTTAY Mechanical Numpad, here are some of the components and things I found inside:
ROTTAY Mechanical Numpad
User Manuals
At this price range, you can't expect much more than this. I always like a keycap puller or a key switch puller as an add-on in these packages, but I haven't been blessed with these add-ons as of yet; no worries, though.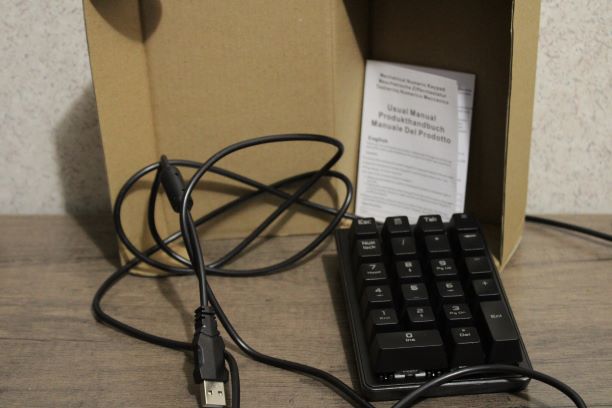 Ergonomic Design and Decent Build Quality
Now let's get to the meaty part of the review. The first thing I did when I opened the box is, I took the numpad in my hand. It is pretty light-weighted even though it comes with all mechanical switches.
There is a step-up keypad design to this mechanical numpad which makes the overall usability of the numpad quite ergonomic. This, along with the rubber feet on the back and the height adjustability kick foot make for a pretty comfortable numpad using experience. 
The frame is made of high-quality plastic on the build side of things and has no flex to it whatsoever. The good thing is that the durability of this numpad seems strong enough that it might last you a decent amount of time or until you're going to want to change your numpad. Overall, the ergonomic design decent build quality of this numpad at such a chill price range makes for a great keyboard on the surface, but there are a few things yet to be seen.
ABS Keycaps and Legend Imprints
Now that we've seen the build and design of this mechanical numpad, let's get into the keycaps and legend imprints of the ROTTAY Mechanical Numpad and see what good and not so good we can find.
First off, a bit disappointed with the ABS plastic keycaps because they're definitely not as durable or feel as good as PBT keycaps, but I can't complain much since ABS keycaps are alright at this price range. The legend imprints, on the other hand, are still something to be proud of. 
They're fade-free legends, and the printing font is decent as well. So, you can type and use them as much as you want, the printing won't fade.
There's both good and bad in the ROTTAY Mechanical Numpad when it comes to keycaps and legend imprints, but at a price this cheap, I won't hold the ABS keycaps too much against this numpad.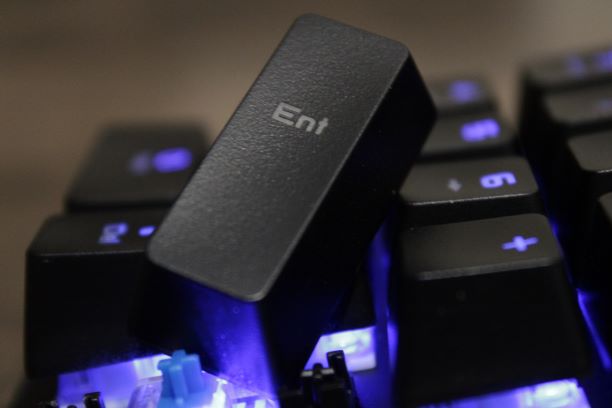 Blue LED Backlighting
Getting a bit of LED lighting is never bad for a keyboard or a numpad, but companies seldom go this route when trying to save money on a numpad to create a market competitor.
ROTTAY needs to be appreciated for this step because their mechanical numpad comes with a 100% Blue LED backlighting that gives off a clean and crisp look to the numpad.
Another great thing about this backlight is that you can control it using the multiple LED pattern options available. You can even turn it off if it's not what you dig in a mechanical numpad.
Impressive Outemu Blue Clicky Mechanical Switches
Typically, keyboard enthusiasts expect Cherry MX or other switches right on top of the mechanical switch industry to be used in mechanical numpads, but that isn't the case with budget numpads. ROTTAY Mechanical Numpad uses Cherry MX clones in the form of Outemu switches. 
It is definitely a great choice for mechanical switches because of the keypress and feels the Outemu switches bring.
The one I ordered came with the Outemu Blue switches. These switches are clicky variants and come with an audible click and nice tactile feedback. Unfortunately, the actuation force requirement is high as well.
It is a great switch whether you're a gamer or a typist. The accuracy is superb; the response time is close to a Cherry MX; the only drawback that it comes with is the lesser durability, with only 50 million keystrokes guaranteed.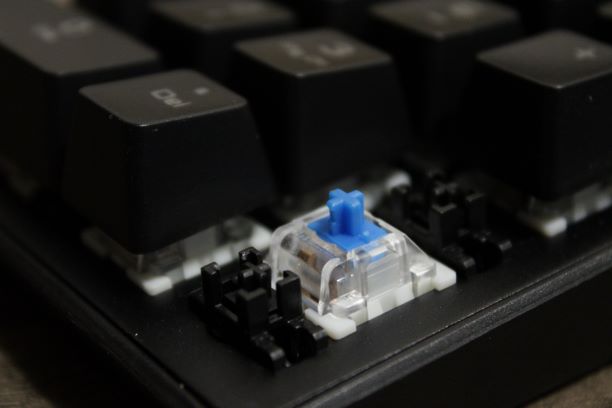 ROTTAY Numpad With Outemu Blues Click Test
5.9 Feet Insulated Power Cable
Another impressive element of the ROTTAY Mechanical Numpad for me was the power cable. Of course, it isn't detachable, but the insulation and the thickness of the cable are pretty great and safe.
The length of the power cable of the ROTTAY Mechanical Numpad is 5.9 feet which are long enough for you to comfortably use the numpad without having to constantly tug on it, so that's great as well.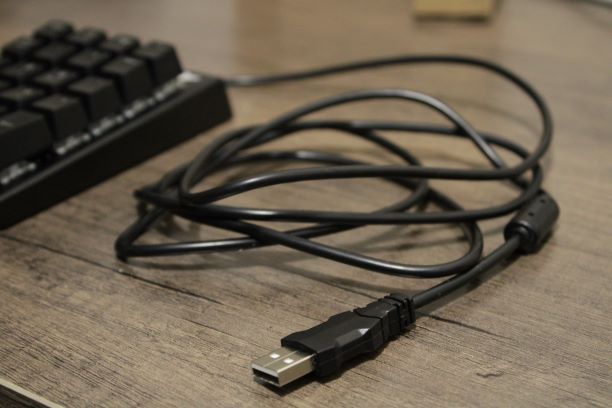 Great Features of the ROTTAY Mechanical Numpad
We've taken a decent observation of the design and build quality along with keycaps and switches of the ROTTAY Mechanical Numpad; it is time we delve into the great features it comes with. So let's take a look.
Mechanical Switches – When it comes to the best keycap feel and tactility, mechanical switches are the best. ROTTAY Mechanical Numpad uses Outemu switches which are pretty great at being clones of the Cherry MX switches.
Plug n Play – Another great feature of this numpad is the fact that the ROTTAY Mechanical Numpad requires no software or driver installation, and you can plug and play with it, which is pretty cool.
Ergonomic Design – The design of the ROTTAY Mechanical Numpad is very ergonomic. The keycaps are given a proper step-up design, and the numpad has a natural incline and adjustability to it, which is pretty great for such a cheap numpad.
Long Power Cable – A short power cable can be very problematic because you can't sit comfortably and use it. On the contrary, the ROTTAY Mechanical Numpad features a long power cable that allows you to use it without having to tug on it at all.
Backlighting – In mechanical numpads, getting LED backlighting isn't very easy, especially if they're on the cheaper side. But ROTTAY has generously placed high-quality Blue LED Backlighting on their mechanical numpad, which gives it a clean and crisp look.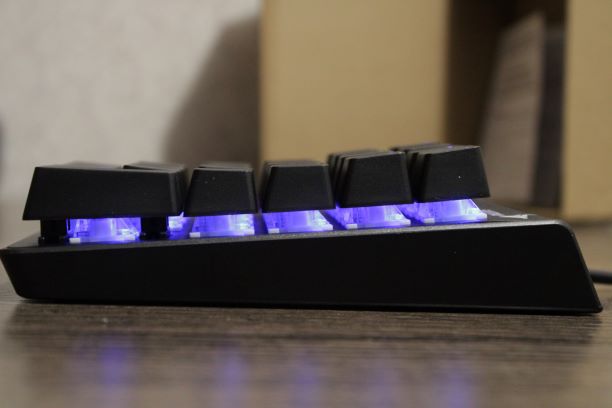 Pros and Cons
Thinking about getting your hands on a brand new ROTTAY Mechanical Numpad yourself; Well, before you do that, make sure you read all the takeaways of this review. Here is a list of all the pros and cons that you will have to deal with if you get this numpad.
| Pros | Cons |
| --- | --- |
| Great Price – One of the best things about the ROTTAY Mechanical Numpad is that it comes for a significantly lesser price than other numpads in the market. | No Macro Capability – A bit disappointed I was when it comes to this numpad because it doesn't feature a proper macro capability, and you're going to have to use a third-party software tool to get macros created on it. |
| Durability – The frame of the ROTTAY Mechanical Numpad is made of a solid, durable plastic material that has no flex to it whatsoever. So, the overall durability of this numpad is pretty amazing. | No N-key Rollover – Furthermore, looking at the keys on this numpad, there is no N-key rollover in it either, which basically means that any more than 3 keys pressed will end up getting ghosted and not register any instructions. |
| 22 Dedicated Keys – This amazing mechanical numpad comes with 22 dedicated individual function keys, including the TAB and Num Lock key, along with many of the keys having secondary functions available on them as well, which is quite cool. | |
Is the ROTTAY Mechanical Numpad Worth the Hype?
The million-dollar question that stands is, is the ROTTAY Mechanical Numpad worth the hype; Well, it definitely is. It is a pretty incredible buy for the price it comes for. Sure, there are better options, but they're costly. So, at a small price, this is going to be the best you're going to get in the market right now.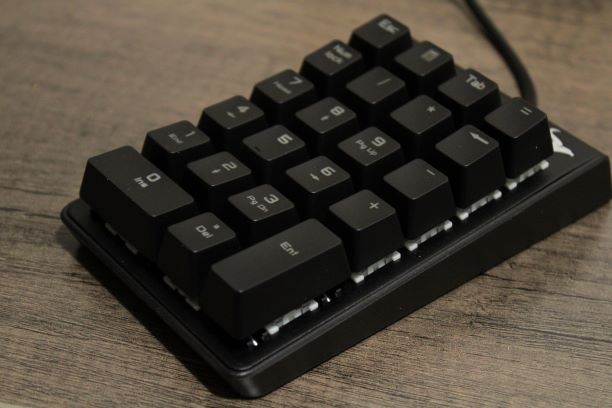 Interested? Get the ROTTAY Mechanical Numpad at Amazon.com!
Frequently Asked Questions
If you're thinking of buying a ROTTAY Mechanical Numpad for yourself, you must have a few questions. I saw many unanswered common questions related to the ROTTAY Mechanical Numpad on the internet that I wanted to answer. So, here are some of the most frequently asked questions.
Q. Is the ROTTAY Mechanical Numpad compatible with MAC?
Unfortunately, no, The ROTTAY numpad is not compatible with Mac. This is something the ROTTAY Mechanical Numpad struggles with. It is only compatible with Windows and many versions of it, but that's about it when it comes to compatibility.
Can you Turn the LED Backlight off on a ROTTAY Numpad?
Oh yes, you most certainly can turn the LED backlight off. The ROTTAY Mechanical Numpad features the ability for you to turn the LED backlight off by circling the pattern options available on the numpad using Esc and Del together.
Is the ROTTAY Mechanical Numpad Decent?
For sure. The ROTTAY Mechanical Numpad is pretty decent in itself. It comes with a bunch of amazing features and benefits for a pretty chill price. It is meant for all the keyboard enthusiasts out there, no matter what their budget might be.
Conclusion
In this article, we looked at the features and specs of the famous ROTTAY mechanical numpad. It is a high-quality, affordable numpad choice that works well for all computer users and keyboard enthusiasts. It offers a lot of attractive and useful features for the price that it comes for. That is why it's a preferable choice for a lot of people out there. 
If you've got a limited budget, this is going to be an amazing buy for sure. I hope you learned a lot from this review and that you're going to have an amazing keyboarding experience with your numpad!
---
Video Review: