Whether it's calculator work, data entry, or excessive key mapping requirements that you have, if you've got a TKL or compact keyboard, you're surely going to need a high-quality mechanical Numpad with it. For that, we've got just the thing – the Varmilo VA21M Panda Mechanical Numpad.
You might be wondering, is the VA21M Panda good enough for the price, and what does it have to offer? Well, that's precisely what I'm here to tell you.
In this article, I will talk about the Varmilo VA21M Panda Mechanical Numpad along with its features, design, build quality, pros, cons, and everything in between to completely review it. So, make sure that you read this article completely before you make your final buying decision.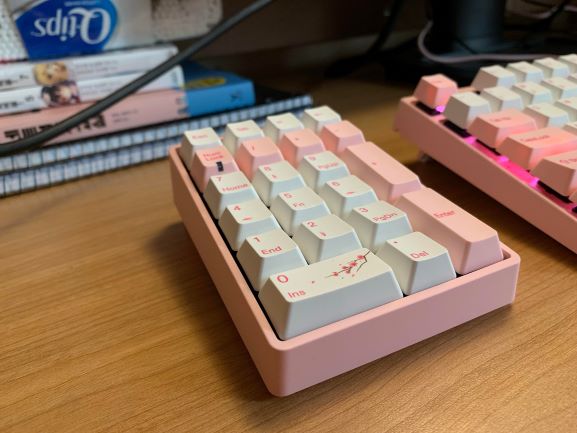 In a hurry? Get the Varmilo VA21M Panda at Mechanicalkeyboards.com or Amazon.com!
What's in the Box?
I had to get the Varmilo VA21M Panda to know how good it is, and I did get it for myself. The packaging was decent for a small mechanical Numpad, so Varmilo did a good job in that.
Upon opening the box of the Varmilo VA21M Panda Mechanical Numpad, here are the elements and components that I was able to retrieve that came inside the VA21M box:
Varmilo VA21M Panda Numpad
Instruction and Model Manuals
Attached USB power cable.
If you're expecting extra keys and a keycap puller, that's not what you're going to get in this deal because it's a small form-factor Mechanical Numpad, not a standard-sized keyboard, so I have no complaints.
Visually Appealing Design and Amazing Build-Quality
The Varmilo VA21M is a compact 21-key device that comes in many visual designs and themes. I ordered the VA21M Panda with a Panda theme that is really well-designed and aesthetically pleasing.
The colors of the keycaps, along with the design of the frame and its incline and the rubber feet on the back, give it an extremely stylish and lovely look that makes this product one of the best.
The frame of this mechanical device is made of stainless steel and is grey in color, making it quite stunning in appearance. There's an ergonomic feel to the keyboard, and it is quite decently built for its price.
Overall, the design and build quality of the VA21M mechanical Numpad are amazing. I highly appreciate the time designers took in crafting this Panda-themed beauty, awe-inspiring stuff.
PBT Keycaps and Dye Sub Legend Imprints
One thing that I absolutely adore in both mechanical keyboards and num pads is the use of high-quality plastic for the keycaps. The VA21M Panda uses incredibly amazing PBT plastic keycaps, which is right away a game-stealer for me.
That's not it, though. I'm not going to stop singing praises for this mechanical Numpad that easily. The legend printing is done by a now ancient Dye Sub method, which engraves and sinks the ink into the plastic, and it cannot be removed. 
The Dye Sub prints are also more colorful and fade-proof compared to Laser prints which is another huge plus, and once you take a look at that Panda printing on the 0 key, you're going to love Varmilo for their keycap job even more. Both the PBT keycaps and the Dye Sub printing features are huge wins for me.
Top of the line Cherry MX Mechanical Switches
The Varmilo VA21M Panda uses Cherry MX switches. Depending upon your liking and style, you can get any of their switches from Black to Red, and even Silent and Clear switches with a slight price upgrade.
Mine came with Cherry MX reds. The MX red switches are linear and offer no clicking noise at all. The actuation is high, and the operating force is also meager, making the switch very light.
The switches are incredibly durable as well. The Cherry MX reds come with a 100 million keystroke surety which is great since you won't have to replace the keycaps for quite a while.
But that's where a minor issue arrives with this Numpad. Since the switch layout supports Cherry MX, if you want to replace the 21 switches, you're going to want to spend quite a lot of dough to get the replacement switches which isn't the best thing.
5 Feet Insulated USB Power Cable
The Varmilo VA21M Panda Mechanical Numpad comes with a USB power cord that is neatly insulated, so you don't have to worry about the cord and the device's safety.
The length of this cord is 60inches or 5 feet which is quite a lot, and it means that you can ergonomically use it without having to stretch or bend too much or having to tug on it too hard if you want to use the product properly.
Exquisite Features of the Varmilo VA21M Panda
What kind of cool features do we get from the Varmilo VA21M Panda Mechanical Numpad? You might be wondering. Well, here's the list of exquisite features you're going to see in the VA21M Panda.
Cherry MX Mechanical Switches – The VA21M Panda uses high-quality Cherry MX mechanical switches, which are the best of the best for all kinds of switches, whether you like linear, clicky, or tactile variants.
6 Key Rollover – Mechanical Numpad doesn't usually come with rollover. Still, when it comes to the Varmilo VA21M, it comes with a 6 key rollover, so you don't experience any key ghosting while performing activities with the Numpad.
Cool Design – The VA21M comes with a grey and green color combination Panda theme which works quite well along with the sharp and sleek edges and design of the VA21M itself.
Strong Build-Quality – The frame is built from stainless steel, which means that this Numpad will last for quite a long time to come if you're thinking of using it excessively in your daily work and computer-related activities.
Smooth PBT Keycaps – The texture of the high-quality PBT plastic used in the VA21M Panda is smooth, and the overall feel of the keycaps is quite amazing well, which is great.
Compact Form-factor – The VA21M mechanical Numpad is quite compact and small form-factor, allowing you to place it on a small computer table alongside your TKL keyboard without hogging extra space that a standard full-sized keyboard might take.
A few demerits
Despite its many accomplishments and benefits, the device has its flaws too. If you're wondering what they are, here I've made a list of the cons and demerits I found in the VA21M Panda, which you might agree or disagree with:
Switch Replacement is a pain – When it comes to switching replacement since this product comes with a Cherry MX switch layout, the expenses are high, and the overall process isn't great if you're on a tight budget.
No RGB – This might seem like a stretch, but I think the Panda would look incredible if there were some RGB under-glow or some RGB element to this mechanical Numpad. Since there's not, I'm a little bummed out about that.
Comparison to Other Mechanical Numpad Devices
On its own, the Varmilo VA21M Panda is truly one of a kind and pretty impressive when it comes to features and specs, but how does it compare to other front-runners of the Numpad industry, including Jelly and ABKO specifically? Let's find out.
If we compare the VA21M with Jelly's Mechanical Numpad, right off the bat, we see that Jelly dominates VA21M Panda in terms of price; however, in terms of specs and the key rollover along with the build-quality, Varmilo's mechanical Numpad beats Jelly dominantly.
Comparing with the ABKO K522, the VA21M Panda has a much better price. Still, when it comes to wireless control, ergonomics, functionality, and features, the ABKO K522 takes the cake, in my opinion. So that rounds up the score for the VA21M 1-1 in terms of wins and losses, which is pretty good.
Is the Varmilo VA21M Panda Worth the Price?
The real question you've all been waiting for is the Varmilo VA21M Panda worth the hype and the price tag? Well, yes, I believe it is. With a bundle of features and a cool price tag, I think it can be a great device for beginners and even intermediatory users. So, if you're buying it, don't hesitate, you're going to get your money's worth.
Interested? Get the Varmilo VA21M Panda at Mechanicalkeyboards.com or Amazon.com!
Conclusion
The Varmilo VA21M Panda Mechanical Numpad is a great little tool for data entry and other computer-related activities. It might not have much in terms of excessive functionality, but it packs quite a punch. We looked at some of its great features in this post that will help you make an informed decision if you plan on buying such a device in near future. 
In some departments, however, the device may not perform as well as its rivals. But when we look at its price and the other basic features it offers, it makes us believe that it is really worth the price. 
That's why I believe my experience with it has been pretty successful and great. I assure you, too, that you're going to really enjoy using this mechanical Numpad if you get your hands on it. It feels nice, looks cool, and has great keys. I hope you have an incredible keyboarding experience with your Varmilo VA21M Panda!