Finding the right ten-key pad to pair with your mechanical keyboard can be pretty difficult. Unfortunately, a high-quality numpad that has all the right functions and a compact form factor is rarely seen in the market, but that's precisely what Leopold has to offer with their 210TP Mechanical Numpad.
You might be wondering, how good is the Leopold 210TP, and should I buy it? Well, that's precisely what I'm here to tell you.
In this article, I'm going to talk about the Leopold 210TP, how it works, its design and build quality, along with the specs, features, and overall pros and cons it comes with. I'm also going to be talking about some of the frequently asked questions related to this numpad, so make sure you read this article until the end before making a final buying decision.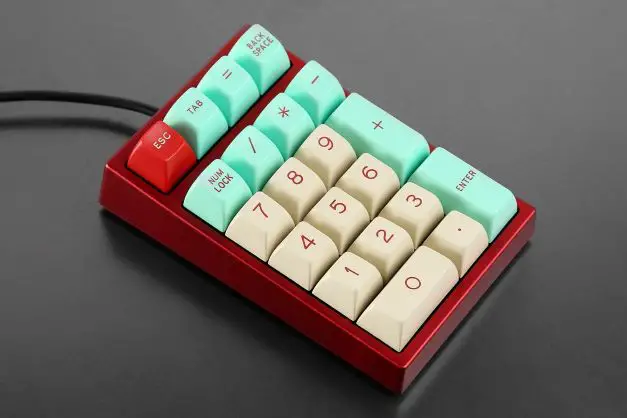 In a hurry? Get the Leopold 210TP at amazon.com or mechanicalkeyboards.com!
Leopold 210TP Mechanical Numpad 
The Leopold 210TP is manufactured and sold by Leopold as a premium, high-quality clean, and crisp device with 21 dedicated keys, many functions, and an aesthetic compact design.
It is quite popular among compact keyboard and numpad enthusiasts even though it comes for a pretty hefty price. I had to find out what's so special about this particular mechanical numpad, so naturally, I ordered it.
What's in the Box?
When my parcel arrived, the Leopold 210TP was packaged wonderfully in a neat and clean yet pretty looking box design, so that's going to be a plus for Leopold in my books.
After looking at the package for a while, I opened it and well, there were no surprises when it comes to the contents of the pack. Here's what I found inside the box:
Leopold 210TP
Instructional Manuals
Despite having an expensive price tag, there are no extra add-ons that come complimentary with the Leopold 210TP, which I'd say is a bummer, but you can't always have everything.
High-quality Design and Durable Construction
Now that we've unpackaged this beauty let's do a thorough inspection. When it comes to the external layout, the form factor of this device is quite compact, which I really like about it. It also seems very modular, and the natural incline on the frame of the Leopold 210TP makes it pretty ergonomic for comfortable usage. So that's another plus point.
On the back of the numpad, we've got 4 rubber feet that keep the numpad gripped on the surface of the table, and then we've also got a singular height adjustment kick foot so you can type and play at your preferred height.
In terms of the keyboard's construction, the quality of the plastic used for the frame is quite decent actually. There's no flex in the device, and it seems fairly durable. So overall, in the design and build quality department, the price definitely seems well-justified, and this numpad, due to its durability, is going to last quite a long while, so that's great to hear as well.
Double Shot PBT Keycaps and Laser Etched Legends
That's not where the praise for the Leopold 210TP ends, however. We've yet to get to the amazing keycaps and the incredible legend printing job Leopold has done with this one.
In place of the keycaps, we've got high-quality Double Shot PBT plastic with a certain amazing texture in terms of keypress and is much more durable than ABS plastic.
While in the case of the legend imprints, the design choice is simple and elegant, whereas the printing technique is Laser Etching which gives a crisp finish, no bump, fade-free legends that are perfect in every way. So far, so good. Both the keycaps and the legends are great, in my opinion, and the price tag seems to be valued well because the externals of the numpad are pretty premium in every way.
Amazing Cherry MX Blue Switches
However, the icing on the cake in the Leopold 210TP remains the mechanical switches used in it. You guessed it, they've used amazing Cherry MX Mechanical switches in their numpad. The one I ordered came with Cherry MX Blue Clicky Mechanical Switches in them. These switches are super-duper high-quality, the stabilization is amazing, the clickiness is great as well.
The sound of the click is quite audible, and the tactile feedback is pretty amazing as well. Pre-travel distance is around 2.2mm, whereas the total travel distance is 4.0mm in this switch. It is a pretty amazing switch overall, but it requires a 60cN actuation force, so think before you get it. I really love this switch because of how accurate and precise, along with fast the actuation is.
Plus, I believe that Cherry MX Blue switches are perfect for both gaming and typing, so the Leopold 210TP is going to be a great numpad in terms of the mechanical switches if that's what you're wondering.
5.9 Feet Thick Insulated USB Power Cable
The Leopold 210TP uses a USB cable as the primary power cable. The insulation of this cable is pretty neat, and the thickness of the cable itself is pretty good as well, so that's cool.
The length of this cable is around 5.9 feet which are quite neat. And is typically the ideal length that I look for in keyboards and numpads so I can comfortably use them without tugging on them all the time.
Epic Features of the Leopold 210TP
Till now, the Leopold 210TP has been all handy dandy, and great in terms of build quality, design, and switches. So, it is time for us to look at the epic features that this numpad comes with. Here is a list of the options and things you're going to find in the Leopold 210TP:
Mechanical Switches – Cherry MX switches are the cream of the crop when it comes to mechanical switches. The Leopold 210TP uses high-quality Cherry MX switches in multiple varieties depending upon which ones you choose, so you get the best keypress experience.
LED on Num Lock – The numpad itself doesn't have any LED or RGB backlighting to it, but when it comes to the Num Lock key, the prominence is showcased with the help of a Blue LED backlight. When it is active, a blue LED indicator is turned on, which is turned off as you press the button again.
Ergonomic Design – The Leopold 210TP is designed in a very user-friendly comfort forward way. The design has a natural incline on the keycaps and the frame, and there is also the kick foot at the back that allows height adjustment at a singular level which is also pretty cool, I believe.
Compatibility – Another great feature of this numpad is the Plug n Playability. You can connect this USB numpad on any OS, including MAC and Linux, and it will connect without a problem. You can use all the functionalities without compensating for anything.
Secondary Functions – Many of the 21 individually dedicated keys on this ten-key pad come with secondary functions like the Page Up and Page Down button as well as the arrow functions, among others, so that's also pretty amazing, I believe.
Compact Design – If we take a look at the design of this numpad, it is pretty modular, rectangular, and overall compact. It would perfectly work alongside your TKL keyboard, even on a small desk, because of its size, which is why it is so great, I believe.
Pros and Cons
So you're finally thinking of getting your hands on a brand new Leopold 210TP mechanical numpad? Well, before you do, make sure you read all the pros and cons that it comes with. Then, let's take a look at the advantages and disadvantages you're going to face with the Leopold 210TP.
| Pros | Cons |
| --- | --- |
| Durable Construction – Despite being lightweight and compact in form factor, the Leopold 210TP Mechanical Numpad is quite durable and is made from high-quality plastic that gives it a long usage life which is pretty great in my opinion. | Expensive Price – One thing that I'm not a big fan of is the price of this numpad. The Leopold 210TP Mechanical Numpad comes for a pretty high price if you compare it to other mechanical numpads available in the market. |
| 21 Individual Keys – In many ten-key pads that I have seen, there are lesser keys than usual. Still, one great thing about the Leopold 210TP mechanical numpmad is that it comes with 21 individual keys that all come with dedicated functions and secondary functionalities. | No N-key Rollover – One more problem is that it doesn't come with N-key rollover. This can be a bit problematic if your software and video games require more than a few keys to be pressed simultaneously. |
| Visual Aesthetics – There are multiple colors available in this numpad. The keycaps are also available in different shades, so you can order whichever color you prefer because they give an immaculate and crisp aesthetic look that will enhance the look of your computer setup. | |
Is the Leopold 210TP Worth the Price?
Finally, the million-dollar question that arises is, should you buy the Leopold 210TP Mechanical Numpad; Well, in my opinion, it really depends upon the reason for buying it if you're an enthusiast who loves to buy new and premium keyboarding devices, sure. But if you're looking for programmability, N-key rollover, and other advanced functionalities, then you should look for some other keyboard, I believe.
Interested? Get the Leopold 210TP at amazon.com or mechanicalkeyboards.com!
Frequently Asked Questions
A lot of questions by keyboard enthusiasts about the Leopold 210TP are unanswered on the internet, which is why I thought it would be the right decision to talk about them in this review. So let's look at some of the most frequently asked questions and their answers below.
Is the Leopold 210TP RGB backlit?
No, the Leopold 210TP is not RGB backlit; it only comes with a single Blue LED indicator on the Num Lock. If you're looking for RGB backlighting, you should consider some other device.
How good is the Leopold 210TP?
The Leopold 210TP is pretty good as a premium numpad. It serves a lot of great functions and has a lot to offer. The Leopold 210TP has good value to offer but could be a little over expensive.
Does the Leopold 210TP feature programmability?
The Leopold 210TP doesn't feature any onboard macro programmability options, but you can use third-party software to program macros on this numpad if you want to and your projects require them.
Conclusion
The Leopold 210TP is a great numpad. It has decent functionalities and the best of the best components in a premium and high-quality design, so I'd say you should definitely get one if you can. The price is a bit expensive, but if that's not an issue for you, this keyboard will be a great choice. I hope you learned a lot from this article and that you're going to have an incredible keyboarding experience with your bought numpad