Whether you're an office worker who constantly deals with calculations and numbers or a programmer who needs macros and programming keys for professional software usage, getting a compact, ergonomic mechanical Numpad is very advantageous. Today, we're going to talk about the Cherry G84-4700 Mechanical Numpad.
You might be wondering, is the Cherry G84-4700 worth the price tag? Well, no need to worry because that's precisely what I'm here to tell you.
In this article, I will talk about the design, keycaps, switches, features, pros, and cons, and limits of the Cherry G84-4700 and completely review it for your ease. So, you won't have to scour the internet to find out if this is the best mechanical Numpad for your office needs. You have to make sure you read this article till the end.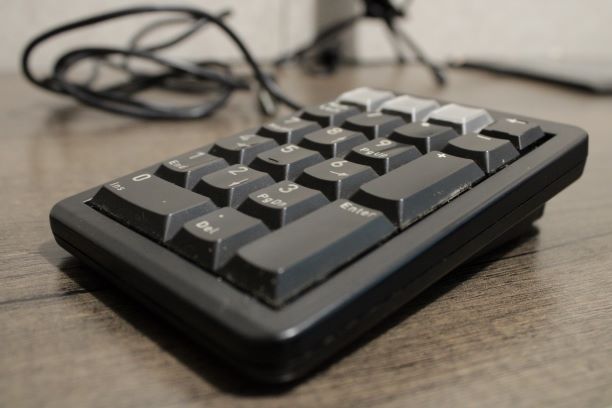 In a hurry? Get the Cherry G84-4700 on Amazon!
What's in the box?
If you order a Cherry G84-4700 mechanical Numpad for yourself, you're not going to get a lot of surprises. You purchased a Numpad, and that's exactly what you're going to get. Here are the components that I found in my G84-4700 box.
The Cherry G84-4700 Mechanical Numpad
Instructional Booklets
Now you might think this is strange or out of place since keyboards usually come with additional components like Keycap pullers and such. But bear in mind, this is simply a Numpad that isn't a fully-functional keyboard. Moreover, it costs a lot less than what you'd get a proper mechanical keyboard for.
Amazing Design and Build Quality
The Cherry G84-4700 mechanical Numpad is a compact and low-profile keypad that comes with a total of 21 individually programmable keys, including the 17 basic Numpad keys and 4 additional individually inscribable buttons.
The Numpad design is quite ergonomic, and it features an incline that helps you use it without stretching your fingers too much. There are 4 rubber feet on the lower-end, which keep the Numpad in place once it's on the desk and prevents it from sliding.
The G84-4700 uses high-quality plastic material for its frame and offers no flex whatsoever. It is an overall compact, decently designed, and durable keypad that will last you quite a long time for your professional and office computer user needs.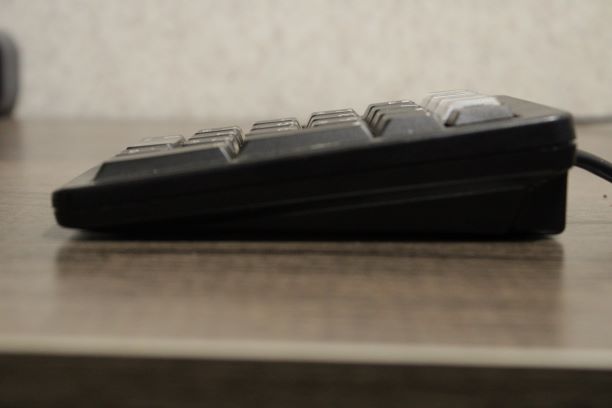 Decent Keycaps and Legend Imprints
A great thing I found about this keyboard was the fact that it came with high-quality PBT double-shot keycaps that feel smooth and don't have any bump on the surface in terms of the printing on them.
This is because the legend imprints are laser-engraved onto the keycaps, which gives them a very sleek, nice, and decent finish. There's a very premium feel to this Cherry Numpad.
Overall, the keycaps and the printing over them are pretty classic and, in my opinion, one of the strong points of this G84-4700 mechanical Numpad, so that is something to be glad about.
High-quality Low Profile Mechanical Key switches
Cherry is known throughout the world for the best quality mechanical switches in their MX series. But surprisingly enough, their G84 series doesn't use the same Cherry MX mechanical switches they're so famous for.
Instead, the mechanical key switches used in the Cherry G84-4700 are the proprietary Cherry ML mechanical switches.
These switches are some of the best quality low-profile tactile mechanical switches I've seen in my career. And they're specifically designed for the G84 series. There is a slight tactile bump when you press a key on the G84-4700 Numpad, and it feels quite great.
But they're not for everyone. If you're someone who enjoys a heavy-sounding clicky switch, then the single tactile variant ML switches won't be your cup of tea. Overall, however, they're incredible, in my opinion.
Cherry G84-4700 With ML Switches Click Test
5.7 Foot USB 2.0 Power Cable
The Cherry G84-4700 mechanical Numpad uses a USB 2.0 plug which isn't the fastest or the most advanced technology, but it gets the job done, and it does it quite well.
The length of the power cable that this Numpad uses is around 5.7 feet, allowing you to ergonomically use it from a far distance and make sure that you don't face any tugging or struggling while you're comfortably sitting on your chair and using the Numpad in your hands.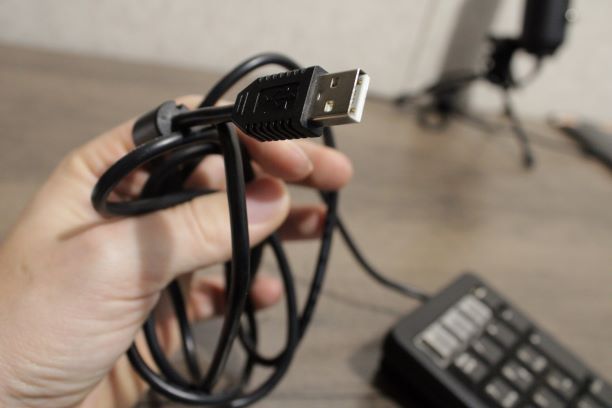 Great Features of the Cherry G84-4700
What can an ordinary Numpad do? You might be thinking. Well, firstly, this isn't any ordinary Numpad, and secondly, here are all the exciting features you're going to get if you buy a Cherry G84-4700 mechanical Numpad.
Gold Crosspoint Contacts – The keys on the G84-4700 come with gold crosspoint contacts with the Cherry ML low-profile tactile mechanical switches.
20 Million Actuations – The keycaps are quite strong, and the switches are durable, which allows users to actuate each key at least 20 million times which is great because it'll last longer. The switches won't need a replacement any time soon.
4 Additional Keys – There are 4 additional keys other than the basic Numpad, which can be user-defined and programmed according to the owner's requirement.
Great for both left and right-handed users – The compact and ergonomic nature of this Cherry Numpad allows it to be used quite efficiently and easily by both left-handed and right-handed users.
Macro Programming – One of the biggest features of the Cherry G84-4700 is the ability to program macros onto the 21 keys on this Numpad. You can assign any macro you want using Cherry's proprietary tools.
24 User-defined characters – The possibilities are endless for this keyboard's usage since each of the keys can be programmed and remapped by the user to type up to 24 user-defined characters if the user wishes so.
Durable Construction – Another great feature of this mechanical Numpad is the durability of the construction. The Numpad is strong, well-built, with a high-quality plastic frame and a decent design. The Cherry G84-4700 will last for quite a long while because of the durable construction it comes with.
Cherry Tools Software
There have come many customization and programming software applications for keyboards, keypads, and Numpads from different high-end peripheral companies. But none come even close to the incredible Cherry Tools.
This software allows you to edit the mapping of the keys on your G84-4700, create custom macros, and user-defined different instructions and characters onto keys according to your liking, giving you complete control of the customization of your Cherry G84-4700 mechanical Numpad.
But the one thing that makes this software better than others is the incredible ease of use and interface of the application. It leaves other software applications far behind. That's why Cherry Tools is the main star of the show when you talk about this Numpad.
A Few Problems With the Cherry G84-4700
As much as I love this Numpad, it's not perfect, if I'm honest. There are a few mistakes and problems that I want to be addressed. Let's take a look at some of the demerits that this mechanical Numpad comes with.
No RGB backlighting – One thing that most of the gamers out there will feel sad about is the lack of RGB or any backlighting, for that matter. That takes away the gaming charm of this Numpad even if the keys are completely reprogrammed.
No adjustability – There are rubber feet under the Cherry G84-4700 Numpad, but that's about it. There are no adjustable ergonomic plastic feet under the frame that let you adjust the Numpad height.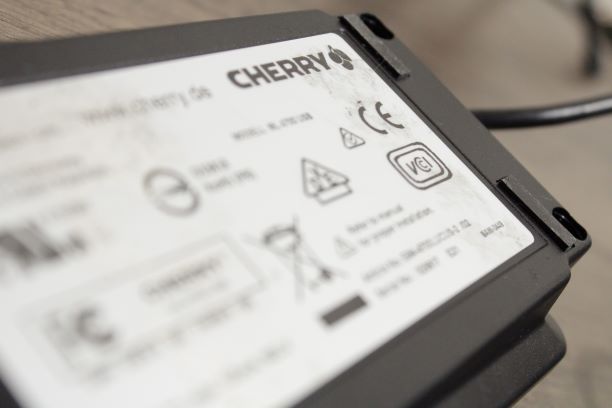 Cherry G84-4700 vs Ducky Pocket Numpad Calculator
There aren't many worthy competitors of the Cherry G84-4700 as a mechanical Numpad, but there is one, the Ducky Pocket Numpad Calculator. How do these compact Numpads fair against each other? Let's find out.
Ducky Pocket is ahead as it comes with 23 individually programmable keys in terms of the number of keys. But the compactness is where the Cherry G84-4700 takes the cake. I'm going to give the Ducky Pocket full marks for the RGB backlit keys it uses, which aren't available in the G84-4700. Also, the display screen on the Ducky Pocket is a great feature.
But one thing that makes the comparison null and void in favor of the G84-4700 mechanical Numpad is the software Cherry Tools which allows complete customization of the keys, whereas, in the case of the Ducky Pocket, you're going to need to hardcode the keys according to your usage.
Is the Cherry G84-4700 Worth it?
The million-dollar question is, is the Cherry G84-4700 worth it? Well, in my opinion, it surely is. It is the best mechanical Numpad, hands down even in the face of the competitors. So, if you're thinking of buying it, you're making the right decision. Go for it without hesitation and you won't be disappointed!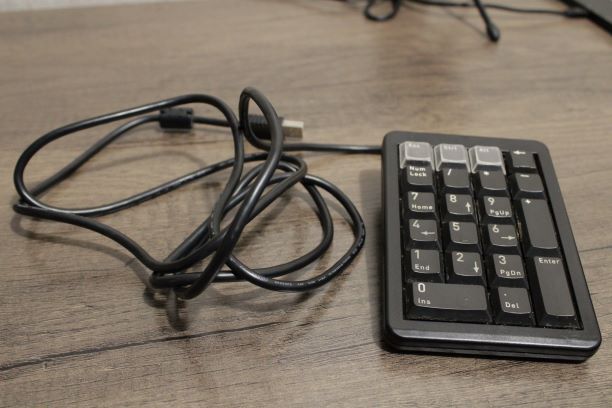 Interested? Get the Cherry G84-4700 available on Amazon
Conclusion
The Cherry G84-4700 mechanical Numpad is a great choice for office and professional work. It is compact, durable, to-the-point, and comes with high-quality ML keys.
So, your everyday calculations are going to become easy and efficient with this epic Numpad. Make sure you customize it to the fullest using the Cherry Tools software. I hope that you have an incredible keyboarding experience and that you feel your money was well-spent on the Cherry G84-4700 mechanical Numpad.
---
Video Review