Due to limited space, remote workers, and people are always on the road, and students are often looking for portable tech that offers excellent features. They can choose bigger laptops; however, they are heavy and typically don't offer the longest battery time.
An external monitor can be a great option. It typically requires its power source and cables that can fill the laptop's ports. , But it has proven to be useful for students; you can work, study and have fun anywhere, anytime.
DUEX Plus is one of three portable monitors made available from Mobile Pixels. A unique device has an amazing concept behind it. It was designed through a crowdfunding campaign because the company decided to expand the concept of a portable display and enhance it.
Let us dig in to learn more.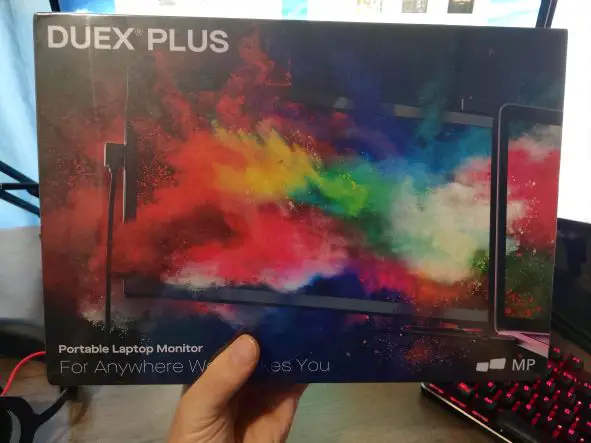 Install and Setup
Duex Plus' comes with a plastic panel that connects with the laptop's back using four magnets with adhesives. They allow it to help support the weight of the 13 inches display, which is retractable to its right side. This way of installing allows you to easily remove the Duex Display whenever you do not want to use it.
However, the downside is that the glue that holds the magnets to the case at the back of your laptop wasn't intended to be reused. Therefore, when you're required to transfer the screens between different laptops, you may have to swap out the pads that hold them.
Moreover, if you want to flawlessly shift between the left-side and right-side setup, it lets you do that, thanks to its adjustable mounting system and auto-orientation sensors.
Display Design
Because of the distinctive design of this monitor, it does not feature the typical ergonomic adjustments. You can use it left or right when placed on a laptop due to Auto rotation. It will automatically detect its orientation, flip the monitor upside down, or use it as a right-side or left-side screen for laptops.
A variety of viewing angles can be achieved at around 270 degrees and even in the opposite direction of the laptop's display. Furthermore, it supports portrait mode and presentation mode. A magnetic kickstand available could be used as a stand-alone monitor that is ideal for connecting to the Nintendo Switch or setting up in portrait mode for tasks like programming or writing long documents.
Weight
The DUEX Plus dual monitor screen is pretty minimalist in its design. It can be positioned behind the laptop's screen when using it. Now take a portable display around using DUEX Plus, which is 30% lighter and 50% thinner than the predecessor.
A sophisticated design and clever adhesive technology make it simple to put in any bag with your device without burdening your shoulders. With lightweight 1.3lbs, you won't feel it there dragging the display screen or putting on tons of weight.
On the inside, the Deux Plus has a 1080-pixel display, with 13.3 in resolution, as well as IPS technology. It's an excellent specification for daily usage, and you'll have plenty of real estate to launch a different web browser tab, Office app, or creative tool.
The ultra-thin display is large with a wide border, and if you attach Duex to your laptop, it can add up to 0.25 (6mm) in thickness and 0.7kg in weight. These aren't huge numbers; however, they are worth keeping in mind if you want to cut down on space or weight.
Picture Quality
The monitor offers 1080p picture quality; however, it comes with low peak brightness, which disappoints SDR. It's not bright enough to reduce the glare of a bright room or outside. Although you won't see a lot of variation in brightness when you use different contents, that's great.
The Mobile Pixels DUEX Plus has outstanding gray uniformity. The sides are darker than the center. However, there's virtually no effect of a dirty screen. The uniformity is superior in scenes with near-black backgrounds, with no obvious problems. Gray uniformity may differ across monitors, but this is not a problem on the majority of modern monitors.
Furthermore, the black-point at 0.15cd/m2 has a solid foundation and can help the screen achieve an impressively high contrast of 1 140:1. This is an impressive number and indicates that the panel has some depth; however, the lack of brightness makes you don't feel any energy or vibrancy. Everything is dull.
Compatibility
The DUEX Plus updated the list of compatible devices to give you more options. This portable laptop device is compatible with Mac and Windows, Nintendo Switch, and Android. DUEX Plus portable laptop monitor offers an additional display for laptops, computers, and other Android phones to work in addition to gaming monitors to play games on the Nintendo Switch.
Connectivity
With a DisplayPort-equipped​ USB-C port, DUEX Plus provides ultra-fast video transmission as well as a plug-n-play experience combined into one cable.
DUEX Plus has two fully functional USB-C ports that simultaneously provide power delivery and video transmission. Connect to the USB-C port using one cable and display the content on your devices. Additionally, it offers hybrid signal input meaning quick connectivity to any laptop equipped with either a USB-C or USB A port.
On the right side, Duex features two USB-C ports. One of them can carry the DisplayPort signal, so it can be connected to more than two gadgets to Duex simultaneously. The USB-C cable has an adapter that plugs into a standard USB socket. The ports are on the outside of the display; the cable is to the edge of your laptop.
Eye Comfort
You don't have to think and worry about eye problems anymore since the DEUX Plus offers an eye comfort feature. Switch on Eyecare Mode to ensure optimal brightness and color temperature to reduce the risk of harmful blue light produced through the monitor. When you're writing, reading, or working in dim lighting, it can assist you in reducing eye fatigue and ensure that your eyes are at ease.
Where to Buy The DUEX Plus Portable Monitor
There are a few places to choose from when it comes to purchasing the DUEX Plus Portable Monitor. I recommend shopping around until you find the lowest price. Here is a list of where you can find this product:
Final Verdict
If you are looking to buy a separate screen for your laptop, the Deux Plus is the one for you as it can be easily attached to laptops. When not in use, it can be completely removed. Brightness and clarity are great but for indoors only.
The viewing angles are comfortable and can be easily adjusted. The plastic build of the monitor is also quite robust. Duex Plus is a great choice for users looking for a secondary display that can double the screen's real estate in terms of versatility, innovation, and range of applications.
Sources: