Finding the perfect visually aesthetic and usably soothing mechanical keyboard that is great for both typing and gaming can be quite hard. However, Varmilo is determined to bring ease and beauty with its keyboards and other peripherals to gamers and professional workers all around.
The keyboard that we're going to be looking at today is the Varmilo MA87 keyboard with EC switch V2s. But before we delve deep into the review, let's take a look at who Varmilo is, what incredible products they have to offer from desk pads to 20, 60, 80, 100% keyboards, etc.
We're going to see exactly what makes their keyboards so special over dozens of other manufacturers. So, make sure you read this article till the end before you make your final buying decision.
In a hurry? Get the Varmilo MA87 at Varmilo.com, Mechanicalkeyboards.com or Amazon.com!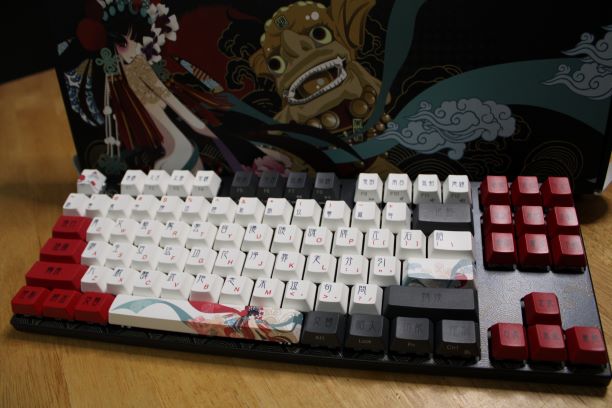 In a hurry? Get the Varmilo MA87 at Varmilo.com, Mechanicalkeyboards.com or Amazon.com!
What is Varmilo?
Varmilo is one of the biggest premium quality keyboard manufacturing company in the world at this moment. This manufacturer is based in the Shen Zhen region of China and is a branch of Shenzhen Zhihaihe Technology Co., Ltd.
Their high-quality keyboards along with other peripherals are made from scratch in-house and they even use proprietary switches. That's why a lot of keyboard enthusiasts around the world prefer getting Varmilo keyboards because of how finely they're constructed in the factories.
Varmilo Products
Varmilo has the best and most versatile line-up of mechanical keyboards I've seen in any peripheral manufacturing company's arsenal. Let's take a look at what epic products they have to offer:
20% Keyboards (Numpads)
Available in many different matching themes and colors are the mechanical numpads of Varmilo. You can get these numpads for extra key requirements or professional data-entry work and since they have so many designs, you can find the one that perfectly matches your setup to make it look clean and crisp.
40% Keyboards
Varmilo is working hard to bring uniquely created 40% mechanical keyboards that offer incredible functionalities and at the same time very small form-factor and compact structure which will be great once it comes out. Eagerly waiting for these keyboards.
65% Keyboards
65% keyboards offered by Varmilo are pretty amazing. They have tons of design choices and little bezels to make sure the keyboards are compact but at the same time perfect for typing and gaming. So, that makes their 65% keyboards pretty great too.
80% Keyboards (TKL)
Like the one we're going to review today, the MA87 from Varmilo is a TKL keyboard that comes in many different incredibly aesthetic and beautiful designs that you can get according to your setup theme and colors. They feature 87 keys and a few extra commands above the arrow keys.
Full Sized Keyboards
Varmilo full-sized keyboards include their 100% and 110% keyboards. The difference between the two is just the four keys on the top have been removed. One of the 100% keyboards actually replaced those keys with a fully operational calculator. How unique!
These keyboards are also available in multiple designs and come with all the individual keys and functionalities you'd want. So, if you're looking for a singular complete keyboarding experience, then this is what you'd want.
High-quality Varmilo Desk pads
Apart from keyboards, another incredible thing Varmilo is really famous for is the line-up of stylish, custom-designed desk pads. They offer many different colors and sizes and have the best fabric and comfort factor. The quality is very premium and you should definitely get one to match your overall peripheral setup to make it look complete.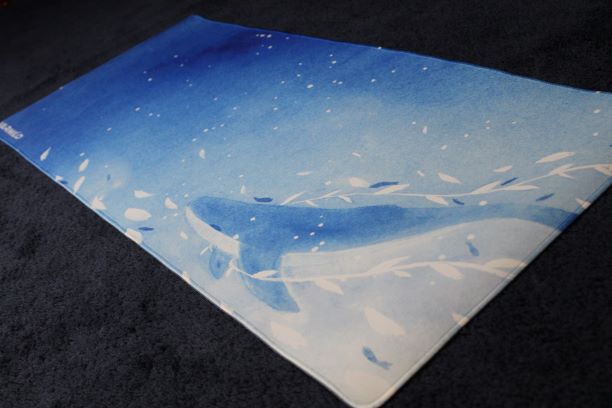 Why is Varmilo Unique as a Keyboard Manufacturer?
What makes Varmilo the best keyboard choice? You might be wondering. Well, there are several reasons that Varmilo is regarded as one of the top companies when it comes to keyboards, numpads, key switches, and deskpads. Let's take a look at the reasons Varmilo is so highly regarded in the keyboard industry.
Aesthetics – When it comes to the details of the illustrations and imprinting on each keyboard, Varmilo is the best at doing so. Their designs are so beautiful and eye-catching that they work great alongside any themed computer set up extremely well. Their slogan is "keyboard artist". While their keyboards work exceptionally well, their main focus is actually the design and beauty of the keyboard. That is what sets Varmilo apart from all the other keyboard companies.
Multiple Keyboard Sizes – As we spoke about it before, the thing about Varmilo is that they have keyboards for everyone. If you need a full-sized keyboard, they have tons of options. If you already have a keyboard and you're looking for a Numpad, you can get one from them. If you need something smaller than full-sized, you have the 65% keyboard so, there are a lot of sizes to choose from.
Lots of Designs to Choose from – Each of their keyboard sizes has different yet completely stunning artworks and themes. Let's take the example of the Beijing Opera. This design takes red and black accents and puts them alongside gold etchings to give the perfect theme. You have Koi, Panda, Sakura, Yakumo, Calculator, and many other themes to choose from.
Premium Quality Equipment – When it comes to quality, Varmilo is better than anyone in my opinion. From high-quality plastic and aluminum frames along with decent keycaps, amazing key switches, and everything in between, Varmilo uses top-notch premium-quality equipment which is perfect for all keyboard users no matter what their applications might be.
Varmilo MA87 Beijing Opera with EC Switches V2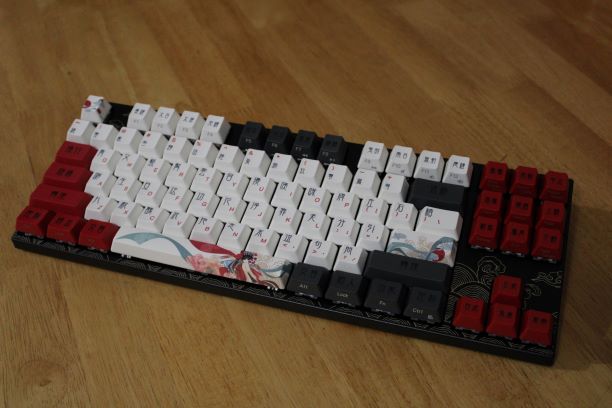 The Varmilo MA87 is one of the best offered by the incredible Chinese keyboard manufacturers. It is an 80% mechanical keyboard with 87 keys, a stunning Beijing Opera design, and the custom EC switches V2 which are truly the exception.
There's a lot that's great about this keyboard and that's what I'm hoping to unwrap in front of you. From the keyboard design to specs, pros, cons, value, and everything in between, here's the Varmilo MA87 Mechanical Keyboard review.
What's in the Box?
The version of the MA87 I ordered was the Beijing Opera and I have to say this, Varmilo always outdoes itself with the packaging. The whole box gives traditional Chinese Opera vibes with the colors and the vibrance.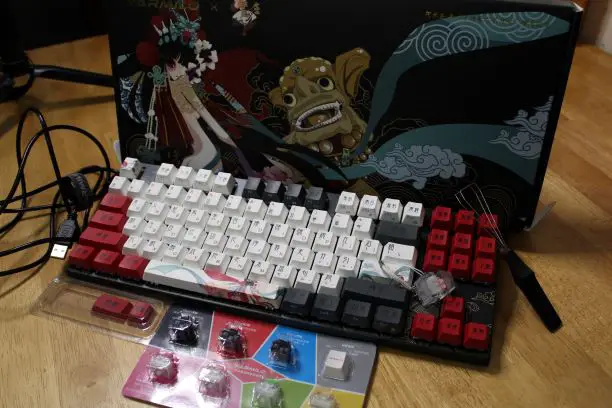 Upon opening, I was surprised happily. There was a plastic cover over the keyboard for protection. Along with that, here are the things that I retrieved out of the box of the Varmilo MA87 Mechanical Keyboard:
One Custom Printed Keycap for Switch Test
The Varmilo MA87 Keyboard
Instruction Manuals
Keycap Puller
2 Extra Keycaps
Extra Switches for Testing
Detachable Mini-USB Cable
When it comes to the add-on side of things, even at a premium price, Varmilo makes sure that the expensive price tag of the MA87 is justified with high-quality added components which are really cool in my opinion.
Beautiful Beijing Opera Design and Build Quality
The Varmilo MA87 comes with a variety of incredible custom designs that are equally beautiful and special but the Beijing Opera truly caught my eye. The design of this version has all the colors of the traditional Chinese Opera performance and all beautiful dazzling and vibrant illustrations that make the overall build incredibly visually appealing.
The black and red colored keycaps contrast each other very well and the frame etchings and spiral gold patterns really bring out the Beijing Opera aspect of the MA87. Ultimately, the design is spectacular and I simply love it.
There are 2 rubber feet under the keyboard and two adjustable kick feet as well. The bezels are quite thin even for an 80% mechanical keyboard which is pretty nice as well.
The build quality is very impressive as well because the switch plate is made of aluminum and the frame is made of high-quality plastic. I flex-tested it but saw no signs of bending which was another good thing. Both these aspects are great in the MA87 keyboard.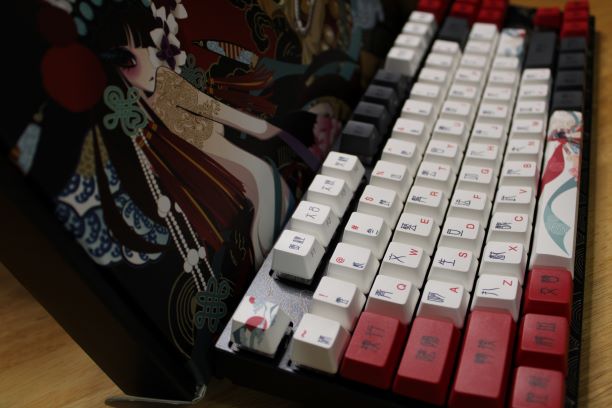 Incredible PBT Keycaps and Legend Imprints
Let's delve a little deeper into the Varmilo MA87 Keyboard now. Like all high-quality premium Varmilo keyboards, the MA87 also features perfectly designed tough and epic textured PBT plastic keycaps.
To add to the premium look and feel, we've got Dye Sub legend imprints which provide much richer legend imprint colors and anti-fade capability so your keycap writing won't fade. An interesting observation is that the frame etchings also seem Dye Sublimated because of the texture and feel.
Because this is a Chinese keyboard, a lot of the keys have Chinese writing on them. However, most keys do have the English translation either on the top of the keycap or on the side. A few exceptions are the number keys, which only have the symbols, the escape key, tab, caps, shift, backspace, enter, and the arrow keys.
All these keys are pretty obvious what they are, so in my opinion, not a big deal. However, I do wish the numbers were printed on the keycaps because I found myself making mistakes while typing the numbers in this article. But after a while, you will memorize the placements.
So far so good because as I swiped my fingers over the keycaps and the legends, I was awestruck by how good the feeling was. I could already see myself gaming and typing on the keyboard and I had just opened it. Without a doubt, the premium-ness justifies the above $100 price tag.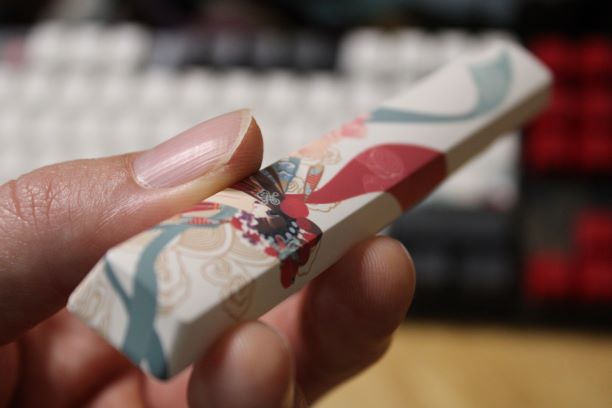 Amazing Varmilo EC Sakura Switches V2
If you're not familiar with Varmilo keyboards, at this point you might be wondering, "Oh, there aren't any Cherry MX switches, that's a letdown…" But before you wonder that, hear me out.
Varmilo EC switches V2 feel smoother, lighter, sound lower, and are ultimately better than Cherry MX switches in my opinion and I believe you're going to agree when you check them out yourself.
The ones I got were Varmilo EC Sakura Switches V2. These are one of the 3 linear type switches they offer. In terms of heavyness, these witches were right in the middle. The Sakura Linear switch has a 45GF actuation force, while the Daisy linear switch has a 35GF actuation force and the Rose linear switch has a 55GF. they're incredibly smooth and easy to press.
They're very stable at the same time and produce a very little sound which is great if you're not looking to make a ruckus with your mechanical switches. I believe they're incredible, the only word to describe them.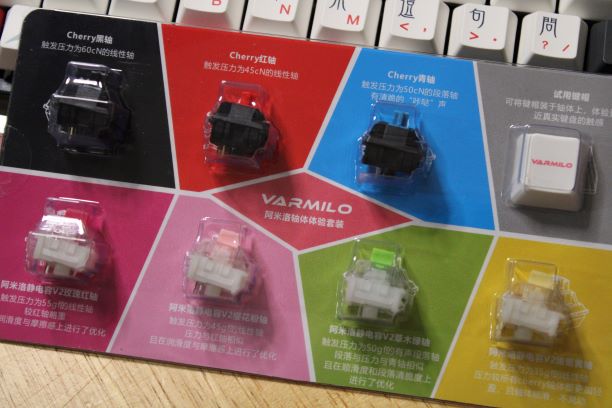 Varmilo High-quality EC Switches V2
Wondering why you should get Varmilo MA87 when there are no Cherry MX key switches in it? Well, that's what I'm here to talk about. Varmilo's newly invented EC switches V2 is the best of the best in all aspects. Let's talk about the different mechanical switches the EC switch V2 line-up has to offer. I'll also provide audio of each switch in their section as well as a comparative cherry switch.
| Switch | Type | Actuation Force | Terminal Force |
| --- | --- | --- | --- |
| Daisy | Linear | 35 | 45 |
| Sakura | Linear | 45 | 65 |
| Rose | Linear | 55 | 75 |
| Ivy | Tactile | 50 | 65 |
EC Daisy V2
The EC Daisy V2 is a linear switch with the lightest characteristics requiring only 35g of actuation force to press the switch which is very little.
The overall clicking sound is super-low, the switch is smooth, and it is going to feel much more superior to other company switches in terms of overall build and durability. This switch is lighter than the well-known Cherry MX Red or Speed Silver.
Who is it for?
People who have muscle and joint problems and can't press too hard on keys can use this switch because of how light it is. This key switch can be perfect for relieving tenosynovitis. And people working in offices for long periods of time in front of a computer clicking and clacking would benefit a lot from this particular mechanical switch by Varmilo.
---
EC Sakura V2
The one that I received in my MA87 keyboard was the EC Sakura V2 which is heavier than Daisy but a very medium-weight mechanical switch. It requires 45g of actuation force to be pressed. It is incredibly stable and doesn't shake like other company switches.
The overall clicking sound is similar to that of other traditional keyboard mechanical switches but the feel is smooth and the stability of the key switch really helps a lot too. It can be compared to the Cherry MX red and Speed Silver.
Who is it for?
If you're a high-end keyboard user who likes the red switch and wants that clicky yet smooth keypress experience, then I feel like you're going to love the EC Sakura V2 switches. They're meant for professional environments as well as daily life usage, so you're good to get them either way.
---
EC Rose V2
The heaviest linear switch in the line-up for Varmilo is the EC Rose V2. It is heavier than Sakura V2 but definitely not as heavy as the Black switches offered by other mechanical switch vendors like cherry.
It definitely has more of a click but overall, it is super-smooth and feels really nice to press. It is quite durable and stable at the same time so there's no shaking when you press the switch.
Who is it for?
Keyboard users who're used to responsive and heavier switches for actuation (55g for this switch) like FPS gamers and typists would actually really love this switch. So, if that's what you're looking for, you're going to have a great time with these ones.
---
EC Ivy V2
This is the only EC switch V2 that is NOT a linear switch, it is a tactile switch. It has an actuation force of 50GF and a tactile force of 60GGF. It is very similar to Cherry MX Blue. This switch is still under development.
Who is it for?
Anyone that enjoys a nice tacticle bump and a click sound. I personally don't like these switches as they are too loud especailly for gaming. But for a someone that likes the extra feedback, they will apreciate these switches.
---
4 Feet Mini USB Power Cable
The Varmilo MA87 keyboard comes with a mini-USB cable that can be plugged into the center under the keyboard. The insulation and quality of the cable are both pretty decent.
The length of the keyboard power cable isn't that long but it isn't short either. It's 4.1 feet. I feel like one and a half foot more would've made things even better but you can't have everything in life, I guess. 
Also, I wish the cable was a USB-C cable. That is the most common cable and I have TONS of them around the house. However, I don't have any backups for Mini USB cables, so if this one breaks, I'll have to get a replacement.
Plugging the cable into this keyboard was a bit awkward too. There's a little square space cut into the back of the keyboard with the outlet to plug the cable into. Not a big deal, just a little annoying. But once it's in, it is very secure and will not fall out. So I think it's a good design overall.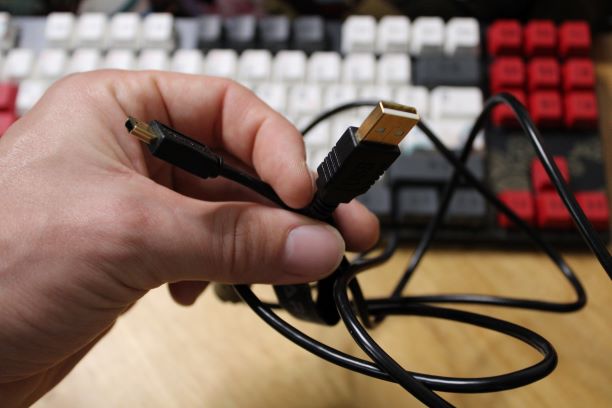 Key Features of the Varmilo MA87 with EC Switches V2
Now that we've looked at all the design and in-depth aspects of the Varmilo MA87 keyboard, it is time we check out the specs and features it possesses. So, let's take a look at what the keyboard has to offer.
87 Keys – The Varmilo MA87 features approximately 87 individual keys including the function key row as well as a few added commands on top of the arrow keys which is quite nice.
Durability – The high-quality plastic along with the amazingly durable aluminum pairs up to make a sturdy and strong keyboard that you can use for years to come without damaging or encountering any problems.
Smooth Typing Experience – The amazing keycaps and smooth textured legend imprints make the typing and pressing feeling incredible which makes you want to use this keyboard even more.
Varmilo EC Switches V2 – The custom design and integrated EC switches V2 are perfect for both typing and gaming. So, you're going to have an amazing experience with these key switches without a doubt.
Varmilo MA87 Pros and Cons
Thinking of getting the Varmilo MA87 keyboard? Well, before you make a hasty decision, let's take a look at the pros and cons you're going to face with your purchase of the Varmilo MA87 Beijing Opera Mechanical Keyboard.
| Pros | Cons |
| --- | --- |
| Beautiful design – Looks are everything to Varmilo. That's not to say their keyboards don't work great, because they do. But their design and aesthetical appeal are top-notch. | Short Mini USB Power Cable – The cable included with the keyboard is shorter than I personally like and it's a mini-USB rather than a USB-C. It is detachable though, so you can replace it with a longer cable if you happen to have an extra mini-USB. |
| Amazing EC Switch V2s – Their switches are AMAZING. I was a bit skeptical when they said they are better than Cherry MX switches, But having used them for a few days I have replaced my main keyboard with this one and I won't be going back. | Missing letters – Some letters on the keycaps are missing, most notably the number keys. Not a big deal once you memorize the placements but can be annoying at first. |
| Compactness – The keyboard has very thin bezels despite being an 80% mechanical keyboard and the cable is also detachable which makes portability and compactness really good in this one. | Expensive – For this quality, you can't expect to pick this keyboard up for a cheap price. In fact, it's probably the most expensive keyboard I've reviewed yet. But you know what else? It's also the BEST keyboard I've reviewed yet so you get what you pay for and this keyboard is worth every penny. |
| Premium Quality – The overall build quality, elements, design, aesthetics, and everything in between is superb, high-quality, and simply amazing making it a premium quality keyboard overall. | |
| Additional Components – One great thing that I found was the inclusion of the additional components like the keycap puller, extra keys, switch test keycap, and cool stuff like that. | |
Varmilo MA87 vs Ducky One 2 TKL Keyboard
On its own, the Varmilo MA87 Beijing Opera is an exceptional keyboard but how does it fare against one of the other high-quality fan favorites? Let's find out by comparing the MA87 to the Ducky One 2 TKL keyboard and see which one tops the charts.
Right off the bat, we have the Ducky One 2 TKL with a smaller price than Varmilo, but that's about it. From the compactness to the keycap quality, the legend imprints, overall finish, ergonomics, and everything, the Varmilo MA87 Keyboard is definitely ahead of the Ducky One 2 TKL and I believe it's worth the extra few bucks.
Is the Varmilo MA87 Worth It?
Finally, the million-dollar question, is the Varmilo MA87 worth it? Well, yes, absolutely. If you have a bigger than $100 budget and you're looking to go for the cream of the crop keyboards, then there aren't many options more premium and high-quality than the Varmilo MA87, especially in the Beijing Opera Design. But you can get whichever you like since there are a lot of them.
Interested? Get the Varmilo MA87 at Varmilo.com, Mechanicalkeyboards.com or Amazon.com!
Frequently Asked Questions
To make sure I covered all the ground regarding the MA87, I searched the internet looking for unanswered questions related to this keyboard and found a few. So, I thought I should do a FAQ section where I answer some of the most important questions about the Varmilo MA87. Let's take a look at them.
Q. Is the Varmilo MA87 good?
A. Yes, Varmilo MA87 is one of the most premium TKL mechanical keyboards with 87 smooth and high-quality keys that you can use for amazing typing and gaming experiences. So, if you've got the budget for it, it is definitely one of the best keyboards you can get for your setup.
Q. Does the MA87 have Macro-capability?
A. Unfortunately no. The MA87 is a gaming and typing keyboard and it does not come with any companion software or macro-programmability. You cannot program different keys to perform macro functions but this keyboard isn't advertised to do so it's all good.
Q. Is the Varmilo MA87 compatible with Mac?
A. This is a tricky one. Well, the Varmilo MA87 is kind of compatible with Mac. It works alright with Mac but when it comes to shortcut keys, the Mac shortcut keys don't work because they don't exist on the keyboard so, for the ultimate experience you should be using Windows.
Q. Are Varmilo EC switches V2 better than others?
A. Yes! As a keyboard enthusiast who loves incredible mechanical switches, I consider the Varmilo EC switches V2 much better, smoother, and lighter than other switches like Cherry MX, Gateron, Kailh, and the rest. I believe you're going to love pressing these switches just as much as I do if you're gaming and typing with them.
Q. Can I take the Varmilo MA87 with me on trips?
A. The Varmilo MA87 is an 80% mechanical keyboard but even then, it has very thin bezels and is very compact in itself. Along with that, we've got a detachable power cable which means that it is very portable too. So, yes, you can easily take this keyboard with you on business trips and events if you want to.
Conclusion
Varmilo has undoubtedly some of the best keyboards you can get in terms of features, build quality, and premium finish along with aesthetics. Their MA87 is one of the best TKL keyboards that also features a White LED backlight raising the aesthetics even more.
If you like the Beijing Opera design as much as I do, get it ASAP. But definitely browse around the website because there are many more designs to choose from.
Ultimately, you're going to have a top-notch keyboarding experience, that's for sure!
---
Varmilo MA87 Video Review
Follow Varmilo!
Varmilo is very active on social media! If you liked this review, and are interested in their products, check out these links: