When you think of the phrase low profile you generally think about someone sneaking around, trying to avoid capture by the police or something along those lines. When we are talking about keyboards, low profile tends to have a less ominous and suspicious meaning.
Low profile keyboards are designed to be slim and compact, they are much thinner and are generally much lighter and smaller. This article is going to explain more thoroughly what a low profile keyboard is, how they are so small yet functional, and what their benefits are.
As with everything in life, there are trade-offs. In some places, low profile keyboards excel and in others, they fall short. Hopefully, by the end, you'll know for sure whether or not a low profile keyboard is right for you. Lastly, we will cover 5 recommendations for low profile keyboards that might interest you. Without further ado, let's get started.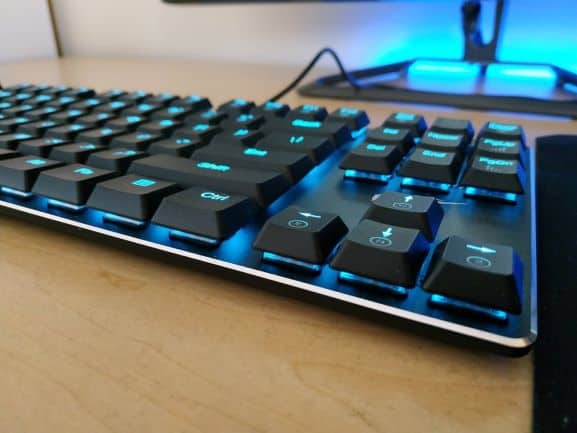 This post contains affiliate links
What is a low profile keyboard?
A low profile keyboard generally refers to a thinner keyboard with a very high point of actuation. The frame itself is usually quite thin and light, as many people purchase a low profile keyboard specifically for its portability.
There aren't any rules specifically defining what constitutes a low profile keyboard, which can lead to a fair bit of false advertising so it's important to look into the specifications of the keyboard before you purchase it. That being said, low profile keyboards are usually less than 1.5cm thick. Many are even less than 1cm.
Apple does a lot of things wrong, but it can't be said they don't make exceptionally low profile keyboards. Pc keyboard manufacturers have a lot to learn still when it comes to making low profile keyboards.
Low profile keyboards are arguably much more impressively engineered than their standard counterparts because they have managed to fit just as much functionality and feedback into a much smaller frame. Because of this, low profile keyboards may end up costing a fair bit more.
Some people choose to buy low profile keyboards because they are smaller and lighter and assumably cheaper, but they may be better off going for a 60% keyboard if that's what they are looking for.
Apple is not usually a good benchmark when gauging price, they would charge you $15 per keycap if they could. That being said, the fact Apple charges around 100 bucks for a bare-bones keyboard should give you a good benchmark for how expensive these keyboards can end up being.
How does a low profile keyboard work?
Low profile keyboards are impressively slim. But why can't all keyboards be this slim? The reason is that the mechanical components of the keyboard tend to need some depth to them. The switches in particular. Most keyboard switches work off a lever system, when a key is pressed the lever is depressed and then comes in contact with a segment of the PCB (printed circuit board) itself. This is how a keystroke is registered.
With a standard keyboard, the switch levers work in a scissor system. If you imagine a pair of scissors opening and closing you can imagine how keyboard switches work too. The top of one blade sits on top of the PCB and the other underneath the keycap itself. When you press the key down the scissors close, when you release the pressure they spring back open.
Now, that's not quite how they work with low profile keyboards. Instead, low profile keyboards tend to make use of either of two systems. First, they may use what is known as a butterfly switch. Instead of working like scissors, they work like butterfly wings. When the keycap is pressed the butterfly's wings spread out as if they are flapping. Then the center of the switch comes in contact with the PCB.
This is how Apple tends to do things, or at least how they used to tend to things. Butterfly switches can be quite problematic and are generally quite unpopular.
Another way low profile keyboard switches work is a lot easier to understand, as it is simply the same as regular scissor switches. The trick is the switches themselves have been cleverly engineered to be much smaller and far more compact. They work in much the same way, some even giving you the same bonus options like being silent, more tactile, lower or higher points of actuation, and more. Great, right?
If it's possible to make these switches, why don't all major manufactures do so? The short answer is, they do! Even the best switch makers such as Cherry MX make low profile switches that can be purchased by the consumer.
The problem is, they are so much more expensive! If this isn't a problem for you, then great. But for most people it is. We will explore the other pros and cons in-depth in the next section of the article.
What are the pros and cons of a low profile keyboard?
As with everything in life, there are pros and cons. Low profile keyboards are great but they are not without fault. We have already touched on one of their biggest faults earlier, they can be very expensive. If you are hoping to get silent switches that still have a very low profile, then you may find yourself paying an arm and a leg just to get some.
We also briefly touched on one of their biggest pros, their portability, and compactness. If you are looking for a keyboard that travels well, has all the functionality of a regular keyboard, but is light and easy to carry around with you every day – then a low profile keyboard might be precisely what you are looking for.
Since they are generally lighter and thinner, you will find that they can usually fit quite comfortably inside your laptop bag with all of your other bits and bobs; mouse, etc.
Low profile keyboards also tend to be much better for people that have mobility or inflammation issues, such as carpal tunnel syndrome or arthritis. The reason being that you don't have to make such large deliberate movements, each key has a far lower depth and the point of actuation is even lower still.
If you have any of these issues you will be able to type far easier with far less effort. In terms of pain relief, if you can find a nice wrist rest that fits your new low profile keyboard it can be a total revelation, you have no idea how comfortable typing can be. This isn't just a problem for people that already have these issues, it can also be a great preventative measure.
Lastly, low profile keyboards can be a bit hit or miss in terms of someone's typing ability. Some people love them and don't ever want to go back, they find touch typing is easier and they can work far more quickly.
Others are quite the opposite, they don't like the feel and lack of deliberate movement needed for each keystroke. Errors are far more frequent, due to the increase in accidental key presses. How problematic this is, varies from person to person, but also from task to task.
Spelling errors when drafting casual emails are not a major problem, spelling errors when writing important reports for work are inconvenient but not the end of the world. However, being highly inaccurate is far more problematic when you are programming.
You might not catch your mistake when your code doesn't compile properly you end up having to go back through it looking for syntax errors trying to work out why it no longer works. Which may end up with you breaking your code even more.
The 5 best low profile keyboards:
There are more and more low profile keyboards entering the marketplace, which is great for us the consumer. The problem we have now is that we are spoilt for choice!
This list of 5 keyboards gives you a nice variety, some are great budget options, some cost a little more. Some travel better, some are better left at home or the office.
Whatever you need, one of these keyboards is bound to be right up your alley. And if not, well, at least you'll now know what it is you actually wanted.
Price comparison chart for all 5 keyboards:
| Keyboard | Price Comparison |
| --- | --- |
| Eagle Tech KG061-BR | $ |
| Redragon K589 Shrapnel | $$ |
| Cooler Master Sk630 | $$$ |
| Corsair K70 | $$$$$ |
| Logitech G915 | $$$$ |
Per Amazon rules, I can't disclose exact prices. This is a visual representation of the price compared to each other. The more "$" means a higher price comparatively.
Eagle Tech KG061-BR
The Eagle Tech is a surprisingly high-quality keyboard, given its very low price. This one has made it onto the list as your best-cheapest option. This isn't to say it's the worst keyboard, it is however going to be the least reliable on this list. It's a good keyboard, it does everything well, it also has a crazy low price from most places meaning you are going to get a lot of bang for your buck.
Features
The Eagle Tech has some pretty nice features, despite its low price it still has a lot to offer. Here are its most notable features:
87 Tenkeyless keys.
Nice clean white design.
High-quality backlight.
USB capable.
Designed with gaming in mind – perfect for all uses though.
It is relatively quiet but gives good tactile feedback.
Cherry Mx Brown switches.
Final thoughts
I think the Eagle Tech is a great keyboard, it does everything you could want and its cost is very cheap, which is pretty good for a low profile keyboard.
The biggest problem, for me, is that the Cherry Mx browns can be pretty annoying. But swapping them out would jack the price up massively. The keyboard feels a little flimsy, but it holds up very well.
The backlights can be a little glaring but they aren't too bad, whether or not that is a deal-breaker is probably a personal issue.
If you'd like to learn more or read more reviews, check it out on Amazon
---
Redragon K589 Shrapnel
This keyboard is also pretty cheap compared to some of the alternatives on the market. While it is indeed more expensive than the Eagle Tech, it also has more to offer.
Anyone familiar with Red Dragon keyboards knows they are generally gaming orientated, but do well in other facets of life too. It might work well as an office keyboard, but, it may not fit in with the office aesthetic.
If you don't care, that's fine, but many people do. The Red Dragon is an awesome keyboard that would make a great addition to any gamers collection.
Features
The Red Dragon is a great keyboard, despite being a budget option it still has a lot to offer. Here are it's most impressive features:
RGB backlight.
Designed with gaming in mind.
104 keys with anti-ghosting features.
Relatively quiet Cherry Red switches.
Nice black design, can fit into office with no backlight enabled.
Smooth keys for extra comfort.
A high point of actuation – fast typing.
Programmable function keys.
Final thoughts
The Red Dragon does everything well. Except for a few minor issues, it's a very well rounded keyboard.
First of all, design. It looks good, but it is very clearly a gaming keyboard. You can use it for other purposes, but, it doesn't quite fit in. It looks fine in an office setting so long as you don't have the RGB settings enabled. Rainbow keyboards aren't particularly professional.
Lastly, the Red Dragon is still quite heavy. It weighs almost 2kg which is about 4.2 pounds. Which isn't overly heavy, but if you're looking for a lightweight keyboard it's less than ideal.
If you'd like to learn more or read more reviews, check it out on Amazon
---
Cooler Master Sk630
This keyboard is by far the best looking, in my opinion. For that reason alone it deserves a place on this list. It's cool grey, simplistic, design fits in well everywhere.
It looks very smart and is perfect for gaming or programming. It's a bit bulkier in terms of thickness than some of the others, but overall, it's a lot smaller and lighter.
If you are looking for a well rounded low profile keyboard this is probably the one for you.
Features
The cooler master has a bunch of great features that should make it stand out to anyone on the market for a new keyboard, whether they are looking for a low profile or not. Here are the most important features that you should be aware of:
Wireless keyboard – Blue Tooth Capable.
Cherry Switches.
Beautiful design.
Brushed aluminum frame.
Illuminated keys.
RGB backlight.
Very small and light – 60% keyboard.
Design choices.
Middle of the pack price.
Final thoughts
The cooler master is a great keyboard, it does everything well, it looks great, and the price is more than fair considering what you're getting. But it isn't perfect.
The first major problem you might have with this keyboard is that it's only a 60% keyboard, you are going to lose out on a lot of your expected functionality.
This keyboard is also a wireless keyboard, which I am NOT a fan of. Many other people feel the same way, I'm sure. These problems are both matters of preference. For some people they may even be seen as positives, it depends on your outlook. This truly is a great keyboard, though.
If you'd like to learn more or read more reviews, check it out on Amazon
---
Corsair K70
In terms of pure quality, the Corsair k-70 takes the cake. This keyboard is phenomenal. You couldn't ask for much more from a low profile keyboard if you are prepared to pay for it that is.
The Corsair looks great and had lots of features to improve its comfort and functionality. The Corsair comes in low profile format or regular, meaning you are getting a keyboard that was customized to be low profile not designed as a low profile keyboard initially.
What this should tell you is that this keyboard goes toe to toe with any other keyboard on the market.
Features
The Corsair is rammed full of great features, here are the most notable ones that you should be aware of:
Very quick typing.
Cool design.
Quite ergonomic.
RGB backlight.
Very flat low profile.
Customizable.
Cherry Switches.
Brushed aluminum frame.
Final thoughts
If you want the best, this is the best. It may not be the most affordable, or the best looking, but it is the hugest quality. It is the keyboard most likely to fit your needs, whatever they may be.
The biggest downside is that it does look a little gimmicky, it is quite expensive, and most importantly you can't change the switches out.
Because you can buy either the regular or the low profile model, it is expected that you would simply by the other if you wanted to go from low profile to regular profile. I don't like this, but If you don't plan on making such a change it's not a major issue.
If you'd like to learn more or read more reviews, check it out on Amazon
---
Logitech G915
Lastly, we have the Logitech G915. Now this keyboard might not be as impressive as the Corsair or as stunning to look at as the Cooler Master, but it does excel in one specific area. If you want a high-quality wireless keyboard this is the one for you.
It is so high quality and reliable that you are sure to be satisfied. The Logitech isn't a bad looking keyboard, but it's not quite as impressive looking as some of the other models.
If you are looking for a keyboard to bring with you to the office, and while traveling with work, this would be my suggestion.
Features
The Logitech G915 has quite a few notable features that you might be interested in hearing about before deciding whether or not it's the right keyboard for you:
Great wireless connectivity.
Decent range on Bluetooth (10m)
Very low profile 22mm)
RGB backlight.
Nice switches – quiet.
Dedicated G keys.
30-hour battery life.
Media keys.
Easy to clean.
Final thoughts
Whether or not this keyboard is right for you probably depends entirely on whether or not you are looking for a wireless keyboard. That being said, if this Keyboard does appeal to you it's important to note that you can use a wired connection to the keyboard instead.
The wireless connection is top of the line, you will hardly notice the delay between key-press to display on the screen. The biggest gripe you might have with this keyboard is that it's not the best looking. It doesn't look bad, but it's not exciting in any way.
If you'd like to learn more or read more reviews, check it out on Amazon
---
Conclusion
Hopefully, you now have a much better idea about whether or not a low profile keyboard is what you are after. If it is, any of these options would be a great choice.
I would highly recommend the Cooler Master to anyone who's looking for a small, lightweight, easy to use, and easy to transport keyboard. I think it's the best looking by far, but you might not be quite as superficial as I am.
Regardless, I hope you now have a clear idea about which keyboard would be right for you. If it isn't any of these keyboards, then hopefully you at the very least now have enough information to point you in the direction of the right one. Good luck and happy typing!
If you want to see more of my product reviews, check out my Guides and Reviews category!