In this article, we will learn what in the world a 65 percent keyboard is. You may have heard the name but were confused about what it even meant. By the end of this article, you will know exactly what they are!
We will also go over what I believe to be the best 65% keyboards available on the market. These are boards that you can easily get your hands on.
However, to be honest, the best mechanical keyboards are the custom made ones like in the following image: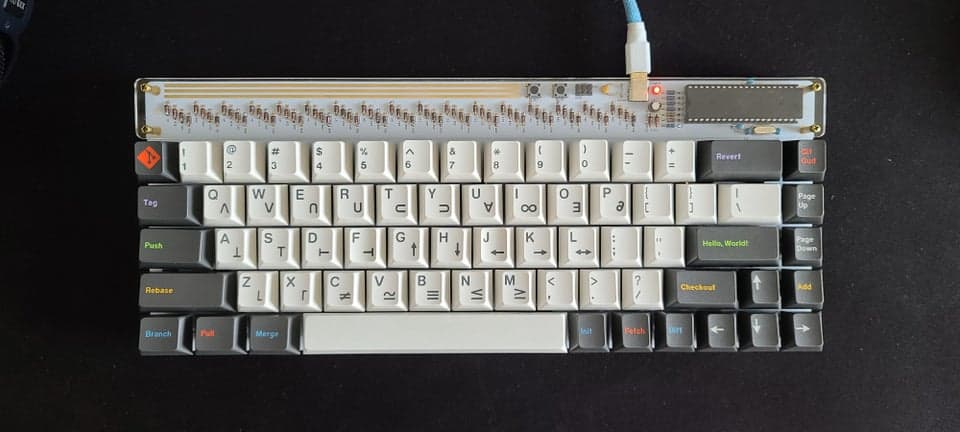 I will go over 65 percent keyboards in full detail in the following section, however, if you already know what they are and just want the reviews, click the Top 5 section in the table of contents!
What is a 65 Percent Keyboard?
To put it simply, its 65% of one keyboard, hence the term "65". The total amount of keys on one of these bad boys is about 66, of which includes the arrow keys as well as the Page up and down keys, Insert key, delete key, and so on. For a visual reference check out the following image.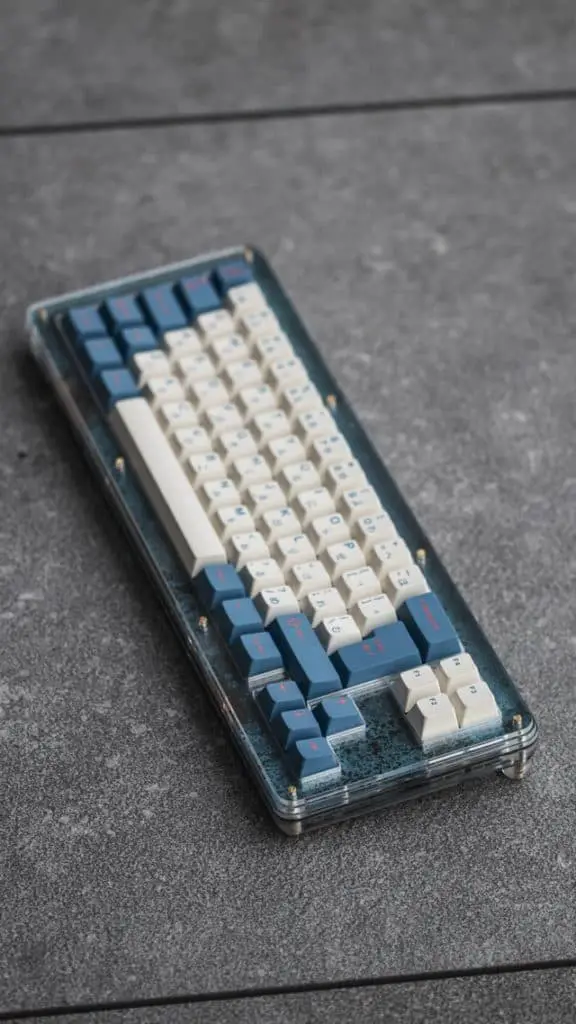 A 65 percent is similar to the 60 percent, however, unlike the 60, it still has the dedicated arrow keys.
That may seem pretty great at first, and it may be what you're looking for, however, there is a drawback to it.
65% keyboards often have non-standard key sizes which makes it a little difficult when you need to change keycaps.
However, many companies include spares when you buy the keyboard, plus keycaps last a long time, especially PBT caps so it shouldn't matter too much.
The benefit of having a compact device, with all the necessary keys such as delete, page up and down, and arrow keys far outweigh the one pitfall I previously mentioned.
Who is the 65 Percent Keyboard for?
Overall, a 65 percent keyboard is a good fit for those who like a more compact layout that keeps the dedicated arrow keys, something not commonly found in a 60 percent board.
The 65 percent keyboard is great for someone with limited space, or just prefers the look of a more compact style keyboard. The great thing about 65 percent, rather than the 60 percent, is that it comes with the dedicated arrow keys, which is definitely a must for some people. Here is what a 60% keyboard would look like for comparison.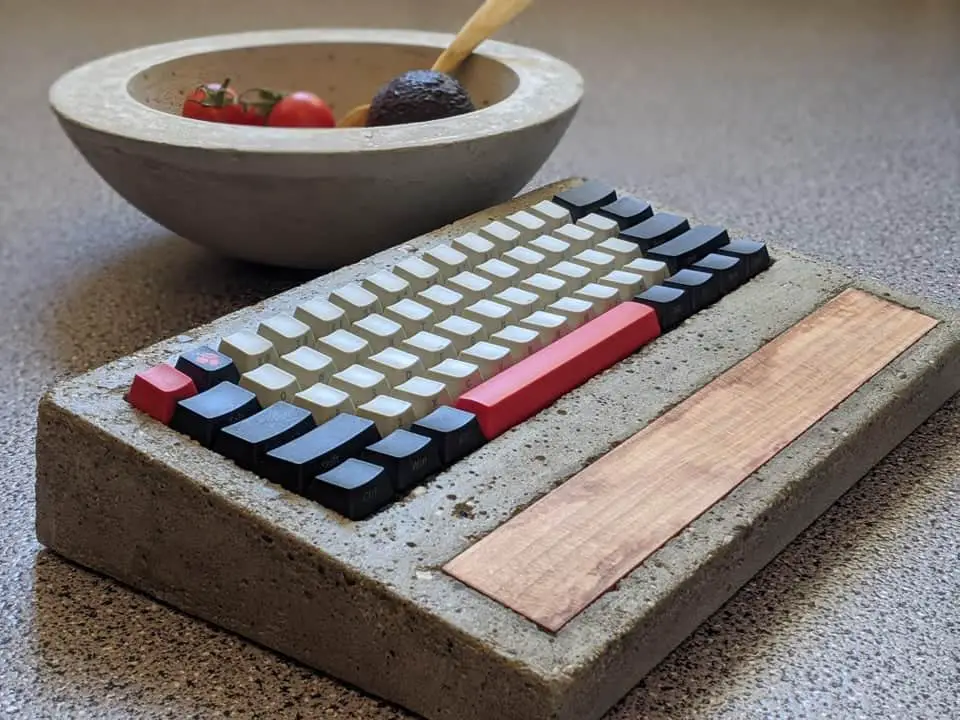 You see, it is very similar to the 65 percent, but it shaves off just a few more keys. Some people may prefer this to the 65, but it would take some time to get used to it. For example, what do you even do if you need the arrow keys? I guess you just use WASD for everything arrow related?
That was obviously a joke. When keyboards become really compact they need to make use of "layers". This is essentialy a button that will switch the keyboard modes. Effectively giving each key two or more functions.
60 Percent vs 65 Percent?
Again, it comes down to personal preference and space. If you have plenty of room on your desk, then there's no reason you have to get a 60 percent keyboard. That being said, some people just LOVE the look of a smaller keyboard. So much so, some people take it a step further and opt-in for an even smaller keyboard known as a 45 percent keyboard.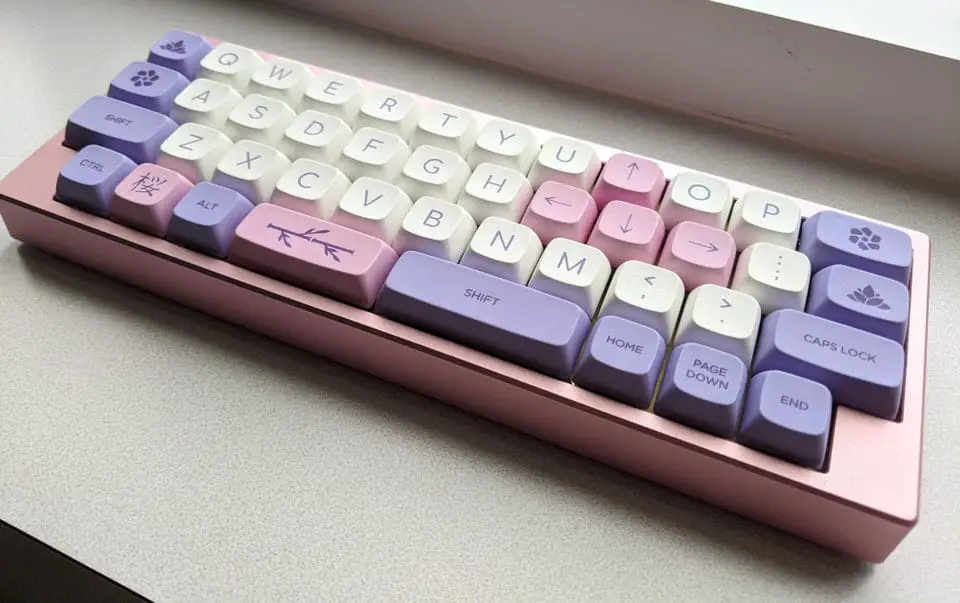 I personally think that is nuts! My hands could barely even type on this thing without bumping into each other. However, I will admit, this keyboard is pretty adorable and I can see why some people choose to use it. In any case, If you're going for a 65 percent, 60 percent, or even a 45 percent keyboard, you might want to consider getting a number pad too, as these keyboards normally lack numbers or, if they do have the numbers, it's still nice to have options just in case you need the extra keys one day.
On another note, if your reasoning for getting a tiny keyboard is only because you don't have space for a full keyboard, you should talk that up with the eSports players. They are always stuck in cramped buildings playing on little desks trying to compete. However, I've never seen them playing on a TV Remote. Instead, they adapt and use tricks like tilting their keyboards away from them, giving more room for their mouse and other peripherals.
Where to Get a 65 Percent Keyboard?
If your interested in getting one of these keyboards, you can find some great ones on Amazon, just like the ones I'll be showing real soon. I know a lot of people like to make their own keyboards as well. Though, that can be pretty expensive. Most people build their own mechanical keyboards because it's fun and a hobby for them, you won't really save any money doing it, especially if you factor in opportunity costs.
I would recommend just ordering a decent one online if it's your first experience with these compact boards. I wouldn't recommend going crazy and buying something too expensive, just in case you don't like it.
The great thing about Amazon though is that you can return anything you don't like. There really isn't much to lose, and if you think you would like a 65 percent keyboard then you should definitely go for it. With that being said, here are a couple of these small keyboards people seem to like.
My Recommendations for the Best 65 Percent Keyboards
If you've read all that and decided that a 65 percent keyboard is for you, then continue reading to find the best ones currently available, and all their features!
| Features | Ducky | MagicForce | Akko 3068 | Drop ALT | Tada 68 |
| --- | --- | --- | --- | --- | --- |
| Color | B/W | White | Blue | Grey | Black |
| Lighting | RGB | B/O LED | None | RGB | None |
| Case | Plastic | Plastic | Plastic | Aluminum | optional |
| Keycaps | PBT | ABS | PBT | PBT | PBT |
| Switches | Cherry MX | Outemu | Cherry Mx | Variety | Variety |
| Stabilizers | ?? | Cherry | Cherry | ?? | ?? |
| PCB | Soldered | Soldered | Soldered | Hot-swap | Soldered |
| Connection | USB-C | Mini USB | USB-C | USB-C | USB Mini B |
| Wireless? | No | No | Optional | No | No |
| programmable? | No | Limited | No | Fully | Fully |
| Amazon | Click | Click | Click | Click | N/A |
Ducky One 2 SF
The ducky brand is very popular. There is the standard ducky one 2, however, this particular model is the SF meaning 65 percent.
Like most 65 percent it has a non-standard bottom row making it difficult to find replacement keycaps.
That is a common theme with 65% keyboards as previously mentioned. I won't mention that every time.
Let's take a look at the details:
Features
Click Test
Final Thoughts
You can't really go wrong with a ducky keyboard. It is a solid choice for typists and gamers alike.
Its build quality is pretty solid, especially for its price point. Though it can be a bit pricey for some people.
Its colors are simplistic which I am a fan of. I don't like a keyboard with bright crazy colors.
If you'd like to learn more or read more reviews, check it out on Amazon.
---
Qisan MagicForce 68
The Qisan MagicForce 68 is another great choice if you are looking for a 65 percent keyboard. This might be a good keyboard for an entry-level user, as it is pretty low in price yet still a high-quality board.
Features
Click Test
Final Thoughts
Overall it is a decent board for its price tag. To be honest, you get what you pay for but I wouldn't be disappointed with this purchase if I was on a budget.
It takes a few shortcuts, for example, using ABS plastics instead of PBT, however, to my surprise, some people actually prefer the ABS. In my opinion, I don't like the shine that comes from the cheap plastic material over time.
I also don't like that it's white. Having white things always scares me that I'm going to get it dirty and not be able to wipe off the stains.
Also, I'm not a huge fan of the smooth feel of the caps, I like a nice textured keycap but your opinion may vary.
If you'd like to learn more or read more reviews, check it out on Amazon.
---
Akko 3068
The Akko 3068 is a bit pricier than the previously mentioned keyboard but for good reason. This is a well built mechanical keyboard, and if you can afford to spend twice as much as the other keyboard, I would get this one.
Features
Click Test
Final Thoughts
I like that this keyboard can be wireless if you choose, none of these other keyboards have that option. Though I never tend to use wireless anyway, it's just nice to have the choice.
That being said, some version of this board doesn't come with the wireless functionality so you have to be careful.
I wish the case was aluminum but the plastic case works fine. If it was aluminum it would be even more expensive so I understand why they didn't add that.
If you'd like to learn more or read more reviews, check it out on Amazon.
---
Drop ALT
This is one of the highest quality boards on this list. It is a well-known brand that everyone loves and trusts. Pretty much everything you want on a 65 percent mechanical keyboard is an option on this one.
Features
Click Test
Final Thoughts
I honestly can't think of anything negative for this board other than the price tag, but that's to be expected with all these great features.
It has high-quality PBT keycaps, a solid aluminum case, pre-programmed RGB lighting that can be customized to your liking, and they even give you two places to plug the board into.
I also love that it comes with hot-swappable sockets. This makes changing out the key switches very easy, which will mean your keyboard will last a lot longer because maintenance will be easy.
If you'd like to learn more or read more reviews, check it out on Amazon.
---
Tada 68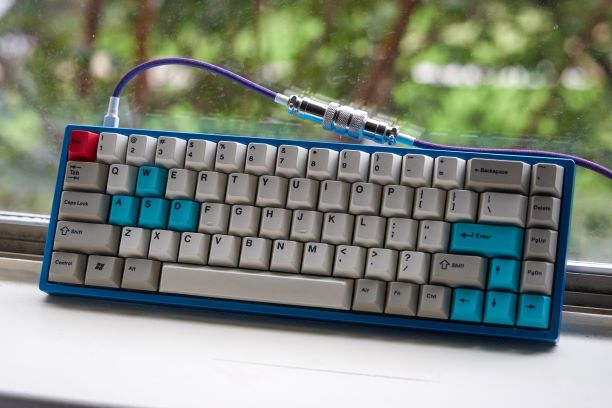 This one isn't on Amazon but it's a great choice so I decided to add it anyway. You can find it at KBDFans or Mechanicalkeyboards.com.
This keyboard is a bit different because you can choose to get it as a DIY project. However, if you have no experience with building a custom keyboard, just go with the pre-built model.
Features
Click Test
Final Thoughts
The Tada 68 is an interesting keyboard for sure. I love that you can get it as a DIY project. This is great if you want to get into making custom keyboard builds, it's a great place to start.
However, if you just want the completed mechanical keyboard, it's still a great option. The pricing is similar to the Akko.
One drawback for some is the lack of any RGB or LEDs. That doesn't really bother me, but I know for some that it's a make-it-or-break-it type of thing, so I had to mention it.
But if you decide you don't want this board only because of the lighting situation, you should know you can go with the keyboard kit and build the board yourself, adding whatever lighting effect you want.
Only available at KBDFans or mechanicalkeyboards.com
---
Honorable Mentions
Durgod Hades 68 Mechanical Gaming Keyboard
More information
Click the image to check price on Amazon
---
Vortexgear Cypher 65% – Fully Programmable
More information
Click the image to check price on Amazon
---
Summary of my recommendations
Those are my 5 choices for the best 65 percent keyboards. To be honest you probably already know the one I would go with, and that is the Drop ALT. I just love all the features it comes with. Of course, this one is pretty expensive so if money is tight I would avoid it.
Honestly, a lot of the extra features aren't needed on the expensive keyboards. They may last a bit longer, but if you just want the best bang for your buck, I would go with the Akko 3068. Its price is in the middle but it is a very nice keyboard that will last you a long time.
If you just want a nice 65% keyboard that functions great but you don't want to spend too much money, go with the Magic Force 68. That is a very solid board that I would consider a nice entry-level board.
All these boards are great choices, and I encourage you to dig a little deeper into each one. Check the forums and Amazon reviews for more information before you make the purchase.
Conclusion
There are many reasons someone might go for the 65 percent keyboard. Whether that is the sheer awesome factor, or they just want to maximize their space. This size keyboard is a safe middle, any smaller than this, and it just becomes too hard to even use, in my opinion.
If you would like to give this keyboard a try, make sure you test one out first or get one from a retailer with a great return policy. You don't want to get one of these tiny keyboards and find out you hate it and can't get rid of it.
Also, if you do choose to get a compact keyboard, consider getting a keypad to go with it, you may find it helpful. That's up to you, of course, just a friendly suggestion!