If you're a professional typist or someone who's looking for a decent professional compact keyboard, a good niche option in my opinion is the Vortexgear Cypher 65% mechanical keyboard.
You might be wondering, how good is the Vortexgear Cypher and what does it have to offer? Well, that's precisely what I'm here to let you know.
In this article, I'm going to talk about the Vortexgear Cypher, its design, build quality, features, pros and cons, and everything in between to completely review it. So, make sure you read this article till the very end before you make a final buying decision.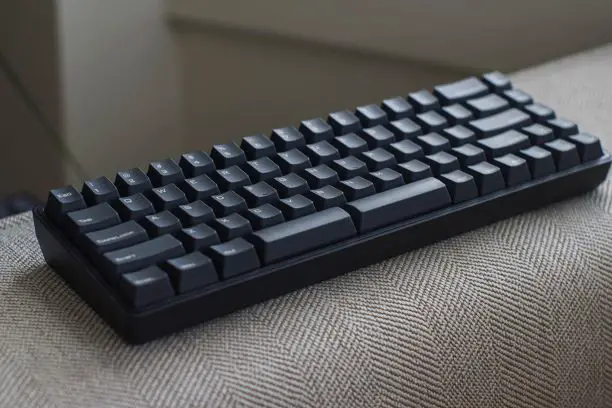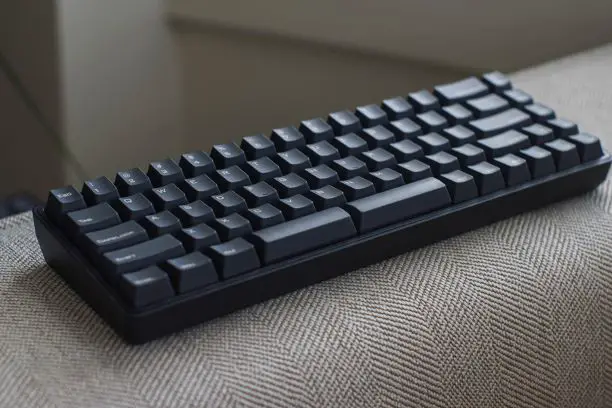 In a hurry? Get the Tada 68 at Mechanicalkeyboards.com or Amazon.com!
What's in the Box?
The box of the Vortexgear Cypher is pretty cool. It's decent, well-protected, and has a great packaging design as well. So, in terms of boxing, Vortexgear is doing a great job. Upon opening my Vortexgear Cypher box, here's what I was able to find:
Detachable USB type-c cable
The Vortexgear Cypher 65% Mechanical Keyboard
Instruction Manuals
There are no additional keycaps or a keycap puller for that matter. It would've helped us a lot if there was a pre-included keycap puller if we were to perform customization. At this price range, and included keycap puller would've been great on Vortexgear's end in my opinion. Other than that, I am pretty satisfied with what the contents of the box were.
Epic Design and Build Quality
The Vortexgear Cypher is a 65% compact mechanical keyboard that features 68/69 keys in a small form-factor a thin bezel frame with an ergonomic design and a typing-forward layout.
The keyboard itself is small in terms of width, which makes it apt for smaller desk setups. However, the keyboard is taller than your average board because of the natural ergonomic inclination used in it.
The shape is pretty decent and streamline. I really liked the curves on the sides of the keyboard and would like to give Vortexgear props for the design of the Cypher 65.
On the back, there are 4 rubber feet only with no kick feet or adjustment bars. When it comes to the build quality of the keyboard, it is made of plastic with an aluminum backplate which keeps it sturdy and durable.
Overall, the keyboard is decently designed and durable enough to withstand long years of usage. So, you're going to get your money's worth in terms of usability and durability.
PBT Keycaps and Laser Etched Legends
Let's move on to the detailed inspection. The keycaps used on the Vortexgear Cypher are made of high-quality PBT plastic and they feel incredibly smooth and wonderful to touch.
The size of the keycaps is standard and in the double spacebar version of this keyboard, you get 69 keycaps instead of the standard 68 that you see in all 65% mechanical keyboards.
One thing I wasn't glad to see was the laser etching legends. PBT plastic goes well with Dye-Sub because it's fade-resistant but laser etching looks good however it doesn't last as long as Dye Sub and starts to fade over time which isn't the best thing.
In terms of the keycaps and legend imprints of the Vortexgear Cypher 65% mechanical keyboard, it has passed and failed to impress me respectively. But there's still a lot of hope attached to the functionality and the components of this keyboard so let's move on.
Incredible Cherry MX Blue Switches
One great thing about the Vortexgear Cypher 65% mechanical keyboard is that it comes with an All-Cherry mechanical switch line-up. You've got a lot of Cherry MX options to choose from.
The package that I ordered came with the Cherry MX Blue Clicky Mechanical Switches. And I have to say, I really love the switches. Nothing says more about a good typing experience than some loud and audible tactile feedback and actuation sound.
They require more force than tactile and linear switches but the tactile bump and sound of the click are just soothing to the ears if you're a typist. The actuation point is quite high so you don't have to bottom out before registering a command.
Another great thing about the Cherry MX Blue mechanical switches is that they're quite durable and can last for over 80 million keystrokes which are super cool in my opinion.
Overall, the keypress feel and the clicking sound along with the tactility and durability of the Cherry MX blue is something to fall in love with, so in terms of switches, the large price of the Cypher is justified.
5 Feet USB-C Power Cable
The Vortexgear Cypher Mechanical Keyboard comes with a USB type-c detachable power cable. It is rubberized and well-insulated so you don't have to worry about safety and protection while using it.
In terms of cable length, the power cable for the Vortexgear Cypher is 5 feet long which is quite a length and will be enough for you to sit comfortably and use it from a considerable distance without having to tug on the cable. So, that's another plus point of this keyboard.
Exciting Features of the Vortexgear Cypher
Now that we know the ins and outs of this compact mechanical keyboard, you must be wondering about what Cypher has to offer in terms of features and capability. Well, let's delve into the features and offerings that the Vortexgear Cypher has in store for you.
Double Spacebar Key – There's a version of the Cypher 65 that comes with a half-split spacebar that basically gives you more keys to program and additional room to play with on the keyboard.
Multiple Function Layers – If you want to set macros, there is a default layer that is not editable and then there are 3 additional layers of functions that you can program according to your requirements.
Cherry MX Switches – Cherry MX Mechanical switches are the best in the business when it comes to mechanical keyboards. You can choose from a huge line-up for your Vortexgear Cypher.
Compact Structure – The Vortexgear Cypher comes in a small-sized slim-form factor structure that is equipped with thin bezels and a frame that would be easily portable.
Multiple Keyboard Layouts – If you're not a fan of the QWERTY layout, don't worry because there are multiple keyboard layouts pre-built into the keyboard. You can choose a keyboard layout of your choice between Dvorak, Colemak, and QWERTY.
How to Program Vortexgear Cypher Keyboard
The biggest feature this keyboard boasts of is the full and complete programmability option you have in it. You can physically reprogram all the keys on the keyboard and set macros of up to 100 characters on each key.
Press Ctrl+Fn and you'll be able to record macros now. Press the key you want to register your macro on and then keep typing as long as you want or until you reach 100 characters. After you're done assigning the macro, you're going to press the Pn key which is dedicated to stopping the macro recording.
You can choose between different layers of the keyboard if you've programmed particular macros on certain layers. Press the Fn key along with the less than, greater than, and question mark characters and you'll see an LED underglow on the spacebar which will signify the particular layer.
Vortexgear Cypher Pros and Cons
Thinking of buying the Vortexgear Cypher? Well, I'd say you should take a look at the advantages and demerits that this keyboard brings with it before you make an important buying decision. Here are the pros and cons of this compact mechanical keyboard by Vortexgear.
| Pros | Cons |
| --- | --- |
| PBT keycaps – One of the best things about this keyboard is the high-quality amazingly smooth and premium feeling PBT keycaps that truly make the typing experience wonderful. | No software programmability – There is only a physical programmability option and no software available as of now that allows you to create macros or remap the keys. |
| Lots of Macros – If you're a software user or a typist looking to make a lot of macros that help to make your work efficient, then this keyboard will be a great choice for you. | Legends can fade away after long usage – Due to the laser etching, legends aren't fade-resistant which means they can lose their color and mark over time. |
| Great switches – The Cherry MX mechanical switches are the best you could get for a mechanical keyboard without a doubt in terms of tactile feedback, acoustics, and everything in between. | Expensive – The keyboard offers very specific features and few advantages despite having a very expensive price which I believe doesn't help its case. |
Is the Vortexgear Cypher worth it?
Finally, the main question that this piece was meant to answer, is the Vortexgear Cypher 65% Mechanical keyboard worth the price? Well, it depends really. If you're looking for a typing-friendly, good quality keyboard with epic programmability but little to no extra features then I believe it is worth buying for you. However, if you're looking for a full of features compact keyboard good for everything, then there are other options available.
Interested? Get the Tada 68 at Mechanicalkeyboards.com or Amazon.com!
Frequently Asked Questions
I looked up Vortexgear Cypher and saw that a lot of you had a lot of questions that were unanswered. So, I guessed the right thing to do would be to answer the most frequently asked questions regarding the Vortexgear Cypher 65% Mechanical Keyboard.
Does the Vortexgear Cypher work with Mac?
Yes, the Vortexgear Cypher works with Mac without a question right out of the box but one thing you need to know is that if you want to upgrade the firmware of the keyboard, you're going to have to use a Windows device.
How to switch the Vortexgear Cypher keyboard layout?
You can switch between QWERTY, Dvorak, and Colemak, on your Vortexgear Cypher keyboard, according to your keyboard layout preference. To do so, you need to press the Fn key along with the Home, Pg Up, and Pg Dn key for each of the layouts.
Is the Vortexgear Cypher backlit?
Unfortunately, no. The Vortexgear Cypher isn't backlit and doesn't have any factor of RGB in it. It comes with a couple of LEDs for macro creation and layer detection only.
Is the Vortexgear Cypher fully programmable?
Yes! The Vortexgear Cypher 65 is completely programmable and there's a lot of potential when it comes to programmability since each key can have a macro setup of up to 100 characters.
Does the Vortexgear Cypher work with the PS4 and PS5?
Yes, you sure can! Since the keyboard is a USB one, you can easily connect your Vortexgear Cypher with your PS4 or PS5 and have a great time using it for games and typing.
Conclusion
The Vortexgear Cypher 65% Compact Mechanical Keyboard is a good keyboard without a doubt. But I feel like it doesn't have a lot of defining qualities that put it above other entries in this price range.
If you're into a good typing experience and hardcore programmability, this will be a great buy for you. So, if you choose to buy it, I hope you have a great keyboarding experience with your Vortexgear Cypher!