When it comes to a high-quality gaming experience and amazing typing, finding the perfect compact keyboard could be a bit difficult. But that's precisely what the DROP ALT Mechanical Keyboard claims to offer, which is what we need to put to the test.
You might be wondering, is the DROP ALT Mechanical Keyboard good or bad? Well, that's precisely what I'm here to let you know.
In this article, I will talk about how good the DROP ALT keyboard is; I'm going to list the features, pros, cons, design, build-quality and completely review this keyboard from top to bottom. I'll also be answering some FAQs, so make sure you read this article before you buy this keyboard.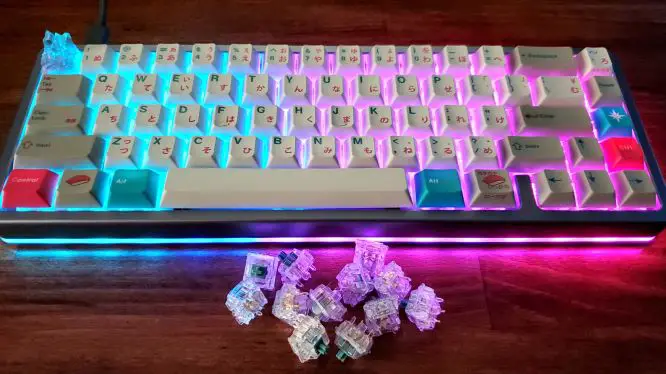 In a hurry? Get the DROP ALT at Amazon.com!
DROP ALT Mechanical Keyboard
The DROP ALT Mechanical Keyboard is a 65% mechanical keyboard equipped with 67 individual keys and a compact design. The keyboard is pretty popular right now and looks incredibly crisp.
The price tag is something expected if we take a look at the quality. Still, I believe the price is a bit overboard. So, does the DROP ALT Mechanical Keyboard live up to the hype? Let's find out.
What's in the Box?
The DROP ALT mechanical keyboard I ordered just arrived, and I'm glad to be able to say this, the packaging is pretty great. It oozes the overall appeal and goes well with the premium aesthetic.
Upon opening the box, I saw protective layers and a few components of the Mechanical Keyboard. Let's take a look at what I could find in the box of the DROP ALT mechanical keyboard.
DROP ALT Keyboard
Keycap Puller
4.6ft USB Cable
Manuals
Switch Puller
Anodized Aluminum Design and High Build quality
The first and most important thing I picked up right away was the DROP ALT keyboard itself. It is an incredibly compact, beautiful-looking, high-quality mechanical keyboard, without a doubt.
The keyboard frame is anodized aluminum which makes the keyboard quite durable, and at the same time, the frame is quite smooth as well. The keyboard comes with four feet on the back with a decent DROP logo in the center.
There are also two magnetic feet which I believe is a super cool feature. You can make the keyboard incline upward or downward depending upon your requirement by simply detaching and attaching them in the preferred spot.
The build quality is definitely as premium as they advertise it to be in comparison to the price. There's no flex or bend to the structure, which is why I really liked the overall build.
One thing I found a little out of place was the bezel. The Bezel isn't thin; on all four sides, you can see quite a bit of the frame, but I think this doesn't affect the aesthetics or the functions much, so we're definitely good on that.
Overall, both the build quality and the design of the keyboard are pretty amazing. And I'm satisfied up to this point. But there's a lot more to see if we want to spend a large amount of money to buy this keyboard.
Superb PBT Keycaps and Shine-through RGB Legends
The next things to check in this keyboard, like every other one, include the keycaps and the legends. This was another hit out of the park from DROP, in my opinion.
The keycaps that come with the keyboard are incredibly high-quality textured PBT plastic material, which means that you're going to feel amazing when you touch or press the keys.
They're also high-profile. This means that there's a gap between the keyboard base and the keycaps where you can see the RGB backlight come into play, and it gives quite a vibrant, colorful effect.
And another super important thing they got right is the legends. Usually, when keyboards are RGB backlit, the legends aren't bright enough or too bright at times. But the shine-through keycaps by DROP are perfect for the amazing RGB backlit element of this keyboard.
Ultimately, what I think about these PBT keycaps and the Shine-through RGB legends is simply amazing. But we still have to arrive at one of the most premium inclusions in this DROP ALT keyboard yet.
Glorious Cherry MX Blue Mechanical Switches
Don't be confused with the heading. These aren't switches from Glorious. They're simply glorious. We all know Cherry MX switches are amazing. Well, luckily, my keyboard came with the Cherry MX Blue mechanical switches.
The Cherry MX Blue switches are a clicky variation of mechanical switches by Cherry. These switches are great for all occasions, especially if you're thinking of doing programming work or typing professionally.
The actuation of these switches is decent. The tactile feedback is good, and the sound of the click is pretty loud, which is why they're considered clicky switches. The keypress, however, doesn't feel hard; it has a certain amount of weight but is quite nice.
Overall, I really liked the inclusion of the Cherry MX Blues in this keyboard, but if you want, you can get any other switch as well. The sky is the limit when it comes to the DROP ALT mechanical keyboard.
4.6 Feet USB-C Braided Power Cable
The power cable included with the DROP ALT keyboard is a USB type-c cable which is pretty neat. It is finely braided and looks quite durable, and very well-insulated.
Not only that, but there's also the fact that there are two USB slots in this keyboard, so it can also be used as a redirecting tool if you want to charge your mobile or some other device.
The length of the cable itself is pretty decent. It is around 4.6 feet which I believe is just enough. Not too long, but it isn't short enough to get in your way or make you tug on it to use the keyboard, so that's cool comfortably.
Exciting Features of the DROP ALT
Now, it is time to dig into the features and specs of this keyboard if you're really interested in getting it. Here's a list of the major specs and features I found quite useful:
Mechanical Switches – As we know, the DROP ALT mechanical keyboard comes with super-cool Cherry MX switches with loud sound and a comfortable yet satisfying keypress. There's also the option to choose your own switches.
On-board Customization – With the help of the Fn key on the side of the right Alt, you can customize a bunch of things. You can also access the secondary functions of keys since this keyboard doesn't have a Function key row because of the 65% layout. An example is, Fn+D allows you to change the lighting pattern.
Hot-swappability – A cool feature of this keyboard is the fact that you can change switches without any-desoldering. Moreover, you don't even need to switch off the keyboard; you can change the switches according to your requirement while the keyboard is switched on.
Compactness – The DROP ALT keyboard is a 65% layout, and it comes with decent compactness. This means that it won't require a lot of space on your desk and still offers many great functions.
Magnetic feet – The magnetic feet you can use to adjust the level of the keyboard add a separate layer of ergonomics that I really like about this keyboard.
NKRO – The DROP ALT mechanical keyboard also comes with full N-key rollover. With this keyboard, you can press as many keys as you want and register the commands of each of those keys without any of the presses ghosting on you.
Programmability and Custom Layout with QMK
All you keyboard enthusiasts out there might be thinking to yourself, what about programmability? Well, DROP has got you covered… to some extent. But, unfortunately, this keyboard doesn't come with a separate dedicated proprietary programmable software tool.
But it is fully QMK supported. This means using QMK firmware; you can change the layout of your keyboard, change the RGB settings, remap the keys, assign macros, and do a lot of customization and programming. So, there's a lot of potential, but a little advanced skill requirement, at the same time.
Pros and Cons
Now that we've completely looked at everything this keyboard has to offer, let's quickly sum up the review with a few pros and cons which will help us decide.
| Pros | Cons |
| --- | --- |
| Durable Construction – The frame of the DROP ALT is made of strong aluminum, which means that this keyboard is going to stay durable for quite a long time. | Expensive Price – The components and quality are sure premium, but compared to other keyboards on the market, the price is a little bit too high. |
| Premium Components – All the keyboard components, including the keycaps, key switches, legends, frame, cable, and everything, are quite premium in terms of quality. | No dedicated software – With so much potential, there's still no DROP programming software for making it easy for beginners to programming this keyboard. |
| RGB lighting – RGB lighting is available and can be completely customized according to requirements using QMK, so that's definitely a plus, in my opinion. | |
Is the DROP ALT Worth It?
Ultimately, the question is, is the DROP ALT mechanical keyboard worth it? Well, it really depends on you. If you're a keyboard enthusiast who wants to get a feel of what the top-of-the-line keyboards feel like, this keyboard is a must-have. But if you've got a small budget, then this keyboard isn't for you. It would help if you got a keyboard according to your budget. 
Interested? Get the DROP ALT at Amazon.com!
Frequently Asked Questions
I was surfing the web and saw a bunch of questions regarding the DROP ALT keyboard unanswered. So, I took it upon myself to answer some of them. First, let's take a look at the FAQs about the DROP ALT keyboard.
Is DROP ALT good for gaming?
Yes, the DROP ALT is an all-around keyboard that is excellent for gaming. The RGB factor really helps the gaming cause, but it all depends upon the type of switches you choose. If you get tactile switches, you're going to have an amazing gaming experience with the DROP ALT keyboard.
Does the DROP ALT come hot-swappable?
Yep, the DROP ALT mechanical keyboard comes hot-swappable. It means that you can change the switches by simply removing them with the switch puller without de-soldering or anything. It is quite easy and simple.
Is the DROP ALT compatible with the PS4 and PS5?
Absolutely! The DROP ALT is compatible with PC and gaming consoles like the XBOX ONE, PS4, PS5, and other devices. So connect without a problem and have a great time.
Conclusion
The DROP ALT mechanical keyboard is, without a doubt, one of the best in the market right now. But it is an expensive product. If you've got a decent budget and a knack for premium keyboards, then you're going to have a great experience with this. You should definitely buy it. I hope you learned a lot from this review and that you have a great keyboarding experience!