Finding the right keyboard for gaming is not going to be the difference-maker when it comes to winning or losing. It is, however, going to push you towards one or the other. A good keyboard is a tool to help you be the best you can be.
Just like how having a better PC altogether can improve your gameplay, having a better keyboard can improve your reaction time and cut down on unnecessary mistakes.
Since we are all different, we all have our preferences and whatnot, finding the best small gaming keyboards for cheap can be a little tricky. What's best for you might not be best for me, so picking 5 keyboards out of thousands can be quite the task.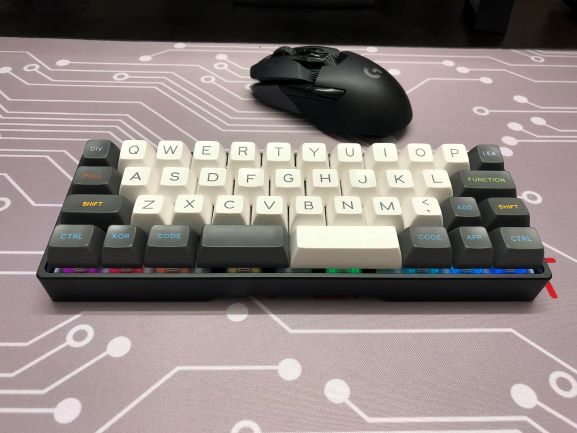 Luckily, there are some constant features that we can all agree that will make a gaming keyboard better.
For example, RGB rainbow backlit keyboards work better than other keyboards. There is no science whatsoever to back this up, it's just something we all agree on. Or, maybe they are just so inherently cool they give us the confidence to play better. Who knows.
This article will help you narrow down your search for the best small gaming keyboard, for a low price, to just 5 choices. Any of the 5 would be great, hopefully, one of them is precisely what you are looking for!
This post contains affiliate links
What makes a keyboard good for gaming?
There are a few features that we can all agree that a good gaming keyboard will have. Of course, first of all, we have the RGB lighting. I was joking when I said it makes a keyboard perform better, partially.
The truth is the backlight on a keyboard can greatly improve our accuracy when typing and or performing combinations. The lights help to differentiate between the keys in use to make things as easy as possible for us.
Which color backlights you use is more of a matter of preference than anything. The advantage of an RGB keyboard is that the color choices allow you to pick which color is best for you depending on your eyesight and the level of brightness in the room.
We have all been up at night gaming in the dark, being able to see your keys clearly can be quite helpful in these late-night sessions.
Furthermore, you may be looking for some kind of tactile-ness. Getting that feedback between keystrokes is a good way of re-affirming for yourself that you have pressed the key.
If you are playing a combo-based game like league of legends, getting off your combo in order is more important than just pressing all the keys. By having a tactile keyboard you will get a little bit of feedback when the key is pressed so you know you are ready to move on to the next one. This thought process will come subconscious and all happens in a split second, but that's the difference between winning a fight and losing one.
You also want to consider functionality. A good gaming keyboard can bind extra functions to specific keys. Some even have function buttons along the left-hand side of the keyboard so you can hit them with your left-hand pinky finger.
Functionality is not something that we all need, but it is nice to have the option. Who knows whether you will need those functions tomorrow, but at least by having the option you won't need to buy a new keyboard.
Additionally, most gaming keyboards serve a dual purpose and are also used for working. If you are planning on doing just that, you will want to consider how good your keyboard is for things other than gaming.
Comfort plays a big part, unlike typing where you can take your hands off the keyboard should they start to get achy and tired, with gaming you can't quite pick and choose when to remove your hands. Well, you can, but you would find your character has died.
Getting a keyboard that is the right shape, size, angle, and elevation for you is a big factor in comfort. If you already have (or are scared of getting) carpal tunnel, then picking an ergonomic keyboard is important for you. At the very least, consider how much room there is on the keyboard for resting your wrists. This is a little trickier on a small gaming keyboard, but not something that shouldn't be outright ignored.
Why a small gaming keyboard?
A small gaming keyboard has a few advantages over a bigger one. First, you are getting portability which is great for if you are moving around a lot. You also will find that moving the keyboard around your desk to more comfortable positions easier when the keyboard isn't quite so bulky.
Also, if you are going for a budget keyboard, a smaller keyboard is going to be cheaper than a larger one. You could get a great small keyboard for the same price as a mid-range large keyboard. That's just simple economics.
The 5 best small gaming keyboards for cheap
Price comparison chart for all 5 keyboards:
| Keyboard | Price Comparison |
| --- | --- |
| Duck One 2 | $$$$ |
| HyperX Alloy FPS Pro | $$$ |
| RK61 60% RGB | $$ |
| Red Dragon k552 RGB | $ |
| Cooler Master SK621 | $$$$$ |
Per Amazon rules, I can't disclose exact prices. This is a visual representation of the price compared to each other. The more "$" means a higher price comparatively.
Picking the five best keyboards for this list was quite hard. There are a lot of great small keyboards for a low price; these just edge the competition out in my opinion.
Any of these 5 keyboards will serve you well, which one is best for you is up for you to decide based on the information you are about to read. All of these keyboards are available on Amazon; you will find a link to them at the end of each mini-review or you can click the image.
Remember, a great gaming keyboard is best when accompanied by a great gaming mouse. Your $5 Walmart mouse isn't going to hack it when you are playing at the highest levels. Here are the 5 best small gaming keyboards for cheap – in no particular order:
Ducky One 2
The Ducky one 2 is one of the most basic small gaming keyboards. It doesn't have the extra functions, it doesn't try too hard to be extremely flashy. What it does do is give you a great, reliable, mechanical keyboard with a nice amount of tactile feedback.
This keyboard is a great choice for anyone who is looking for a keyboard that does all of the basics well. The Ducky One 2 is a 60% keyboard, meaning it only has 60% of the keys of a regular keyboard. It has removed the Numpad entirely to save space.
Since the Numpad is hardly ever used when gaming (I can't think of any games where it is) this is no real loss.
Features
The Ducky One 2 has only the most basic features, it aims to do the basics well and leaves the fancy functions to the larger keyboards. Getting the basics right is what separates the great keyboards from the average ones. Since this keyboard has fewer keys, you will need to use the function key to access all the standard keys. Here is a breakdown of all the best features that the Ducky One 2 RGB gaming keyboard has:
RGB lighting.
60% key count.
Mechanical – high feedback.
Function + key for increased keys available.
High amounts of customizability.
Cherry MX Switches.
Great for typing or gaming – whichever task you need it for, its ready.
The keycaps are very high-quality and much more durable than most of its competitors.
Final thoughts
The very versatile Ducky One 2 is a great gaming keyboard. Even when you compare it to normal keyboards, it still does pretty darn well. You are certainly getting what you pay for with this great keyboard. It does pretty much everything well, it is very high quality and customizable product.
It does have a few small downsides though. First, the lack of 40% of the keys means you will need to use the function key quite often if you plan on doing things other than gaming or typing. This is a fault of all 60% keyboards, not just this one.
Furthermore, it does have some problems with its programable software. Part of what keeps this keyboard up there with the best of them is its ability to transform key functions, unfortunately programming it to do this isn't always the easiest.
If you'd like to learn more or read more reviews, check it out on Amazon.
---
HyperX Alloy FPS Pro
Slightly bigger than the Ducky One 2, the HyperX Alloy FPS Pro is a TKL keyboard. It too has removed the Numpad to allow it to be as small and as functional as possible.
The HyperX Alloy FPS Pro was designed for, you guessed it, FPS games. It is supposed to work in unison with a mouse to give the most precise and instantaneous feedback as possible.
This keyboard too is mechanical, which is very useful for tactile feedback when gaming. Since you are gaming, the WASD keys and the arrow keys are available, depending on which game you are playing.
The HyperX also comes with a detachable USB cord to allow it to work either off of its battery or your computer.
Features
The HyperX Alloy FPS Pro comes with a heap of great features, it is very customizable and can be used for gaming or typing alike. It is a very, very, slim keyboard making it perfect for the small gaming keyboard criteria. Despite its size, it doesn't fall short in all of its applications. Here is a breakdown of all the features of the HyperX Alloy FPS Pro:
Backlighting.
Detachable USB power supply.
Battery power potential.
Mechanical keyboard.
Cherry MX Switches.
Durable since its made of steel.
Very easy for transporting since its so compact.
Final thoughts
The HyperX is great. It does so many things well and is so compact, that it is perhaps precisely what you are looking for in a small gaming keyboard. But, it does fall short in some areas.
It doesn't offer as much customizability via the function key as some of the other keyboards on this list do. Additionally, its backlighting isn't quite as good as say the RK61 or the previously mentioned Ducky One 2.
Many people complain that its feet are very slippery and the keyboard can end up sliding with heavy use. This is just something that you might want to consider.
If you'd like to learn more or read more reviews, check it out on Amazon.
---
RK61 60% RGB
The RK61 60% RGB keyboard is a nifty little wireless keyboard, with full Bluetooth functionality. It works with all operating systems, so you can make use of it when traveling, at work, at the library, or wherever you might be.
It can be paired with up to three devices at once, so you are getting pretty decent functionality in that regard. Since this is a 60% keyboard, there are limited keys available. Luckily, this keyboard offers multi-key functions to allow you to get all the use out of it as you would with a normal keyboard.
Since it is battery powered, that needs to be taken into account. But, it has enough battery life for about 12 days of non-stop use. Which is more than enough for most people.
Features
The RK61 60% RGB is a great little keyboard. It has so much functionality and customizability that you will find there is very little that it cant do. Since it does so much well, it's important to remember the limitations that always come with wireless keyboards. Those limitations are not unique to this model, but all wireless keyboards as a whole. Here is a breakdown of all the features of the RK61 60% RGB keyboard.
RGB Backlighting.
Compatible with all operating systems.
Great battery life.
Good quality.
It can be found quite cheaply from most places.
Very compact, great for traveling.
Final thoughts
The RK61 60% is a great keyboard. But, like any product, it does have some downsides. First of all, while it does have the ability for multi-function keys they can be a little difficult to use. Especially if you are trying to do them quickly.
Of course, being wireless can be seen as a pro or a con depending on what you are looking for. Since this keyboard was designed specifically for that function, it's a good idea to think about whether or not that is truly what you are looking for.
If you'd like to learn more or read more reviews, check it out on Amazon.
---
Red Dragon k552 RGB
The Red Dragon K552 RGB is one of the best on the market, and this list too. It is a very tough, sturdy, reliable yet compact keyboard. It has been designed to take some punishment and come out swinging.
If you are playing a combo mashing game and find yourself hitting the keys fast and hard, this keyboard is the one for you. This keyboard is a little bigger than the others on this list, as it comes with 87 keys.
You are getting a little bit more room between the keys and on the keyboard frame overall. This is because it has been designed to be ergonomic, not just functional.
Features
The Red Dragon does everything well, it is even useful as an ordinary typing keyboard if you felt so inclined to repurpose it. That being said, you will want to remember that although this keyboard is slightly bigger, you are still missing some keys and thus a lot of functionality. Here is a breakdown of all its best features.
Ergonomic, for both comfort and pain relief.
More keys than other small keyboards
Great backlighting.
Very sturdy.
Mechanical switches.
12 function keys.
Aluminum frame making it strong but light.
Programmable backlighting.
Final thoughts
The Red Dragon might be the best keyboard on here. It doesn't fall short in any areas in particular if you had to pick something to complain about it is that the keycaps themselves are not the best looking. They also feel a little flimsy, plus the switches only come in blue. Which probably isn't an issue, unless you strongly dislike the color blue for some reason.
If you'd like to learn more or read more reviews, check it out on Amazon.
---
Cooler Master SK621
Lastly, we have the Cooler Master SK621. This keyboard has made it onto this list almost from its customizability alone.
It has a great RGB backlight and a very sleek and futuristic look. Its got great functionality and a pretty decent battery life. But, most of all, it's light. Very light. Less than a pound light. Making it not just great for traveling, but perfect for it. If you are a gamer on the go, this is the keyboard for you.
There is a very low point of actuation on this keyboard (the point the keys register as being pressed) Which is why you get a real sense of feedback from each keypress. No more accidentally using your abilities by accident when you brush over the keyboard when repositioning your hands.
Features
The Cooler Master SK621 has a lot of functionality and customizability, most of it is cosmetic, but not all. Here is a breakdown of all the best features of this compact little keyboard, to help you decide if its the right one for you.
Cool RGB backlighting.
Customizable function keys.
Changeable keycaps.
Weighs less than a pound.
Cherry MX Switches.
Battery-powered (very long life).
Bluetooth integrated, with a range of 10 meters.
Final thoughts
The Cooler Master SK621 does everything pretty well. Most of all, it does the job of being portable best. You can fit this nifty little keyboard into your laptop bag or backpack easily and take it with you on the go.
It may be battery-powered, but it has a life of about 4 months so it's not like you are going to need to charge it every day.
It has very customizable software for its functions, but, it can be quite complicated if you aren't sure what you are doing. The manufacturers have some great online resources to help you out though, so you won't feel too lost.
If you'd like to learn more or read more reviews, check it out on Amazon.
---
Conclusion
Hopefully, this article has helped you zero in on which keyboard might be right for you. If anything, hopefully, it has helped you assess what you do and don't want in a gaming keyboard a little more closely.
Any of the keyboards on this list would make a great choice. If I had to pick one, though, it would be the Red Dragon. It does everything so well that it is hard to fault it. It is a very middle of the pack keyboard price-wise but goes above and beyond in everything that it does.
Good luck picking the right keyboard for you!
If you want to see more of my product reviews, check out my Guides and Reviews category!