Whether you're a gamer, writer, or office worker, wanting a stylish personalized keyboard is every keyboard enthusiast's dream. But how do you get customized keyboards without having to buy custom keycaps? The answer is simple and it's keyboard stickers.
You might be wondering, what are keyboard stickers and how do they work? Well, that's exactly what I'm here to tell you.
In this article, I'm going to talk about what keyboard stickers are, how they work, how you can choose the perfect keyboard stickers for yourself, and what the application process is.
So, if you want to make your keyboard smart, cool, customized, and well-designed with keyboard stickers, sit back, relax, and read this article till the end.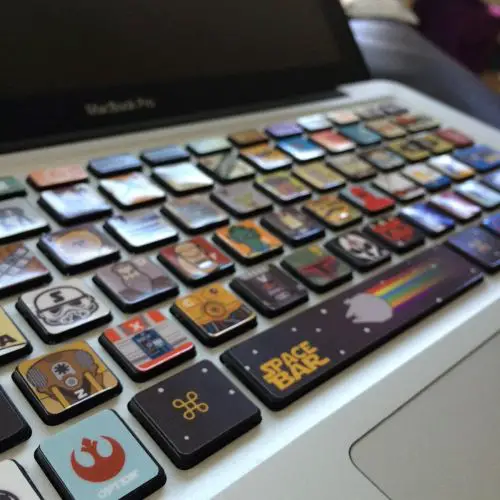 What are Keyboard Stickers?
Keyboard stickers are protective key strips that can be personalized according to the design choice of the user. These stickers can have different textures and finishes depending upon the choice of the user. The feel of keycaps with keyboard stickers on is smooth and overall great.
Stickers come in different shapes and sizes along with different prints and patterns as the keyboard owner pleases. This doesn't only give the keyboard a new look but also saves quite a lot of money which may otherwise be used in the renovation or replacement of the keyboard.
Why Use Keyboard Stickers?
As regular keyboard users, we often tend to forget our keyboard maintenance which can lead to keyboards getting dusty and dirty. Also, we tend to eat and drink at the same desk where our keyboard sits, and though with spill-resistant keyboards, the circuitry doesn't get damaged due to spills, the keycaps can definitely get sticky and oily.
Before keyboard stickers were invented, the only way of dealing with dirty keycaps was to replace them. This means that you would have to get 106 different keycaps for your keyboard varying by layout for a huge price in order to get your keyboard in good shape again.
With the help of keyboard stickers, you're able to make the keycaps feel smooth and fresh with just a single layer of high-quality stickers for a significantly low price.
That's not all though. There are many more beneficial reasons for using keyboard stickers. Let's take a look at all of the epic reasons why you should use keyboard stickers on your laptop and PC keyboards:
6 Reasons to Use Keyboard Stickers
Typing Feel is Great – Even if the surface of the keycaps wasn't as smooth before, with the help of keyboard stickers, the keycaps are going to feel smoother and better. Whether you're typing or gaming on this keyboard, you're going to feel great while using it.
Choose Your Sticker Finish – Another great thing about keyboard stickers is that you can choose the finish you want on them. You can go for a matte finish if you want more plain and simple keys and you can even go for a glossy finish if shiny and smooth is what you're looking for in your keyboard's keycaps.
They're Highly Customizable – Everything is under your control. Keyboard stickers are highly customizable and personalized. Manufacturers even allow you to pick a pattern or design of your own choice so that you can choose the perfect stickers matching the overall theme of your PC setup or the skin of your laptop. This is another great thing about keyboard stickers.
Safe for Laptop Screens – Some covers are said to be harmful to the laptop screens and cause scratches and marks on them. That's not the case with keyboard stickers. Keyboard stickers are completely safe and harmless for laptop screens since they're small and incredibly thin. So, you're good to go if you're thinking of putting stickers on your laptop keyboard.
Easy to Apply and Remove – One of the best things about keyboard stickers is that they're very easy to apply and even beginners can apply them. Furthermore, they're even easier to remove and dispose of if you're thinking of changing the design or getting newer keyboard stickers.
Scratch-Resistance – Another exciting thing about keyboard stickers is that they're completely scratch-resistant. This means that you can expect them to last for a long time without being affected or chipping off due to scratching or overuse. They're designed to withstand long periods of pressing and even major scratches.
Keyboard Stickers vs Covers – What's Better?
Keyboard stickers and covers are both great safety and protection choices if you're thinking of keeping your keys clean and spill-proof. However, the ease, comfort, typing feel, and many other factors differ when it comes to both their uses. 
To give you an understanding of which of the above-mentioned protective equipment is better, here's a detailed comparison of keyboard stickers and keyboard silicone covers in different aspects.
Looking at the Typing Feel
Keyboard covers are made of silicone and are designed as a complete set of keys depending upon the model of the keyboard. That's why when you put them on a keyboard, they feel thick and the typing isn't the best.
However, with keyboard stickers, you are able to make the touch feel much smoother and better but at the same time, you don't compromise on the typing feel which is why typing with keyboard stickers is much better.
Which Offers Better Laptop Screen Protection?
As I said before, due to the thickness of the keyboard covers and their uniform sizes, sometimes they can rub against the screen of a laptop as it is closed down. This can lead to the screen getting an imprint or scratches of the silicone cover placed beneath it.
That's why laptop screens are in much safer hands when you're using keyboard stickers due to their small and customized sizes and they barely even taking any space due to their thinness.
Which one is More Customizable?
Keyboard stickers definitely have an upper hand when it comes to customization. The material used for the stickers is design-friendly and you can even print out your own keyboard stickers if you want.
However, silicone covers aren't made for customization. Sure, you'll get a bunch of different colors in them but you won't be able to customize them exactly the way you might want to, in order to match them to the theme you've got going on for your setup.
Looking at Compactness
Compactness is a very important factor when it comes to using keyboard protection. The size and the dimensions of the equipment need to be more compact for a natural and smooth feel.
This is why the thinly designed keyboard stickers are better in this regard as well in comparison to keyboard covers which are much thicker and offer less compactness.
Best Overal Protection
One area where silicone keyboard covers are better than keyboard stickers is when it comes to overall protection. Due to a larger frame and design, keyboard covers are able to provide better protection against spillage and dirt.
However, this protection doesn't last very long since they can leave damaging marks on the screens if you're using them on a laptop keyboard which isn't the best thing.
What to Look for When Choosing the Right Keyboard Stickers
Ready to buy a pack of keyboard stickers for your own keyboard? Well, to give you a reference, I've made a list of things that you need to look for if you want to choose the right keyboard stickers for yourself. Let's take a look at each of the factors that you need to look for while choosing the perfect keyboard stickers.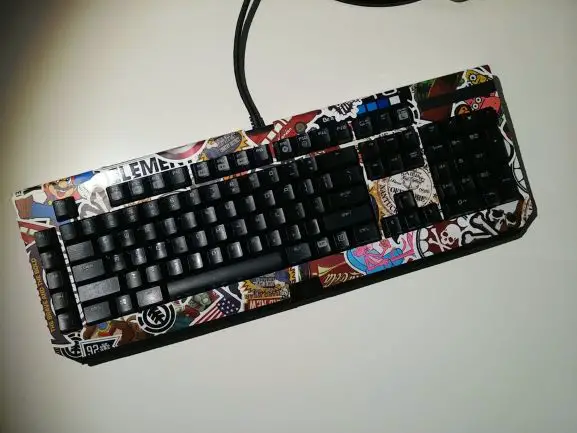 Perfect Design
There are infinitely many designs and patterns that can be converted into keyboard stickers but what you need to look for is the design that you want for your keyboard setup.
This design needs to not only be what you prefer but also matched the theme and the overall look of your setup for an aesthetically pleasing keycap protection job. So, choose wisely.
Compatible Key Layout
This is very important. You need to make sure that the keyboard stickers you're getting for your laptop or PC keyboard match the layout and the size and shape of the keys that the keyboard houses.
Companies provide you maximum customization options and you can go and choose whichever layout you want. You also need to make sure the layout you choose has stickers for the special keys that some of the modern gaming keyboards come with nowadays.
Preferred Finish
Another thing that you need to make sure of is the choice of finish style. This is because some people like a glossy finish on their stickers whereas some people like a dull matte look.
Depending upon which kind of people's category you fall in, you're going to choose the right finish for your keyboard stickers. This is because the entire experience can be made or broken with the choice of the finish that they come with.
High-Quality and Long-Lasting
The most important thing of all, however, is the quality and age of the keyboard stickers you're using. Make sure that the stickers are high-quality, can be applied and removed easily, and will last long.
This is because once you get keyboard stickers, you should be able to gel with them and use them for a few years to come without experiencing any problems or scratches on their surfaces. So, make sure you choose the best quality and long-lasting keyboard stickers from a reputable brand.
How to Apply Keyboard Stickers
If you've purchased the keyboard stickers of your choice and it's time to get through with the application process, all you need to do is follow this step-by-step guide and you'll be done in a maximum of 15 minutes. Let's get into the application of your keyboard stickers:
Step 1: Separate the applicator strip – When you get a pack of stickers for your keyboard, you're going to see an applicator strip on one of the two sides. Take a pair of scissors and cut it off the keyboard sticker pack. This applicator strip is going to be incredibly useful throughout the application process.
Step 2: Use a wipe to clean the keyboard – With the attached wipe that comes with the keyboard sticker set, you're going to clean the keyboard to remove dust and residue. If the stickers don't come with a wipe, you can use a wet fiber cloth to clean the keyboard but make sure it dries out before you start the application of the stickers.
Step 3: Place stickers on the applicator strip – Now comes the time of starting the application process. You'll see many keys on the sticker set. Take each of the stickers and place them on the designated corner of the applicator strip in order to make the application process easy without getting the stickers stuck to your fingers or messing them up due to mishandling.
Step 4: Apply the stickers on the keys – What you need to do now is to apply the key stickers on the right key. Make sure you double-check before you put the sticker on the keys. Using the applicator strip, you're going to gently place the sticker down on the key making sure that the sticker remains in place and doesn't edge out.
Step 5: Press down to ensure firm application – Just placing down the stickers using the applicator strip isn't enough. You're going to have to firmly press the keys and make sure the stickers are in place. This will get the stickers stuck to the keys making sure your keys look awesome and feel great when you're pressing them doing your work or playing your favorite game.
Conclusion
Keyboard stickers are simply amazing. You don't need to spend many dollars on getting perfectly smooth, high-quality keycaps for your keyboard. All you need to do is choose the right keyboard stickers for your keyboard's layout, buy them, and easily apply them for a simple and beautiful design of your choice. 
That's why you need to follow the guidelines I've given to you in regard to buying and using keyboard stickers. I hope you have a great time pressing keys with epic stickers on them.