Not all gamers look for huge-sized gaming keyboards that take all the space of the computer desk. Some, including you, might like a sleeker, smaller form-factor, compact gaming keyboard for their setup.
Well, I've got just the perfect thing for compact keyboard enthusiasts – the Durgod Hades 68 Mechanical Gaming Keyboard. You might be thinking, is the Durgod Hades 68 worth the over $100 price tag? Don't worry because that's what I'm here to let you know.
I'm going to provide you with everything from the features, pros, cons, and design and build quality, and everything in between. So, before you buy your next keyboard, make sure you read this article till the very end.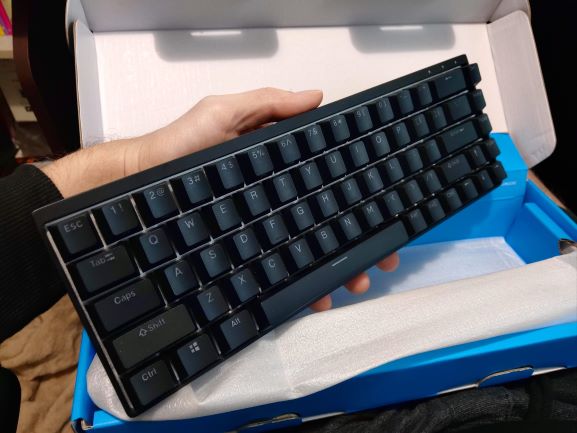 In a hurry? Get the Durgod Hades 68 on Amazon
What's in the Box?
If you buy the Hades 68 mechanical keyboard, you're going to get a few add-ons other than the keyboard. Let's take a look at what's inside the well-designed and decent box of the Durgod Hades 68.
Keyboard
Velcro Straps
Keycap Puller
USB-A to USB-c
USB-c to USB-c
Instruction Manuals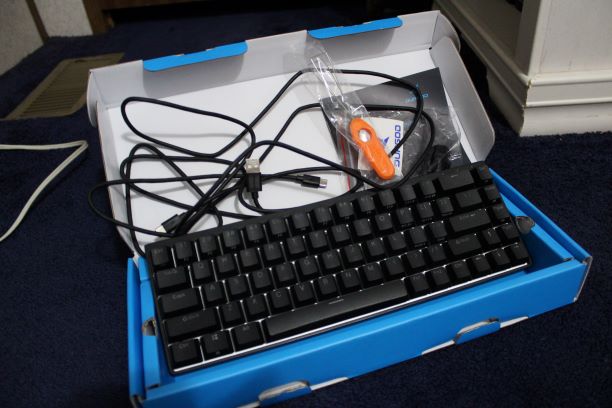 Design and Build Quality
The Durgod Hades 68 mechanical keyboard is a 65% keyboard with 68 highly-functional keys in a very compact form-factor. Upon opening the box, you're going to realize how well-designed the keyboard is.
It is made of a solid aluminum frame, and the compaction of the keyboard is so symmetrical that it looks incredibly smooth and nice. For the price, I'd say HK Gaming has nailed the design.
In terms of build quality, you're going to find no flaw in the keyboard. It has no flex to it at all due to the metallic frame. The Hades 68 is going to last a very long time if you care for it enough.
Overall, the keyboard is pretty high-quality. I believe that the design and build quality justify the Durgod Hades 68 Mechanical Gaming Keyboard's high price tag.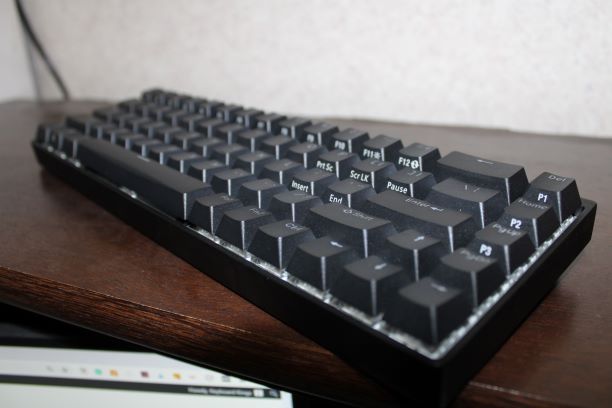 ABS Keycaps and RGB Lighting
Upon close inspection, however, one flaw that I could see was the plastic used for the keycaps. Although most people don't tend to notice, the keycaps are ABS double shot instead of PBT, which feel more textured and leave less of a stain upon long usage. However, the legend imprint and the transparency of the keycap writing are pretty high-quality and smooth, so that's good.
One of the best features is the RGB lighting in the keyboard. Each of the keys is individually lit. And the illumination is quite bright and popping. There are many different modes for the RGB and customization options as well.
Using a few dedicated buttons, you can even change the RGB settings on the keyboard. Every gamer loves to see the bright and sparkling rainbow colors in their PC setup.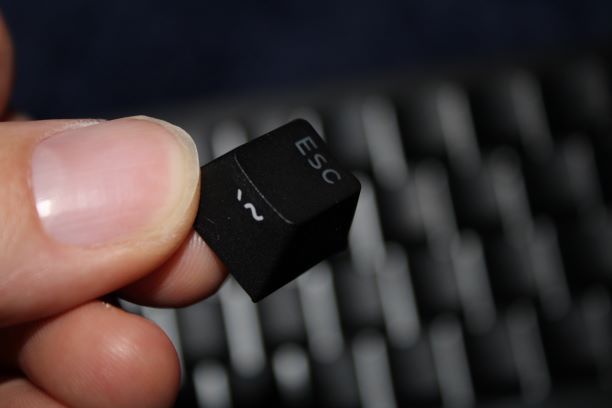 Incredible Kailh Box Switches
Now here's the incredible part of this keyboard. You are going to get Kailh BOX linear switches as default. But depending upon your price range, you can get Gateron switches for $10 less and $10 more; you can get your hands on Cherry MX Linear switches.
I personally got the Kailh Box white switch which is actually considered a clicky switch. If I could do it again I would rather have a linear switch but I really wanted to try out these switches. They sound amazing and if you like clicky switches then you will love the Kailh box white, but it's just not my preference.
Most of these switches are incredible in terms of low tactile feedback, smooth actuation, and keypress, along with silent and dim-sounding clicks. However, my personal opinion is that you should go the extra mile and go for the Cherry MX reds, and you're going to have an incredible time with this keyboard.
If you ask me, the best thing about this keyboard is the key switch variety. I've never used Kailh switches before getting this keyboard and I've got to say I was pleasantly surprised with the results.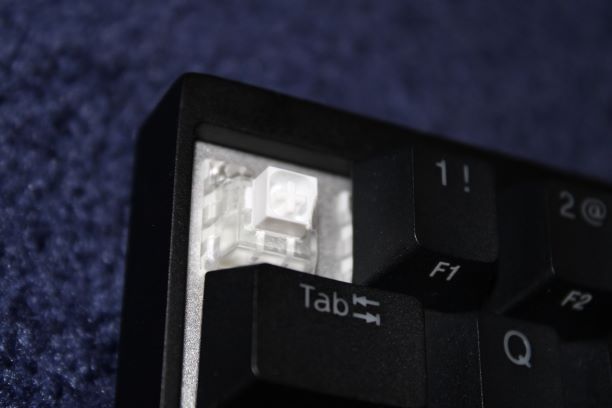 Durgod Hades 68 with Kailh Box Switches Typing Test
2 Power Cable Options
Another good thing about the Durgod Hades 68 Gaming keyboard is that it comes with two power cables. Both cables are well-insulated and designed for the ease of use of the player.
You can choose between the USB-A to USB-cable, which is 6 feet long and offers a lot of movement room, or the USB-c to USB-c cable, which is 3.5 feet long if your computer is equipped with only a USB-c jack. So, the power cables are also a plus point of this keyboard.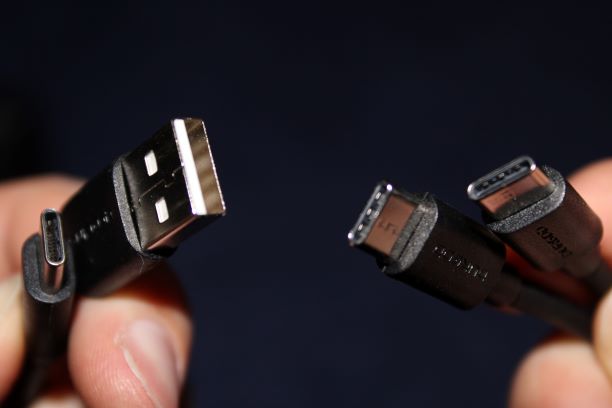 Exciting Features of the Durgod Hades 68
The Durgod Hades 68 Gaming keyboard comes with a lot of exciting features. Let's take a look at some of these features to help us make our final buying decision.
N-Key Rollover – Equipped with anti-ghosting technology, the Durgod Hades 68 is a mechanical gaming keyboard that supports an N-key rollover. This means that you'll be able to press any number of keys and register the command of each key without losing instructions of the keys being pressed at all. It is an amazing feature and is found in the best keyboards out there right now.
Per-key RGB Illumination – Most gaming keyboards allow RGB customization only in a few defined sections of the keyboard. The Hades 68 lets you customize the RGB illumination of every keyboard on the keyboard according to what color you like from the palette of 16.8 million colors.
Linear Switches – The smooth, low-tactility, high-quality Gateron, Kailh, and Cherry MX linear switches you can choose from for your Durgod Hades 68 are all incredible choices of key switches and make for an amazing mechanical keyboard experience.
Solid Aluminum Frame – The Hades 68 keyboard's backplate is made of solid aluminum, which makes it durable, strong, long-lasting, and brings some heft to it. There will be no flex whatsoever in the keyboard, so you can use it for ages to come.
Compact Design – The 65% keyboard small form-factor size of the Hades 68 allows you to place it elegantly anywhere on your desk, whether there is a tiny space or a huge one. The compactness will be great if you're a fan of minimalism and symmetry.
Customizability – From key mapping to binding, macros, programmability, and RGB, all kinds of customization options are available in the Hades 68 mechanical gaming keyboard.
Durgod Hera Compiler Software
There aren't much simpler and better in terms of customization software than the Durgod Hera Compiler Software. You'll get every kind of customization option with this tool. Let's take a look at some major available options.
Programmability – With the help of the Hera tool, you're going to be able to program different keys to perform different functions depending upon your ease of access.
Remapping – One thing you might not see in keyboards of a similar price range is complete remapping access other than the Fn1 and Fn2 keys. This keyboard allows full remapping and rebinding like keyboards from big companies like Razer and Logitech.
RGB Illumination – There are already many default integrated RGB patterns to choose from. But if you're using the Durgod Hera Compiler, you're going to get even more RGB patterns as well as per-key RGB illumination and customization options.
Macros – If you want to set up macros by combining functionalities of multiple keys, you can perform that function with the help of the Durgod Hera Compiler software.
A Few Demerits Of the Hades 68 Keyboard
We know about the Durgod Hades 68 mechanical gaming keyboard's advantages and features but not the problems and demerits that come with it. Well, no keyboard is perfect, so let's take a look at the problems with the Hades 68 before you get it for yourself.
ABS Keycaps – First off, the problem I found in this keyboard was the lack of PBT keycaps. ABS keycaps are low-quality, less-textured, and allow grease stains to stick and show more easily compared to better quality PBT keycaps, so that is a bummer for other keyboard enthusiasts and me.
Unique Keycap Sizes – Another very apparent problem is that the keycaps are not hot-swappable. They're custom-designed for this keyboard, and you won't be able to find the perfectly sized keycaps for this keyboard directly. You might find proprietary options, but not many general keycap options will be available.
Not Hot-Swappable – Choose your switch type wisely. You can't replace the switches on the Durgod hades 68 very easily since it is NOT a hot-swappable keyboard. You will need to have soldering equipment and skill to replace the switches.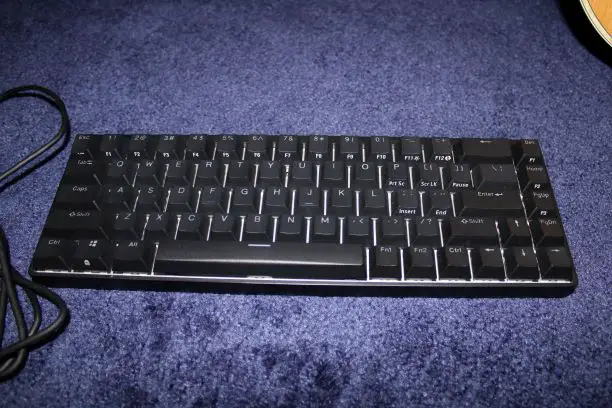 Durgod Hades 68 vs Original vs Taurus K320
On its own, the Durgod Hades 68 mechanical gaming keyboard is a beast that has great value and a lot of exciting features to offer. But what about when it's compared with other Durgod keyboards? Let's take a look.
Compared to the OG Durgod keyboard, the Hades 68 is surely a better choice because of the gaming forward design and the key switches, build-quality, and other features.
And if we compare it to a more recent entry like the Taurus K320, the presence of RGB lighting along with a few more key advantages, the Durgod Hades 68 takes the cake, making it the right compact keyboard choice of today.
Interested? Get the Durgod Hades 68 available on Amazon
Frequently Asked Questions
There are tons of unanswered questions about the Durgod Hades 68 keyboard as well as Durgod itself. I thought, why not answer a few of them for your ease. So, here are some of the frequently asked questions related to Hades 68 and their answers.
Is Durgod a good brand?
Durgod is one of the most premia yet value-worthy brands of mechanical keyboards out there. There are no surprises that the Hades 68 is such a high-quality, feature-full mechanical keyboard that comes for a reasonable price.
Where are Durgod Keyboards Made?
It might come off as a surprise, but Durgod keyboards are made, designed, manufactured, and assembled in China. Under Zhuhai Hoksi Technology Co. Ltd., all the Durgod products are manufactured and then shipped around the world.
Is There Any Way to Use the F1 Row on a Durgod Hades 68?
There isn't a dedicated F row on a Durgod Hades 68 keyboard like in standard 100% keyboards. However, you can use the Fn1 and Fn2 keys if you want to perform certain functions and assign different functions to keys using the Hera Compiler.
Is it Possible to Remove the Keycaps on a Durgod Hades 68 and Change the Whole Set?
Yes, as impossible as it might seem, it is possible to remove the ABS keycaps of the Durgod Hades 68 mechanical keyboard and replace them with other keycaps, but it will be a struggle to find the right size.
What style of Keycaps would fit on a Durgod Hades 68?
Any style of keycaps will fit on the Durgod Hades 68 mechanical gaming keyboard as long as the keycap sizes are accurate. The ideal measure to take would be to choose high-quality PBT keycaps and use them as a replacement for the default ABS double shot keycaps in the keyboard.
What is the Best PBT Keycap Replacement for Durgod Hades 68?
If you're looking to replace your keycaps on the Durgod Hades 68 then going for PBT plastic instead of the standard ABS is a great choice. It is a little hard to find the right size keycaps so your options are pretty limited. Here is a great PBT set on Amazon for the Hades 68. If you want a more "clean" look with a less colorful pattern check out these.
Conclusion
The Durgod Hades 68 Mechanical Gaming Keyboard is one of the best keyboards in the market for the price range. The design, quality, features, and everything in between are pretty great.
There are a few problems, but they can be dealt with. So, if you're thinking of buying the Hades 68, you're making the right decision. Go for it. I hope you have an amazing keyboarding experience.
---
Video Review