A wonderful feature that many people seem to forget about when looking to buy a new keyboard is the inclusion of a USB-C port. USB-C isn't super common despite its great practicality in many cases. Of course, we would most likely prefer the option to switch which USB type we use as a keyboard that's solely USB-C isn't always super convenient.
It doesn't matter whether you are well versed in the function and practicality of USB-C or whether this is the first time you've ever heard it being mentioned, this article can still be of use to you!
We are going to cover everything from what USB-C is and how it works as to why you might (or might not) want to use it. Then, we will look at 5 keyboards in-depth to help you decide whether or not USB-C is for you and if so which keyboard might be best suited for you and your needs.
Personally, I think USB-C is incredibly underrated and under-utilized. I think you'll see why as you read on.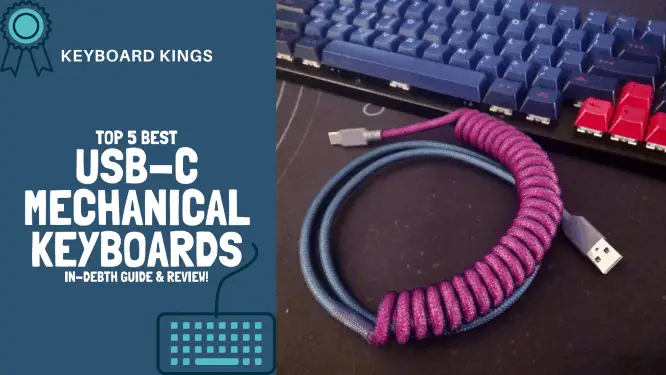 This post contains affiliate links
What is a USB-C Cable?
USB-C is a high speed 24 pin connection system. Just the same as any other USB connector in function or purpose. However, the USB-C is rounded with a rotationally symmetrical connector.
This is important to note because you will find that you no longer suffer from the constant affliction of attempting to connect the male to female USB port upside down. This may be a small gripe that we have with regular 2.0 USB systems but it is a blessing. Of course, that's not WHY the USB-C was developed.
Why was the USB-C Developed?
USB-C is fairly new to the mainstream consumer, it was only approved for standardization in 2014. The chances of you buying a laptop that comes with USB-C as a standard is increasing massively. For one core reason; we want smaller laptops.
Thinner is always better has been the trend for technology for a fair while now, the problem is that USB 2.0 connectors are quite thick. At least, they are quite thick when compared to the device they are attached to. Since laptops are getting thinner and USB slots stayed the same it only went to reason that eventually the two would become incompatible. We have started to reach that point.
The solution has been to standardize the USB-C and begin trying to implement it into everyday use as much as possible. The biggest limitation here is that so many devices and accessories still use USB 2.0 so your options are often limited in terms of device accessory compatibility.
USB-C is arguably superior to its predecessor in almost every way, I'm sure you'll find many people repulsed by the idea of having to switch all of their devices over. But, there is a reason we use HDMI cables now and not a composite video cable made up of red yellow and white cables.
The change over isn't always great initially but the long term benefits are tremendous. I wouldn't be surprised if USB-C is exclusively used by almost every device in the next 5 years.
What are the benefits of USB-C vs USB 2.0 and Others?
There are some very obvious benefits to using USB-C over the older 2.0 models.
Size and Shape are More Convient
Firstly, we of course need to look at the size. USB-C is small, thinner, and can be attached in any rotation. This is far more practical and reduces the risk of breaking. Trying to force a male USB Into a female one upside down is a great way to break your keyboard and damage your computer.
Then we must also consider the uncanny ability that USB 2.0 has to always be the wrong way round. Try to put it in? It's upside down. Turn it over? It's still somehow upside down. That's no longer an issue with USB-C. USB-C has made many improvements from the previous USB-A(2.0) models.
Data Transfer is a lot Faster
The biggest improvement I think you'll find is the speed of data transfer. If you have noticed that transferring data from your USB fed hard drive to or from your computer is taking hours you might be forgiven if you believed the issue came from your PC. It might be, but probably not.
The issue is that USB-A has a very limited data transfer speed. It's old tech, it might still be seen as doing "enough" for the time being but it's really at the end of its functionality. Anyone who games will have noticed the upwards trend in the size of game files recently.
A good example is the hugely popular Call of Duty Modern Warfare Warzone. The game is ginormous. It's laughably large and every update piles on even more. Why does this matter? Because it's a good representation of how file sizes develop.
Pre 2000s a gigabyte was basically unheard of. Now? That's nothing. We burn through multiple every day on our phones alone. We cannot rely on USB-A and its 1-1.5mb/s transfer speeds forever.
Reduce Input Delay
Okay, so USB-A is slow. We get it. USB-C is faster, but does that really matter? Yes! USB-C can transfer data at a speed of up to 10Gb per second. That's over ten thousand times faster than the USB-A. With your keyboard, you are not going to be transferring that much data. You won't even get close. But, when you break it down you can start to see why it is so beneficial.
If it takes a USB-A one second to transfer your input to your PC there is a one-second delay, at least, before you see the output. If the data transfer is even 1000 times faster, let alone 10000 times, the delay will be 1 millisecond. You can't even comprehend how fast that is. The delay is non-existent as far as you are concerned.
Impressive Power Transfer
Here is the really interesting part. USB-C has a very impressive power transfer as well as data. 100 watts may not sound like much but it's enough to charge any of your devices, quickly too. You will find that many more phones begin making the switch to USB-C.
Apple has even be warned by the European Union that they must make the swap from their silly little charging cables to the standard micro USB. It wouldn't surprise me at all if most tech companies started to make plans around using USB-C.
I wouldn't worry too much about buying a keyboard that's only USB-C compatible and then finding it hardly works with any other devices. You'll start to see more and more options available to you over the next few years, after that you'll have a hard time buying devices that don't at least make use of a USB-C port as an option.
It's important to remember that if you are simply buying your keyboard to use at your PC, it doesn't matter what else it can connect to. Your PC will have a USB-C port. If it doesn't, installing one is no trouble at all.
Why might you NOT want a USB-C keyboard?
I just told you that you will have no real trouble with a USB-C keyboard. Which is true. BUT – it depends on how patient you are. If the initial lack of options and reduced functionality is going to be a problem for you then there is no problem choosing a standard USB-A keyboard.
If your PC isn't compatible with a USB-C keyboard because it doesn't have the female component and you are unable or unwilling to install one or pay to have one installed, then, of course, you shouldn't buy a USB-C keyboard.
Since USB-C keyboards are still a bit niche, you will find that they aren't always compatible with every device. Go for a Bluetooth capable one if possible would be my suggestion.
Lastly, because you will find many USB-C keyboards use said USB size because the keyboard itself is also trying to be thinner, there is a very high chance the keyboard is using butterfly switches. If you are unsure what these switches are and how they work you can find a very helpful article on this site. To cut it short though, butterfly switches are pretty bad. Just be sure you know what you are getting into before you purchase.
The 5 best USB-C keyboards
Price comparison chart for all 5 keyboards:
| Keyboard | Price Comparison |
| --- | --- |
| Anne Pro 2 | $$$ |
| Razer Huntsman Tournament Edition | $$$$$ |
| Durgod Taurus K310 | $$$$ |
| iKBC New Poker II | $$ |
| Belkin B2B190 Tablet Keyboard | $ |
Per Amazon rules, I can't disclose exact prices. This is a visual representation of the price compared to each other. The more "$" means a higher price comparatively.
There are far more USB-C keyboards than you might imagine, they can just be a little tricky to find. There are far more options than are on this list, too. But I think it's safe to say that these are some of the best.
Each has its own pros and cons but I for one would genuinely be pretty content with any of them. It's important to consider the purpose of your keyboard when deciding which of these 5 might be best for you.
The keyboards geared towards gaming are of course going to be better for gaming, that's not to say they are bad for day to day work. It is just important to have a clear purpose in mind before you jump into the next section. Unless of course, you are hoping to find one that just immediately jumps out at you. I'm fairly confident you will.
Obinslab Anne 2 Pro Mechanical Gaming Keyboard
I really like this keyboard. This list is in no particular order but if it were the Anne 2 would probably come first. In terms of looks, it's nothing special, simple, clean, comfortable for any kind of aesthetic you are trying to fit it into.
It truly is geared towards gaming, and gaming comfortably. It's a reliable keyboard that has a lot going for it. If you want customizations and flexibility this is the way to go. You could swap the keycaps out. But I wouldn't. If you really feel the need to change color id simply paint them.
Features
The Anne 2 comes with a fair amount of features that you will almost certainly make use of at one time or another. The most important are as follows:
Double shot PBT keys.
Programmable macros.
Custom functions.
Relatively quiet keys.
Bluetooth capable.
Spare Keycaps.
Customizable lighting.
Final thoughts
As I said, I think the Anne 2 is pretty great. It does everything you could need a keyboard too. And, of course, it does it while making use of a USB-C port. It's a relatively small keyboard but doesn't lack functionality in the slightest. I would highly recommend this for any gamer but the Anne 2 fits into an office setting just as comfortably.
If you'd like to learn more or read more reviews, check it out on Amazon.
---
Razer Huntsman Tournament Edition
Razer doesn't really miss when it comes to keyboards. Even their more controversial models do pretty well and are fairly reliable. The Razer Huntsman is one of my personal favorites, the tournament edition is even better.
Again we see double shot keys but the addition of linear switches makes this keyboard SO smooth to use. Now, this model is pretty compact but that's to be expected. It's intended to be a portable keyboard.
Features
The Huntsman has some pretty great features that you will be keen to make use of – here are some of the most notable ones:
Double shot PBT keys.
Linear Switches.
Portability.
Good reputation and warranty.
Wrist support.
Life expectancy is crazy high (100 million keystrokes).
Reliability.
Silent (Due to linear switches)
Final thoughts
If you are already a fan of Razer it's safe to say you'll like this keyboard. If this is your first Razer, I would say this is as good of a start point as any. There is a 2-year warranty on top of the high life expectancy so you can feel comfortable knowing you're going to get your money's worth.
The only thing I don't like is the detachable wrist support, it feels a little flimsy to me. That being said, it's a nice little addition that they didn't need to include yet did anyway so I can't really fault them for it. Some people like it, some don't.
If you'd like to learn more or read more reviews, check it out on Amazon.
---
Durgod Taurus K310 mechanical gaming keyboard
The Taurus is awesome. If I was going to pick one this might be that one, it's certainly top 2. The reason I think the Taurus does do well is that they have found a way to make it look slick and clean while simultaneously giving it a fair bit of personality.
The Taurus gives you the flexibility you need by providing you access to both USB A and C ports. If you are on the fence about buying a USB-C keyboard then this is the way to go. It's the best of both worlds.
Features:
The Taurus has a lot on offer, here are its most notable features:
USB-C/A.
Cherry Mx switches.
Double shot PBT keys.
Simple to use software.
Pretty silent (especially with cherry blues).
Great accessories included (key puller and stickers for example).
Low-pressure actuation point.
Final thoughts
I think the Taurus does everything you could want. It's style suits me personally but I think most people would feel that way. It's simple and clean but it's not boring.
I like the fact you can use USB-A and C because that makes it far more accessible for the everyday user.
If I had one gripe it would be that the keys need a little more resistance. But, that's a personal preference. They are certainly easy to type with.
If you'd like to learn more or read more reviews, check it out on Amazon.
---
IKBC New Poker II mechanical gaming keyboard
The IKBC is in my opinion the weakest of the options in this list. Purely because it is intended to be a little more bare-bones hardware-wise. However, software-wise it does rather well.
It has seemingly infinite programmable functions and clever little macros will come to you easily. The keyboard itself is only 60% so you lose a little functionality there but only marginally.
I think this keyboard does well as a day to day keyboard but despite its purpose being geared towards gaming that's where I believe it falls a tad short.
Features
The IKBC has a fair few features that you may be interested to know about. The most important ones are as follows:
Media keys.
60% keyboard,
High programmability.
Cherry Mx switches.
Single-shot keys.
USB A and C compatible.
Final thoughts
I quite like this keyboard despite its shortcomings hardware-wise. That being said, it wouldn't be my choice. I'm too gaming orientated.
However, if you aren't planning on using this keyboard for gaming and it's intended to be more of a day to day general work type device then it's actually pretty darn great.
If you'd like to learn more or read more reviews, check it out on Amazon.
---
Belkin B2B190 Wired tablet keyboard
Lastly, we have the Belkin. This one may surprise you as it doesn't quite fit the theme we have been going with for the other keyboards. This one has been included as your best budget option, which I firmly believe it is.
It is also perhaps the best option if you plan on traveling for work as it's the least risky with the highest upsides. It's reliable, easy to use, small, and pretty quiet so ideal for use in public.
Features
The Belkin is pretty basic but it does have some interesting features, namely these:
Wired USB-C.
Full size 100% yet compact.
Stand.
Pretty quiet.
Very low weight.
Great on a tight budget.
Comfortable membrane.
Final thoughts
You kind of get what it says on the packet with this keyboard. It doesn't shine anywhere, in particular, it's instead a nice jack of all trades that works on a budget.
I don't think there is much else that needs to be said about this keyboard except that it's pretty easy to use and very responsive. It is a USB-C keyboard after all!
If you'd like to learn more or read more reviews, check it out on Amazon.
---
Conclusion
Hopefully, you can now see the tremendous upside that comes with choosing to use a USB-C keyboard. I think if you had to choose one I would go for either the Taurus or the Anne 2. For me, it's a coin toss as they both do so much so well. For you? Who knows. Hopefully, this article has at the very least made the decision a little easier for you.
---
If you want to see more of my product reviews, check out my Guides and Reviews category!
---