In today's world, getting a highly useful and efficient keyboard in terms of design and usage can be quite challenging. The problem becomes even more pronounced because of the high cost of mechanical keyboards these days. 
Within all of this, if you end up getting your hands on a decent membrane keyboard that comes for the right price, it is a miracle. So, we decided to do some research to shortlist a few great options to help you choose the best one among them.  
One of those keyboards is the Azio Levetron L70. 
You might be wondering, how good is the Azio Levetron L70, what does it have to offer, and is it worth the price? Well, if that's the case, then you're in the right place because that's what I'll be talking about today.
In this article, I will talk about the Azio Levetron L70 Keyboard, its design, specs, and features, build quality, switches, pros and cons, and everything in between. I'm going to thoroughly review this keyboard and also answer some FAQs you guys have. So, without further ado, let's get into this review.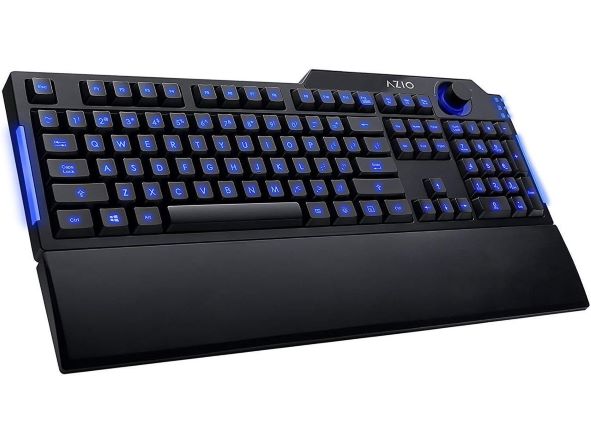 In a hurry? Get the Azio Levetron L70 at amazon.com!
Azio Levetron L70 Keyboard
The Azio Levetron L70 is a full-sized membrane keyboard with 104 keys, a decent LED backlighting, a bunch of features, a volume wheel, and, best of all, a very affordable and cheap price point.
It is one of the few keyboards in the market that is a good fit for personal and professional use. In addition, it is excellent for casual computer usage, being very popular among new computer users.
Seeing many people request a review of this keyboard, I did what I had to do and bought it myself. So, you and I are going to find out what this keyboard has to offer. Let's do that.
What's In the Box?
Right off the bat, the box's design that this keyboard comes in is quite fantastic and techy. I dig it. The feel of the packaging isn't cheap at all, which is excellent.
There are a bunch of wrappings and plastic protection sheets over the keyboard in the box. Here are some of the things I was able to find when I was going through the contents of the Levetron L70:
Azio Levetron 70 Keyboard
Instructional Manuals
That's it. There isn't a lot to explore here, and I'd say it wasn't enjoyable but seeing the price tag of this keyboard, it is okay. I can't complain about any additional elements.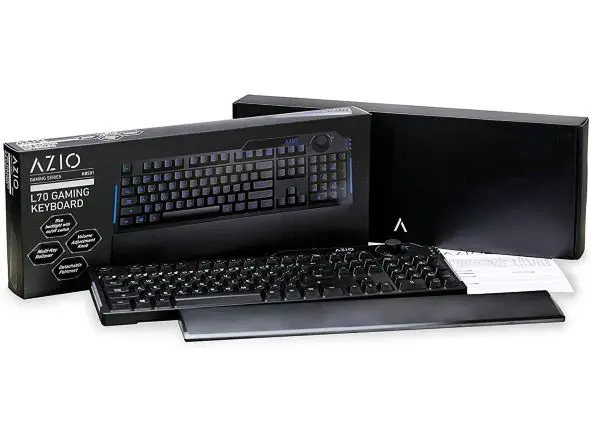 Decent Design and Build Quality
First off, let's talk about the design of the keyboard. The keyboard has a very slick look even though it is a full-sized keyboard. There are lightbars on the sides of the keyboard, which is a good addition.
The size of the keyboard is a bit much, but if you have a big desk, you're going to be okay with that. On the backside of the keyboard, we've got a couple of rubber feet on the bottom and two on top.
There are also two kick feet that you can use to raise the keyboard if you're not comfortable using it from the default angle. These kick feet have rubber feet under them to keep the keyboard from sliding, which is good. The keyboard is made entirely of plastic in terms of build, and there's not much to discuss. It is decent quality plastic, and there's not much to the board itself.
Overall, in the price range that it comes, you can expect an above-average look and build good quality, but there's a lot to be explored still in the L70.
Keycaps and Legend Imprints
Moving on from the design and build quality, we've got the keycaps of the L70 from Azio. The keycaps seem very low-quality if we talk about the plastic and the texture. They're ABS plastic but not the best kind if we're talking about premium quality. But, of course, that's not what we're looking for here, so I guess we can say they're as average as they come.
Let's talk about the legend imprints. The legend type-face is pretty lovely, but the print isn't the cleanest. Also, it doesn't seem like the legends are double-shot, so you can expect fading over a long period. Finally, the keycaps and legends aren't the best part of this keyboard, to put it lightly. But there are a few redeeming qualities that this keyboard has, so let's keep ourselves hopeful.
Membrane Key switches
Now, it's time we talk about the switches that are used in this keyboard. The switch type is a membrane, so if you're a fan of mechanical switches only, you will not love this keyboard. But if you've got an open mind about suitable membrane switches, then you're going to have a good experience with these. The membrane switches in this keyboard are nice.
The Azio Levetron L70 uses high-quality membrane switches that offer excellent tactile feedback and an impressive keypress feel. As I said before, there are some good things about this keyboard. The texture of the keycaps might not be the greatest, but you're going to enjoy the keypresses. The noise isn't too much either, which is why this keyboard will be suitable for professional usage.
Blue LED Backlighting
Another great inclusion, in my opinion, is the fact that this keyboard comes with an elegant and decent Blue LED backlighting. The keycaps offer a shine-through surface which showcases the lighting very well. On the sides, you can expect to see the backlighting as well, which is pretty great. Overall, the Blue LED backlighting is a good choice for this keyboard, and I highly approve of it.
5 Feet USB Power Cable
The power cable that this keyboard uses is a simple USB. The wire is a generic peripheral wire which is not the best in terms of look, but it serves its purpose well enough. The length of the keyboard wire is around 5 feet. This is actually above average and won't require you to sit close to the port. So, you can use this keyboard from a comfortable distance without tugging on the wire.
Azio Levetron L70 Added Features
This keyboard has a lot to offer in terms of features and specs. This keyboard is as popular as it is due to the inclusion of so many features. To give you an idea, let's take a look at some of the more important ones.
LED Backlight – One of the best features of this keyboard is the Blue LED backlighting. You can turn it on and off with the press of a couple of buttons. The sides of the keyboard also light up with the Backlight, which is pretty cool as well.
Windows Key Lock – Since this keyboard is primarily advertised as a gaming keyboard, the Levetron L70 comes with a Windows Key Lock feature that you can turn on so that your gaming sessions do not get interrupted if you accidentally press the Windows key.
Detachable Palm Rest – To make things even better, the Azio Levetron L70 comes with a pretty nice-looking, cushy detachable palm rest that you can rest your palms on while using the keyboard so that you don't get pain in your hands and wrists when typing for an extended period.
Volume Adjustment Wheel – Another cool feature is the large-sized volume adjustment wheel on the top-right corner of the Azio Levetron L70 keyboard. You can use it to turn the volume up or down, which is pretty neat.
6-Key Rollover – If you're working on a project, playing some game, or programming, you might need to press more than a few buttons at the same time. For that, this keyboard comes with a 6-key rollover so that your keys don't get ghosted.
Pros and Cons
If you're thinking of buying the Azio Levetron L70 Keyboard, then you're going to want to learn about some of the benefits and shortcomings that it has. So, let's take a look at the pros and cons of this keyboard.
| Pros | Cons |
| --- | --- |
| A lot of features – One of the benefits of this keyboard is that it comes with many features and has tools and buttons that you wouldn't expect to see in a generic keyboard. | Keycaps are low-quality – The keycaps of the Azio Levetron L70 come as ABS plastic keycaps which right away we can say is not the best thing. The texture is also of poor quality, I believe. |
| Keypress is lovely – The keypress actuation along with the feeling of the switches, the noise, and the overall membrane switch utilization in the L70 are very lovely. | Cable is generic – The cable connected at the back of the keyboard is very generic. It can't be detached and gives a very casual peripheral feel. |
| Cheap – If you compare the specs and features of this keyboard with others that cost a lot more, you're going to see that this is an above-average keyboard that comes at a reasonable and cheap price. | |
Is the Azio Levetron L70 Keyboard Worth the Price?
Finally, the most crucial question is, is the Azio Levetron L70 a decent keyboard for the price it comes for? Well, if you ask me, I'd say it is respected as a casual work/game keyboard, but it isn't a specifically designed gaming keyboard, in my opinion. So, if you're looking for a decent board, give it a try. However, don't get this keyboard if you have macro functionality or incredible mechanical switches in mind. 
Interested? Get the Azio Levetron L70 at amazon.com!
Frequently Asked Questions
I was researching a lot about this keyboard before my review, so I thought I should check the internet for any possible questions by you guys, and you did have some fundamental questions. So, here are my answers to some of the most frequently asked questions.
Q. Is the Azio Levetron L70 compatible with Mac?
A. Unfortunately, no. The Azio Levetron L70 is not compatible with Mac. It is only compatible with all the versions of Windows.
Q. Can I turn the Backlight off?
A. Yes, you can turn the Backlight of the Azio Levetron L70 keyboard off and on depending upon how you're feeling or whatever your liking is. There's no reason to have the keyboard shine bright if you don't want it.
Q. Is the Azio Levetron L70 good for gaming?
A. The Azio Levetron L70 is alright for gaming. But it's not the best gaming keyboard you're going to get your hands on and not a bad one either. So, you can play with it if you want.
Conclusion
The Azio Levetron L70 is a decent keyboard, seeing how cheap it is compared to some other keyboards, and it also has a few excessively nice features. But it isn't a premium keyboard or a gaming keyboard. So, keep that in mind when you buy it. I hope you learned a lot from this review and that you will make the right keyboarding decision!