When you're a keyboard enthusiast, having many secondary extra keyboards and high-quality mechanical switches lying around is normal. Keyboards won't get damaged if you keep them in a safe space, but unfortunately, the mechanical switches will. That's why using specialized switch containers is the way to go.
You might be wondering, what should I look for in a keyboard switch container and which container is the best? Well, these are precisely the questions I'm here to answer.
The 3 Best Containers for Keyboard Switches are:
Kinetic Labs Switch Container
Zion Studios Switch Container
Omnitype Switch Storage Bin
In this article, I will talk about keyboard switch containers, what you need to be wary of when you buy them, and the top 3 best switch storage containers you're going to find in the market. So, make sure you read this article till the end before you make a buying decision.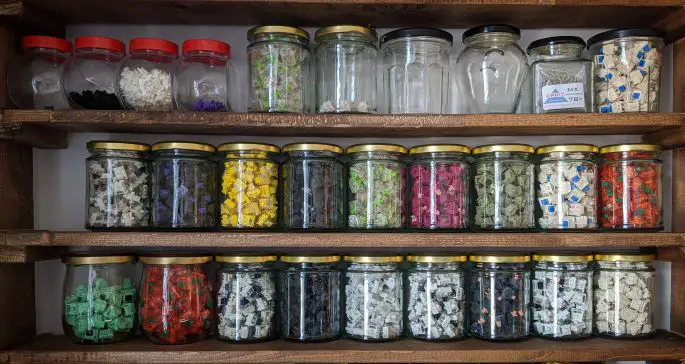 What Are Keyboard Switch Containers?
A keyboard switch container is a box or a jar made of high-quality plastic that keeps the switches safe, protected from external pollutants, and organized according to your needs.
Just like ice cream stays good in a pint, spices stay fresh in a jar; beans stay best in a can, keyboard switches maintain their integrity inside a keyboard switch container.
If you're big on keyboards and mechanical switches, you must be trying new switches all the time on your primary keyboard. Well, in that case, you wouldn't just disrespect the older switches and throw them away.
Instead, you'll be able to use keyboard switch containers and stack them inside the jar to seal them air-tight so no dust, debris, moisture, or external pollutants could shorten their lifespan. After all, who knows when you might have to change the switches back.
Keyboard Switch Container Buying Guide
If you're someone who's constantly dealing with expensive key switches sitting on your desk or in your cupboard unorganized, then you must want to buy a keyboard switch container.
In that case, learning about all the important factors to look for in a keyboard switch container is very important. Here are all the important factors and points that you need to keep in check if you want to buy the best storage container for your keyboard switches:
High-Quality Plastic Material – When you buy a switch container, make sure you buy one made of the highest-quality plastic because only then will you be able to keep your switches safe because of the durability and strength of the material itself.
Air-tight Seal – The air-tight seal of the container is critical. You need to make sure it comes with an air-tight seal because you want to protect your switches from dust, debris, any spillage, or moisture that might make its way into a non-airtight container.
Stylish Design – If you're not going to stuff your container into the cupboard and keep it locked instead of displaying the container having your colorful and incredible key switches on your computer desk, make sure the design of the storage container is cool and stylish.
Room for a Whole Set – When you replace the switches of a keyboard, you remove the whole set, which means you're going to have to place the whole set in a container. So, make sure the room inside the keyboard switch container is plenty enough for a whole keyboard switch set at the very least.
Compact Form-Factor – Having much room for keyboard switches inside doesn't mean that the container needs to be incredibly huge. Otherwise, it will need to be contained as well. That's why the container should be compact in form-factor externally.
Decent Price – There are not many functionalities that you're going to get from a high-quality plastic container other than storage, so make sure you're getting the container at a pretty good price; otherwise, you're going to get ripped off.
Top 3 Best Containers for Keyboard Switches
Thinking of buying a switch container for yourself? Well, lucky for you because here's a list of the top 3 most popular and best containers for keyboard switches you're going to find in the market:
1. Kinetic Labs Switch Container
Kinetic Labs is one of the biggest retailers of keyboard switches, keycaps, and desk mats on the internet. Their switch containers are high-quality, use thick and glossy plastic, and come with easy access air-tight feature that you can use to keep the switches completely safe and secure.
| Pros | Cons |
| --- | --- |
| The plastic material is incredibly high-quality. | Single container is expensive. |
| The price of a 3-pack is much better value than a single container. | |
| The air-tight feature keeps dust out and keyboard switches safely. | |
2. Zion Studios Switch Container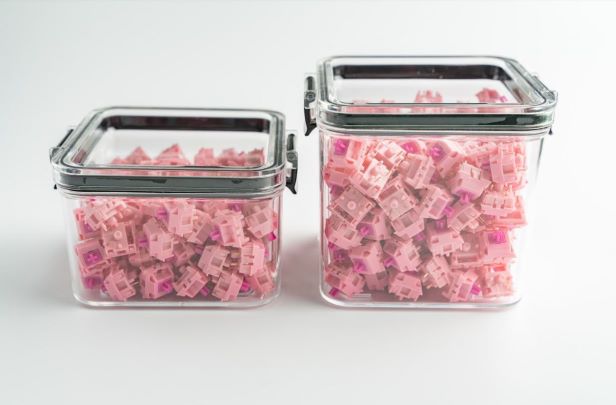 When it comes to a great price and incredible value, the Zion Studios Switch Container takes the cake. Their containers are made of high-quality plastic material with a glass-like clarity that allows your colorful switches to peek majestically through. The rubber covers also provide great air-tightness to the switches inside, keeping them safe and protected.
| Pros | Cons |
| --- | --- |
| The prices for the 90 and 150 pieces are pretty great. | Smaller in the room than competitor switch containers. |
| The material and the clarity are both pretty impressive. | |
| It is completely air-tight. | |
3. Omnitype Switch Storage Bin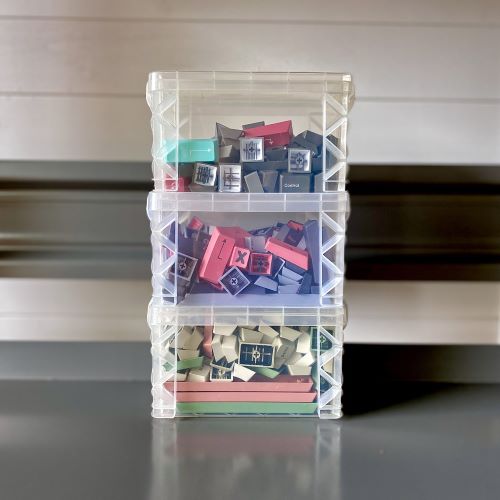 Omnitype has gone big with their 3-pack keycap and switch storage bin. It is surely great in terms of value, but the plastic isn't very high-quality, and the clarity isn't great either. The air-tightness is great, and you can keep your switches organized pretty well in them because of the larger space.
| Pros | Cons |
| --- | --- |
| These containers have the most space. | The plastic isn't very high-quality, and the surface is blurry, not clear enough for display. |
| The 3-pack is quite affordable and decently priced. | |
Conclusion
Keyboard switch containers are significant for the organization and safe-keeping of mechanical key switches. Whichever one of these suggested storage containers you might buy, you're going to have a great time. I'm personally biased towards the Zino Studios Container for their incredible value and stylish look, but you do you. I hope you have an incredible keyboarding experience.
---
Check out! Best Containers for Keycaps