Having a high-quality gaming keyboard with mechanical switches is every gamer's dream. But a budget can sometimes pose an issue. HyperX has come up with a solution for this, according to claims in their HyperX Alloy FPS Pro Mechanical Keyboard.
That must make you wonder, how good is this Alloy FPS Pro keyboard really? Well, that's precisely what I'm here to show you.
In this article, I will talk about the HyperX Alloy FPS Pro Mechanical Keyboard, its build quality, design, and features, and specs. I'm also going to be looking at the pros and cons of this keyboard, along with answering some of the most commonly asked questions related to it. So, make sure you read this article completely before you make a buying decision.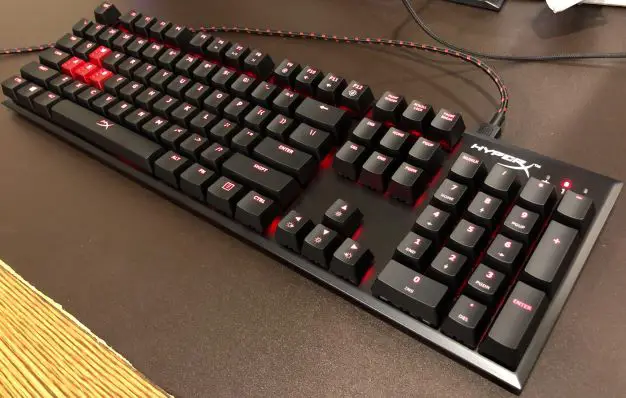 In a hurry? Get the HyperX Alloy FPS Pro at Amazon.com!
HyperX Alloy FPS Pro Mechanical Keyboard
The HyperX Alloy FPS Pro is a mechanical keyboard that comes in Tenkeyless form. It is a compactly designed keyboard with 87 dedicated keys that have secondary functions available as well.
The keyboard comes with a Red LED backlight with multiple patterns and onboard customization capability, and multiple features. All this sounds incredibly amazing, so I had to try this keyboard out, which is exactly what I did.
What's in the Box?
When I received my HyperX Alloy FPS Pro package, it was pretty decently stored with a good design and a compact feel. Seemed quite like a great buy for the low price.
Naturally, I had to open and check out the keyboard, and that is what I did. Upon opening, here's the long and short of what I could find inside the Alloy FPS Pro box.
HyperX Alloy FPS Pro Keyboard
Detachable Mini USB Cable
Instructional Manuals
There's not any additional accessory like a keycap puller or something inside the box, but I guess the contents definitely justify the price, and so far, I'm good with the FPS Pro.
Simple Design and High-quality Build
First and foremost, I took the keyboard out and observed it quite carefully. The keyboard itself is lightweight and quite compact since it is a TKL keyboard. Moreover, it has a natural inclined shape for added ergonomics.
On the back of it, there are 4 rubber feet for grip and also 2 kick feet that have a single adjustment level so you can stand the keyboard up if you're feeling uncomfortable with its default height.
On the front, we've got a subtle HyperX logo on top of the arrow keys and a legend imprint of the HyperX logo on the Spacebar. The look and feel of the keyboard are pretty decent.
When it comes to build quality, this keyboard ranks pretty high. The top plate is made of steel, and that gives it a good durability and toughness factor. There's no flex to this keyboard.
Ultimately, both the design and the build are pretty good. For a reasonable price, you're going to like this keyboard's durability since it will last you quite a long time or until you want to get a new keyboard, so that's nice.
Neat UV coated ABS Keycaps and Legend Imprints.
This keyboard uses ABS plastic keycaps and not PBT ones. Typically, I'm not a fan of ABS keycaps, but in terms of the price point of this keyboard, ABS keycaps with UV coating are a pretty good deal.
They're decent; however, they get fingerprints really quickly, and that's a bummer. You can put your own PBT keycaps on here if you want to. The legend imprints are fine.
They're decent and not too extra and give a good bright and vibrant light flow with the red backlight. Legends aren't going to fade anytime soon, so that's also a plus, I believe.
Overall, ABS keycaps and decent legend imprints are both things that work well for this keyboard. Obviously, PBT would've been better, but HyperX also needs to profit from it so that I won't count that as a con.
Superb Cherry MX Red Linear Mechanical Switches
Now let's come to the meat of the review—the mechanical switches. Usually, getting mechanical switches in a keyboard this cheap is difficult, but you've got Cherry MXs in the Alloy FPS Pro. The one I ordered came with Cherry MX Reds. These are specialized linear switches optimal for gaming. The feel of these switches is incredible, and the sound is very subtle.
The actuation distance is just 2.0mm, and the overall distance is around 4.0mm. So the actuation force requirement isn't a lot either. It is just around 45g which is pretty decent for a linear switch.
The stability of these switches is pretty great as well, actually. There's no jitter when you press the keys, and the keypress also feels smooth. The best thing about this switch is its silent nature. When I'm playing on my PC, I don't want to disturb anyone, and that's exactly what the Alloy FPS Pro's Cherry MX reds offer. In addition, Cherry MX reds come with 100 million keystrokes durability, which means that these switches will last you quite a long time to come surely.
5.9 Feet Detachable Braided Mini USB Power Cable
The entire theme of this keyboard is red and black. The Power Cable that comes with the Alloy FPS Pro is Mini USB. Even the power cable has a black and red pattern on it. It is detachable, so that's a plus as well. The cable is braided and insulated pretty well too. 
Overall, the power cable length is 5.9 feet, which is quite impressive and means that you won't have to tug on it while using the keyboard to stay comfortable. That's a win, in my opinion.
Epic Features of the HyperX Alloy FPS Pro
Now that we've looked at the entire physical nature of the keyboard along with its design and build quality, it is time that we take a look at the epic features that the HyperX Alloy FPS Pro Mechanical Keyboard has to offer. So let's get into the features and the specs.
Cherry MX switches – When it comes to the cream of the crop in terms of mechanical switches, Cherry MX is the answer to every question. The FPS Pro uses high-quality Cherry MX switches that look and feel incredible and provide you with a great overall experience.
Compact design – The keyboard comes with only 87 keys and offers many functionalities in a simple, decent, and compact design. It is a small keyboard, and the compactness allows you to use it anywhere and everywhere you want.
Red LED backlight – The backlight of this keyboard is red colored. It looks very tasteful, especially if you're a fan of a red and black theme. There are also many patterns, and you can use the Fn and Left and Right arrow keys to switch between patterns according to your liking.
Secondary Functions – You have many buttons and keys that have secondary functions associated with them. The Function keys have multimedia control buttons on them. Other commands can be used in collaboration with the Fn key to giving a different than average response.
N–key Rollover – It is difficult to see this feature in keyboards this cheap. Still, the Alloy FPS Pro Mechanical Keyboard comes with N-key rollover, which means you can press and register as many keys as you want without any of the keys ghosting and missing their command.
Durable Design – The design of the keyboard itself is quite durable. You have a durable plastic frame and on top of a steel top plate that holds the keyboard firmly together and makes sure there is literally no flex to offer in it at all.
Pros and Cons
HyperX Alloy FPS Pro is a great keyboard in terms of features and specs, but before you buy it, you need to read the final takeaways from this keyboard in terms of good and bad. Here are the pros and cons of this keyboard that you'll experience with it.
| Pros | Cons |
| --- | --- |
| Decent Price – With a price of less than $100, a TKL keyboard that offers a bit of everything in terms of gaming and typing is hard to get unless you're talking about the HyperX Alloy FPS Pro. It is a great budget mechanical keyboard. | No Dedicated Multimedia buttons – The keyboard is small, but there's space for a few small buttons for controlling multimedia so, the lack of dedicated multimedia buttons is something that bums me out.  |
| Stable Mechanical Switches – The stabilizers that the Cherry MX switches use, along with the stabilizers in this keyboard, are pretty great. There's no rattle introduced in the keyboard at any point. | Lack of RGB – There is one Red LED backlight available for the keyboard, but if you're not a fan of red, there's no RGB lighting in this keyboard, so that could be problematic for you as well. |
| Portability – The keyboard itself is small in size, and it comes with a detachable mini USB cable so you can disconnect it whenever you want and take it wherever you want. | |
Is the HyperX Alloy FPS Pro Worth it?
The million-dollar question finally is, is the HyperX Alloy FPS Pro worth buying? Well, it is totally worth it. It has all the specs of a premium mechanical keyboard, that too in a reasonable budgeted price. So, whether you've got a big budget or a small one, you'll be happy if you buy this keyboard.
In a hurry? Get the HyperX Alloy FPS Pro at Amazon.com!
Frequently Asked Questions
Now there are many questions related to this keyboard online that haven't been answered at all. So, I took the responsibility to answer some of the most frequently asked questions regarding the Alloy FPS Pro. Here they are:
Is the HyperX Alloy FPS Pro good?
Well, yes! The HyperX Alloy FPS Pro is a great compact TKL version of the HyperX Alloy mechanical keyboard series. It offers many exciting features for a very reasonable price, so you should definitely go for it if that's what you're asking.
Does the HyperX Alloy FPS Pro work with macOS?
Unfortunately, no. The HyperX Alloy FPS Pro is only compatible with Windows and not macOS. You should not get it if you're using a MAC product because it won't work.
Is the HyperX Alloy FPS Pro good for typing?
Yes, if you get the right switch for your HyperX Alloy FPS Pro. Typically, a Clicky switch like the Cherry MX Blue would be great for typing because clicky switches feel good while typing and also help in reducing inaccuracies.
Conclusion
The HyperX Alloy FPS Pro is a wonderful budget buy, in my opinion. If you have a small budget, it will be a great investment for you that will provide you with a great keyboarding experience, and another great thing about it; it will last you quite a long time to come as well.