If you're a gamer and casual typist on a mid-range budget and you're looking for a great keyboarding experience, well, the first option that should come to your mind is the Logitech G213 keyboard. There's a lot going for this keyboard and that's exactly why I think that you should read this article.
In this article, I'm going to talk about the layout, design, structure, keys, features, and everything, about this keyboard. I'm basically going to completely review it, so you can decide whether it's a good decision to go for it and if it's worth the price it comes for.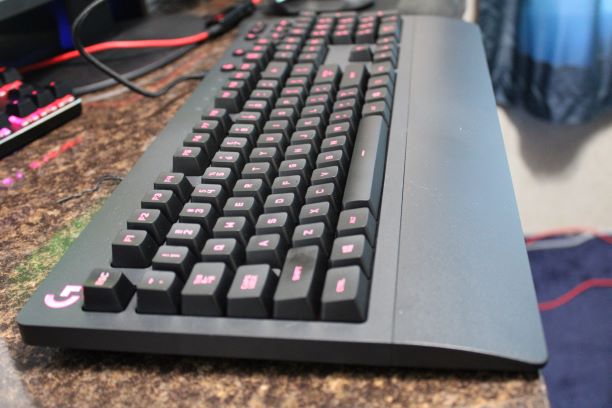 In a hurry? Get the Logitech G213 Prodigy on Amazon!
Design and Build Quality
For an entry-level gaming keyboard, the Logitech G213 is actually pretty decent. It is minimalistic, simple, elegant, dark, and beautiful. However, if you're expecting flashy curves or some overtly gaming design, then this isn't the right keyboard for you.
The design justifies the price. It's as simple as that. Looking at the build quality of this keyboard, it has a slight plastic feel to it, but overall it is solid and built with a durable base. The keyboard has a gentle flex to it and it is not as heavy as you'd expect it to be. Overall, the design and build quality of this keyboard is very good for the price that it comes for, which isn't quite a lot from membrane gaming keyboard standards.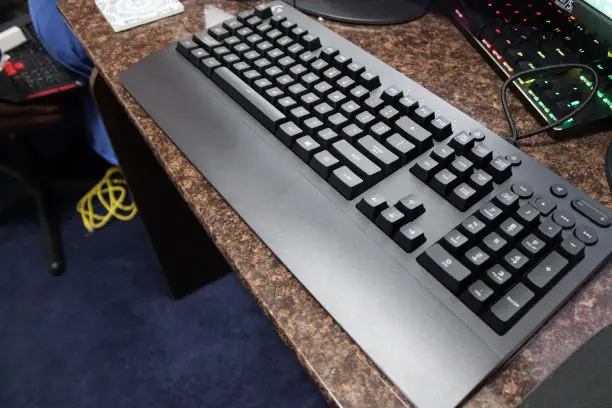 Good Quality Keycaps and RGB Backlighting
When we take into account the keycaps on this keyboard, they are smooth, light, and decent to type on when your not gaming. The quality is definitely very high in comparison to some of the other keyboards in the market at this price range.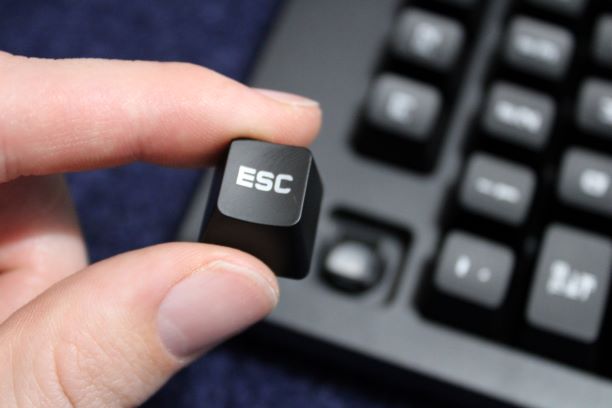 The RGB lighting on the keys is a little dull actually. If you compare the lighting to some of the other gaming keyboards from Razer or Corsair, you're going to see quite a brightness difference.
But overall, the lighting is pretty great for an entry-level gaming RGB feel. In fact, the lighting looks perfectly good if you're gaming in a low-light and darker area which is optimally the idea of a gaming setup when you're looking for the best RGB experience. So, definitely, the keys and the RGB backlight are both strong points of this keyboard.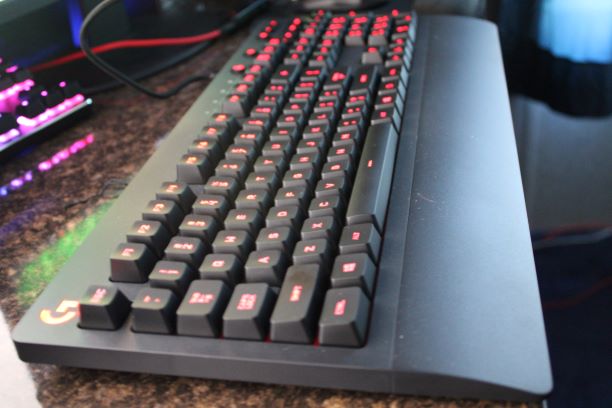 Nice Sound and Feel of the Switches
Unlike conventional gaming keyboards, the Logitech G213 keyboard uses membrane switches. You might think that the experience isn't going to be as great as mechanical switches but that isn't always the case.
The membrane switches on this keyboard have an actuation force of 50grams along with a 4mm actuation travel which is on-par with some of the high-quality mechanical switches. So, if you're looking for a nice, clicky feel, you're definitely going to get it from the Logitech G213 as well.
The feedback is, however, lower than mechanical switches. The sound produced by the keys is not too loud and neither is it too little. So, you won't be distracted by the keypress and at the same time, you're going to hear what you type. That's a great thing about this keyboard.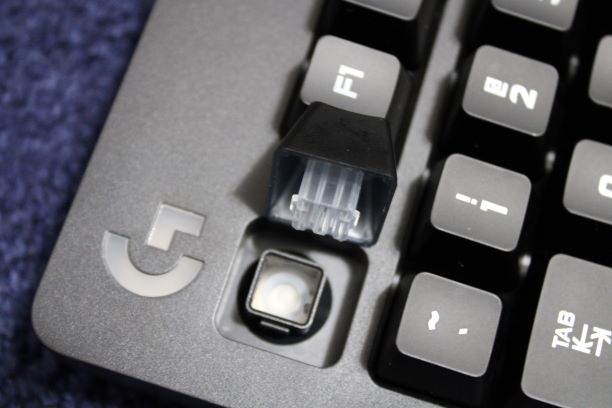 Logitech G213 Prodigy Typing Sound Test
6ft Durable Power Cable
The power cable or the USB cable which is going to go into the USB port on your PC case is located on the top right of the keyboard. It is actually better quality than you'd expect at such a reasonable price point.
The length of the cable is 6ft and it should be plenty for you to comfortably plug it in and play with ease. It's well insulated so you won't have to worry about any damage either.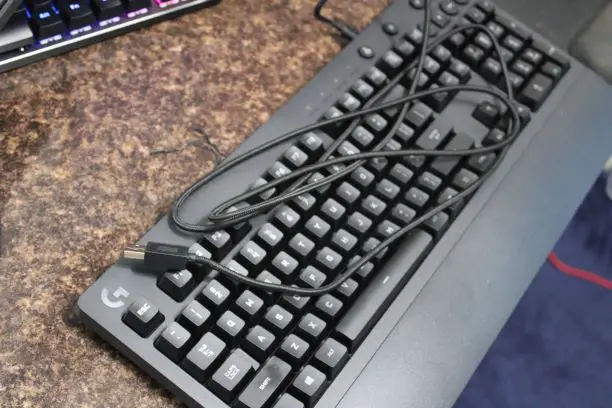 Exciting Features
There are a lot of exciting and impressive features this keyboard comes with for a small price. Let's take a look at some of those features and see what the Logitech G213 is packing.
Ergonomic Setup – At the back of the keyboard, there are two inclinable rests that you can angle up to 8 degrees in order to achieve a more ergonomic keyboard setup.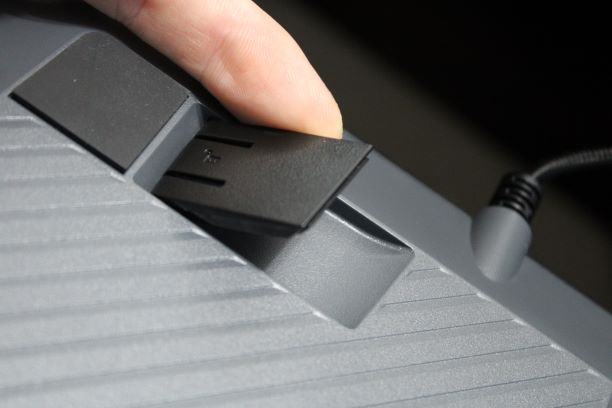 Spill-Resistant Keys – The keys on this keyboard are completely spill resistant which is great because spilling on the keyboard is something that happens way too often.
Extra buttons – Different programmable keys, as well as multimedia buttons, are available on this keyboard which is fantastic for the price that it comes for.
RGB lighting – The keyboard comes equipped with addressable RGB lighting which looks incredible with gaming setups. So, that's another great feature.
Palm-Rest – Unlike other keyboards at this price, there's also a dedicated palm-rest on the bottom of this keyboard which helps a lot when you're gaming or typing for a long time.
Key Rollover – This keyboard comes with 6-key rollover support which is great actually since modern games and even software don't require as much as 5 key presses at the same time.
Programmability
When it comes to programmability, this keyboard is actually better than some of the more expensive ones. There are 12 function keys available on the keyboard. You can assign different programs and methods to each of these keys that you may utilize for daily tasks and gaming.
This added programmability allows you to be able to manipulate the keys on the keyboard efficiently. This is a great feature that the Logitech G213 possesses and you are definitely going to have a lot of fun using this programmability feature.
Multimedia Keys
This keyboard comes equipped with a lot of functional multimedia keys that you might use on a regular basis. The quality of these buttons is good for the price that this keyboard comes for. If you're expecting a scroll volume button and fancy stuff, this isn't the right keyboard for you.
Let's take a look at each of the multimedia buttons available on the Logitech G213 keyboard: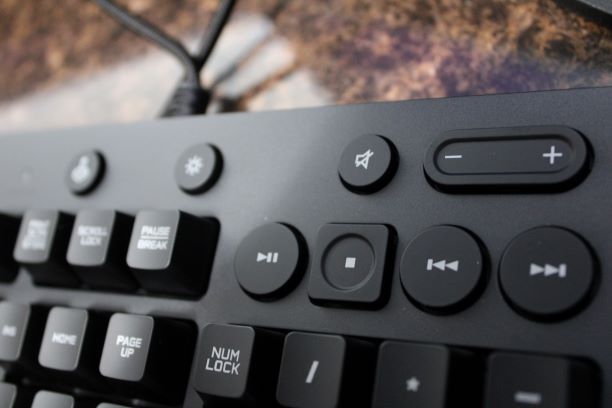 Volume Button – You can increase or decrease the volume using this button, there's also an additional mute button available as well.
Game mode – Using this button, you can disable some of the keys on the keyboard which helps in avoiding accidental window button press or such.
RGB effect changer – This button allows you to change the color effects of the RGB backlight which is great.
Play, Pause, Forward Buttons – If you're playing a video or a movie, you can use these buttons to perform the programmed tasks quite easily.
Logitech GHUB Customization
The software you can use to manipulate the lighting effects, as well as the keys, is Logitech's own GHUB. This is a really intuitive software and lets you create a lot of complex combinations of effects on Logitech keyboards.
However, there are only 5 illumination zones on this keyboard, so you're not going to be completely free while creating lighting effects. You have the ability to change the colors the way you want but only in those 5 panels.
If you want to customize each of the keys to emit different lighting, that wouldn't be possible. And I think that's good enough for such a reasonably priced keyboard. 
If you're looking for complete and utter effects optimization ability, then I think you're going to have to go for a keyboard that is more expensive and offers that kind of customization freedom. Overall, the software manipulation of this keyboard is fairly adequate.
Logitech G213 vs K360 vs K120 vs G513 Keyboard Comparison
The Logitech G213 is a really good keyboard in general. It comes for a small price and it packs a lot of punch honestly in my opinion. If you pit it against some of the keyboards that come for the same price, you're going to realize how great this keyboard truly is.
In comparison to other Logitech keyboards, this keyboard ranks fairly higher in terms of features and quality as compared to the Logitech K360 or the K120 which are both cheaper but not by a lot.
If we compare the Logitech G213 to another heavyweight gaming keyboard by Logitech like its successor the G513, we're obviously going to see that the G513 is a better keyboard but if we take a look at the value of both the keyboards, I'd definitely say that the Logitech G213 has a better price to value ratio.
So, if you were to compare this keyboard to some of the other Logitech keyboards in the market, you're going to see that buying this keyboard is the right decision for you.
Interested? Get the Logitech G213 Prodigy available on Amazon
FAQs
Is the Logitech G213 Mechanical or Membrane?
The G213 Keyboard is not a mechanical keyboard, it is a membrane keyboard with G Mech-Dome keys. They are most similar to tactile switches.
Though the keys on this keyboard might not be as fast or snappy as a mechanical keyboard, they are still tall, fast, and very satisfying to type and game with.
If you are looking for a mechanical keyboard there are other options from Logitech. 
Is the Logitech G213 Prodigy Compatible with PS4 or Xbox One?
The Logitech G213 Prodigy was not designed to be compatible with PS4 or Xbox One and some users report problems trying to connect with third-party devices such as the Xim Apex.
Is Logitech G213 Waterproof?
The G213 is NOT waterproof. However, It is designed to be somewhat water-resistant. Still, you want to be careful with this keyboard around liquids. If you happen to spill something on it, unplug it immediately and give it a few days to dry out before plugging it back in.
Is Logitech G213 Good for Gaming?
The Logitech G213 is decent for gaming. However, you get what you pay for. This keyboard is recommended for a beginner PC Gamer as it's cheap and gets your foot in the door. However, if you want a better gaming experience it is recommended to use a mechanical keyboard.
Does the Logitech G213 have Onboard Memory?
The Logitech G213 does not have any onboard memory. When making configurations it utilizes information stored on the G-Hub. If you uninstall this program or use a different computer, all settings will return to default.
What Switches does the Logitech G213 use?
The Logitech G213 uses G Mech-Dome Membrane switches that were designed to feel a lot like Cherry MX Brown switches. 
What does Game Mode do on Logitech G213?
Logitech G13s game mode is a great feature that allows you to disable keys that might interfere with your game such as the windows key and menu key.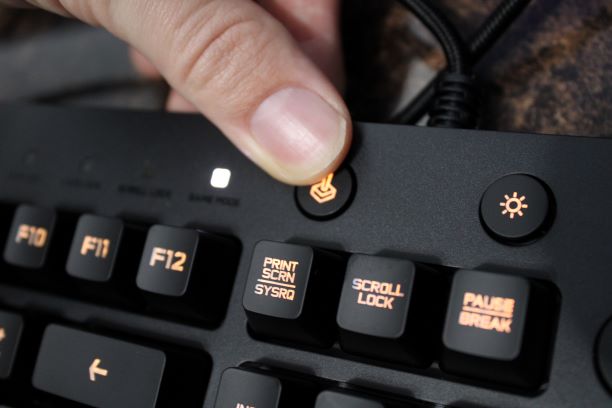 Is the Logitech G213 Wireless?
The Logitech G213 Keyboard is not wireless, it has a wired connection. If you are looking for a wireless keyboard from Logitech you might want to check out the G613.
Conclusion
At the end of the day, it's your choice. But if you ask me, after using this keyboard, I really feel like I've got my money's worth. It's cheap, high-quality, has RGB! And it comes with some unconventional benefits that you wouldn't see in many high-end gaming keyboards.
That's why, the Logitech G213 is definitely worth it, in my opinion. And you should definitely get your hands on one if you're a little on the lower side of the budget.
I assure you, you're going to have an amazing experience and you're going to get that epic gaming keyboard feel from this classy membrane keyboard.
---
Video Review
You may also be interested in: Top 5 Best Membrane Keyboards