If you're a fan of membrane keyboards and you also want an n-key rollover in them, you might have difficulty while finding the perfect keyboard for yourself since there aren't a lot of popular and high-quality options available.
You might be wondering, are there any membrane keyboards with NKRO that I can get for myself? Well, that's precisely what I'm here to let you know.
In this article, I'm going to tell you about membrane keyboards, n-key rollover, how they both complement each other, and whether you'll find membrane keyboards with n-key rollover in the market. So, make sure you read this article till the very end before you make a buying decision.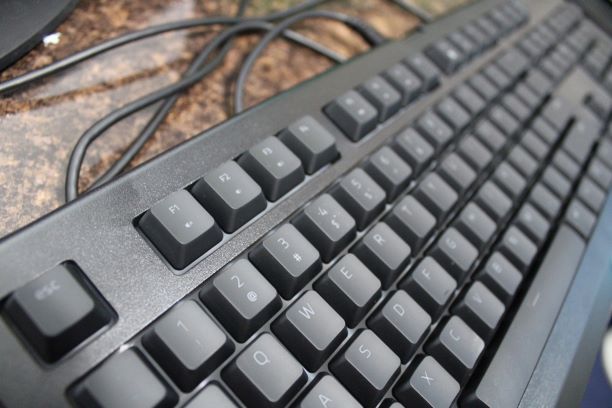 What are Membrane Keyboards Good For?
Mechanical keyboards may be great when it comes to accuracy, but what benefits do membrane keyboards hold? Before we get into whether membrane keyboards with NKRO are available, let's look at some of the benefits of using membrane keyboards.
Better for Fast-typing – Membrane keyboards don't have individual switches, which is why hard presses aren't required if you want to type on them. This makes them quicker and faster than mechanical keyboards, even though the accuracy may be reduced.
Softer Keypress – The thing about membrane keyboards is that the keycaps are placed onto a singular membrane which is why instead of requiring excessive actuation force, you can easily press the keys on a membrane keyboard without any deliberate keypress.
Low-profile – Another great thing about membrane keyboards is that they come with a very slim, low-profile design that requires less headspace and makes usage pretty easy and the aesthetics decent, smart, and compact.
Better for Programming – Programming requires fast-paced typing and calculations. If you're using a mechanical keyboard, the deliberate key presses will take time and won't be as fluent as you'd want. On the other hand, mechanical keyboards will give you that fluency; that's why they're better for programming.
What is N-Key Rollover?
In older keyboards, one problem that existed was that when more than 3 keys were pressed in combination, they wouldn't register, and the computer wouldn't process the instruction.
This phenomenon was called key ghosting. Many software couldn't be used due to this problem, and many games couldn't be played to their full potential. 
To tackle this problem, N-key rollover anti-ghosting was introduced. With the help of NKRO, you can press as many or N keys at a time and get all the commands and instructions processed without encountering any ghosting whatsoever. And most modern mechanical keyboards are fitted with NKRO.
Are There Any Membrane Keyboards with N-key Rollover?
Due to their singular membrane switch base and streamlined design, N-key rollover is not commonly expected from membrane keyboards. That's why you might not find membrane keyboards with NKRO that much.
However, that doesn't mean there's no light at the end of the tunnel. Some high-quality peripheral companies try to offer the best of both worlds to the customers in the form of membrane keyboards with N-key Rollover, so there's nothing to be worried about.
Top 3 Best Membrane Keyboards with NKRO
If you're facing difficulty finding membrane keyboards with NKRO, for your ease, I've made a list of the top 3 membrane keyboards with full n-key rollover you can find in the market. Let's take a look at each of them individually, along with the features they have to offer.
1. Razer Cynosa Chroma Gaming Keyboard
Razer is known for making some of the best gaming keyboards in the market right now. Their Cynosa Chroma gaming keyboard is an RGB lit membrane keyboard with tons of features for a reasonable price.
Features
The Cynosa Chroma comes with full NKRO, which allows you to press and register all the keys you press at the same time.
Individually lit RGB keycaps allow you to sync the lights to the games and software tools you're using with the keyboard.
Razer Hypershift allows you to change the placement of keys and reassign the keymapping according to your liking.
The construction is quite durable with 80 million keystrokes along with spill-resistance and a lot of other features.
If you'd like to learn more or read more reviews, check it out on Amazon.
---
2. Logitech G213 Gaming Keyboard
When we're talking about incredible gaming keyboards, Logitech can't stay back too long. Their amazing G213 membrane gaming keyboard comes with RGB lighting, a gaming-friendly design, and much more to offer for a relatively cool price.
Features
The membrane switches by Logitech are decent, durable, smooth, and easy to press.
There are 5 different lighting zones and a lot of RGB customization freedom available as well.
Dedicated Media controls on Logitech's G213 membrane gaming keyboard make it the proper all-around package.
It comes with full NKRO and key remapping ability that you can use to your advantage.
There's also a decent and ergonomic wrist rest on the bottom of the keyboard that keeps your muscles from straining in long gaming sessions.
If you'd like to learn more or read more reviews, check it out on Amazon.
---
3. SteelSeries Apex 3 RGB Gaming Keyboard
SteelSeries is known for its exquisite gaming keyboards, mechanical in nature, but with the Apex 3 RGB gaming keyboard, they've gone a membrane route with many features to talk about at a great price.
Features
Apex 3 uses high-quality membrane switches that support NKRO, perfect or programming, gaming, and much more.
The keyboard is completely water and spill-resistant, which is a must-have in today's keyboards.
There are 10 different lighting zones that can be freely customized as you like them.
Dedicated multimedia controls on the Apex 3 make it easily accessible and usable while in-game and performing strenuous and attention-requiring tasks.
With the help of the ergonomic magnetic wrist pad, your wrists won't hurt after you're done playing a long session of your favorite game with the Apex 3.
If you'd like to learn more or read more reviews, check it out on Amazon.
---
Conclusion
Membrane keyboards are great for typing and programming usage. And when you need to press several keys at the same time, having NKRO is a must. If you choose any one of these epic membrane keyboards with an N-key rollover, you're going to have a great keyboarding experience!