If you're a competitive gamer who's been playing MMO, MOBA, and RPG games for quite a while with your standard peripherals, it is time to up your game with specially designed keyboards that help get the best performance and enhancing your gaming skills.
These keyboards are designed to improve your gaming skills and give you an edge over your rivals. In the gaming world, it's very important to use tools and cheat sheets that actually help you gain a certain level as a gamer. 
You might be wondering, what do I look for in the ideal gaming keyboard, and what is the best keyboard for MMO, MOBA, and RPG games? Well, that's precisely what I'm here to tell you.
The 5 best mechanical gaming keyboard for MMO, MOBA, and RPG games are:
Razer BlackWidow V3 TKL
Logitech G915 TKL
Das Keyboard X50Q RGB
HyperX Alloy Elite RGB
SteelSeries Apex 7
In this article, I will talk about how you can find the best MMO, MOBA, and RPG gaming keyboard offering the best responsiveness and efficiency for better gameplay. I will provide you a list of the top 5 best mechanical gaming keyboards for MMO, MOBA, and RPG games. So, sit back, relax, and make sure you keep reading this article till the end.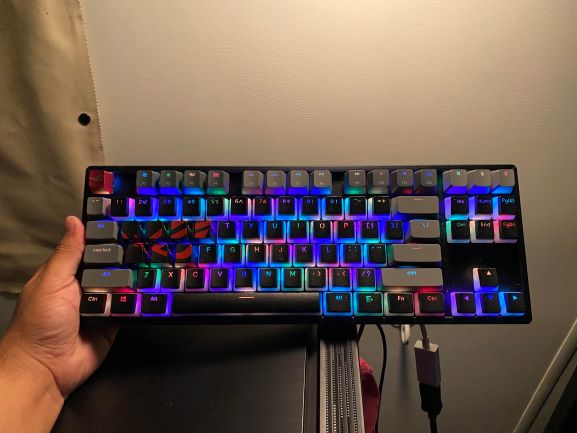 What to Look For in the Ideal Multiplayer Gaming Keyboard?
So you're trying to find the perfect multiplayer gaming keyboard that boosts your skills and provides functionalities to help you play efficiently and effectively? Don't worry; it's not very difficult. Here are some major factors that your chosen keyboard needs to have to make a good buying decision.
Macro Capability
The first and foremost feature that the ideal multiplayer gaming keyboard would have is registering macros. Using this ability, you can assign different strings of keystrokes to particular keys and make your multiplayer online battle gameplay swift and easier, which isn't something you can achieve without macros' help.
Mechanical Keys
Mechanical keys are the optimal choice for gaming whether you're an FPS, MMO, RPG, or MOBA genre fan. The reason for this is that they offer a smooth press, high tactile-bump, and easy actuation, which isn't the case with standard membrane or Chiclet keys. Moreover, the responsiveness of mechanical keys is much higher than standard switches.
Size
Now, this is a tricky one. The size of the keyboard truly depends upon the choice and comfort of the user. If you have a bigger body frame, you'd want to get a bigger full-sized keyboard, so the distance between the keyboard and the mouse is shoulder-width, whereas if you're smaller, to reduce the distance between both the arms, you should go for a TKL or 60% mechanical keyboard.
Keycaps
The keycaps are also quite important when it comes to the ideal keyboard. It would be best if the keyboard comes with PBT plastic keycaps with smooth key presses and engraved legends that won't fade away due to excessive pressing while playing games.
Add-on Features
Additional features that separate a standard keyboard from a high-end professional gaming keyboard are quite essential as well. These different features include RGB, N-key Rollover, ergonomics, comfort, control buttons, and many other advantages. So, make sure your choice of the best keyboard has these included features.
Top 5 Mechanical Gaming Keyboards for MMO, MOBA, and RPG Games
| Keyboard | Price Comparison |
| --- | --- |
| Razer BlackWidow V3 TKL | $ |
| Logitech G915 TKL | $$$$$ |
| Das Keyboard X50Q RGB | $$ |
| HyperX Alloy Elite RGB | $$$$ |
| SteelSeries Apex 7 | $$$ |
Per Amazon rules, I can't disclose exact prices. This is a visual representation of the price compared to each other. The more "$" means a higher price comparatively.
MMO, MOBA, and RPG games all require lightning-fast movement, high-response times, macro capability, and tactility for a fair and balanced game. I've made a list of the 5 best mechanical gaming keyboards you can find in the market, so you don't have to scour the internet to find the perfect keyboard for your enhanced gaming experience.
1. Razer BlackWidow V3 TKL Gaming Keyboard
Razer is the undisputed king of the peripheral industry. Their BlackWidow V3 TKL is an incredible compact gaming keyboard with amazing mechanical switches, RGB lighting, and efficient responsiveness, making it a great choice for MMO and other multiplayer games.
Features
Razer Green Switches – With only an actuation force of 50g required to press them, the amazing Razer Green Optical mechanical switches are quick, responsive, high-quality, and perfect for fast-paced multiplayer battle games.
N-key Rollover – If you're playing an RPG, at times, you're going to need to press multiple keys at the same time; in that case, N-key rollover of the BlackWidow V3 TKL will come in very handy so every key is registered accurately.
Razer Chroma – The Razer Chroma technology allows you to choose between 16.7 million colors for each of the individual keycap's RGB lighting customization.
PBT Keycaps – The keyboard comes with very smooth and high-quality PBT double-shot keycaps which feel premium and have very well printed legends over them.
Macro Programmability – Using the Razer Hypershift option in the software, you can program and remap all the keys and macros on the keys of your choice on the keyboard.
| Pros | Cons |
| --- | --- |
| Durable Construction – The keyboard comes with a military-grade steel frame, and the key switches allow for over 80 million key presses, which make the keyboard very strong and durable. | Expensive – One thing that's a bummer when it comes to the Razer BlackWidow V3 TKL is that it comes for a fairly high price. |
| An array of Features – The great thing about this keyboard is the array of features it brings, from RGB to key rollover and programmability. | No dedicated media controls – Also, due to the compact form-factor, there are no dedicated media controls that you might be able to find in the V3 Pro version. |
| Customization Capabilities – Another epic advantage this keyboard has is the immense customization capabilities it comes with. There are a lot of options you can use to make the keyboard fit into your preferred usage. | |
Final Thoughts
Overall, the TKL version of the Razer BlackWidow V3 is quite a great compact keyboard option if you're looking for a highly-responsive, efficient, and tactile key switch mechanical keyboard with a gaming-forward design. So, if you choose it for your MMO, RPG, and MOBA gaming experience, you're surely going to have a great time.
If you'd like to learn more or read more reviews, check it out on Amazon.
---
2. Logitech G915 TKL Mechanical Keyboard
Logitech makes some of the best wireless gaming keyboards on the market. Their G915 Lightspeed TKL Mechanical Keyboard is no exception because of its low-profile design, incredible RGB, amazing construction, and other epic features optimal for multiplayer online games.
Features
Light Sync RGB technology – The Lightsync RGB technology by Logitech allows you to sync the backlighting to any piece of RGB equipment and even different for different applications and games.
GL Clicky switches – The GL Clicky mechanical switches in the G915 TKL offer amazing clickiness and high tactile-bump, so you feel great while you're playing your MMO and RPG games online.
Compact Design – This keyboard's design is incredibly compact and slim, which allows it to be placed in any small or big desk set up without a problem.
Media Controls – There are many different dedicated media control buttons on the top of the Lightspeed G915 keyboard, which isn't the case with most TKL keyboards.
Wireless Control – The keyboard takes only three hours to charge fully and works efficiently with a high-response rate in a wireless manner, giving you freedom from cords and cables.
| Pros | Cons |
| --- | --- |
| Aluminum Alloy Build – The keyboard uses aircraft-grade aluminum alloy for the frame, which is extremely strong and durable for long-term usage. | Extremely Expensive – The one problem that makes this keyboard very difficult to get is the costly price tag. |
| Exceptional RGB – The RGB lighting brightness, patterns, and customization capabilities are incredible, controllable by the Logitech G HUB software. | Dust Prone – Another problem is that the keyboard's skeletal design is prone to dust and debris, which can be problematic to clean. |
| 40-hour Battery Life – Another great thing about this keyboard is the 40-hour battery life so that you can binge-play your online battle games without a problem. | |
Final Thoughts
The Logitech G915 TKL is an amazing low-profile compact keyboard with great clicky switches and many decent features, so it will be a great keyboard to choose from; however, you're going to have to increase your budget drastically if you're thinking of staying under $100.
If you'd like to learn more or read more reviews, check it out on Amazon.
---
3. Das Keyboard X50Q RGB Keyboard
Known for manufacturing some of the most high-profile and professional gaming keyboards, Das Keyboard brought out the big guns with the X50Q Smart RGB Mechanical Gaming Keyboard that came at a significantly generous price for all the features it brings.
Features
N-key Rollover – The keyboard comes equipped with N-key rollover anti-ghosting capability, so you can press as many keys as you want while playing your favorite RPG without any keys ghosting.
Smart RGB – The smart RGB technology allows you to customize the patterns according to the app or game you're playing. The keyboard also interacts on default with some applications and provides notifications through the smart RGB technology.
Wrist Rest – There is a quite comfortable detachable wrist rest that comes with the Das keyboard X50Q RGB Mechanical Keyboard you can use to avoid muscle and wrist pain after long MMO sessions.
Volume Control – A volume control knob is placed on the top right corner of the keyboard, allowing you to change the volume in-game without focusing on it.
Gamma Zulu Mechanical Switches – Using the highly reliable Gamma Zulu soft tactile mechanical switches, this keyboard provides high actuation, amazing response times, and great tactile feedback.
| Pros | Cons |
| --- | --- |
| Aluminum Panel – The build of this keyboard is quite durable and strong because the panel is made of aluminum. | Software isn't that great – One demerit of this keyboard is that the Das keyboard software has sometimes proven buggy for other users and me. |
| Good price – The price of this keyboard is quite affordable even though it offers so many incredible features and an ergonomic wrist rest. | Windows Compatible only – Another disadvantage is that the keyboard is only compatible with Windows and no other operating system. |
| Amazing Legend Backlighting – The keycaps are super-high quality, and the legends are well lit due to the incredibly amazing RGB backlighting that can be customized without limits. | |
Final Thoughts
There's a lot to offer in terms of gaming performance and agility when you talk about the Das keyboard X50Q RGB keyboard, but the compatibility issue is not that great. If you're a Windows user, this keyboard can be the perfect choice for you.
If you'd like to learn more or read more reviews, check it out on Amazon.
---
4. HyperX Alloy Elite RGB Gaming Keyboard
Premium keyboards are what HyperX is famous for, and without a doubt, the HyperX Alloy Elite is one of the most unique, smart, high-end pieces of keyboard technology I've seen. It could be one of the best choices for MOBA, MMO, and RPG games.
Features
Cherry MX – The HyperX Alloy Elite keyboard uses high-quality Cherry MX mechanical switches that offer the best tactility and actuation optimal for multiplayer gaming sessions.
Light Bar – One of this keyboard's unique features is the elongated Light Bar on the top of it that is also RGB backlit and makes the keyboard look amazing.
Dedicated Media Controls – There is a volume scroller along with multimedia control buttons and brightness and mute dedicated controls on the top of the keyboard.
Ergonomic Wrist Pad – If you're an MMO gamer, you can use the ergonomic soft-touch technology integrated wrist pad to keep your wrist stress-free.
HyperX NGenuity – Using the HyperX NGenuity software, you can customize many elements of the keyboard according to your playing style.
| Pros | Cons |
| --- | --- |
| N-key Rollover – The keyboard comes with 100% anti-ghosting and N-key Rollover, which allows you to play and press as many keys as possible without anyone losing their commands. | Expensive – One thing about the keyboard that I'm not a fan of is the expensive price tag. |
| Onboard Memory – Using the on-board memory , you can store multiple lighting preferences and macro profiles on the keyboard if you want to. | Bigger than usual – The size of this keyboard is bigger than most full-sized keyboards, and that can prove a problem for smaller desk setups. |
Final Thoughts
If you're thinking of getting the HyperX Alloy Elite for your RPG, MMO, and MOBA gaming sessions, I think it would be a great choice if you've got the budget for it. Otherwise, you can look at other options in this list.
If you'd like to learn more or read more reviews, check it out on Amazon.
---
5. SteelSeries Apex 7 Gaming Keyboard
The Apex series of mechanical keyboards by SteelSeries has received much appreciation from the customers. The Apex 7 TKL gaming keyboard is truly one of a kind when it comes to RGB illumination, OLED settings panel, and many other features apt for gaming purposes.
Features
OLED Screen – One of the unique features that I've seen in modern keyboards is the OLED settings screen on the top right corner that you can use to change the keyboard settings effectively.
RGB Lighting – The RGB lighting technology, along with the number of patterns and customization options for the Apex 7, is amazing.
Compact Design – The design of the SteelSeries Apex 7 TKL is very user-friendly, and it can fit in any small or big desk set up to enhance the beauty of it.
Wrist Pad – With the TKL design, it is usually difficult to see a wrist pad included, but SteelSeries cares for the MMO gamer's wrists and hands, so they've included a soft wrist pad with the keyboard.
Mechanical Switches – The mechanical switches used in this keyboard are quite great and come with sturdiness, longevity, and high tactile-bump.
| Pros | Cons |
| --- | --- |
| Unique Settings Panel – The best thing about the keyboard is the OLED screen settings panel that it comes with. | Expensive – All of these features are packed into one SteelSeries Apex 7 keyboard but for a very significantly higher price than you'd want. |
| Stylish Design – The skeletal design of the keyboard makes it low-profile and special, in my opinion. | Loud keypress – The mechanical keys are great, but one flaw is the noisy click and keypress they come with. |
Final Thoughts
Overall, I believe that the SteelSeries Apex 7 TKL keyboard is a great choice. But it is a little overpriced, in my opinion. However, if you like the advanced technology and have a good budget, you can surely go for it. If not, you've got other options to choose from depending upon your liking and your game genre preferences.
If you'd like to learn more or read more reviews, check it out on Amazon.
---
Conclusion
With more and more MMO, MOBA, and RPG games becoming popular and tournaments worth millions of dollars being held worldwide, finding the best optimal gaming keyboard that is designed especially for agility, quick-response, and fast-paced gameplay is necessary.
That's why all the keyboards mentioned in this list will be great options for you to choose from. But if you take my advice, the Razer BlackWidow V3 TKL is my favorite out of this bunch.
However, if you like any other, you're still going to have the best performance and enjoy your gaming experience with the ideal keyboard. So, don't hesitate and make your choice, so you have an incredible keyboarding experience.