Keyboards that come with additional special media keys are hard to find nowadays if you're looking for a high-quality and impressive design as well. Media Keys can be extremely useful for a variety of purposes.
If you're wondering, why are media keys so important, and which keyboards have the best media keys? You're definitely looking in the right place.
The 5 best keyboards with dedicated media keys are:
Cooler Master MK850
Logitech G915
Razer BlackWidow Elite
Corsair K95
Das Keyboard 4
In this article, I'm going to talk about how media keys have become an integral part of high-quality mechanical keyboards nowadays and I'm also going to provide you a list of the best keyboards with media keys included. So, sit back, relax and read this article till the end if you want to make a buying decision.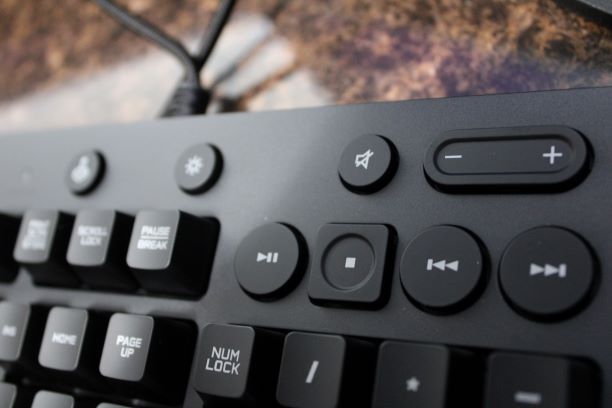 What are Dedicated Media Keys?
If you're new to the term media keys and you don't know about them, well, media keys are basically specialized keys that are used for a specific application or shortcut operation unachievable by the standard keyboard keys.
These keys can be dedicated as in, only allowing a single media function and they can also be dual-purpose like most function keys on modern keyboards which work as media keys in unison with the Fn key.
In the early ages when media keys were considered still a new thing, they were considered to only control the multimedia options on a computer like a start and a pause button, the forward and backward button, and so on.
However, with time, media keys have developed a more versatile definition. Media keys can be considered any key which can perform dedicated specific functions. So, they're incredibly useful in keyboards nowadays and you should definitely make sure the keyboard you're purchasing has media keys in it.
Use of Media Keys in Modern Keyboards
In today's keyboard industry, manufacturers are trying to implement the use of newer technology, additional buttons, and helpful keys that will make their product more valuable and functional to the user.
That's why some keyboard manufacturers like Logitech and Corsair are including additional programmable keys that can be used as shortcut operation keys along with the signature multimedia keys in use right now.
As keyboards specialized for gaming and work require quicker responses for better performance, additional media keys are being used in these modern keyboards to make use easier. That's why even though media keys may not be considered the biggest feature, they're still definitely being used in today's keyboards as a handy add-on. 
Benefits of Dedicated Media Keys
We know the functional value of media keys, but you might still be unaware of some epic benefits that these keys bring with them. Let's take a look at some of the advantages of media keys on a keyboard.
Shortcuts for Special Operations – Dedicated media keys can be used for performing application and operating system specific operations which makes things easier and quicker for workers and gamers alike.
Easy Multimedia Manipulation – If you're watching a video or streaming music, using the start-stop button, the forward, back, and speed changing buttons, you can easily manipulate multimedia without having to scroll the cursor or make a series of keystrokes.
Screen Control – In newer keyboards, media keys can also be used to control the RGB lighting of the keyboard along with the screen control options like brightness, contrast, and much more.
Background Control – With the help of dedicated multimedia keys, you won't actually have to open the tabs of the multimedia being played on your computer. As long as it is processing in the task manager, pressing the media keys will result in appropriate action.
Top 5 Best Keyboards with Dedicated Media Keys
Price comparison chart for all 5 keyboards:
| Keyboard | Price Comparison |
| --- | --- |
| Cooler Master MK850 | $$$$ |
| Logitech G915 | $$$$$ |
| Razer BlackWidow Elite | $ |
| Corsair K95 | $$$ |
| Das Keyboard 4 | $$ |
Per Amazon rules, I can't disclose exact prices. This is a visual representation of the price compared to each other. The more "$" means a higher price comparatively.
Even though finding the perfect keyboard with dedicated media keys might be difficult right now, I've researched and made a list of the top 5 best keyboards with dedicated media keys that you can get your hands on. Let's take a look at all of these keyboards individually.
1. Cooler Master MK850
Cooler Master is an incredibly popular manufacturer of computer cases and peripherals and their MK850 Mechanical Keyboard is definitely one of the best keyboards with dedicated media functionality.
Features
RGB Lighting – The keyboard comes with the individual key RGB lighting that is highly customizable using the proprietary software of Cooler Master known as the Cooler Master Portal. You can play around and find the best lighting that suits you.
MX Red Switches – Cherry MX Red switches are high-quality linear switches that offer nice sound, an incredible pressing feel, and are amazing for gaming
Magnetic Palm-rest – The keyboard comes equipped with a magnetic palm-rest that you can sit your wrist on while gaming or working for long hours to reduce muscle strain and other problems.
Dedicated Media Keys – The best feature that the MK750 comes with is the additional Media keys that are integrated into the keyboard. You can find the volume, playback, start-pause, and forward and back buttons on the top-right of the keyboard. The function keys are also media keys if pressed with the Fn key.
Stylish Design – The overall design of the keyboard is pretty sturdy and strong. It is lightweight, the cable is nice and the overall feel of the keyboard is pretty amazing.
Final Thoughts
With a decent price-tag for so many incredible gaming keyboard features along with high-quality media keys dedicated to multimedia manipulation, the MK850 is a great option and you should definitely keep it on your priority list if you're interested in it.
If you'd like to learn more or read more reviews, check it out on Amazon.
---
2. Logitech G915 Wireless Mechanical Gaming Keyboard
Logitech is known for its amazing peripherals and the G915 is truly one of the best wireless mechanical gaming keyboards with an array of media keys and additional programmable macro keys on it.
Features
Dedicated Media Keys – The G915 is an absolute beast when it comes to high-quality media manipulation with volume and playback keys along with game mode, lightspeed and brightness control keys, and 4 onboard profile keys as well.
G-keys – There are 6 G-keys on the left side which can be programmed according to any game or application you want using the Logitech G-hub software.
RGB lighting – The Lightsync intelligent RGB lighting used in the Logitech G915 wireless gaming keyboard makes it truly one of the brightest and most-beautiful looking small form factor keyboards in the market.
Low Profile Mechanical Switches – Logitech uses their own mechanical switches. Their G-Clicky and G-tactile switches are some of the best in the market and at the same time, they're incredibly low-profile mechanical switches that can do everything larger sized switches can do.
Long Battery Life – With an overall battery timing of 30 hours, whether you're gaming or working, the G915 is going to be there for you as long as you want it to be.
Final Thoughts
The G915 is an amazing keyboard. With the size, the functionality, the build, low-profile design, and much more, this keyboard is definitely one of the best I've seen but the thing is, the price of this keyboard is also the highest that I've seen even with so many functions and media buttons included. So, if you can afford it, that's great otherwise I'd say check other options out.
If you'd like to learn more or read more reviews, check it out on Amazon.
---
3. Razer BlackWidow Elite Mechanical Gaming Keyboard
In the race of manufacturing high-quality gaming keyboards with dedicated multimedia keys, Razer doesn't stay behind with their BlackWidow Elite Mechanical Gaming Keyboard that offers tons of amazing features.
Features
RGB lighting – With Razer's Chroma RGB technology, the BlackWidow Elite Mechanical Gaming Keyboard offers high-quality beautiful RGB lighting that will be perfect for gaming in low-light conditions.
Dedicated Multimedia keys – Razer knows how to captivate audiences with their media keys. Allowing multimedia manipulation along with a decently designed volume control wheel, you're going to have a great media key experience with this keyboard.
Hypershift – One of the best features of this keyboard is the ability to completely changing the mapping of the keys using the Razer Hypershift functionality.
Durability – The keyboard along with the keys and switches are extremely durable allowing you to be able to use it for a long time to come.
MX Green Switches – The Cherry MX green switches are both tactile and clicky. You're going to have a great keypress experience with the high-quality sound, tactile feedback, and incredible feel that the switches offer to the users.
Final Thoughts
Overall, the Razer BlackWidow Elite Gaming keyboard is definitely a great option. Plus, it is priced fairly decently in comparison to the G915, so, I'd definitely say that you should get this keyboard if high-quality media keys and MX switches are what you desire.
If you'd like to learn more or read more reviews, check it out on Amazon.
---
4. Corsair K95 RGB Platinum Mechanical Gaming Keyboard
When it comes to programmable macros, epic media manipulation options, and superb construction and key switch quality, the Corsair K95 Platinum Mechanical Gaming Keyboard is a complete beast and incredibly amazing overall.
Features
Durable Frame – Using an aircraft-grade anodized aluminum frame, the K95 RGB mechanical gaming keyboard is one of the most durable, high-quality sturdy gaming keyboards I've seen in my time of reviewing keyboards.
RGB backlight – The incredibly bright and beautiful RGB lighting that Corsair peripherals come with can also be found in the K95 which is a great feature.
Multimedia Keys and Volume Scroller – There are multimedia keys as well as a volume mute button and volume scroller available on the keyboard. There are also game-mode and brightness control buttons on the left-top of the keyboard.
G-keys – Using the special 6 G-keys on the left side of the keyboard, you can program commands and game macros on them exactly the way you want.
MX Speed Switches – The Cherry MX Speed linear switches are amazing, feature high-tactility, and provide a decent sound as well. The switches are impressive without a doubt.
Final Thoughts
The Corsair K95 gaming keyboard is decently priced in comparison to other keyboards with additional features and amazing media keys. That's why you should definitely take a look at this keyboard before you buy one for yourself.
If you'd like to learn more or read more reviews, check it out on Amazon.
---
5. Das Keyboard 4 Professional Mechanical Keyboard
If you're talking about stunningly designed, classy, high-quality mechanical keyboards then Das Keyboard and especially their Keyboard 4 are incredible from all angles no matter if you're talking about media keys, features, or overall design.
Features
Durable Design – The keyboard is superb in terms of quality and incredibly durable with its frame and overall construction. It will last for years to come whether you're gaming or working with it.
N-key Rollover – The best feature in the keyboard is the N-key rollover that is available on this keyboard. You can press as many keys together as you like without the keys canceling their commands.
Volume Wheel and Media Keys – There is an oversized volume wheel, mute button, multimedia keys, and sleep button available on this epic keyboard.
Cherry MX Blue – The Cherry MX Blue switches are clicky and they sound amazing. You're going to have an amazing mechanical experience with these key switches.
USB 3.0 – With a USB 3.0 connection availability, the Das Keyboard 4 will offer incredibly quick responsiveness due to the fast data transfer rate of the USB 3.0 technology.
Final Thoughts
Although the Das Keyboard 4 mechanical keyboard may lack the RGB lighting of a gaming keyboard, it is still an amazingly stylish and high-quality mechanical keyboard for tasteful users. That's why I personally consider it one of the best on this list and I would recommend it to anyone who wants a high-quality mechanical keyboard experience for their work and gaming sessions.
If you'd like to learn more or read more reviews, check it out on Amazon.
---
Conclusion
Mechanical keyboards with dedicated media keys are incredibly useful and highly beneficial. If you're looking for quick and easy media manipulation and shortcut keys, then getting a keyboard with dedicated media keys is the way to go. 
As a gamer and an avid computer user, I personally prefer gaming keyboards with dedicated media keys because it offers great ease, quickness, and responsiveness to my overall experience for a small increase in price.
If I had to choose any of these keyboards, and money wasn't an issue, I'd definitely go for the Cooler Master MK850, that keyboard is an absolute beast! However, if you're on a budget, you really can't go wrong with the Das Keyboard 4. It is an excellent mechanical keyboard with dedicated media keys and won't break the bank.
I assure you that if you choose one of these 5 amazing keyboards, you're definitely going to have a great keyboarding experience. So, don't hesitate and make your move right now.