Finding a proper gaming-grade mechanical keyboard with a compact build and an overall aesthetic design can be hard, especially if you have a "less than a hundred dollars" budget. However, Razer seems to have an answer for this dilemma in their BlackWidow V3 TKL Mechanical Keyboard.
You might be wondering, is the Blackwidow V3 TKL Mechanical Keyboard any good? If that's the case, you're exactly in the right place. Well, that's precisely what we're here to discuss right now.
In this article, I'm going to talk about the Razer Blackwidow V3 Tenkeyless Mechanical Keyboard, its design, build quality, features, specs, and the pros and cons that it comes with. I'm also going to be pointing out some FAQs and answer them as well. 
So, make sure you read this article completely before you make a final buying decision regarding the Razer BlackWidow V3 TKL keyboard.
Let's get started!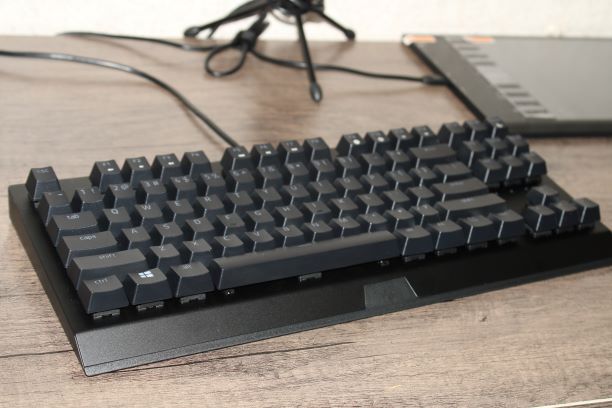 In a hurry? Get the Razer Blackwidow V3 at amazon.com!
Razer BlackWidow V3 TKL Keyboard
The Razer BlackWidow was the first gaming-grade mechanical keyboard created by Razer. This keyboard has undergone massive upgrades and now comes in a compact TKL version with 87 keys known as the Razer BlackWidow V3 TKL keyboard.
It is a decently priced TKL gaming keyboard that comes with RGB and tons of other features loved by gamers worldwide. It is one of the most popular gaming keyboards in the market right now, so I had to test it out for myself; that's why I ordered it.
What's in the Box?
The box of the Razer BlackWidow V3 Tenkeyless is a thing of beauty, to be very honest. We've got the keyboard on the front, and on the back of the package, we have all the information and features. In addition, the box is tough and quite durable.
It is compact and seems lightweight as well. But the real surprise came when I opened up the Razer BlackWidow V3 TKL Mechanical Keyboard box. Here's what I found inside:
Razer BlackWidow V3 TKL Mechanical Keyboard
Decals and Stickers
Instructional Manuals
The inclusions were run-of-the-mill, but I was pleasantly surprised by the Razer stickers that came with the keyboard. They were pretty cool, and I'd definitely chalk it up as one of Razer's wins.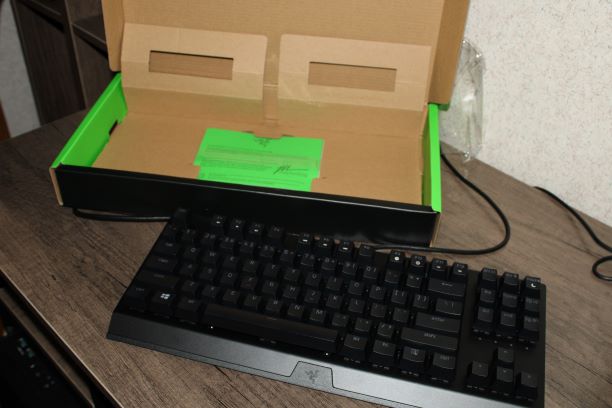 Amazing Design and Durable Build-quality
Firstly, I took out the keyboard, and as I suspected, it is actually pretty lightweight and easily portable. The design of the keyboard is incredibly aesthetic, perfect for gamers. The bezels of the keyboard are thick, and there is a prominent Razer logo at the bottom of the keyboard. There is a general incline which makes usage comfortable as well.
On the back of the keyboard, we've got 4 rubber feet that keep the keyboard in place and well-gripped, and we also have 2 kick feet that come with dual-adjustment ability depending upon whichever height you're comfortable with.
Then, we've also got an aluminum top plate which is military-grade, so there's practically no flex to the keyboard whatsoever, and it is perfectly durable and strong in terms of build quality.
Overall, if we talk about the design aesthetics and the construction of the Razer BlackWidow V3 TKL, I'd say Razer has nailed the ball out of the park in premium fashion. And it's quite apparent in its design as one can instantly see the stark difference with other keyboards.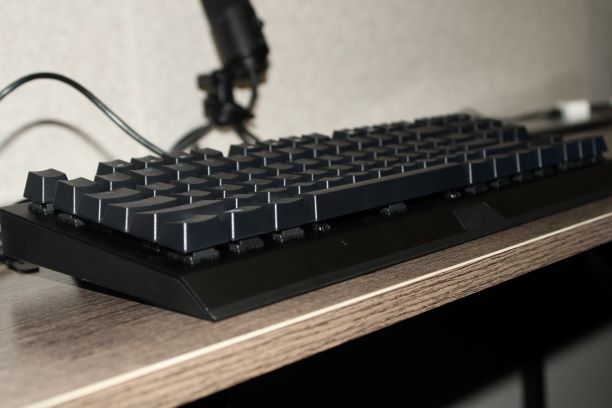 Regular ABS Keycaps and Legend Imprints
Not everything in this keyboard is pleasantly surprising. However, the keycaps the Razer BlackWidow V3 Tenkeyless comes with are regular ABS plastic instead of PBT material. So you're going to have to buy the Razer Upgrade kit to get PBT keycaps for the keyboard, which is a bummer.
The feel of the ABS keycaps is just par, in my opinion, at the price range this keyboard comes in. The durability of the ABS keycaps is also less than PBT keycaps in general, even though Razer uses higher quality components and materials for their construction. The Legend Imprints, on the other hand, are better. The design and font choice are simple and elegant. The legends are clear and perfect for the 100% RGB backlighting that will peek through them. In addition, the keycaps have a floating design that gives out more RGB, so that's cool as well.
In my opinion, the keycaps could've been PBT, but other than that, we've got potential with the legend imprints, and you can also put your custom keycaps on here if you want.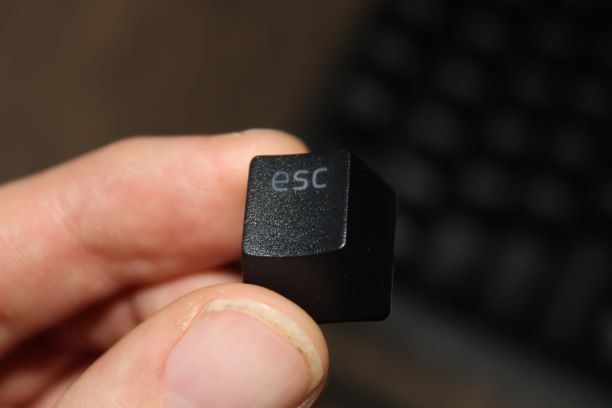 Razer Green Mechanical Switches
The best thing about this keyboard is yet to be seen, however. It is without a doubt the choice of the mechanical switches which are placed in this particular keyboard. The Razer BlackWidow V3 Tenkeyless Mechanical Keyboard uses Razer proprietary Green Mechanical switches, which are pretty cool looking and feel as well.
These switches are primarily Tactile and Clicky in terms of feel, with an actuation point distance of 1.9mm and the total distance being around 4.0mm for the keypress. The pressing force required is right in the middle with 50g, which is quite good and allows accurate keypresses. In addition, the sound of the click is quite pleasing and audible in comparison to others.
There are two walls on either side of the Green switch to provide added stability to the switches, which is amazing and one of the plus points of Razer Mechanical Switches. In terms of durability, these Green switches can last from 80 million keystrokes even further if you keep the keyboard well-maintained. Overall, these switches are pretty amazing.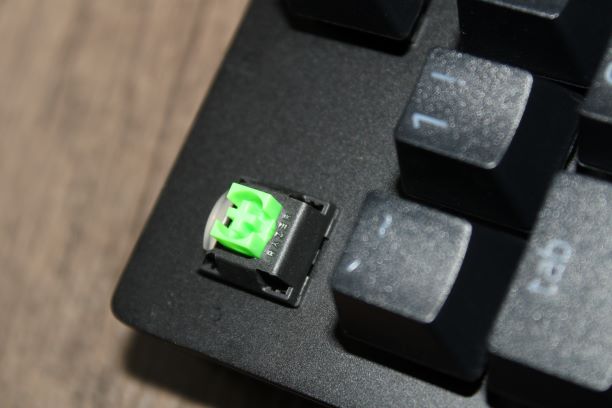 Razer Blackwidow V3 Typing Test
5.9 Feet Thick Rubber USB Power Cable
The USB power cable that comes with the Razer Blackwidow V3 is un-detachable and isn't braided, but it is made of thick rubber and is quite durable and safe for the keyboard.
The length of this cable is around 5.9 feet which is long enough for you to comfortably use the keyboard from a distance without having to yank the wire while using the keyboard.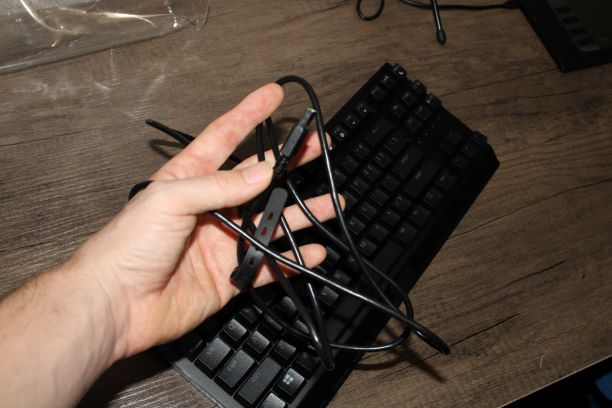 Program the Razer Blackwidow V3 with Razer Synapse Software
Razer Synapse is one of the best things about Razer keyboards. This software tool allows you to access all the elements of your Razer BlackWidow V3 TKL and change things up and get complete customization.
From the Hypershift feature that allows complete remapping of the keys to the RGB pattern changes as well as lighting customization and many other elements, Razer Synapse allows you to take complete control of the keyboard and program and customize it according to your requirement.
Exceptional Features of the Razer Blackwidow V3
So far, so good in terms of design and components, but what does the Razer Blackwidow V3 TKL has in store when it comes to the features? First, let's get into the specs and features this keyboard comes with:
Razer Mechanical Switches – One of the best features Razer Blackwidow V3 TKL mechanical keyboard comes with is Razer's very own proprietary mechanical switches. This one comes with the Green switches, which are tactile and clicky.
N-key Rollover – This keyboard comes with many amazing features, including anti-ghosting or N-key rollover, which allow all the keys to be pressed and registered at the same time without a problem.
RGB Customization – The RGB lighting is quite bright and vibrant and comes with many patterns and lighting zones that can be changed and customized according to the user's requirement.
Programming Macros – When it comes to remapping the keyboard's keys and changing the layout, you have all the options of programmability available to choose from and change.
Adjustability – With the natural incline of the keycaps along with the kick feet on the back and the adjustability levels, you have got quite an ergonomic balance in this keyboard which is pretty impressive.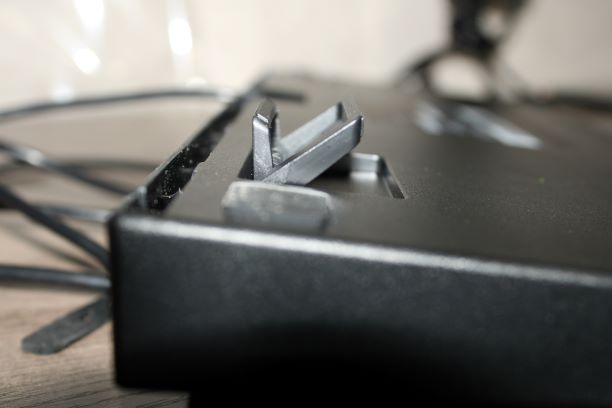 Pros and Cons
We've seen the incredible feature set that this keyboard comes with, but what does it have to showcase when it comes to pros and cons. Before you buy it, make sure you know what you're getting into. Let's take a look.
| Pros | Cons |
| --- | --- |
| Great features – Typically, in a keyboard that comes for such a competitive price, you wouldn't see such great features, but the BlackWidow V3 TKL comes with amazing features and options you can take advantage of. | ABS keycaps – One thing I wasn't thrilled with was the keycaps. The material of the keycaps is ABS which is not as great in texture and feel as PBT plastic material. |
| Durable Design – The top plate of the Razer BlackWidow V3 TKL Mechanical Keyboard comes with a military-grade aluminum layer which makes it super durable and dense but keeps it lightweight at the same time. | No onboard Memory – There are also not many onboard functions in the Razer Blackwidow V3 Tenkeyless Mechanical Keyboard and not even onboard memory, which is also a problem in my opinion that you're going to have to overlook if you want to get this keyboard. |
| RGB lighting – Gaming keyboards must always have a decent amount of RGB to really get the vibe going. Razer understands that, and BlackWidow showcases this fact with its RGB lighting. | |
Is the Razer Blackwidow V3 Worth the Price?
So, finally, is the Razer BlackWidow V3 TKL worth the price; I certainly believe so. It is one of the best available choices in terms of TKL keyboards in a decent price range. However, if you've got a bigger budget, you can find other keyboards with even better options, but this is a pretty great keyboard for low-budget and average gamers, in my opinion.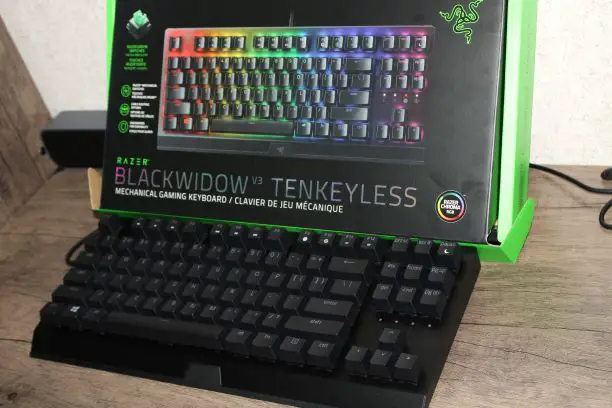 Interested? Get the Razer Blackwidow V3 at amazon.com!
Frequently Asked Questions
The Razer Blackwidow V3 TKL is a top-rated keyboard, so naturally, there are a lot of unanswered questions from keyboard enthusiasts about it. 
Here are the answers to some of the most frequently asked questions:
Is the Razer BlackWidow V3 TKL compatible with Mac and Linux?
Yes, the great thing about the Razer BlackWidow V3 TKL is its compatibility with Windows OS as well as Mac and Linux operating systems.
Does the Razer BlackWidow V3 TKL come in different colors?
The Razer BlackWidow V3 TKL doesn't come with any color variations. It is only available in the black color, which is quite aesthetic. If it doesn't go with your setup, you should get some other mechanical keyboard.
Should I buy the Razer BlackWidow V3 TKL?
Well, that depends on if you've got the right budget and expectations from it. The Razer BlackWidow V3 TKL is a pretty amazing keyboard and comes with a lot of customization options and programming freedom as well, along with the gaming design, so if that's what you're looking for, you should definitely buy it.
Conclusion
The Razer BlackWidow V3 TKL Mechanical Keyboard is a great gaming keyboard for sure. It comes with a gaming-forward design and offers a lot of amazing functionalities as well. If you have a decent budget and want a compact TKL layout, it will be a perfect buy for you. I hope that you have a great keyboarding experience with it!
---
Video Review