If you hadn't heard of 1800 compact keyboards until right now you shouldn't be too hard on yourself. I would be willing to bet most keyboard owners don't, enthusiasts included. It is a very niche setup that very few people are willing to take the risk on.
Compact keyboards are always a bit hit or miss, 1800s take that to a whole different place. If you have heard of 1800 compact mechanical keyboards before, great, you will already be familiar with some of their highs and lows. If you haven't, it is important that you truly consider the pro and con sections of this article because these keyboards are NOT for everyone.
This article will not only cover what an 1800 compact mechanical keyboard actually is but what its strengths are and where it falls short. As always, we will finish with a list of what I think the 5 best 1800 compact mechanical keyboards are on the market to the average consumer without having to focus too much on aftermarket modifications.
A common theme for these keyboards is heavy modding. You don't have to do so yourself, but expect a lot of modding heavy content when looking into these keyboards a little deeper.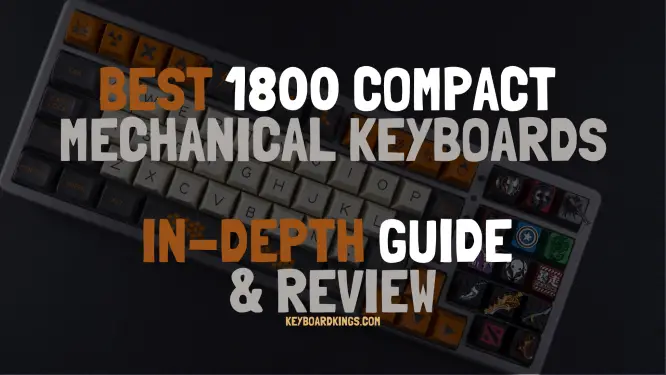 What is an 1800 Compact Mechanical Keyboard?
First of all, let's get into the nitty-gritty of what an 1800 compact mechanical keyboard even is. It is, of course, a mechanical keyboard. It makes use of physical switches and levers for its keystroke actuation rather than some sort of membrane or pressure pad system.
There are a fair few articles on this website that will cover the specifics of how mechanical keyboards work and why they are so great. For now, though, just know they are great for gaming and programming and pretty much every serious keyboard enthusiast uses one.
1800 compact keyboards are very weird. They try to do two competing things in one frame which sounds like a nightmare yet somehow works (for most people, anyway).
Essentially, an 1800 compact keyboard is a full-sized keyboard with the frame of a compact keyboard (60%). Yes, this means you end up with just as many keys but in a far smaller area. They certainly end up smaller or you simply wouldn't have a hope in hell of fitting them all.
You'll find that most 1800 compact keyboards are mechanical, but not all. They were originally designed to be the more convenient competitor for a standard full-sized keyboard but the idea didn't really catch on all that much as the keys are very clustered together.
I mean, they have to be or you just wouldn't have enough room to fit them all on the keyboard. That is actually something that you will want to think about before picking which keyboard you might like to purchase.
The reason being that some keyboards remove a few of the clustered keys here and there to either make more space or just to give the layout a shakeup. You cant blindly purchase an 1800 compact mechanical keyboard and know for a certainty that it will have all the keys you are looking for.
Make sure you check beforehand because purchasing one of these keyboards only to find out it is missing what you think of as a very important feature is a little annoying.
1800 Compact (96%) Keyboard vs Other Sizes
If you're still unsure how these keyboards look compared to other sizes of keyboards, here is an infographic I made to demonstrate all the different size keyboards: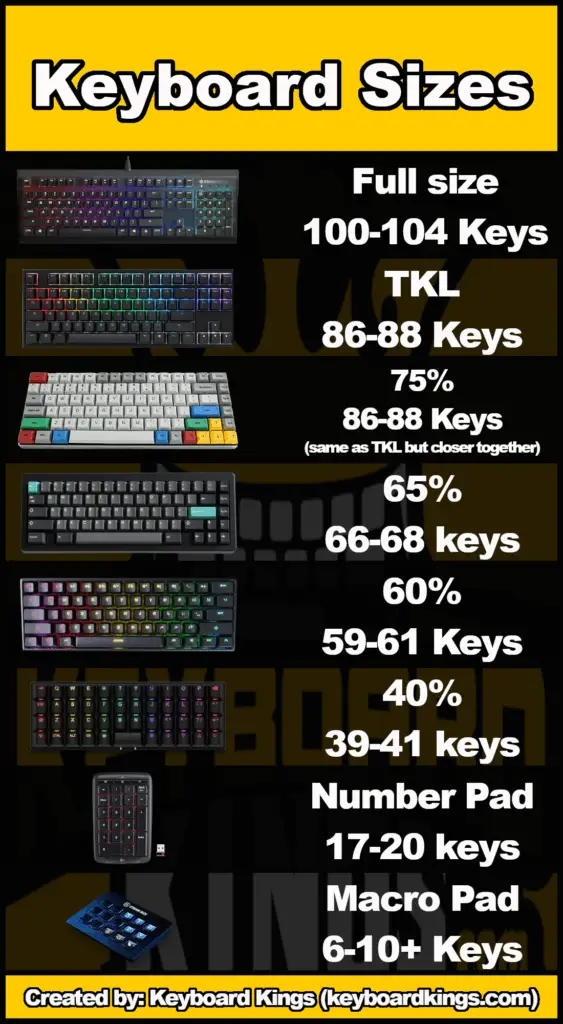 The Benefits of Using an 1800 Compact Mechanical Keyboard
Personally, an 1800 compact keyboard is a bit of a weird mix of styles but it works. Somehow, they have managed to make the layout efficient and coherent enough that you can justify using one of these as your primary keyboards.
This is true whether you are planning on gaming, programming, typing, or just goofing around on social media. There are numerous benefits to using one of these great keyboards over the standard size that you may not have considered.
Save Desk Space, Easy to Travel With
First, it is a compact keyboard. You are getting a far more portable and convenient product. Whether you are just trying to be efficient with your desk space or are looking for a keyboard that you can genuinely comfortably fit in your bag or backpack and take to work then this is probably something you are looking for.
There are various degrees of compact-ness when looking at keyboards. You typically will see 4 major increments. 80%, 60%, 40%, and of course 1800s like we are looking at today. 1800s are similar to 80%/60% in size but of course, come with all the keys of a full-sized keyboard.
All the Keys of a Full Size but More Compact
Of course, the biggest benefit is that you are getting all the keys of a full-sized keyboard in a compact frame. This means you don't lose out on any of the functionality of a full-sized keyboard by going compact.
Most people's biggest gripe with compact keyboards is that they lose their Numpad. Functionality issues can often be circumnavigated simply by having dual-function keys, this is a method that many compact keyboards use to keep themselves as a viable option.
However, there is no substitute for having a Numpad that works anywhere near as well as the real thing. In comes the 1800!
Modability
Modability. This word is going to crop up in both the pros and cons sections because its a very hit or miss factor of these types of keyboards. At first, you might be a little confused, "how could modability ever be seen as a bad thing?". You'll see later on. For now, let's look at all the positives that modding brings.
The ability to make a heck of a lot of customizations to your keyboard is great. If you don't like the switches, change them. The keycaps don't feel quite right, get new ones. The whole idea behind the 1800 is specifically the size and layout rather than the components that it comes with.
Get the keyboard, get the layout you want, and work your way towards the perfect keyboard for you. I would say that's how most people would approach the 1800.
The Drawbacks of an 1800 Compact Mechanical Keyboard:
The 1800 is far from perfect, but, that doesn't mean it can't be. This next section will briefly cover all the drawbacks of this pretty unique layout. I genuinely feel that the pros far outweigh the cons but that's just me, everyone is different.
Here are the most notable problems that you'll find with 1800 compact mechanical keyboard to help you determine if they are going to be right for you.
Keys are Close Together Making it Hard to Type
The first drawback is obvious but also something that many people probably don't consider. You have the same functionality but the keys aren't quite right. They are in the wrong place, they are too close together, some of them are clustered and it can be very off-putting to type with.
That is the whole point of this keyboard, but, it's not for everyone. Look closely at the keyboard you have your eyes on before you purchase it and try and visualize what it will be like to type with.
If you can go into a physical store and have a go typing on one of their display models, even if it's not the exact one you had in mind, is a good idea.
Very few Choices, Mods are Needed for any Creativity
Here we go again. The downside of the modding is that, firstly, that might not be something you are interested in. Some modifications are pretty easy to do, some are pretty gosh darn tedious.
The reason modding is so prevalent in this niche sub-section of the mechanical keyboard community is that there are so few keyboards available. There aren't that many great choices available to you, the list we have here is just about the extent of it.
You will see the same few keyboards crop up in almost every discussion about 1800 compact mechanical keyboards. If you arent interested in making mods, even small ones, the odds of you finding the perfect keyboard are very slim. Not none, but slim.
There is a great article on this site about some pretty simple modifications that you can make to step your keyboards game up to the next level.
The 5 best 1800 Compact Mechanical Keyboards
Price comparison chart for all 5 keyboards:
| Keyboard | Price Comparison |
| --- | --- |
| Cherry G80-1800 | $ |
| Leopold FC980m | $$$ |
| Keychron K4 | $$ |
| Iqunix F96 | $$$$$ |
| TKC 1800 Keyboard Kit | $$$$ |
Per Amazon rules, I can't disclose exact prices. This is a visual representation of the price compared to each other. The more "$" means a higher price comparatively.
There aren't all that many 1800 compact mechanical keyboards to choose from. This list of five was far easier to come by than absolutely every other list on this website.
That being said, we still have a nice mix of styles so hopefully at least one, or more, of them are well suited to you and your needs. As always, these 5 are in no particular order, here are the 5 best 1800 compact keyboards:
Cherry G80-1800
First up, we have the Cherry G80. I think this is probably my favorite of the bunch, it makes use of Cherry MX switches (you can choose which) and is generally pretty versatile.
You can find all of the standard home function keys, etc above the Numpad, they may be in a slightly different order but they are all certainly there.
You lose almost no functionality with this nifty little keyboard. I think this keyboard works well for pretty much any purpose, but it especially thrives in an office environment.
Features
The Cherry G80-1800 has a fair few features that you will want to be aware of, they are as follows:
Cherry MX switches – many options.
PBT Keycaps.
Full Functionality.
Comfortable to use.
Simple design – professional looking.
Cap/Num lock lights.
Full set of Fn keys.
Final Thoughts
The Cherry is a great keyboard. Even as a standalone keyboard ignoring the purpose of being 1800 it's pretty darn good. You can order it with some modifications made which can take the stress away for some people.
My biggest gripe is that it's just a little boring to look at. This isn't a problem if you intend to mostly use it in your office at work. But, if you wanted something a little flashy to go with your gaming setup you've come to the wrong place.
If you'd like to learn more or read more reviews, check it out on Amazon.
---
Leopold FC980m
The Leopold is a pretty cool keyboard, I think its ability to suit the user style-wise is a big selling point for it. When style options are limited, it's nice to have a bit of variety which this keyboard certainly brings. You have a wide selection of Cherry switches available for use with it.
The keycaps are very high quality which is great if you are someone like me who does a lot of typing. They aren't that great for gaming particularly but they are very easy to swap out. Again, the 1800s tend to need a little bit of modding.
Features
There are lots of great features of the Leopold F980m, these are just the most notable ones:
Many switch options – including silent cherries (blue or red).
Comes in multiple colors, black and white are best.
Doubleshot keys.
PBT keycaps.
Numpad included – lack of some home keys.
Easy to understand layout.
Very little dead space.
Final Thoughts
I really like this keyboard, it's not perfect but I feel as if it does everything pretty well. You have lost a few of the home keys but not many, not in any massively noticeable way either.
What I don't like about the lack of dead space is that the keyboard can feel a little cramped. This is an 1800 keyboard, but, if you compare it to the Cherry which still feels very open you will see what I mean.
If you'd like to learn more or read more reviews, check it out on Amazon. I found the same keyboard for slightly less over at Mechanicalkeyboards.com, it's worth checking out!
---
Keychron K4
Id like to start off by saying that you should never buy a keyboard based on looks alone. However, the Keychron K4 makes a real case against that. Its style is a little odd but I think it looks awesome. Its pretty minimalist without being boring.
It's a calming pale color without being bland. You will immediately notice that this keyboard is far more compact and cramped than most of the others in this list, this isn't necessarily a bad thing, but it should certainly be noted.
---
Related article: Keychron K1 vs K2 vs K4 vs K6
---
Features
The Keychron K4 has a bunch of cool features, here are the ones that I think are most interesting:
Gatreon switches – a fair few options including the blues and reds (id choose blues).
RGB backlight (for all those gamers too afraid to lose their rainbow backlight!).
Grid layout – Very close to being ortholinaer but not quite.
Nice design, cool color gradients.
Really good price.
Wireless (whether that's good or bad is up to you).
Final Thoughts
The Keychron looks great, it does the job, and it comes at a very reasonable price. But it's not perfect if you are looking for ergonomics you should keep looking.
A wrist rest is almost a necessity with this keyboard. Because of its very rigid linear shape and layout you will find that the front of the keyboard is slightly higher than you might expect, which can make reaching the farthest keys rather uncomfortable. Especially over long periods.
If you'd like to learn more or read more reviews, check it out on Amazon.
---
Iqunix F96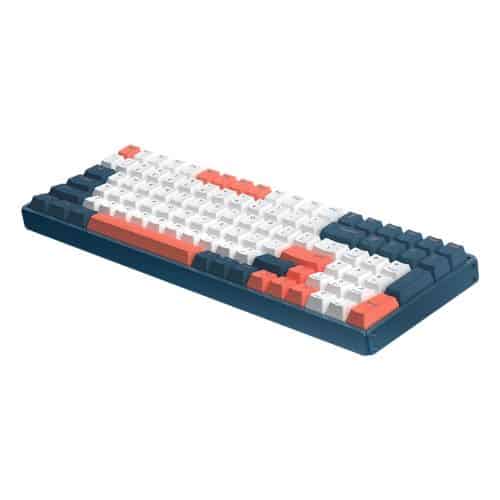 Next up we have the Iquinx F96. This keyboard looks rad I think its style is pretty unique, it's very out there but manages to still be pretty universally likable.
This keyboard is wired or wireless and is fitted with the highest quality Bluetooth technology so you can enjoy some versatility there. You can choose from a decent selection of Cherry Mx switches when you order the keyboard meaning you don't have to make that mod yourself.
This keyboard is USB C meaning its very quick, but, isn't compatible with every device.
Features
The Iqunix F96 has so many awesome features, these are just the most notable ones:
Choose your own Cherry Mx Switches.
RGB backlight.
Bluetooth capable.
Type C USB.
Aluminum Frame.
PBT keycaps.
Full set of home keys.
Final Thoughts
This keyboard comes in various styles and versions, though its features remain the same. I LOVE the coral sea version, it looks awesome and is very unique. It's not quite office suitable, its very bright, but not in an overbearing way.
I dislike that its USB-C only as that can be pretty limiting but I suppose you should be able to change the USB easily enough.
I like how this keyboard is easily programmable, you can improve its functionality tremendously if you know what you are doing. Overall I would highly recommend this keyboard.
This one isn't available on Amazon, unfortunately. But you can purchase it here
---
TKC 1800 Keyboard Kit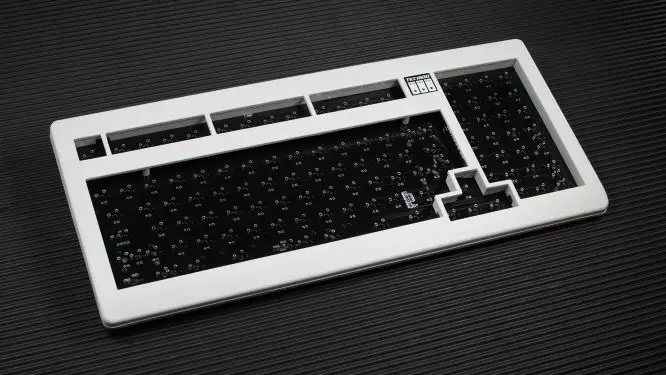 Last, but certainly not least, we have the TKC 1800. This keyboard is a little different because it does require some (a lot) of assembly on your part.
This is a keyboard kit, not a keyboard. Meaning you need to assemble the keyboard yourself choosing which specific parts you would like to include.
I like this kit for anyone who is a big fan of modding as you don't need to mess around with parts and pieces you have no interest in. This keyboard is not right for absolute beginners, it's definitely a bit of project.
Features
Because this is just the kit it's very limited in its features. You will be choosing the features yourself as you select your components. Here is what you will be getting with your kit:
Aluminum plate frame.
Plastic molded frame.
Choose your own switches and caps.
Full layout – compact frame.
Nice and simple color.
PCB pre-programmed.
RGB backlight included.
Final Thoughts
This one is certainly not for the faint-hearted, it can be a lot of work and just simply isn't for everyone. Because you can already expect to do a fair bit of modding you may as well skip a few steps and just buy the pieces you want at the beginning.
This means the price of said keyboard kit is a little redundant as the true price is however much you are wanting/willing to spend. It could be a lot, or it could be dirt cheap. The choice is up to you.
I dislike how bland the frame is but its safer to be neutral when you are only supplying the frame.
This one can be purchased at TheKey.Company
---
Conclusion
Hopefully, this article has not only helped you better understand what an 1800 compact mechanical keyboard is but why you might want one. or, why you might not.
Any of these keyboards would make a great choice for someone on the market for this style. That being said, if you are planning on modding then I would recommend the TKC.
If you arent planning on doing any modding id probably go for either the Keychron or Cherry. But, as always, the choice is yours. Good luck!
---
If you want to see more of my product reviews, check out my Guides and Reviews category!
---