In the world of high-quality visually aesthetic and incredibly amazing click feeling computer keyboards, there also exist that will make you awestruck by their appearance and their uniquely weird typing and usage mechanisms.
You might be wondering, what's the weirdest computer keyboard and how weird can it really be? If that's the case, then you're exactly in the right place. Well, that's precisely what I'm here to tell you.
The 5 weirdest computer keyboards are:
Azio Retro Classic Bluetooth Keyboard
Maltron L90 Dual Hand Ergonomic Keyboard
Akko X Ducky 3084 Gaming Keyboard
OrbiTouch Keyless Keyboard
SHOWME Laser Bluetooth Keyboard
In this article, I'm going to talk about weird keyboards, what to expect, what they might feature as well as a list of the weirdest computer keyboards I've seen in the market. So, before you buy one for yourself, make sure you read this article till the end. Who knows, you might find something you actually like!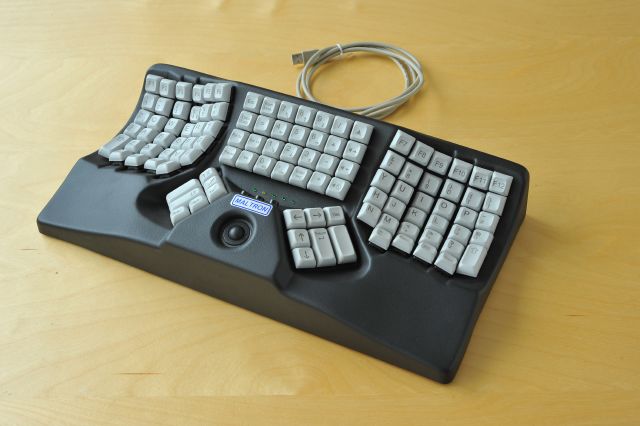 What's a Weird Keyboard?
Keyboard technology has really taken off, and many new components to increase the comfort factor along with the clickiness, the overall structure, and usage along with visual aesthetics have come and gone over the period of a couple of decades. Still, only a few weird ideas have been realized.
You can call any keyboard that seems unusual to the eye and comes up with a unique mechanism or trick up its sleeve a weird keyboard. A weird keyboard works exactly the way a normal keyboard does. The only thing is that it doesn't work as you'd expect it to.
As of now, many weird keyboards have come into the market to get famous and popular off of the world of the internet and its love for all things weird, but only a few have made us truly awestruck. So, I'd say you should definitely give them a try if you've got extra money to spend. 
Things you Might See On a Weird Keyboard
What might make a keyboard weird? You may be thinking. Well, there are a lot of things that can stand out to be weird on a keyboard. They can be the typing mechanism, the body, or some other element. Here are the things that you might end up seeing on a weird keyboard to give you a proper understanding.
Weird Design – Now, the first and foremost thing you notice about a keyboard is its weird design. If a keyboard is physically weird, you'll notice and comment on it right away; that's the most crucial thing about a weird keyboard.
Unusual Typing Mechanism – There could be something up with the clicking mechanism, or the entire way of typing and playing with the keyboard could be much different to your expectations; there are a lot of weird possibilities.
Peculiar Additions – From strange components to features that you wouldn't normally associate to keyboards, there's a lot that can happen with a weird keyboard.
A bit of extra flair – You also might see something a bit extra in a computer keyboard that is a bit strange—something extra or unnecessary or simply something that makes you feel a bit confused, perhaps.
Top 5 Weirdest Computer Keyboards
| Keyboard | Price Comparison |
| --- | --- |
| Azio Retro Classic Bluetooth Keyboard | $$$ |
| Maltron L90 Dual Hand Ergonomic Keyboard | $$$$$ |
| Akko X Ducky 3084 Gaming Keyboard | $$ |
| OrbiTouch Keyless Keyboard | $$$$ |
| SHOWME Laser Bluetooth Keyboard | $ |
Per Amazon rules, I can't disclose exact prices. This is a visual representation of the price compared to each other. The more "$" means a higher price comparatively.
Looking for the weirdest computer keyboards in the market; Well, you need to look no further. I've made a list of all the weirdest computer keyboards that you can find anywhere right now. Let's take a look at the designs, features, along with the pros and cons of the keyboards and what they have to offer.
1. Azio Retro Classic Bluetooth Keyboard
Azio has made one of the most uniquely weird computer keyboards I've ever seen, but in a sense, it's so beautiful that I want it for myself. I'm talking about their stunning Artisan Retro Classic Bluetooth keyboard, which comes with many cool features and specs you can take advantage of.
Features
Typewriter Design – The vintage typewriter artisan feel that the keyboard has equipped beautifully stunning and, in my opinion, the weirdest yet most unique and exotic feature of this particular Azio keyboard.
Leather Plate – The keycap mount is either a high-quality finely crafted leather plate that oozes beauty or a stylish but vintage-looking wood top plate that is equally beautiful and durable at the same time.
Mechanical Switches – If you're worried about the switches in the Azio Retro keyboard, don't be. You've got the amazing Kailh clicky and tactile mechanical switches, and you can choose whichever you feel comfortable with.
Aluminum Frame – The great thing about this keyboard is that it lacks durability and a stylish shiny aluminum frame that makes sure the keyboard stays in tip-top shape even after years of usage.
USB and Bluetooth Connectivity – Another cool feature of this keyboard is that you can connect a USB cable that comes with it or the Bluetooth functionality that it offers according to your choice.
Pros and Cons
| Pros | Cons |
| --- | --- |
| Backlit Keys – The keycaps and the legends are backlit, and they look pretty glorious with the white backlight behind them. The visual appeal is just too much, in my opinion. | Expensive – One thing that is a bummer is that it is quite expensive than other keyboards. |
| Braided Cable – The USB power cable that comes with the Azio Retro keyboard is quite strong and durable, and it is braided, which means it won't break or tear easily. | Lack of Programmability – Another problem is that this keyboard has no functionality for programmability or remapping keys. |
| N-key Rollover – Even an artisan keyboard like this one comes with the very must-have functionality of N-key rollover, which allows all keys to be registered right away. | |
Final Thoughts
Ultimately, this is more like a trophy keyboard that you can display in your room. If you want to type and play with it, it's pretty great for those things too, but it isn't very epic for programming and things that involve remapping and macros. So, you can get this keyboard and have a great time for sure.
If you'd like to learn more or read more reviews, check it out on Amazon.
---
2. Maltron L90 Dual Hand Ergonomic Keyboard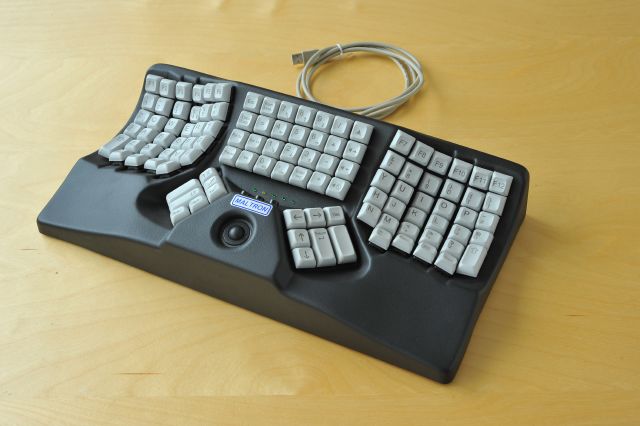 Maltron is known for manufacturing ergonomic keyboards, but when it comes to a huge hunk of a keyboard with a weird split and tilted design, the L90 from Maltron truly takes the cake because of its weird look and cool features.
Features
Split Design – The split design of the L90 from Maltron is made to ensure both the hands get their own portions of keys that they reach without having to stretch too much.
Tilted Keys – The keys on either side of the split in the keyboard are tilted and arranged in such a way that the fingers get to the keys neutrally without any excessive or unnatural bend or turn, so that's great as well.
Multiple Layout Options – If you're not a simple keyboard user and want some extra options, you're good with this keyboard. You can choose between Dvorak, QWERTY, and a specialized layout known as Maltron.
Palm Rests – Each of the sides of the ergonomic keyboard are fitted with specialized palm rest pads that make sure that your wrist doesn't get tired when you're working on something with your keyboard or playing games if you want to.
Thumb Keys – The special and more commonly used command keys like the Space bar, Delete, Return, among other keys, are designed as thumb keys, so you don't have to drag your fingers to get to them anymore.
Pros and Cons
| Pros | Cons |
| --- | --- |
| Ergonomic Design – The keyboard's design is pretty ergonomic, and it makes sure that all the bases are covered when it comes to natural finger positions and posture even. | Super Expensive – One thing that really takes away from this uniquely weird keyboard is the super expensive price tag that it features, which is quite a big problem. |
| Long Power Cable – The power cable of this keyboard is quite long and is also very well insulated, which means it is quite durable as well, so you're good on that. | Huge in Size – Another huge problem (no pun intended) is the humongous size of this keyboard. It is huge and would only fit on bigger desk spaces. |
Final Thoughts
The L90 by Maltron is more ergonomics focused than weird, in my opinion. If you want to spend a good deal of money for your future and want to avoid diseases like Carpal Tunnel, you should spend a lot on this keyboard. Otherwise, there are other weird keyboards that you can try out if you want to.
If you'd like to learn more or read more reviews, check it out on matron.com
---
3. Akko X Ducky 3084 Gaming Keyboard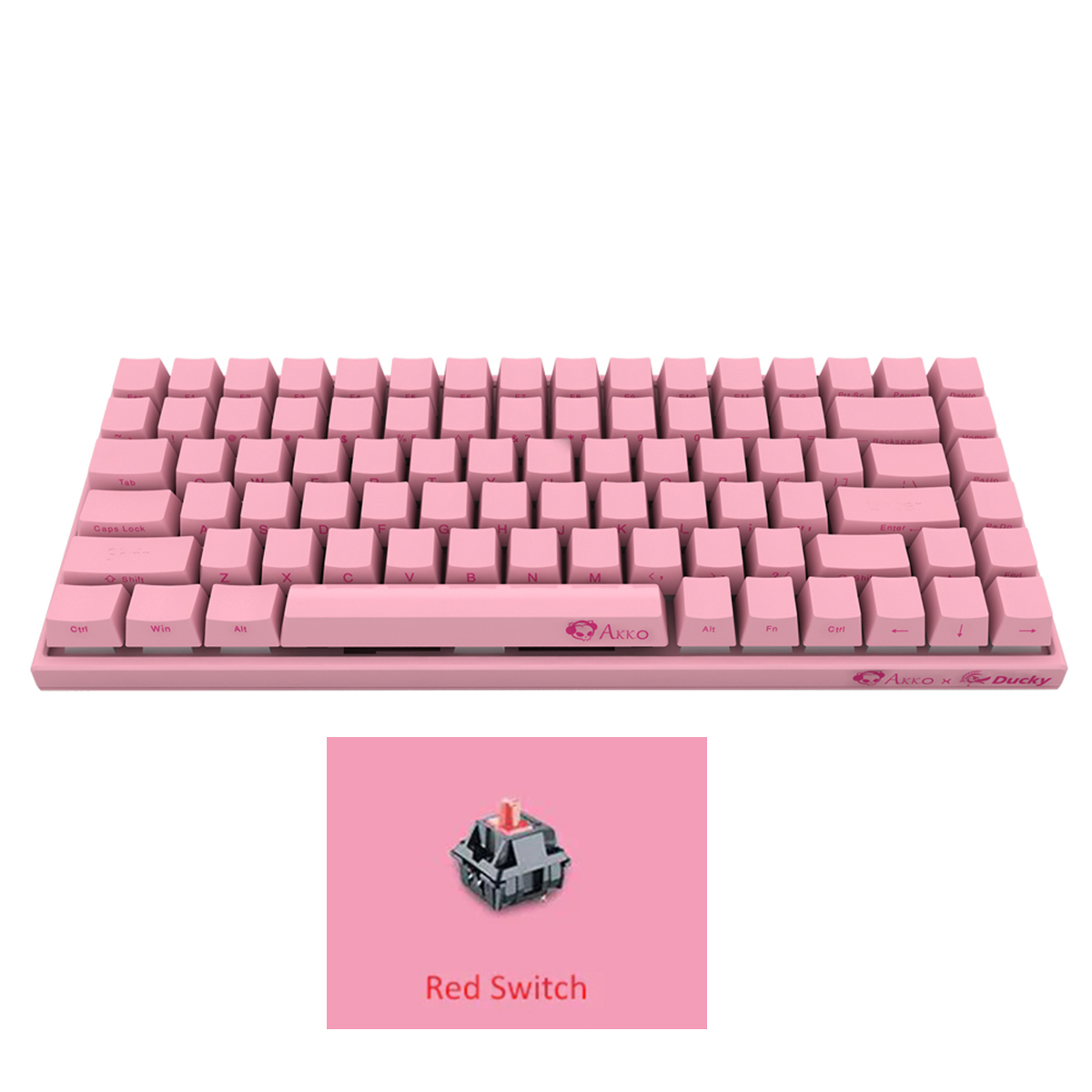 In my opinion, the collaboration between Akko and Ducky is more interestingly unique than weird. But when it comes to features and advantages, the Ducky 3084 is one of the heavyweights of the keyboard industry.
Features
Mechanical Key switches – The Ducky 3084 features high-quality Cherry MX switches that come with more than 50 million keystrokes and actuation along with amazing keypresses.
RGB lighting – The keyboard also comes with complete customization of RGB lighting that can be changed according to the user's requirement and their RGB setup.
Programmability – With the help of the proprietary Ducky software, you can expect all kinds of programmability, including remapping, reassigning, and macro programming as well.
PBT Double-shot Keycaps – The keyboard also features high-quality, incredibly durable, and textured PBT plastic double-shot keycaps that feel great when pressed.
Pros and Cons
| Pros | Cons |
| --- | --- |
| Durability – If you're thinking about the durability of this keyboard, you're going to love to know that the frame is made of highly durable plastic that has no flex to it. | Legendless keycaps – One weird thing is that the RGB backlit legends are not on the top of the keycaps but instead under them or in their front and visible only from the side, which isn't the best thing in my opinion, but you might like it. |
| Unique design – The Akko X Ducky 3084 is unique and super-high quality compared to the other keyboards on this weird computer keyboard list. | |
| Decent price – The price of this keyboard is also very reasonable and affordable if you take a look at the amazing specs and overall value of this incredible keyboard. | |
Final Thoughts
This keyboard isn't just one of the top weirdest keyboards but also a very feature-full keyboard option. The overall pricing is also reasonable, so you can definitely get this keyboard if you like it and if you want to take advantage of all the epic features, it comes with.
If you'd like to learn more or read more reviews, check it out on Amazon or Walmart.
---
4. OrbiTouch Keyless Keyboard
OrbiTouch Keyless Keyboard is one of the best, most innovative, and weirdest computer keyboard on this list, without a doubt. It is a BlueOrb product and offers a bunch of exciting features.
Features
Color-Coded Keys – The two domes on this keyless keyboard correspond to different color-coded key inputs programmed into the keyboard, which is super cool.
Sliding Domes – You might feel like the domes on the keyboard may rotate, but they are sliding instead, so you'll be moving your arms to get the input to pass through.
Intuitive input – At first, you're going to feel a bit weird, but as time passes, you're going to realize that this way of inputting characters is quite a lot intuitive.
Extremely Unique Idea – Suppose that you want to enter a letter. You'd have to slide the left and the right dome according to the code to get that typed. It is a very unique and exciting idea.
Pros and Cons
| Pros | Cons |
| --- | --- |
| Ergonomic Design – The design of this keyless keyboard is quite ergonomic, and it makes for a great exercise for people as the movement of arms with a particular amount of force is required. | Expensive – One bad thing about this keyboard is that it is quite expensive, which makes it not very gettable for many budget keyboard users. |
| Great for people with joint and muscle problems – If you've started facing joint pain or finger problems, this keyless keyboard will be a revolutionary product for you. | Large in size – The overall size of the OrbiTouch Keyless Keyboard is quite huge, and it won't fit on any small desk, so you're going to need a bigger computer desk for it. |
Final Thoughts
In comparison to other keyboards, this is definitely the weirdest, but in terms of ergonomics and overall uniqueness, I'd give the OrbiTouch Keyless Keyboard full marks. If you have the budget for it, you should definitely get your hands on this epic keyboard.
If you'd like to learn more or read more reviews, check it out on Amazon.
---
5. SHOWME Laser Bluetooth Keyboard
SHOWME's innovative yet bizarre laser Bluetooth keyboard is just as amazing as you'd expect it to be. It is a really cool project and seems pretty fun to use, with many cool features.
Features
Bluetooth Pair – The great feature of this keyboard is the fact that it can be paired through Bluetooth with your PC, mobile, laptop, tablet, or anything in between.
Red LED Projection – The keyboard comes with a red LED projection that looks pretty crisp and is very nicely visible once you've placed it on a non-reflective surface.
Small Form-factor – The form-factor of this particular keyboard is quite small, and you won't need any excessive space to put the projector in as long as there is room for the projection itself.
Lasting battery – The Bluetooth projector module comes with quite a decent battery that will last quite a long time which is pretty great.
Pros and Cons
| Pros | Cons |
| --- | --- |
| Takes little space – One good thing that comes to mind about this weirdly cool product is the compact space requirement that it comes with for decent usage. Just clear a bit of space for the projection, and you're going to be all good with the LED keyboard. | Keypress is non-existent – The keypress is non-existent since you're tapping on a flat surface and not an actual key when you type on this keyboard. |
| Great price – Along with that, you've also got the epic low price tag that it has, which makes it quite cool as well. In comparison to all the other keyboards available on this list, this keyboard is the cheapest and most affordable thing you can try out. | Accuracy isn't very great – Sometimes, the projection might not offer perfect accuracy, and you might not be able to type very fluently on this keyboard. |
Final Thoughts
Overall, SHOWME's Laser Bluetooth LED keyboard projector is quite an innovative kind of piece of equipment. But it is still a very early stage of holographic keyboard usage. In the future, we're going to see better versions of this technology. So, if you want to experience this fun thing, you should buy this keyboard.
If you'd like to learn more or read more reviews, check it out on Amazon.
---
Conclusion
Weird computer keyboards are quite real, and honestly, they're mostly not as bad as people think they are. In fact, some keyboard technologies that might seem weird now may become usual or adopted shortly.
So, if you want to buy any one of the aforementioned keyboards and get a taste of what they have to offer, I'd suggest you do, and you won't regret it. I hope you learned a lot from this guide and that you'll have a great time reviewing and experimenting with these epic, weird computer keyboards. Have a great day ahead!