One popular company that produces keyboards is known as Keychron. They often make specialized keyboards that are normally less common. They have a few different models that you can choose from. Keychron is well known for the K series. Here we will be comparing the K1 vs K2 vs K4 vs K6 models.
All keychron models have wireless connectivity as well as Mac/Windows compatibility. The K1 is a low profile tenkeyless keyboard. The K2 is a 75% keyboard. The K4 is a 96% keyboard also known as the 1800 compact. The K6 is unique as it is the only one offering an option of being hot-swappable. This keyboard is a 65%.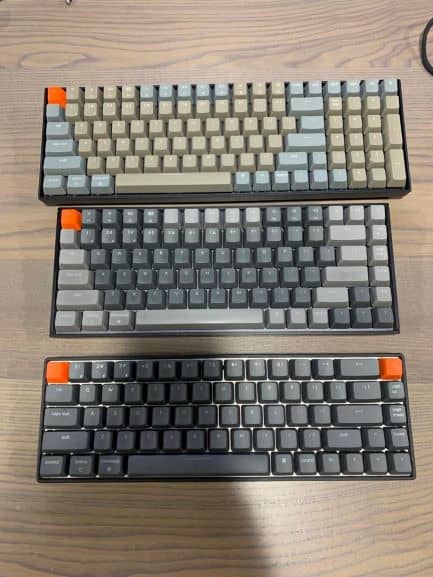 This is just a quick rundown of the differences. We will look at these keyboards with a little more detail to really understand how they stack up. If you're on the fence and can't decide which one fits your needs, this article should answer all of that and more.
The Keychron Company
Located in the UK, the Keychron company specializes in making uncommon and unique style keyboards. These keyboards include the K1, K2, K4, and the  K6.
K1 vs K2 vs K4 vs K6
Each keyboard has a different layout which may or may not be obvious to an untrained eye. In a previous article, I go over all the sizes of keyboards, but for these models, we are looking at the 96, 75, 65, and the TKL.
| Keyboard | Size | Price Comparison |
| --- | --- | --- |
| K1 | Full or TKL | $$ |
| K2 | 75% | $$$ |
| K4 | 96% (1800 compact) | $$$ |
| K6 | 65% | $ |
Per Amazon rules, I can't disclose exact prices. This is a visual representation of the price compared to each other. The more "$" means a higher price comparatively.
This post contains affiliate links
K1 – Tenkeyless
The K1 keyboard has a few options to choose from. For example, you could get it as a full size or as a tenkeyless keyboard. The smaller keyboard, of course, comes at a cheaper price.
You also get two choices of key switches. You can choose from the Gateron low profile reds or the low profile blues. Reds being linear and blues being clicky.
You also get the choice of backlighting. You can either get the full RGB with 17 different settings, or a simple white backlight if you want to save some money.
Also, you can use this keyboard either with a wired connection or completely wireless via Bluetooth.
Whichever choices you make it doesn't affect the performance of the keyboard. Those are really just personal preference items.
Some people like smaller keyboards and don't care about RGB, while others have to have a full-size keyboard with RGB. But these characteristics don't make the keyboard better or worse.
The K1 also offers full support for Mac and Windows, so it doesn't matter which operating system you plan to use your keyboard with. It should work perfectly fine on either one.
This keyboard looks great overall and the only downside is the low profile keys. The keyboard sort of feels like a laptop when typing on it. Your fingers could start to hurt over time from the constant typing and bottoming out.
If you'd like to learn more or read more reviews, check it out on Amazon
---
K2 – 75 Percent
The K2 is a 75% keyboard which is a bit smaller than the K1. The keys are also a bit closer together which may make it harder to type if you have fat fingers. Like the TKL, there is no numpad and the home cluster has been reduced.
This keyboard is a wireless mechanical keyboard with a great battery that can last up to two weeks. You could plug it in while you use it though it may be a bit awkward as the USB-C cable plugs in on the left side.
Since we're talking about negative things, I should also mention the thickness of this keyboard. You really don't want to use it without a wrist rest as it may cause an uncomfortable bending of your wrist which may start to hurt after a while of use.
However, don't let those couple of negatives turn you off from this keyboard. It is still a great one to have. this keyboard can connect to three devices at once making it super easy to move from room to room and device-to-device.
It also has a toggle switch to switch between using it for a Mac and using it for a Windows PC. this means you will have no problems using this keyboard no matter which operating system you prefer
If you'd like to learn more or read more reviews, check it out on Amazon
---
K4 – 1800 Compact
The K4 offers a very unique style keyboard known as the 96% or the 1800. It's pretty hard to find this style keyboard. The home cluster is arranged in a horizontal row rather than a three-by-three grid. It's also a bit more compact than a standard keyboard.
This keyboard also offers quite a bit of customization options like the K2. Though, You do have a few more switch options in this one. You have the same red and blue options as the K2 however you can also opt-in for the yellow or brown switches if you prefer.
Much like the previous model, you may want to get a wrist rest with this one as well. It may be a bit thinner than the other model however it's thicker towards the front causing your wrist to bend just a bit. I think the best way to balance that out would be with a wrist rest.
The other similarity to the other model is that it is wireless and it is also compatible with both Mac and windows. It also offers RGB lighting.
If you'd like to learn more or read more reviews, check it out on Amazon
---
K6 – 65 Percent
Finally, we have the K6. this one is my personal favorite as it has the most features and I also love the 65% layout which is what this one is.
The 65 is very compact removing the Numpad and top function row. Though it still has the dedicated arrow keys which is a must have for me and most people as well.
The K6 has similar features as the K2 and k4 with a few other options. You can choose if you want a more heavy-duty aluminum case for a bit extra, or go the cheaper route with a plastic case.
The aluminum case will, of course, make the keyboard last longer but it may be annoying to travel with or move it around as it's a bit heavier. However, if you plan to keep the keyboard pretty stationery then the aluminum might be a good choice.
This is the only Keychron model that has the option of being hot-swappable. This is an amazing feature and makes it super easy to replace broken keys or remove them for lubing without the need to desolder.
This is the newest keyboard and honestly, if you're going to go with a Keychron I would go with this one. Make sure to look at 65% keyboards and make sure that the layout is something you will be comfortable with.
If you'd like to learn more or read more reviews, check it out on Amazon
---
Conclusion
Now that we have compared the K1 vs K2 vs K4 vs K6 it should be a bit easier to distinguish which one fits your personal needs.
They all offer Windows and Mac compatibility and offer a wireless option. However, where they differ is with their customization options as well as their layout.
Each model progressively gets more and more customization options. If that is a must-have for you then you may want to check out their latest model which is the K6.
If your more focused on the layout then you will want to pick the one that fits your criteria. The K1 comes in a tenkeyless or full-sized, your choice. The K2 is a 75%. The K4 is an 1800 compact. Lastly, the K6 is a 65% keyboard.
Hopefully, this article helped you narrow down your choice and make a decision. Or at the very least, satisfy your curiosity!
If you want to see more of my product reviews, check out my Guides and Reviews category!
---