As a gamer or a professional writer or producer that uses the computer a lot, you must've dealt with different kinds of keyboards throughout your life. With many options to choose from, it can not be easy to pick the best one. One prevalent mechanical keyboard option available nowadays in the market is the Keychron K4 Mechanical Keyboard. 
You might be wondering, how good is the Keychron K4 Mechanical Keyboard? If that's what's going on in your mind, you've come to the right place. That's precisely what I'm here to tell you.
In this article, I'm going to review the Keychron K4 thoroughly. Let's look at the design and the quality and the keys, switches, features, and cons that come with this mechanical keyboard. 
There are a lot of frequently asked questions that I'd like to address as well. So, sit back, relax and read this article till the end before you think of buying the Keychron K4 Mechanical Keyboard.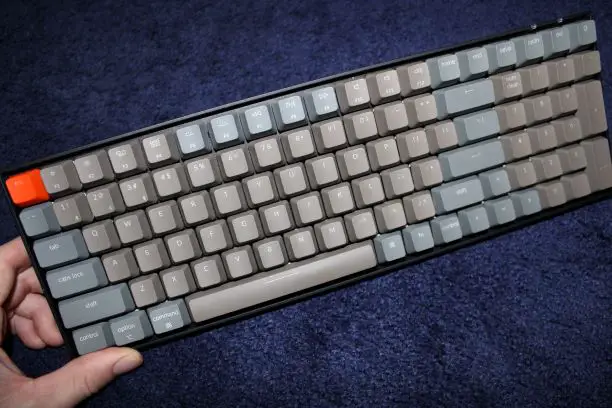 In a hurry? Get the Keychron K4 on Amazon!
Design and Build Quality
The Keychron K4 Mechanical Keyboard is a 96% keyboard that is incredibly compact, well-designed and impressive in looks, placement, and key pressing.
It comes in both plastic and full aluminum frame options that you can choose from and offers little to arguably no flex at all. This is an excellent sign because you want your mechanical keyboard to be fixed and stable.
The K4 is a beautiful looking simple mechanical keyboard that is durable and strong with an exceptional build-quality that will ensure that the keyboard stays in shape and remains in use for quite a long while to come. So, you don't have to worry about the longevity of the K4.
High-Quality Keycaps 
When we look at the Keychron K4 Mechanical Keyboard keycaps, they're nothing short of amazing. The touch on the keycaps and the legend imprinting feel premium, in my opinion, and I love this about the K4.
In comparison to other keyboards in a similar price-point, you won't get as good quality keycaps as you do in the Keychron K4, and that is one great thing about this mechanical keyboard.
Even the imprint design and the size and readability is pretty unique. This is why the keycaps' overall quality and structure in the Keychron K4 Mechanical keyboard are excellent. All the 100 keycaps are elegant, beautiful, and one of the strongpoints of this board.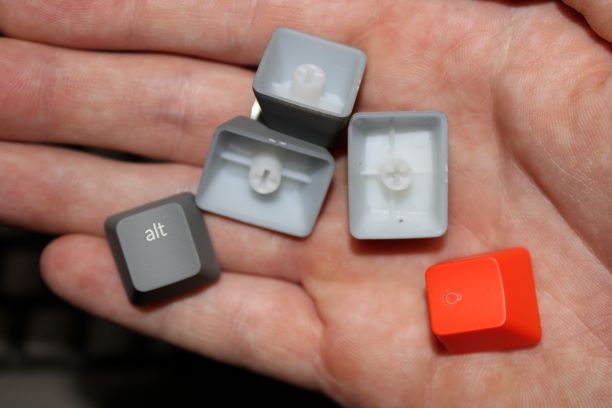 Feel Good KeyPress and Mechanical Switches
What kind of mechanical switches does this keyboard use? The mechanical switches in use in the K4 by Keychron are the Gateron Brown tactile switches. They feel similar to Cherry MX Brown switches but slightly worse. 
With a decent actuation point and tactile feel, the Gateron Brown switches are fairly decent in the Keychron K4 keyboard. It feels okay to type on but I would rather have the Gateron red switches personally.
All in all, I've enjoyed typing on this keyboard. Nothing jaw-dropping but still a great experience non the less.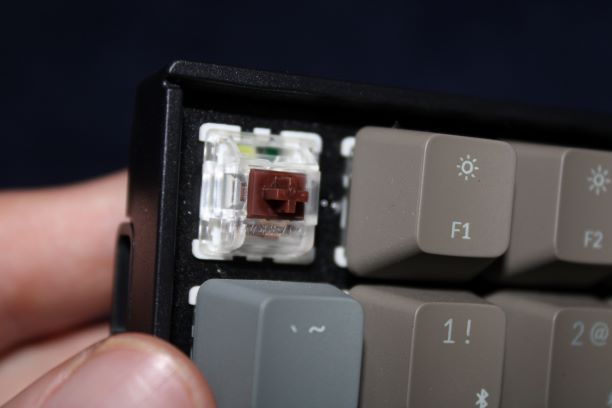 Keychron K4 with Gateron Browns Typing Test
Wireless and Wired Connectivity
The Keychron K4 has one massive win over all the so-called no-mess wireless keyboards in the market right now. It supports both wireless and wired connectivity. This is incredible if you ask me. 
If you want to avoid using cables and want to use the keyboard from far away for ease, you can connect it using Bluetooth. In contrast, if you're looking to play video games and truly immerse yourself into the keyboard experience, you can click the USB type-c cable from your device to the keyboard and use it in a wired state. It is truly a remarkable feature.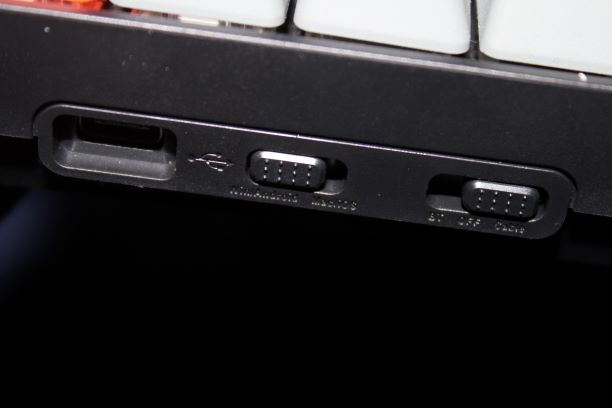 Incredible Features
We now know about the design and the quality of the Keychron K4, but what kind of fascinating features does it hold within? Let's explore the unique features and specs that the Keychron K4 Mechanical Keyboard comes with together so we can get one step closer to making a buying decision.
Durable and Strong Metal Frame – One of the best features hands down in Keychron mechanical keyboards is durability. With a full aluminum frame, you have a no-flimsiness, high-quality healthy, and durable keyboard that will last for years whether you're writing, working, or gaming on it.
Compactness – There are 100 functional keys in the K4 keyboard, which makes it a 96% keyboard, and still, it is incredibly compact and lightweight due to no excess free spaces on the keyboard. This compactness can be beneficial if you've got a smaller desk space where you can't place a bigger gaming keyboard.
Gateron Switches – Another feature of this keyboard is the mechanical switches in the Gateron Brown linear switches. Their acoustics, along with the tactility and the high actuation, makes them a great mechanical switch in the market, in my opinion.
RGB Backlighting Option – You've got the bare switch housing in the K4, and at the same time, if you're looking for a gaming setup friendly RGB keyboard, an RGB optical switch housing option that supports RGB backlighting, which is an incredible choice, to be honest, and is one of the better features in this keyboard.
Connects to 3 devices – If you're using this keyboard's wireless feature, I've got great news for you. You can combine this keyboard to 3 of your devices, including your laptop, phone, PC, and much more, at the same time to increase productivity and utilization, which is a great thing, I believe.
Multimedia Function Keys
Most people might think lacking in this keyboard are the dedicated media keys, and I believe that is true. But in all truthfulness, you're still getting multimedia functions if not dedicated.
You've got brightness control, RGB backlighting control, forward, back, pause, play, and even volume control options available that you can use in unison with the fn key to work in the function keys. This is an excellent cover-up for the lack of media keys and keeps the K4 above user expectations.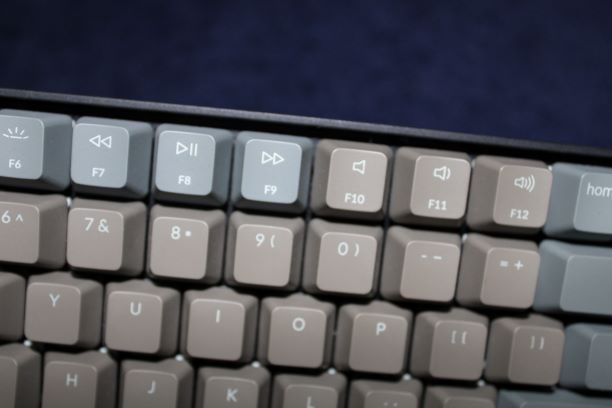 A few problems
Now trust me, I like this keyboard myself, but with all the features, specs and advantages that it brings to the computer table – pun intended, it also brings some disadvantages, or you can say cons. Let's look at some of the missings, problems, and lackings in the Keychron K4 Mechanical Keyboard.
No Programmability – Something that bugs me is the lack of programmability in this keyboard. No macro setups or key binding changeability exists in it, which can reduce this keyboard's productivity usage.
No Customization Software – Unlike most of the other gaming keyboards from popular brands like Razer, Logitech, and much more that come with their proprietary customization software, you won't get any software to change the RGB backlighting or the programmability options on the K4 mechanical keyboard.
No Dedicated Media Keys – As I said before, this keyboard uses function keys to perform media functions and customization in the RGB, backlighting. Still, it doesn't come with dedicated media buttons or keys to ease multimedia control with the keyboard, which is a bummer for many people.
No Ergonomic Palmrest – Many keyboards in this price range come with magnetic palm rests, but the Keychron K4 mechanical keyboard doesn't come with one. That is why in terms of ergonomics, this keyboard isn't very highly rated. It is considered one of the lesser ergonomic keyboards in the market.
Interested? Get the Keychron K4 available on Amazon
Keychron K4 vs K2 vs K6 and other Keychron Keyboards
On its own, the Keychron K4 Mechanical Keyboard is a moderately priced keyboard that offers a lot of unique features and advantages in a compact small-form-factor, which is an excellent choice for any gamer or professional computer user.
However, once we compare it to the K6 produced by Keychron, we see that it lacks features and value. But in comparison to the older products like the K2, it has better value and advantages. So, overall, in contrast to other Keychron keyboards, the K4 is a decent choice if you've got your eyes set on it.
Check out: Keychon K1 vs K2 vs K4 vs K6
FAQs about the Keychron K4 Keyboard
Surfing the internet, I found out that many commonly asked consumer questions that you guys have asked about the K4, and I felt like I need to answer them. That's why I took the most critical problems and answered them for your ease. Let's take a look at them.
How do you print the screen on the K4?
It's quite simple to print the screen on a Keychron K4 keyboard. You will hold the fn key and the p key and the page up key in unison for about 6 seconds for your keyboard to take a screenshot or print screen. This is the default combination, and it can't be changed in the K4.
How do you charge a Keychron K4?
You can charge the Keychron K4 using the USB type-c cable, and at the same time, you can use it while it is charging. This helps it achieve wired and wireless capability.
How to pair my K4 keyboard?
To pair a Keychron k4 keyboard first Switch to the Bluetooth Option. Then you're going to want to hold the fn and the F1 key together until the Bluetooth indicator starts flashing. Turn Bluetooth on in your device, and the device will pair itself up with the Keychron K4 keyboard easily.
How do I switch between K4 devices?
If you're new to Keychron keyboards, you might not be familiar with how to switch between devices. Well, it is actually quite simple. All you need to do is press the function key and choose between the 1-3 keys to switch between different devices that you've paired with the K4 keyboard at a particular time.
Is Keychron K4 good for gaming?
The Keychron k4 is great for gaming, however, I would try to find a version that comes with Gateron red switches instead of Gateron brown. But if that's not available, you can purchase the switches separately and swap them out yourself as the Keychron K4 is Hot-Swappable.
Conclusion
So, the million-dollar question is, is the Keychron K4 Mechanical Keyboard worth it? Well, I believe it is. The pros and the features of the keyboard outweigh the cons and make this keyboard an apt choice for moderate-budget gamers and workers who want a tremendous mechanical switch experience. So, get this keyboard and bring some class to your setup. I hope you have a fantastic keyboarding experience.
---
Video Review