In this article, we will cover not only what a foldable computer keyboard is and what its benefits are, but which specific models are the best. There are so many keyboards on the market right now across so many price points. Finding the right one for you can be a little overwhelming, luckily, this article is here to help.
What is a foldable keyboard?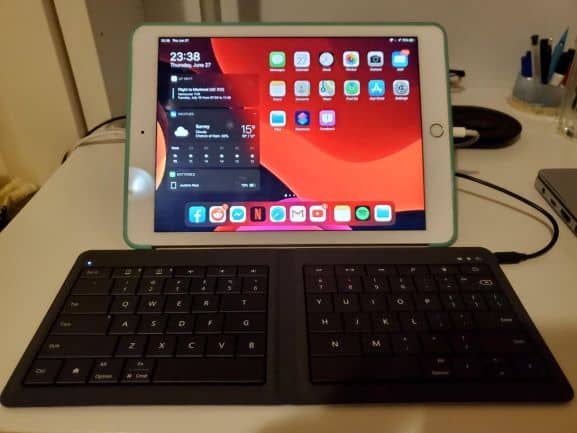 This post contains affiliate links
A foldable keyboard is a keyboard that folds. Duh! Typically, it folds in half or some cases quarters. It can even be rolled up, like sushi, as you will see later on in the article.
They are all touchpad or pressure plate based. They are never mechanical. There simply isn't enough room in the keyboard frame to house all the switches.
These keyboards are very infrequently tactile, meaning there is very little feedback. This can be very offputting for some people. If you were looking for a keyboard with a lot of feedback, keep looking. Foldable keyboards are not what you are looking for.
So, why might someone want a foldable keyboard?
They are incredibly convenient. If you are someone who needs to transport their keyboard around frequently, having a very small keyboard is a big plus.
If you are traveling with a laptop you may not particularly like the keyboard, you are going to be stuck with the keys and their layout on your laptop with very little room for change. However, by using a foldable/portable keyboard you have a little more flexibility.
Foldable keyboards can fit comfortably in your laptop bag, alongside the laptop itself and perhaps a mouse and mousepad. However, a regular keyboard would never fit on account of their bulkiness and length.
You may also want to bring a foldable keyboard around with you if you are working in communal workspaces. Be it an office, school/college, or a library.
Keyboards are filthy, you may be surprised to find that they are even dirtier than a toilet seat. So, do you truly want to use public keyboards? Even if it is only used by your colleagues?
No, you probably don't. Bringing your keyboard around with you is thus the only option. Carrying a foldable keyboard around with you is by far the most convenient choice.
The 5 Best Foldable Keyboards: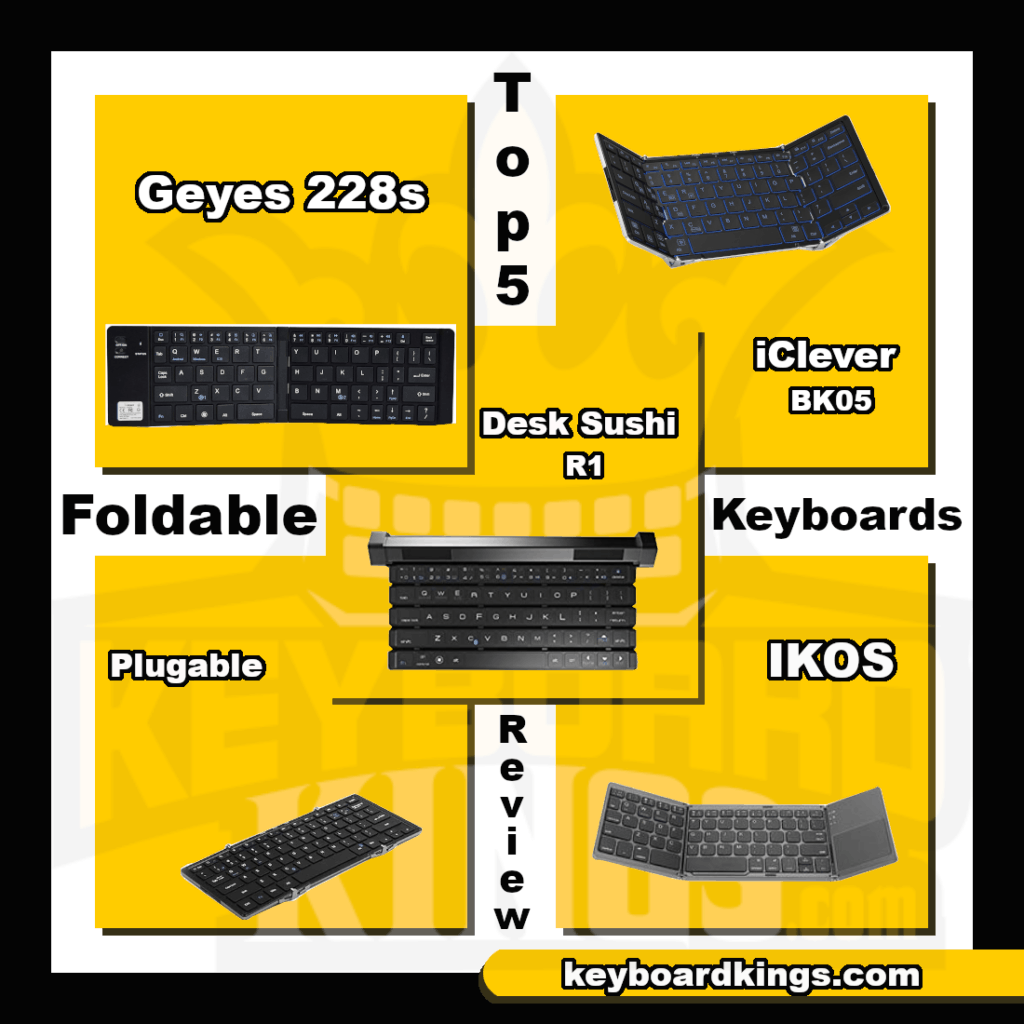 You now know what a foldable keyboard is and why they are so beneficial. But what makes a good foldable keyboard?
Something I find very important to look for is good battery life and Bluetooth capabilities.
Some keyboards are more comfortable than others, some are more expensive than others, some are just better than others.
I put together my top 5 picks based on some of these factors.
Price comparison chart for all 5 keyboards:
| Keyboard | Price comparison |
| --- | --- |
| Geyes 228s | $ |
| iClever BKO5 | $$$ |
| IKOS | $$ |
| Plugable | $$$$$ |
| Desk Sushi R1 | $$$$ |
Per Amazon rules, I can't disclose exact prices. This is a visual representation of the price compared to each other. The more "$" means a higher price comparatively.
#5 Geyes 228s
The Geyes 228s is a very high-quality keyboard for the price you are paying. You can pick up one of these keyboards for a very affordable price. While being low in costs, you still get a comfortable keyboard that has a decent battery life.
This keyboard is lacking in extra features, it doesn't have any clever little contraptions attached to it, it doesn't try to do more than be a good folding keyboard.
Features:
The Geyes doesn't have any special features per se, it doesn't try to be more than a keyboard. Instead, it does the job of being a foldable keyboard extremely well. Here is a breakdown of all the best features of the Geyes 228s:
Smart looking silver frame with black keys and black keyboard.
Low price – super affordable
Very silent keys. Perfect for use in public spaces like a train without disturbing those around you.
When unfolded, the keyboard is just 6mm thick (0.2 inches). Perfect for transporting easily, it can even fit in the front pockets of your pants.
Comes with a foldable stand, should you want/need to use one. For example, if you have trouble with carpal tunnel syndrome.
It is Bluetooth capable – up to a range of about 10 meters.
The estimated lifespan is about 3 million keystrokes, so you are getting decent longevity.
Final thoughts:
The Geyes 228s is a great budget keyboard for anyone looking to get some extra work done on their commute, or in public spaces, without being too invasive to other people's ears.
Since it is so small, even when folded, it is very easy to transport around with you. For this low price, you are getting exactly what a foldable keyboard needs to be. However, it isn't particularly well suited for gaming.
The fold of the keyboard is found between the T and the Y keys. This is only an issue for a small percentage of typists. This break can make your natural flow of typing a little strange, some of the major keys have been shifted a 1/4 inch to the left or right of where you think they should be.
It will take a little adjusting to get used to, once you do though you are getting a very reliable keyboard. I would highly recommend it.
If you'd like to learn more or read more reviews, check it out on Amazon.
---
#4 iClever BK05
The iClever BK05 is a little more on the pricey side of the spectrum. You can expect to pay close to double the price of the first option, so it might be a little harder to stomach than the cheaper models on this list. However, you do get what you pay for.
It is important to note that if you are just looking for a foldable keyboard for occasional use, then using this model might be overkill. If you regularly use a foldable keyboard, then this model might be the right one for you.
Features:
The iClever BK05 has a few more quality of life features than the cheaper models on this list. It has been designed to be as universally applicable for as many people and purposes as possible. Here is a breakdown of all the best features of the IClever BK05
Very small, just over one-third of the size of your standard qwerty keyboard.
This keyboard comes with high-quality backlights for ease of use in low lighting or at night.
The backlight has an adjustable brightness setting (high and low) so you can find the right level for you and your eyes.
The backlights of keys can be changed to various colors, suiting your personal preference. Some people like colorful keyboards, some don't. No matter which of those people you are this keyboard will work for you.
This keyboard is Bluetooth capable and also has a wired connection available. For whichever suits you. This means your keyboard is functional, even if the battery should die on you.
The battery life is just over 80 hours (when fully healthy) so it running out on you in the middle of the workday is going to be a matter of you have forgotten to charge it at some point in the last week, rather than it having a poor battery life.
Its frame is very smart looking, with a clean aluminum finish you are getting both style and sturdiness.
Final thoughts:
You may be paying more than twice that of the Geyes 228s, but you are getting twice the keyboard. The lighting settings and the power source flexibility when combined with a very good battery means you are getting a super reliable keyboard.
Your ability to customize for personal preference is a big factor for many people. Especially those who make use of their keyboard a lot. This keyboard is great for gaming, it is decently thick with a good amount of feedback.
For gamers, feeling the keystrokes register is a big deal. So, choosing a keyboard such as this one is a good idea.
If you'd like to learn more or read more reviews, check it out on Amazon.
---
#3 IKOS
The IKOS foldable keyboard may take a bit of getting used to for some people, but, once you have done that it should be smooth sailing.
This keyboard isn't too expensive, especially for what you get. It is a bit cheaper than the second option. It can cost upwards of 1.5-2x the price of the first model, depending on shipping. You may be feeling a little bit turned off by the price, but, you shouldn't be.
This keyboard is perfect for use without a computer as well as with. This keyboard is 100% phone compatible with pretty much any make or model. As long as the phone is Bluetooth capable.
Features:
The IKOS is the top of the food chain when it comes to foldable keyboards. You get what you pay for. If you are trying to use your phone with the keyboard just as much as you are using a computer. Here is a break down of all the best features ok the IKOS foldable keyboard:
Very good battery life. You can expect about 2 days (48 hours) of writing time from a full charge. It is also slow to decrease in battery life over time when on standby. A fully charged battery will last about 500 hours when left on standby.
Charge time is about 2 hours, so you can keep it up and running with very little thought. Just charge it before work Monday morning and the chances are it will still be running smoothly by the end of the week.
This keyboard is very, very, light. It ways 140 grams. Or, about 5 ounces. So it is very easy, and very comfortable, to carry around.
This keyboard is compatible with windows, IOS, and Android. With a little work, you can even make it compatible with Linux. If you are one of the people that for some reason feel inclined to do so.
The IKOS keyboard has been designed to be as ergonomic as possible, perfect for touch typists.
The IKOS keyboard even has a touchpad, so you can get by without having to bring a mouse with you. Something that many people fail to consider when switching to a foldable keyboard.
Final thoughts:
The IKOS keyboard is a great choice for any typist. It is comfortable to use, and easy to transport. It lasts long, it looks good and truthfully doesn't cost as much as some other keyboards on the market.
However, since it does have a split down the middle it can be uncomfortable for some people to use. If you rely on typing quickly and accurately for your job, you may not have the time to adjust to using this keyboard. That's not a problem, it's just a matter of personal preference.
If you are a gamer, someone who plays key-combo based games such as league of legends regularly, then this keyboard might not be for you. Unless you are willing to tough it out for a short adjustment period.
If you'd like to learn more or read more reviews, check it out on Amazon.
---
#2 Plugable
Plugable is one of the more expensive keyboard on this list. You may find yourself paying slightly more than the Iclever model for this foldable keyboard.
Unless you are paying for a nice mechanical keyboard, you probably haven't even fathomed spending this much on a foldable one. Why pay 3 times more for the Plugable when you could get the Geyes 228s instead? Heres why:
Features:
The Plugable is a great all-around keyboard, it is perfect for those of us who find typing on a full-sized keyboard more comfortable than a shortened and condensed one. This does come at the cost of weight, and of course size, but if you can overlook that you are getting a real winner here. Here is a breakdown of all the best features of the Plugable foldable keyboard:
Great for typing as it is almost the same size as your standard keyboard. There is no adjustment period needed, you can comfortably and easily transition from regular mechanical keyboard to your foldable one with minimal difference.
If you have big hands, then typing on a smaller keyboard can be uncomfortable and even painful. If you are a man (they typically have bigger hands), then this keyboard might be the right one for you.
This keyboard can be connected to your computer via Bluetooth or USB. So, even if the battery should die on you – you can continue working as normal.
This keyboard, despite its size, only weighs about a pound. This is a little heavier than some of the other models on this list. But that's to be expected when the keyboard is so much larger.
All of the Plugable keyboards come with a one year warranty, so you know the manufacturer backs their product.
This keyboard is also compatible with Apple or Android products. So, your phone can easily be used as a wordprocessor.
Final thoughts:
As you can see, the Plugable is a very high-quality keyboard. Perfect for anyone who doesn't want to face the transition period to a smaller keyboard.
If you are a gamer, this keyboard is perfect for you. There is no real difference between this keyboard or your regular desktop keyboard you use at home.
The battery life has not been specified, but the manufacturers estimate it will last pretty much all week. Even if this keyboard is your primary device for typing, you will only need to charge it once a week. Not bad for a hundred bucks.
If you'd like to learn more or read more reviews, check it out on Amazon.
---
#1 Desk Sushi R1
The Deski Sushi R1 is different from any of the other folding keyboards on this list. Whereas most foldable keyboards fold, the Desk Sushi R1 roles. Just like a sushi roll. Hence the name.
This keyboard is similar in price to the iClever, and a bit less than the Plugable. It doesn't quite do as much as those two, but it is cool.
So much of whether you like this keyboard or not will depend on how you feel about the roll versus fold feature.
Features:
The Desk Sushi R1 is a very cool keyboard. It is quite different than the other keyboards in some terms, but not many. It still does everything a keyboard needs to do well. AND it is great for transporting around with you in your daily life. Here is a breakdown of the Desk Sushi R1 foldable keyboard.
It has room to house both speakers and a microphone, meaning it has more uses than any of the other keyboards on this list.
Since it rolls up, it takes up far less room in your laptop bag. It can lie directly on top of your laptop meaning it doesn't take up almost all the excess usable space in your bag. Leaving you room for other things you may need.
It rolls up into a cylinder that is just under one and a half inches in diameter. Perfect for putting in your pocket when walking from office to office.
The key layout is pretty close to the standard size and format. It is very sleek and professional-looking if aesthetics matter to you this cant be overlooked.
It is capable of being used with both PCs and phones. Apple and Android are both 100% compatible too.
Connects using Bluetooth up to 8 meters.
The battery life is only about 8 hours, but, that is plenty long enough for the standard workday without needing to recharge.
Final thoughts:
The Desk Sushi R1 is, in my opinion, the coolest keyboard on this list. It has a pretty unique name and style, while still working as a good quality keyboard. Its battery life leaves a little to be desired but still manages to last the whole day. If you are using this keyboard for your phone for any meaningful amounts of time, this is the keyboard for you.
If you'd like to learn more or read more reviews, check it out on Amazon.
---
Conclusion:
Hopefully, you now have a pretty good idea of what you should be looking for in a keyboard. Any of the above keyboards are great. They won't let you down. They all have their pros and cons but are overall pretty darn good.
If money is tight, the cheapest model on here is still a great keyboard. If you are not afraid to loosen the purse strings, the Desk Sushi R1 and the Plugable are the way to go.
Which keyboard is best for you is a matter of your personal preference. Hopefully, this article has helped you settle the keyboard you are looking for!
If you want to see more of my product reviews, check out my Guides and Reviews category!