When looking for the right keyboard there are always going to be several consistent factors that must be considered. First, we are going to consider the price. How much can you reasonably afford to pay for a new keyboard?
Next, what features do we want? Do you have your heart set on a specific set of switches or keycaps?
And, rather importantly, what's the purpose? What purpose your keyboard intends to serve often help you determine which features it needs.
If you have settled on needing a volume control wheel/knob then you have come to the right place. This article will not only cover what volume control knobs (or wheels) are but why you might want one. Then, as always, we will cover the 5 best keyboards available on the market that feature one of these excellent little gadgets.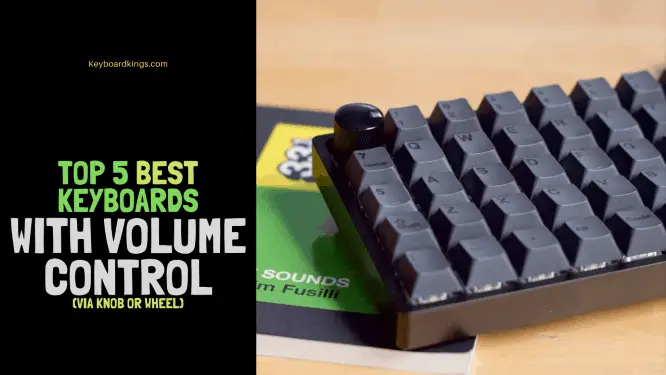 This post contains affiliate links
What is a Keyboard Volume Control Knob or Wheel for?
What is a volume control knob? Clearly, it controls the volume of your keyboard. It works similar to the volume knob of an old radio or stereo. It's far simpler to use than volume buttons that often require you to hold down the function key before they will even work. They also work far faster.
We will get into the specifics of why you might prefer a volume knob over the standard volume control later. For now, let's consider what else the volume dial can do.
Many people fail to consider that this clever little feature can do more than just make your music louder. One of the best uses for a volume knob is when paired with various creative software such as photoshop.
Other Features of a Knob/Wheel
If you have some kind of software, like photoshop, that features plenty of different filters, shaders, modifiers, etc you can actually use the volume knob to adjust said modifiers.
This can be exceptionally helpful if you need to make lots of changes with a specific modifier. Rather than searching for the modifier and then toggling it manually you can simply just bind it to your volume wheel and adjust it on the fly.
A good example is if you are trying to draw, you must first select the size of your "pen" or "brush". If you bind your pen or brush size to the volume knob you can adjust it on the fly, even while you are moving your mouse.
You can even find a purpose for a volume wheel whilst gaming. A good example is if you have a lot of menus that must be cycled through.
Imagine scrolling through the in-game store menu in League of Legends. You could scroll with the volume wheel far faster than manually sliding the store menu or using your directional arrow keys.
You can use your mouse wheel to scroll, of course, but not quite as fast. The natural limitations of the mouse wheel regarding speed will always make it second to a volume knob.
What are the Advantages and Disadvantages of Using a Volume Control Knob or Wheel?
There are numerous advantages and disadvantages of using a volume wheel over a regular set of volume controls. This next section will cover these pros and cons to help you determine whether or not a volume knob or a volume wheel is something you might want or even need. Let's get right into it.
Advantages
The pros, there are many advantages to using a volume wheel over a volume knob. Firstly, if we are using it purely to control the volume we need to consider what we are replacing.
Manual buttons are slower to use and also often require you to hold down a function button. In many cases, you may even need to use one hand to hold down the function button and another one to actually toggle the volume controls.
Is this manageable? Yes. Is it convenient? Of course, it isn't. Imagine if you are in an intense fight for your life while gaming and you have to drop both your directional keys/control and mouse just to change the volume. Not great.
Another advantage is that you can adjust the volume far more quickly since the dial can essentially be spun one way or the other rather than by spam pressing the button. Going from low volume, essentially muted, to loud by pressing the up volume button 60+ times is tedious and time-wasting.
You should also consider that if you use the volume control to change certain modifiers then that too will likely be far faster. Firstly because you can remove the need to go and find the modifier settings on the screen and secondly because you can actually modify the modifier far faster than you would otherwise.
Speed and convenience are often highly important to us yet something we regularly overlook for frivolous things such as switches and keycaps. Both of which can be easily changed!
Disadvantages
Volume control knobs aren't for everyone. They are certainly not perfect. So, let's look at how they might fall short.
Convenience is not always as easy as it seems. You'll find that many volume control knobs on the keyboard require a second USB port to connect directly with the external speakers. This isn't a major issue but it's something that has to be considered.
Additionally, volume control knobs often cause a tiny bit of feedback with external speakers due to the nature of how they adjust the volume itself. Rather than by rigidly incremental it can be rather sporadic and staggered which your speakers may not like. It's only a brief problem but it does need to be mentioned for fairness' sake.
Another issue that you might find is that you must download some third party software to allow you to use your volume dial for more than just volume. In some cases, you may even need to download said software to control the volume at all.
Nobody really wants to download this kind of software. Even if we know it's safe it's still annoying and who doesn't hate having countless programs installed on their computer. A tidy computer is a happy computer.
Additionally, another problem that many people find is that the volume control doesn't always work with the corresponding software. Sometimes it just doesn't register or registers incorrectly. Which isn't a problem you are likely to run into with the standard keyboard volume control.
Another problem you may encounter is that the volume dial just doesn't work right for you. Since it's far less incremental you may find that changing volume accurately just doesn't work for you.
Increasing the volume by one at a time is a little more difficult when you have to make a very precise rotation of the dial rather than just pressing the volume button once.
This isn't a problem for everyone, but if you are very particular about what your volume settings are a dial might be a little too vague for you.
A good example is if you are one of those people that just HAS to have the volume on an even number. Increasing the volume "evenly" isn't quite as easy as you would hope with a volume knob.
The 5 best keyboards with volume control via knob or wheel?
Price comparison chart for all 5 keyboards:
| Keyboard | Price Comparison |
| --- | --- |
| Azio Levetron L70 | $$$$ |
| Eastern Times Cooling LED | $ |
| G Crusader USB | $$$ |
| DJ425 Dell Multimedia | $$ |
| Das Keyboard 4 | $$$$$ |
Per Amazon rules, I can't disclose exact prices. This is a visual representation of the price compared to each other. The more "$" means a higher price comparatively.
So, you've decided that you do indeed think that having a volume control knob or a volume control wheel is something that you are interested in. Now you have to decide which keyboard, in particular, might be the one for you.
This list contains 5 excellent keyboards, each with a volume control knob, that you may be interested in picking up for yourself. These keyboards are in no particular order.
As which keyboard is "best" is so subjective ranking them in order is rather pointless. Here are the 5 best keyboards with volume control via a knob or a wheel.
Azio Levetron L70
First, we have the Azio Levetron L70. This wonderful keyboard makes use of a small volume knob on the top right-hand side of the keyboard.
The knob is rather small but no less functional than any other one. This keyboard is full-sized with a huge amount of functionality.
This keyboard is geared towards gaming but is perfectly acceptable as an everyday work keyboard. Especially if you are someone who does a lot of creative work. Like photoshop, for example.
Features
The Azio has plenty of great features, here are the most important ones:
Volume control knob.
Full-sized – lots of functionality.
Comfortable wrist rest.
Clean design with minimal markings. Intended to be functional not flashy.
LED backlight.
Intended for gaming – RGB backlight.
Full set of function keys.
Final thoughts
This is a pretty good option if you are on the market for a keyboard but aren't willing to break the bank. You can pick one of these up for around $100, give or take, which is always good news.
The volume control does NOT need any third-party software as it connects directly to your computer. The backlight isn't the best but it gets the job done. It could be brighter, but, some people enjoy the "dullness" of the backlight.
If you'd like to learn more or read more reviews, check it out on Amazon.
---
Eastern times cooling LED
Next up, we have the Eastern times cooling LED. This is another keyboard that is heavily geared towards gaming but is of course usable for pretty much anything.
Its volume control knob is dead center of the keyboard (along the top of course) making it easy to get to comfortably with your keyboard hand when gaming.
The volume control being next to your QWERTY keys is far more convenient than having it over your Numpad.
Features
The eastern times cooling LED has a bunch of notable features that you will want to be aware of:
Center volume control knob.
Gaming layout – great for gaming but good for almost anything.
Blue backlight – soft and easy on your eyes.
Wired only (USB 2.0)
Spill-resistant.
104 programmable keys.
Final thoughts
You kind of get what you get when you buy a keyboard aimed towards gaming. They all fit a specific type of style and color scheme that you either like or you don't.
I think my biggest gripe with this keyboard is that it does look VERY gaming orientated. It doesn't really fit in an office environment very well.
What I LOVE about this keyboard is the central volume control knob. It's so much easier to use that it puts this keyboard slightly ahead of the others in the convenience factor.
If you'd like to learn more or read more reviews, check it out on Amazon.
---
G crusader USB
Coming up next we have the G crusader. This is another gaming focussed keyboard with a distinct difference – this time we see the use of a volume wheel rather than a volume dial.
The crusader is an RGB backlit half mechanical keyboard with a focus on programmability and functionality. This keyboard has a lot to offer which you might not assume at first glance because it looks very, very, raw.
It's a very harsh minimalist style but I think it actually compliments what this keyboard tries to do perfectly.
Features
The G crusader has a ton of awesome feature, these are just the most notable:
Simple metal frame – very light yet sturdy.
RGB backlight.
Volume control wheel.
Gaming focussed (FPS in particular)
Fully programmable.
Custom macros enabled.
Wired only (USB 2.0)
Final thoughts
I think this keyboard is really cool. It looks awesome, it's not flashy yet it somehow steals the show. This keyboard is focussed on gaming but excels most in the professional setting.
It's incredible programmability and custom macros make it perfect for programming in general.
The volume control wheel opposed to the volume control knob is a strange choice but it works with the aesthetic this keyboard rolls with. It's probably intended to save space, which it indeed does.
If you'd like to learn more or read more reviews, check it out on Amazon.
---
DJ425 Dell Multimedia
Second to last we have the DJ425. This is the first keyboard that is clearly meant for creative work rather than gaming as it's primary focus.
This keyboard is a little weird in shape and layout, I don't need to explain why that's the case as you'll see very clearly when you look at it. Even at a first glance.
The volume control is again a wheel on this particular keyboard which I think works very well with the general style and layout. You have a full set of function keys, and a Numpad, allowing you to use this keyboard for work or for play. Though, I wouldn't recommend it for gaming.
Features
The DJ425 is a pretty nifty little keyboard, here are its most interesting features:
Volume control knob offset on the right of the keyboard.
Full set of function keys.
104 key full keyboard.
Interesting layout.
Other media key options.
Professional looking.
Wired only.
Final thoughts
The DJ425 is pretty great. If you are looking for a new gaming keyboard, this isn't it. But, if you are looking for a great new keyboard for the office then perhaps this is precisely what you should go for. It's not flashy by any means but it gets the job done.
I don't like the media keys set alongside the volume control knob as I think that almost defeats the point of the knob itself but I do understand what they were trying to achieve there.
If you'd like to learn more or read more reviews, check it out on Amazon.
---
Das keyboard 4
Last, but certainly not least, we have the Das keyboard 4. The Das is a very interesting keyboard as it tries to be incredibly versatile. You will find that you can make the Das fit more or less any purpose.
I think it excels when used for creative work, whether that's artsy or engineering creativity, it always gets the job done. It looks great, it fits well in an office environment but is interesting enough that it will be well suited to your other gaming devices.
The price can be a little hard to stomach for some people but you certainly get what you pay for.
Related article: Are Das Keyboards worth it?
Features
The Das has some awesome features, here are the most notable ones:
Multiple USB 3.0 ports.
The volume control knob is on the right-hand side.
Wrist rest.
Detachable armbar doubles as a ruler.
The volume control knob can be used easily for other functions with no third party software.
Smart and sleek design – professional looking.
Final thoughts
The Das 4 costs a fair bit but you get a heck of a lot for your money. This article has no particular order as was stated in the beginning but I would probably recommend this one to anyone willing to foot the bill.
You get so much, it's so versatile and simple to use. It makes use of a volume control knob but never makes said control the focus of its design.
If you'd like to learn more or read more reviews, check it out on Amazon.
---
Conclusion
Hopefully, this article has helped you decide whether or not a keyboard with a volume control knob or a volume control wheel is something that you might be interested in.
Additionally, I hope that this article has helped you narrow down your search. In truth, there aren't too many volume control knob keyboards that are worth mentioning. But, these 5 definitely are the cream of the crop.
I would highly recommend the Das 4 but the choice is, of course, up to you. Good luck with whatever you decide. Happy typing!
---
If you want to see more of my product reviews, check out my Guides and Reviews category!
---