Anyone who is into computer gaming knows the importance of mechanical switches and the pleasure they offer. A few years ago, if you had decided to buy a mechanical keyboard for gaming, you would be presented with only two choices: Cherry MX or membrane. But now the scene has changed as many other switches have entered the market. 
These switches offer tons of exciting features and because of this reason, the price of some of these switches is unbelievably high. This article was written with the intent to help you get the same level of entertainment without having to spend a lot of money. 
If you're a true keyboard enthusiast who wants to use high-quality mechanical switches, but you haven't got the funds to get your hands on Cherry MX switches, there's an incredible switch option available in the form of Gateron.
You might be wondering, what are Gateron switches, and how do they compare to other brands of mechanical switches? Well, that's exactly what I'm here to let you know.
In this article, I will talk about Gateron switches, the different types they offer, prices, quality, features, and everything in between. I'm also going to answer some of the most frequently asked questions regarding Gateron switches. So, before you buy switches for your keyboard, make sure you read the article till the end.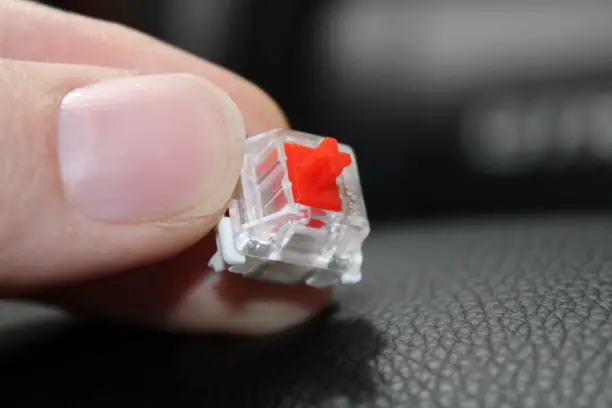 What are Gateron Switches?
Gateron Switches are good-quality affordable mechanical switches manufactured in China by Huizhou Gateron Electronic Technology Ltd. They've been manufacturing good-quality mechanical switches with amazing features to compete with industry leaders Kailh and Cherry MX switch since 2000.
You have many options from Clicky to Linear and even silent switches from Gateron that you can use according to your switch requirement. They're not the most premium switch in the market, but they're the perfect choice for the budget gamer and even professionals to some extent.
Are Gateron Switches Any Good?
The main question that people ask regarding Gateron switches is, are Gateron switches any good? Well, they're known as less-premium in terms of the keypress in comparison to Cherry MX switches, but they're incredible for what they are.
In fact, not only are Gateron switches cheaper and more affordable in comparison to Cherry MX mechanical switches, but they're also smoother and feel better while pressing in most cases due to their short stem architecture.
But if you compare them to Cherry MX in terms of durability, they're not at Cherry MX's level. They're still incredibly high in terms of value and feel, so if you've got a tight budget, Gateron switches will be the best choice for you.
Gateron vs Other Switches
Gateron switches are pretty great on their own in terms of tactility, affordability, smoothness, and mechanical feel, but how do they fare compared to other incredibly popular front-runners of the mechanical keyboard switch industry? Let's take a look at Gateron against a few other switches.
Cherry vs. Gateron Switches
There are a few aspects where Gateron switches are much better than Cherry MX. Gateron switches are much more decently priced and affordable than being extremely smooth in terms of key press.
However, when it comes to durability, the strength and longevity of Gateron switches is half the lifespan of Cherry MX switches which can come with more than 100 million actuations in some types of Cherry MX switches.
Gateron vs. Kailh Switches
These two are both highly competitive Cherry MX clone mechanical switches, and they both do an impressive job of holding the Cherry MX rival mantle. But if you're looking for smoothness and affordability, Gateron is what's better.
Kailh switches aren't as cheap as Gateron, but they're better than Gateron switches when it comes to durability. In some switches, like the speed silver, Kailh's technology and innovation have even surpassed Cherry MX switches, so, in terms of class, Kailh switches are better.
How Long Do Gateron Switches Last?
Gateron switches are known for their smoothness and great pricing, not much for their durability and longevity, if you ask me. But that doesn't mean they're not durable at all.
Typical Gateron switches can last up to 50-60 million keystrokes and even work past that point. Still, after that time, they're more likely to stop working or introduce problems you might want to address by replacing them with new switches, which won't be very expensive.
How to Choose the Right Gateron Switch
If you're wondering which Gateron switch would be perfect for you, honestly, it depends upon what usage you have on your mind. Let's look at which variant and color would be suitable for you, depending upon your usage.
If you want to game with Gateron switches, Gateron Red or Black linear switches would be a great choice.
You're thinking of typing? Tactility and click would be soothing for you; that's why you should go for Blue or Green switches.
If you're a fan of RGB and you want quicker response time, the Gateron Clear switches might do the trick for you.
List of All Gateron Switches
Gateron has a lineup of dozens of incredible switches of different types, including Cherry MX counterparts like Red, Blue, Brown, and many others. Let's take a look at all the high-quality and decently priced Gateron Switches and what they have to offer in terms of specs.
Gateron Red Switches
The Gateron Red is a perfect linear mechanical switch alternative to the Cherry MX red switch. It offers no tactile feedback, and the keypress is quite linear and streamline.
| | |
| --- | --- |
| Type: | Linear |
| Actuation Point: | 2mm |
| Operating Force: | 45cN |
| Noise: | Little to none |
Gateron Yellow Switches
Gateron Yellow are also linear switches, but they have more of a weighted feel to them. They're smooth, noise-free, and offer no tactile feedback upon key press action.
| | |
| --- | --- |
| Type: | Linear |
| Actuation Point: | 2mm |
| Operating Force: | 50cN |
| Noise: | Little to none |
Gateron Blue Switches
Gateron blue switches are clicky switches that prove great substitutes to Cherry MX blue mechanical switches with decent tactile feedback and a clicky sound.
| | |
| --- | --- |
| Type: | Clicky |
| Actuation Point: | 2.3mm |
| Operating Force: | 60cN |
| Noise: | High |
Gateron Green Switches
Gateron Green mechanical switches are also clicky but heavier and require more actuating force than the Blues, with a lower actuation point and a deafening clicking noise.
| | |
| --- | --- |
| Type: | Clicky |
| Actuation Point: | 2.4mm |
| Operating Force: | 80cN |
| Noise: | Loud |
Gateron Black Switches
Another great Gateron counterpart to Cherry MX red switches is the Gateron Black switches that are linear and offer incredible smoothness with a mechanical feel on pressing.
| | |
| --- | --- |
| Type: | Linear |
| Actuation Point: | 2mm |
| Operating Force: | 60cN |
| Noise: | Little to none |
Gateron Brown Switches
Gateron Brown switches are tactile switches that provide a clear tactile bump to the user when a keypress is successfully registered with a decent amount of clicking acoustics.
| | |
| --- | --- |
| Type: | Tactile |
| Actuation Point: | 2mm |
| Operating Force: | 55cN |
| Noise: | Average |
Gateron Clear Switches
The Gateron Clear switches are incredibly smooth and fast linear switches that rival some of the best mechanical switches out there with a high actuation point and low noise level.
| | |
| --- | --- |
| Type: | Linear |
| Actuation Point: | 2mm |
| Operating Force: | 35cN |
| Noise: | Little to none |
What are the Other Variants of Gateron Switches?
The previously mentioned switches are the basic mechanical switches available in Gateron's lineup. However, there are a few different variants for some of these switches.
Gateron switch variants include optical variants which are designed to be great for RGB and have a faster response rate than basic switches, milk variants which are used to reduce the intense RGB feel of switches, silent variants that are quieter than basic linear switches, Ink variants that come with enhanced smoothness due to the Ink housing, and low-profile variants, which have a much shorter actuation and travel distance in comparison to other switches.
17 Commonly Asked Questions About Gateron Switches
Which is the Quietest Basic Gateron Switch?
Not everyone is looking for the highest tactile bump and the loudest clicking sound when they buy high-quality mechanical switches. When it comes to Gateron switches, their best switch type is linear ones that are extremely quiet.
The quietest basic switch by Gateron is the Gateron Silent Red linear mechanical switch which requires 45cN operating force and offers no tactile feedback or clicking noise.
Are Gateron Switches Loud?
Gateron switches aren't necessarily super-loud. It depends upon which variant you're going for. There are tactile and linear mechanical switch options by Gateron available as well.
However, a few Gateron switches, including the Gateron Blue and Gateron Green mechanical clicky switches, are among the loud noise click options available in Gateron switches' arsenal.
Which is the Loudest Gateron Switch?
Gateron clicky switches are pretty loud upon key press because of their tactile feedback and low actuation point, but you might wonder which Gateron switch is the loudest?
The Gateron Blue Clicky switch is considered to be the loudest clicky switch by Gateron. This switch is for the people who want an amazing clicky feel and great tactile feedback.
Are Gateron Switches Clicky?
There are some clicky options available in Gateron's huge lineup of mechanical switches. Gateron Clicky options are great for mechanical switch enthusiasts who want amazing tactile feedback but can't afford to get Cherry MX clicky switches. The Gateron Blue and Green Clicky switches are considered some of the best switches among the Clicky switches worldwide.
Which Gateron Switch is the Fastest?
Gateron's switches are incredible when it comes to smoothness due to smaller stems which switches are faster.
Optical switches are significantly faster than basic mechanical switches. Even though the response time might be milliseconds better in optical switches, this speed difference can be beneficial for gamers. That's why optical switches are better than mechanical switches for gaming and quick usage.
What are the Quietest Gateron Optical Switches?
Among the optical switch lineup of Gateron, the Gateron Yellow Optical switches are the fastest and the quickest in terms of response time. They're also incredibly quiet with almost no noise to them.
The actuation force required to press these Gateron Yellow Speed switches is just 35cN. In contrast, the actuation point is just 1.1 millimeters high, which aids in the quickness of Gateron Yello Optical switches' response time.
How to Remove Gateron Switches?
If the keyboard your Gateron switches are placed on is hot-swappable, then the removing process will be straightforward. All you need is a switch-puller and use it to clamp both the Gateron switch tabs, which can then be easily pulled off the keyboard plate.
However, if the switches are not hot-swappable, you're going to have to remove the keycaps, unsolder the switches from the PCB and then replace them with new switches if you're thinking of going for a Gateron replacement.
Are Gateron Switches Pre-lubed?
Out of the box, Gateron switches come with a minimal amount of pre-lubrication to keep them in tip-top shape, but that's not enough lube if you're thinking of installing those switches in your keyboards.
Also, if you're buying a keyboard with Gateron mechanical switches inside them, likely, the keyboard manufacturers will already factory-lube the switches placed in the keyboard.
How to Lubricate Gateron Switches?
The switch lubrication process for Gateron mechanical switches is quite similar to other key switches as well. Here's what you're going to want to do if you want to lubricate Gateron switches.
First, you're going to pull the upper and lower half of the switch apart. Take a small brush and use the lubricant to brush the switch, the upper housing, and the lower stem of the Gateron switch just enough and not too much. Finally, join the parts and use them as lubricated switches on your keyboard.
Is it Worth Lubing Gateron Brown Switches?
Yes, I believe lubing Gateron Brown mechanical switches areAny mechanical switch that hasn't already come with a significant amount of lubrication must be lubed before you use them. But when it comes to tactile switches and Brown switches are tactile ones, using a high-quality lubricant is a must before switch installation.
Are Gateron Yellow Switches Factory-lubed?
A lot of keyboard enthusiasts ask the question, are Gateron Yellow switches Factory-lubed? Well, yes, they are factory-lubed. They're more popular among Gateron switches because of this distinction.
Other Gateron switches aren't always factory-lubed, but when it comes to the Gateron Yellow linear switches, they have extra smoothness due to the incredible lubrication job done in the factory before their shipment.
Are Gateron Switches Good for Gaming?
Gateron switches are some of the best for high-speed actuation, amazing smoothness, feel of the keypress, and low prices for the switches.
All of these features make them perfect for gaming. Another great thing about these switches is that gamers on a tight budget can buy and get a taste of incredible mechanical keyboard switches, too, which is a win for gaming.
Which Gateron Switch is the Best for Gaming?
We know that Gateron switches are great for gaming, but you might think which type and color switches are the best for single-player and quick response multiplayer games?
The most popular among the Gateron mechanical switch lineup and the best in terms of features, smoothness, and actuation are the Gateron Black and the Gateron Red linear mechanical switches when it comes to gaming.
Are Gateron Black Switches Good for Gaming?
This is a very commonly asked question. Yes, the Gateron Black mechanical switches are fairly popular, aesthetically pleasing, and highly effective in gaming usage.
The main reason for this is that the Gateron Black switches are linear. Gateron linear switches' smoothness due to the absence of noise and tactility is amazing, which is precisely what high-speed gaming requires.
Are Gateron Black Switches Linear?
Yes, Gateron Black switches are linear in variance and are one of the most popular linear mechanical switch options by Gateron. They have a 60cN operating force, 2mm actuation distance, and a shallow noise level, making for a tactility-less, silent, and smooth keypress adorned and loved by many mechanical switch enthusiasts in the community.
Are Gateron Yellow Switches Any Good?
Well, yes, they surely are. Gateron Yellow linear switches are considered the best-selling switch for the Gateron lineup of switches in multiple variants.
First, you've got the regular Yellow switches; they're linear, smooth, and offer low noise, which is perfect for gamers. Then come the Yellow Speed switches, which are faster and quieter than basic yellow switches. The Yellow Silent switches are advanced linear switches that come with a no-noise functionality, so they're pretty amazing if you ask me.
What Kind of Switch is the Gateron Yellow?
The Gateron Yellow is a type of linear mechanical switch with a light operating force of around 50cN and a high actuation point of 2mm, and a super-low noise level. Overall, these elements make for a fine linear switch with a lot of demand around the keyboard community.
Conclusion
Gateron switches are amazing, without a doubt. I believe they're the best affordable mechanical switch option in the market as of now in competition to Kailh and Cherry MX switches.
If you're thinking of getting them, I'd surely recommend it. You're going to have an incredible time and an amazing mechanical keyboarding experience with Gateron switches.