It is actually quite simple to connect a keyboard and mouse to a Nintendo Switch, and as long as they have USB ports, dongles, or you have a USB adaptor, then pretty much any will work.
Before buying a new keyboard or mouse to use with your Nintendo Switch, there are some elements to consider. Most of the things that you will need to fully replace your Nintendo Switch Joy-Con or handheld controller are very affordable and easy to find online.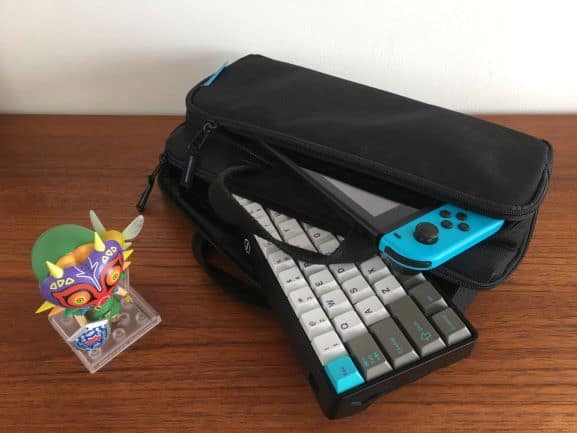 Can you Connect a Mechanical Keyboard and Mouse to a Nintendo Switch?
One of the most enjoyable things about the Nintendo Switch is the versatility that comes with having a system you can take on the go, plug into a TV, or connect to other devices.
That versatility continues with the way in which you can consistently alter the exterior devices and add-ons to make the Switch perfect for your gameplay style.
If you appreciate gameplay freedom that comes with a keyboard and mouse, you will be glad to know that turning in your Joy-Cons for the more traditional input tools is easy and affordable.
Whether you are looking to move your favorite PC keyboard and mouse duo over to your Switch, partial keyboard, or a Bluetooth device, there are walkthroughs below for connecting them to your game system.
The Switch has some limitations that you should be made aware of, although you can work around most potential issues by using products designed to integrate various devices with the Switch.
Nintendo Switch in Handheld Mode
The appeal of the Nintendo Switch is primarily in the way you can use the Joy-Con snap-on side controllers to play while on the move. There is currently no easy way to simply replace these official products with third-party or cobbled together alternatives that allow you to use a keyboard and mouse to give game commands while in handheld mode.
This means that the only times you can use external keyboards and mouse combinations – regardless of how you attach them (e.g., Bluetooth, USB, adaptor, etc.) – is when your Nintendo Switch is docked, connected to your TV, or in console-mode.
How to Change Your Play Mode
If you are new to the Nintendo Switch or have simply never needed to use it in a mode other than handheld, you can follow these steps to turn it onto TV mode or tabletop mode so that you can easily hook up an adapter or other devices. Nintendo has a useful walkthrough of these steps as well on their website.
How to Activate TV Mode
By following these steps, you can connect your Nintendo Switch to your television.
Open your Nintendo Switch docking station. The back will swing open to reveal AC Adapter, USB, and HDMI OUT plug-in slots.
Connect the Nintendo Switch AC adapter to the appropriate slot and a wall outlet.
Connect the HDMI cable by plugging on end into the HDMI OUT slot on your Switch console and the other into the HDMI input on your TV set.
Close the back cover of the Switch console.
If your Joy-Con controllers are on your console, remove them.
Place the console into the docking station with the screen facing the Nintendo Switch logo (front side of the docking station).
Nintendo Switch Lite does not support TV Mode.
Turning on Tabletop Mode
You can turn on the tabletop mode for your Switch console by placing it on a flat surface. The system will prompt the tabletop mode. You can use the built-in kickstand for your Switch, or you can opt to get a heavier duty stand. The Switch Lite does not come with its own kickstand, so you will need to purchase one separately.
Basic Keyboard Limitations on the Switch
You can connect a keyboard to your Nintendo Switch, but it is important to note that the keyboard will not work for movement control unless you have an adaptor. You can find out more about this limitation on the Nintendo Support forum.
Things you can use your keyboard for include entering in passwords, filling out text boxes, and pretty much anything else you would otherwise have to use the built-in keyboard to complete. You can use your keyboard to enter information into menus or games like Animal Crossing: New Horizons.
There are some compatible products that will allow you to use keyboards and a mouse for gameplay by converting QWERTY keys into commands. These products include gaming keyboards that have only partial keypads and usually feature seven number keys and some additional command buttons.
There are currently no full keyboards that are designed to plug and play as full controllers for the Switch. It is unlikely this will be addressed by Nintendo in future updates, but there are some adaptors you can buy that will allow you to use your favorite non-compatible devices with your Switch.
Compatible Products for the Nintendo Switch
If you want to buy some gaming software specifically meant for Nintendo Switch, PS4, and other gaming stations, then there is a wide variety of options.
These mouse and keyboard combinations have individually programmable buttons. Like the GameSir Gaming Keyboard on Amazon. Some of them even have a built-in D-pad or joystick to accommodate certain gameplay.
You may need a Type-C to USB cable, which will not be included with devices like the GameSir, so you will have to purchase that separately.
There are several compatible partial keyboard and mouse options available on Amazon that are designed specifically to be used with the Nintendo Switch. They include the following.
Keyboard and Mouse Adaptors For Switch
If you have a PC mouse and gaming keyboard combo that you really want to use on your Nintendo Switch, you will need to use an adapter in order for the Switch to identify it as a controller. There are a number of good options, but the HYCARUS Wireless Keyboard and Mouse Adapter is one of the most affordable.
These do not work with Bluetooth devices. You need to be able to actually plug in your wireless or wired devices into the adaptor.
Various Adaptor Options
There are a lot of adaptors, and although they are all pretty similar, some of them have additional options. This includes the ability to utilize customize the key bindings for optimal control. Some require additional downloaded software, and others do not. Below are a few adaptors that work great with the Nintendo Switch.
How to Set Up Devices in TV Mode
When your Switch console is in TV Mode, you can connect a keyboard for basic text input by simply plugging in any keyboard into the extra USB slot in the back of the Switch docking station (located between the AC Adaptor and HDMI OUTPUT slots).
If you would like finer control using your keyboard and mouse, then you may need a Type-C to USB converter depending on what product you are using. You will then connect it using the following steps.
Set your Switch controller to a wired communication in settings by going to System Settings > Controllers and Sensors > Pro Controller Wired Communication
Turn Pro Controller Wired Communication to "On."
Plug the adaptor dongle into your Switch.
The LEDs under the mouse and keyboard icons will flash.
Plug your keyboard and/or mouse USB into the appropriate slot. Wait for the lights to become steady.
Enjoy your game!
How to Set Up Devices in Tabletop Mode
The HYCARUS and other Switch adaptors are super easy to set up. It will allow you to use a keyboard and mouse in place of the traditional controller. You can connect this model and similar product using the same steps as those outlined above for the TV Mode.
Bluetooth Keyboard and Mouse
There is currently no Bluetooth support on the Nintendo Switch products, which means that you will not be able to connect Bluetooth keyboard or mouse combinations unless you have a USB adaptor.
Devices supported by Bluetooth work the same way as any other wireless device, and you would insert the Bluetooth dongle or USB adaptor into the USB port at the back of the Switch docking station.
You can find more information on Bluetooth connections with the Nintendo Switch on forum sites like Reddit, where experienced gamers share their tips and tricks.
How to Connect a Bluetooth Device
The process of setting it up is pretty straightforward and requires having a Bluetooth dongle and possibly a USB adaptor as well, depending on what port your dongle is designed to fit. Once you have all of the compatible pieces, then it is a simple case of plugging everything into the appropriate slots and checking your game control settings for available devices.
Check For Port Compatability
Before buying any products online, check that they have the correct type of connector to fit your Switch's USB port. Many third-party devices require adaptors to make sure everything is compatible.
Conclusion
There are many different options to connect a keyboard and mouse to a Nintendo switch. Depending on the method you choose, the functionality of the keyboard may be quite limited.
For full control, it's best to get an adapter for the Nintendo switch in order to mimick the inputs of a controller.
This will allow you to use the keyboard and mouse to move your character and play games rather than just using it to type and click through menus.