Whether you're a gamer or a casual computer user, we can all agree on the fact that whenever we think about gaming or working for a long period of time, we think about the comfort and ease of the chair we're using to sit on while doing that activity. 
If our sitting solution isn't comfortable, we know it's going to be a long and painful session. The best and highest quality solution for this is getting a Secret Lab Gaming Chair. However, finding one nowadays can be a hassle in itself. Well, what's the solution to that?  You might be wondering. That's exactly what I'm here to tell you.
Secret Lab gaming chairs currently can not be purchased from any physical stores. The best place to purchase one is from the official website, secretlab.co. However, Amazon is also a great place to purchase a Secret Lab chair and sometimes you can find great deals.
In this article, I'm going to talk about why Secret Lab Gaming Chairs are so special and where you can get them from. So, sit back, relax, and read this article till the end if you want to get your hands on your very own high-quality superior sitting solution in the form of a Secret Lab Gaming Chair.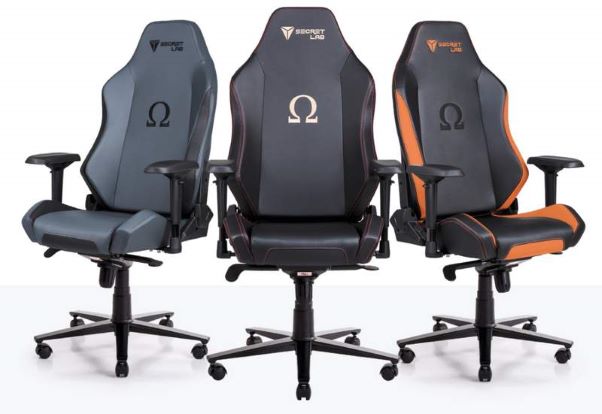 5 Reason to Buy Secret Lab Chairs
Before we get into how you can get a hold of an incredible Secret Lab Gaming Chair for yourself, let's talk about exactly why you should invest a good amount of money in a Secret Lab Gaming Chair in the first place.
Well, apart from the incredible quality, service, ease of installation, and customer care that Secret Lab Co. offers to its customers, here are some reasons you should definitely spend a little extra and get a Secret Lab Gaming Chair.
1. Ergonomic Design
The most important thing in a chair is the ergonomics it comes with. From the head pillow to the lumbar support, chair height and everything in between, the ergonomics of a chair needs to be perfect by all means.
Secret Lab Gaming Chairs are equipped with the most ergonomic feature set. With the massage lumbar pillow that the Omega comes with, along with memory foam soft head pillows, perfectly sized base and structure, with the Secret Lab Gaming Chairs, you're going to get the best of everything. Sitting on these chairs will be an incredibly ergonomic experience for you.
2. Incredible Adjustability
The main attraction when we take a look at Secret Lab Chairs is the incredible adjustability they come with. From the head region to the sliding wheels at the bottom, there are a whole lot of adjustability options available.
You can control the tilting tension of the chair. You can lean 165 degrees back with the leaning feature of the backrest. You can put the chair in throne mode. You can manipulate the position of the armrests. 
You have complete control over the height of the chair. Literally, anything associated with a chair, you can adjust with the Secret Lab Gaming Chairs. This is by far one of the best features which make Secret Lab Chairs superior to others in my opinion.
3. Durability and Strength
When you think about how long a gaming chair will last, the one thing that comes to mind is, will it be worth the high price I'm paying for it; Well, that really actually depends upon the kind of structure and frame being used.
Secret Lab Gaming Chairs use an aluminum frame which provides the base to those incredibly strong and durable chairs. In comparison to other gaming chairs that use powder-coated steel or sometimes some other sub-par material, the aluminum is incredibly strong and much superior.
So, if you're getting a Secret Lab Gaming Chair, you can expect it to last quite a long time before you're going to have to get a new chair. You're definitely going to get your money's worth is what I'm saying.
4. Soft Memory Foam Support
Imagine sitting on a wooden chair for hours while playing videogames or working on an important project. Isn't imaginable right; Well, that's because the main concern when we buy a chair is the comfort and softness of the material that we're sitting on.
This is something Secret Lab has mastered. Their gaming chairs, no matter which model you look at, come with incredibly soft, high-quality, memory foam that will let you sit on it without a problem. You can spend hours and hours doing an activity and it won't feel like a problem. This is my point of view is one of the best advantages Secret Lab Gaming Chairs have.
5. Sleek Design
Now, when we buy a gaming chair, comfort isn't the only thing we're looking for. Visual appeal and aesthetics also matter a lot. I think we all can agree wholeheartedly on that.
Well, Secret Lab also agrees on this and makes sure that their gaming chairs lack in no aspect at all. The design and the look of their gaming chairs are so amazing and stylish that you're going to fall in love with them without even sitting on them. So, getting a Secret Lab Chair is definitely a great decision and one you should stick by.
Where to Buy Secret Lab Gaming Chairs?
Now that we know how great Secret Lab Gaming Chairs really are, the question arises, where to buy them? Well, let's take a look at the available options from where you can buy Secret Lab Gaming Chairs.
Secret Lab Co.
The best place to buy Secret Lab Gaming Chairs online is none other than secretlab.co. This is the official website of Secret Lab and from Omega to Titan, you're going to find all the different Secret Lab Gaming Chair options on here. 
The interface of the website is quite nice and very user-friendly. Plus, there are info and FAQ pages as well where you can look for the answers to your queries related to the products.
There is also a complete sizing guide tab available which is incredibly useful if you're looking for a Secret Lab chair that suits your size, weight, and height accurately.
So, definitely go to the official website of Secret Lab and buy your own luscious and amazing quality Secret Lab Gaming Chair once you find exactly what you're looking for, in their array of high-quality sitting solutions.
Amazon.com
We all know about Amazon.com. It is the biggest online marketplace in the entire world. From tools to luxury items, you can find almost everything in the marketplace and it is one of the most trusted platforms for online buying and selling.
You might not be able to find all the products from Secret Lab on Amazon.com but there is a very high chance that you're going to be able to find the Secret Lab Gaming Chair Model you were looking for there. 
If so, check out the features and if there's a discount or sale on Amazon, you can get a great deal on your Secret Lab Gaming Chair, which can be a great thing since they're quite expensive as is.
Can I Get Secret Lab Gaming Chairs from any Physical stores?
As of now, you won't be able to get Secret Lab Gaming Chairs from any Physical Gaming Furniture stores. However, Secret Lab has been claiming that they're planning on bringing their products to the physical market as well.
If you can wait long enough, you'll be able to try out the chair by sitting in it before you have to buy it. But till then, you're going to have to choose between their website and Amazon to get the chair for yourself.
Looking for the Right Size and Weight Capacity Chair
Getting a Secret Lab Gaming Chair might be easier for you than before, but if you're looking for the perfect chair that will be made just for you with your size and weight in view, then going to the Secret Lab website would be the best decision for you.
As we spoke about the sizing guide there, you can actually enter your size, height and weight details in the blocks and the website will redirect you to the search page where all the premium chairs that match your entered weight and size details will be listed.
From here, you can choose your favorite chair in terms of design and comfort, and just order it for yourself. Once it's shipped, you'll feel like a king sitting on their throne, that's something I can assure you of.
Getting Your Own Secret Lab Chair
With premium-quality leather, incredible adjustability, comfortable padding, and many more features, the Secret Lab Gaming Chair collection is just sitting there waiting for you – pun intended.
If you've got the funds to get one for yourself, I'd definitely recommend you get it from the above-mentioned sources because it is surely going to be an investment you won't regret making.
Conclusion
If you're thinking of getting a Secret Lab Gaming Chair, online stores are a great option. You're going to have to pay a little more for these chairs but they're definitely worth it in my opinion. So, don't hesitate to order one for your own gaming or work setup. I hope you have an amazingly comfortable experience with your chair.
---
You may also be interested in: