If you're a gamer and you're frustrated by the fact that your gaming chair gets dirty easily, trust me, you're not alone. People using gaming chairs often end up complaining about this issue.
But don't worry though. You're in the right place. If you're wondering what you need to do, in order to clean your gaming chair, that's exactly what I'm here to tell you.
To clean a gaming chair, first determine if it is made of leather, fabric, or mesh. You will need the appropriate cleaning product based on that. You need to scrub hard and get all the cracks and crevices. To keep the gaming chair clean, do a quick wipe each day you finish your tasks, and try to avoid eating and drinking at your desk.
In this article, I'm going to talk about what causes your gaming chair to get dirty in the first place, how you can clean your gaming chair and steps to maintain the cleanliness of your gaming chair so you can spend less time cleaning and more time gaming.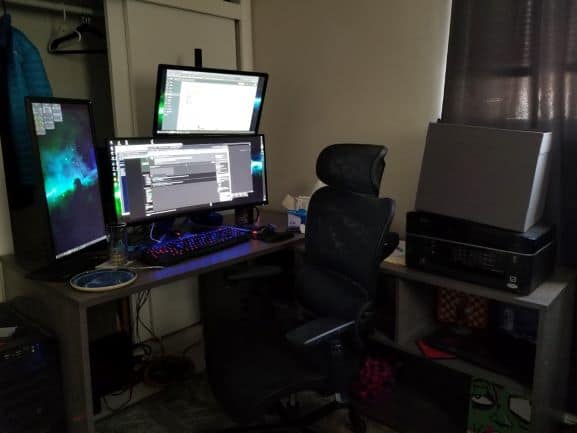 What Makes a Gaming Chair Dirty?
You might be asking yourself, why does my gaming chair get dirty? Well, that basically depends upon the stuff and material of the chair actually. Different fabrics will get dirty due to different reasons. Let me give you an in-depth explanation.
What makes a Fabric or Mesh Gaming Chair dirty?
If your gaming chair is made of cloth fabric or mesh-like office chairs, there are more chances of it getting dirty fairly easily. Here are some of the reasons these chairs get dirty quickly.
Dust getting stuck in Mesh – The fine holes or mesh of the gaming chairs get debris, threads, and dust stuck into them which is very hard to remove. In fact, the more you try to rub it off, the harder it gets to take it out.
Dirt getting on Fabric – Cloth fabric gets easily dirty. If you're doing household cleaning and you happen to come around your gaming chair, it could be that the dust might stick itself to the threads of the fabric, this dust can then make the chair dirty.
Eating and Drinking – Another big reason for Fabric and Mesh Gaming Chairs getting dirty is due to people eating and drinking while gaming. If you're a gamer who eats on short notice while playing a game, you might have spilled some of your drink or dropped a few crumbs of your food onto the chair. This can in the long run make your chair dirty as well.
What makes a Leather Gaming Chair dirty?
When we take a look at Leather Gaming Chairs, they are actually better when it comes to dirt resistance. The PU leather doesn't allow dirt to get stuck to itself since the material isn't designed in that way.
However, that doesn't mean that leather gaming chairs don't get dirty. They actually do get dirty by the likes of spillage and dirt and debris but not as much as fabric chairs.
Even the cleaning process is easier when it comes to leather gaming chairs. But you can choose whichever material suits you because leather can sometimes be uncomfortable when sitting for long periods of time.
Step by Step Guide to Clean Gaming Chair
Now that you know why your gaming chair might actually be getting dirty quicker than usual, it is time to clean it up real nice. Gaming chairs, especially Herman Miller chairs, can be quite expensive so it's important to keep them well maintained. You're going to want to get every nook and cranny perfectly cleaned to avoid deep cleaning anytime soon. 
Here's my step-by-step guide for cleaning your gaming chair depending on what type of material it might be using:
Step 1: Identify the material for your gaming chair
You might already be familiar with the material of your gaming chair, but if you're doubtful, the first thing you're going to do is check the material of the gaming chair you own.
Most gaming chairs are either leather or cloth but if your gaming chair isn't either, you can check the tag under the chair and you'll know what particular material the chair is made from.
Step 2: Use the appropriate cleaning tool for the Upholstery
There are different cleaning tools for different materials. I'm going to cover only the two major materials which are cloth fabric or PU leather. Let's take a look at each cleaning process.
Cleaning PU Leather Gaming Chair
If you're thinking of cleaning a leather gaming chair, you're not going to face any huge difficulties because all you're going to need is a wet cloth and you'll be able to rub the dust off of your leather gaming chair.
The reason for this is the upholstery of a leather chair doesn't get dirt stuck into it, it only has dirt and dust on the surface which can be cleaned easily. That isn't the same for edges and nooks though.
Cleaning Cloth Fabric Gaming Chair
Since the wet cloth technique isn't going to work because rubbing will only make things more difficult for you if the material of the gaming chair is cloth fabric or mesh, you're going to have to go a different route.
Use a powerful vacuum cleaner or blower to get the dust and debris off of the fabric. This is going to be good enough for getting most of the dust and dirt stuck into the cloth of the gaming chair.
Step 3: Clean the dirt in the nooks and crannies
We've cleaned the base of the gaming chair. Now it's time for deep cleaning. The food and drink spillage that made its way into the nooks and crannies isn't going to clean itself.
For this, you're going to have to read the cleaning directions on the gaming chair model you have. It might say S or W or even S/W. To make it clear, I'll let you know what these symbols mean.
S means you're going to need a solvent to clean the material perfectly, W means you're going to need water, and S/W means you can use both without any restrictions. So, go to the stains and clean them up good.
Step 4: Wipe the clean with a clean piece of cloth
Finally, once you've got the ins and outs of your gaming chair all cleaned up, you're going to take a clean piece of cloth, make sure it isn't wet and use it to provide the finishing touches.
You're going to wipe the whole gaming chair with a clean piece of cloth until everything is clean and smooth. Make sure you use a clean cloth because otherwise, you're basically going to be taking away all the efforts that you made to clean the dirt off of your gaming chair.
How to Maintain a Gaming Chair and Keep it Clean
After you're done with the cleaning of the chair, you're going to want to maintain the cleanliness. Well, here are some of the best ways you can keep your gaming chair clean in order to avoid deep cleaning for the foreseeable future.
Don't Eat and Drink on your Gaming Chair
There's a huge problem with eating and drinking on a gaming chair. The problem is that there are very high chances that something is going to fall and it's going to stain your gaming chair.
That's why in my opinion, the best course of action would be for you to avoid eating or drinking while sitting on your gaming chair. Or if it's really necessary, try doing so, with the utmost care so as to not drop any crumbs or drops of food onto your gaming chair. It would help greatly in keeping your chair free of dirt and stains.
Use a Vacuum Cleaner to Clean Around it
You know that cleaning around the chair can also get dust and dirt flying in the air and getting onto the material of the gaming chair, well there's a way to avoid this and keep your chair clean for longer.
You should use a vacuum cleaner to clean the surroundings of your gaming chair instead of a brush or a broom because that way, debris won't fly around when you're cleaning the room. Ultimately, your gaming chair won't have as much dirt stuck into the fabric as it would under normal circumstances, making the clean life of your chair longer.
Keep Wiping with a Clean Piece
If you completely forget about the fact that you spent a lot of time thoroughly cleaning your chair and just let it get dirty again, well, then there's no way to maintain your gaming chair.
The only way to maintain a clean gaming chair is to periodically wipe the chair with a clean piece of cloth whenever you get the chance so that the chair remains in tip-top shape and doesn't get dirty over time. This will allow you to avoid deeply cleaning the chair every month or so.
Conclusion
Gaming chairs are extremely comfortable, ergonomic, and good looking if you're going for matching furniture with your gaming setup. But they can get dirty quite easily. 
If you follow this guide and clean and maintain your gaming chair the right way, you're going to not only have the best gaming experience, but your overall setup is going to look even more impressive. I wish you a happy gaming session.