Office chairs are expensive in general because of the materials and quality of products being used. But there's something much more special in Herman Miller Chairs. They're simply a class apart from all other office chair brands.
You might be wondering, why are Herman Miller Chairs so expensive? Well, you're in the right place. That's exactly what I'm here to tell you.
Herman Miller chairs are expensive because they are constructed with the finest quality materials. They also have a long track record of delivering a top-notch product. Herman Miller is constantly creating new products that reach headlines that build hype for their products.
In this article, I'm going to talk about Herman Miller Inc. I'm also going to talk about why Herman Miller Chairs are so expensive and what's so good about their chairs. So, sit back, relax, and read this article till the end.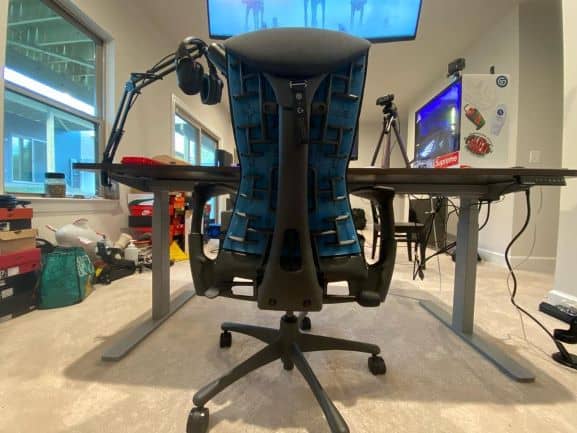 In a hurry? One of the best Herman Miller chairs is available on Amazon with amazing reviews
History of Herman Miller Inc. 
Founded in 1905 as Star Furniture Co. Herman Miller Inc. is an office furniture, equipment, and home furnishing company which is known as one of the best furniture manufacturers in the world as of now.
They're based in Zeeland, Michigan, and have branches all over Europe and the United States. They're known for their incredibly high-quality chairs because of the ergonomic and modern designs they have.
Herman Millers' most famous chairs include the Aeron, Equa Chair as well as the Eames Lounge Chair. They started off as a traditional wood furniture company but evolved with time to manufacture and distribute modern chairs, equipment, and furniture as well.
With happy customers worldwide, Herman Miller is one of the biggest furniture manufacturers in the market and that may very well be the reason for their furniture being so expensive, but that's not the only reason. If you want to find out, keep reading.
Why Are Herman Miller Chairs so Expensive?
The million-dollar question – no pun intended, is why are Herman Miller Chairs so Expensive? Well, there are three main reasons for Herman Miller Chairs and Furniture being so expensive.
They Create High Quality Products
The first reason is the quality of the products. Herman Miller Chairs are known to be constructed with the finest quality wood, materials, and fittings in order to truly form the perfect sitting solution for customers. Obviously, if you're looking to get the best materials for your chairs, you're going to naturally have to pay more for them.
They Have a Long Track Record
The second reason is the promise. The experience that Herman Millers Inc. owns due to their century-long promise of delivering nothing but the best to the customers. They're at the peak of the furniture industry because of how satisfied their customers are with their promise of nothing but the best. That is why, their chairs are as expensive as they are, yet still they're doing great business.
They are Constantly Evolving
The last but not least reason for Herman Miller Chairs being so expensive is that they've always been in the headlines for inventing and introducing new and stylish furniture products. 
An apt example of this would be that Herman Miller is known as the inventors of the "Office Cubicle" that you see everywhere in modern offices nowadays. They've also won many awards and have been on the cover of many magazines and newspapers which has contributed to their fame.
Great Things about Herman Miller Chairs
There are many incredible things about Herman Miller Inc. that makes their chairs and equipment really high-quality and expensive. Let's talk about some of them so we can truly answer the question of why are Herman Miller chairs so expensive.
Ergonomic Designs
Ergonomics is the most important thing about furniture. As you're going to sit in the chair for 8-9 hours in an office environment, companies need to make sure that the chairs are comfortable, ergonomically correct, and perfect for your comfort and ease. This is what customers want from furniture manufacturers.
Herman Miller Inc. manufactures some of the most ergonomic chairs in the market. From the handle rests to the chair inclination to the seat height and material, everything is built ergonomically. Sitting in a Herman Miller chair is a really different and better experience if you compare it to sitting on an average office chair. That's why they're highly-priced in my opinion.
World-class Designers
If companies are led by people who're incredibly skilled at what they do, they're definitely going to succeed. That is the mantra that Herman Miller also follows. Hiring the best and most famous furniture designers around the world for their signature products is the reason you're going to find the best furniture only at Herman Miller Inc.
From Don Chadwick to Ray and Charles Eames, the best designers in the world have collaborated and worked with Herman Miller to make some of the best, highest-quality chairs in the market in order to reach the top of the furniture industry. I believe that this is also a factor which contributes to their chairs being so highly-priced.
Modern and Stylish Chairs
Who doesn't love modern designs and styles in furniture? I know I do. And I'm sure you all do as well. Nowadays, smaller, more compact furniture designs are very popular. That's why Herman Miller has always made sure they start all the trends and adapt to modernity in furniture design.
Around the 1930s, Gilbert Rohde completely turned around Herman Miller Inc. from manufacturers of only traditional wood furniture to modern wood and other material furniture and equipment. This change led to the incredible success of Herman Miller Chairs and this success is what led to their chairs being so luxurious and expensive.
Best Materials
As customers, we always try to get the best of everything. Well, Herman Miller understands that and they make sure that they utilize the best materials for manufacturing their chairs. This naturally requires more cost of production for each of the specialized chairs that they make.
And in order to get profit from these chairs, they charge more than an average chair would cost for the incredible material and fittings used in these chairs. This is completely justified as for selling such great products, you're definitely going to have to pay more than you would for a below-par chair experience.
Great Resale Value
Another incredible thing about Herman Miller Inc. Chairs is that they have amazing resale value. The reason for this is the popularity of Herman Miller products and how long they're able to last. That's why people don't think twice before buying a second-hand Herman Miller chair.
So, if you're thinking of buying Herman Miller chairs and furniture for your personal needs or office setup, don't hesitate at all because even if you want to sell them in the future, you're going to face little to no problem at all because Herman Miller is the first brand that people search for when they're thinking of getting a well-used chair.
Long Warranty
Warranties play an incredibly important role in increasing the value of a product. Herman Miller Inc. understands that. With their furniture products, they provide several-year-long warranties which keep the sale value of the chairs and tables high. 
This long warranty is because of the trust and promise they provide with the quality of the materials and the products that they use to manufacture their furniture. That is also a reason why Herman Miller chairs are more expensive because they usually come with fairly long warranties in comparison to chairs from other office furniture companies.
Customizability
When you're choosing a chair for your office setup or personal needs, what do you usually do? You try choosing a chair that is most comfortable for you. You check the height, capacity, and material of the chair. But there is only so much you can actually look for, in the ideal chair.
Herman Miller Inc. has changed the game with its incredible customizability. You can choose the color, seat height, capacity, width, and many other aspects of the chair you're getting for yourself to get the best sitting experience. This is another reason why Herman Miller chairs are so great
Quality Features and Support
Features like arm-rests, comfy handles, ergonomic properties as well as adjustability are extremely important in making chairs great for sitting. This is what companies try to aim for when they're designing their own chairs and this is what they lack.
Herman Miller Inc. design and manufacture chairs which are so high-quality that they actually come with epic features and adjustability options that you're going to learn to love. These options make Herman Miller Chairs one of the very best in the market.
And that is exactly what truly justifies Herman Miller chairs being so expensive in my opinion. To get the best, you're going to have to spend the big bucks.
Conclusion
Herman Miller Chairs are just incredible – in terms of both quality and support. They're definitely going to prove as investments whether you're thinking of getting them for yourself or your business. 
I assure you that you're going to have a great time sitting comfortably in your Herman Miller chair and you're going to be more productive than ever in their chairs. So, invest in the right Herman Miller product for an amazing sitting experience.
Interested? Check out these Herman Miller Chairs and reviews at Amazon