If you're an everyday computer user, your hands must be tired of using non-ergonomic keyboards with strangely spaced layouts that are the norm of all new keyboards nowadays. Don't worry, because I've got you covered. What you need to take a look at, is the TypeMatrix 2030.
You might be wondering, why is the TypeMatrix 2030 a good keyboard choice for me? Well, that's exactly what I'm here to tell you.
In this article, I'm going to talk about the TypeMatrix 2030 keyboard, how it looks, design, build, and keyboard switches. I'm basically going to provide you with a complete, in-depth review.
So, if you're looking to make a more comfortable and ergonomic keyboard choice, sit back, relax, and read this article till the end.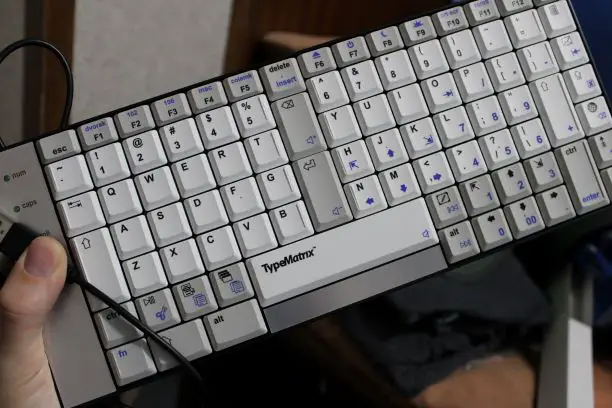 Interested? Get the TypeMatrix 2030 available on Amazon
High-Quality Ergonomic Design and Build
As an avid typist, the first thing you should look for in a keyboard is the design of the keyboard. The layout of the TypeMatrix 2030 is simply amazing. It is super decent, comfortable, and most of all ergonomic.
Unlike other keyboards that come with highly spaced-out keys, the TypeMatrix 2030 is a keyboard that features a closely packed key design that allows for long periods of typing without any strain on the fingers or the muscles.
The design of this keyboard is that of an orthogonal matrix. The keys are arranged vertically symmetrical which is ergonomically incredible in comparison to a basic spaced design in most of the common keyboards nowadays.
The build is also incredibly strong. There is no flex to it at all in my opinion. The build quality is pretty great and it looks like it can hold its own for a long period of use, which is exactly what you as a typist or a programmer would need once you get used to a keyboard.
Overall, the design and the build quality are fairly decent for the price making it a very strong choice for keyboard users who like to stick with keyboards for a long-time span.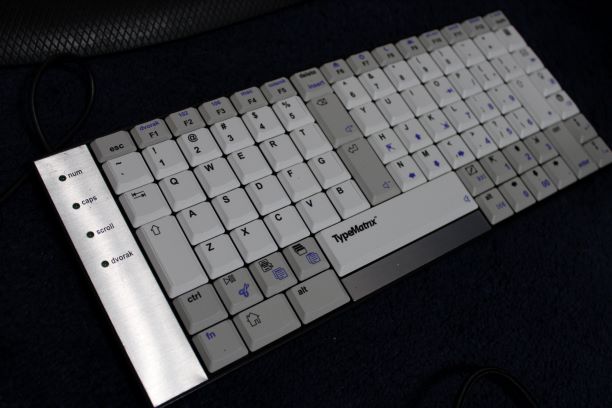 Smooth Keycaps
Another one of the strong points of this keyboard has to be the smoothness and simplicity of the keycaps. There's no over-the-top imprinting on the keys which makes the whole feel of the keyboard quite nice.
Each press feels smooth and decent. As a typist, you're going to love the keycaps because pressing them is a uniform feeling without any of the weird 3d feelable legend imprints.
One thing that is sure about this keyboard is that it is definitely not going to be the first choice of gamers. There's a lack of any game-specific features and most importantly the shiny colorful RGB backlighting on the keys is also nowhere to be found.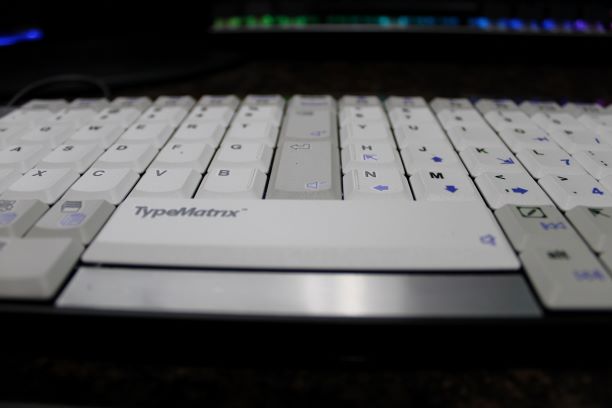 Impressive Scissor Switches 
This is rather unique in my opinion. I haven't seen scissor switches in many of the last decade keyboards that I've used. However, the TypeMatrix 2030 uses specialized scissor switches for their keys.
Scissor switches are high-quality rubber dome switch upgrades with better tactile feedback and less noise. This is especially great if you want to keep to yourself, get a great tactile feel, and at the same time, avoid disturbing people around you in a professional setting due to the low noise emission of the keys upon actuation.
The key switches are not only impressive, they're strong and durable as well. You can expect the switches on this keyboard to last quite a long time because they're designed for millions of key presses since the design concept is built around fast, efficient and ergonomic typing.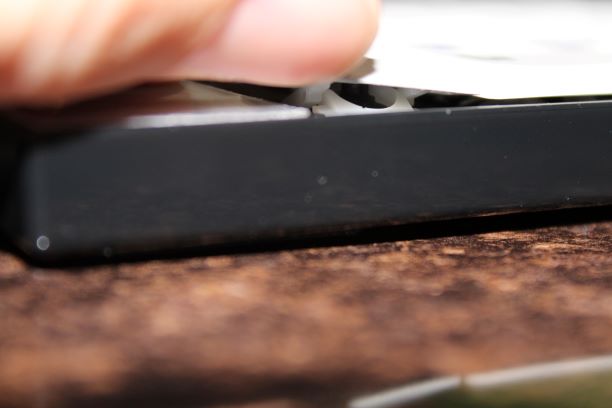 TypeMatrix 2030 Audio Test
USB Wired Connection
This keyboard uses a USB wired connection. The USB cable of the keyboard is of great quality and the insulation is fairly decent as well. There's no compromise when it comes to wired connectivity in this keyboard.
The wired connectivity reduces the comfort factor a bit in my opinion because you can't use the keyboard farther from the length of the wire which is quite a bummer.
Many people complain that there isn't a wireless option for the TypeMatrix 2030 available. It's unfortunate but definitely not a big deal to me. However, to some, it might be a deal-breaker.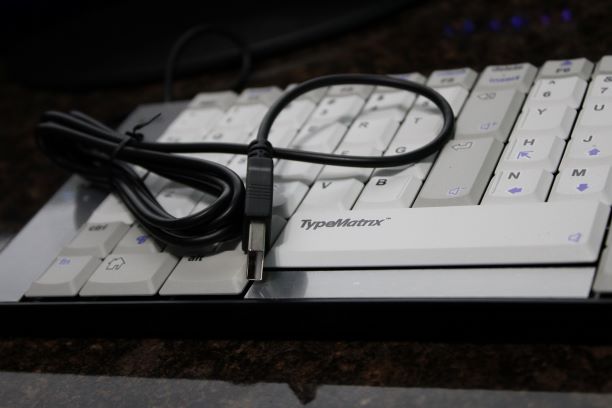 Great Features of the TypeMatrix 2030
We've taken a look at the TypeMatrix 2030 keyboard as a whole, it is time to look at the features and specs it contains. There are some great features that the TypeMatrix 2030 comes with, here they are, briefly explained.
Ortholinear Design – The ortholinear design of this keyboard allows you to type without having to stretch your fingers too wide because the keys are placed vertically symmetrically to each other.
Function Options – Even though there aren't many dedicated operation keys, with the help of the function key, you can use different options and features the keyboard possesses.
High Build Quality – The strong structure and frame of this keyboard allow you to be able to get used to it and use it for years to come without facing any problems or issues with it.
Larger Shift Keys – Since the shift key is basically required in all kinds of operations in typing and programming, the availability of two large shift keys on either side of the keyboard makes a really great case for the TypeMatrix 2030 in comparison to other keyboards.
Dvorak Option – This option is definitely a game-changer in this keyboard. Using the function key and another button, you can basically change the QWERTY layout of the keyboard to the Dvorak layout and use the skin cover that comes with the keyboard to make your typing experience better with 50% less finger motion.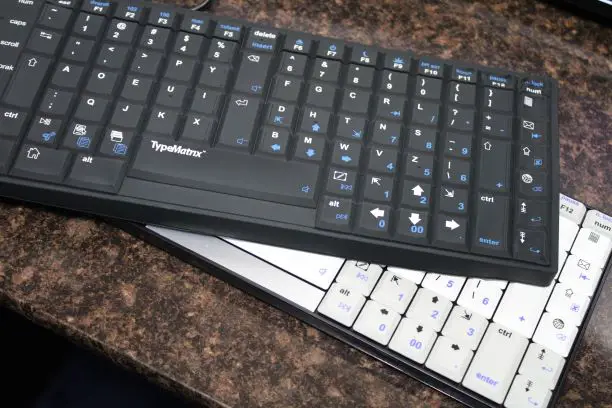 Function Key Options
A very useful and smart option available in the TypeMatrix 2030 is the function key option. You can look at the keyboard and find blue markings on some of the keys.
Basically, these keys can be pressed in combination with the Function key fn to perform the mentioned function. Be it page back and forward, cut, copy and paste, and much more as well.
However, due to lack of extra space, some commonly dedicated keys are also just put in combination with the function key which isn't the most ideal way to go about it. Still, the function key holds great value for people who want to use different functions of the keyboard.
Flaws in the TypeMatrix 2030
There are many advantages and features in the TypeMatrix 2030 and we've covered most of them. So, now you might be wondering, what are the flaws that this keyboard has? 
That's why now we're going to take a look at the flaws that this keyboard comes with because it is definitely not a flawless keyboard. Here are some of the flaws in the TypeMatrix 2030.
Too Compact – As a user, you might look at this keyboard and consider it great due to its compact size. However, with the compact size, it also introduces shoulder pain. You don't have to ability to split it either. So, in order to adjust to the keys, you're going to have to adjust your shoulder posture if you are larger than usual.
Redundant Functionalities – There are function buttons on the keyboard that are made for the same functions twice. This redundancy just takes a lot of space and provides no real value. An example of this is that they have the cut, copy, paste functions below the actual shortcut keys which serves no additional purpose.
Closely Packed Function and Arrow Keys – The space-less design of this keyboard is amazing until you take a look at the arrow keys and the function keys. The best practice is to space these keys out from other keys to clearly distinguish them from others, but that is something not really considered in this keyboard.
Missing Dedicated Keys – The left side of the keyboard is used for indicating lights in case of Dvorak, caps, scroll, or num lock is on. This takes away space for some of the most important dedicated keys including the Insert button. Although they're included in the function button section, it is still a con in my opinion.
TypeMatrix 2030 Compared to Other Similar Keyboards
TypeMatrix 2030 is a great keyboard which some apparent flaws. However, if you compare it to some of the industry leader's keyboards in a similar price range, you're going to see that it outweighs them in some regards. Comparing it to a Logitech Ergo K860, in terms of typing, there isn't a Dvorak option available in the Logitech keyboard, which puts the 2030 keyboard in the winning position.
But if you pit it against some of the underrated brands like Perixx, you're going to see that the TypeMatrix 2030 gets beaten with a huge price difference and additional benefits.
Interested? Get the TypeMatrix 2030 available on Amazon
FAQs
Do the keys on a TypeMatrix 2030 use mechanical switches? Is this a mechanical keyboard?
This keyboard comes with scissor-switch membrane keys and therefore the keys don't use mechanical switches. It is quite comfortable though. However, if you are looking for a mechanical keyboard, I strongly recommend using the Kinesis Advantage Contour Keyboard. It is tough and resistant. Besides this, its high-quality mechanical keys are the most comfortable on the market.
Is it easy to hit fn and use the function arrow keys on a TypeMatrix 2030?
Yes, in most cases, it is fairly easy to hit the Fn and the arrow keys, all you need to do is to press the Function key Fn and hold it down, then just simply press the corresponding arrow key you're looking to use the function of. In some cases, though, while typing, it could be a little problematic to press multiple keys at the same time for functions. 
Will the TypeMatrix 2030 work on a Linux machine?
Definitely, this keyboard is designed to work on all software platforms whether it is Windows, Mac OS, or Linux. So, you don't have to worry about any compatibility issues at all. You can use the TypeMatrix 2030 with a Linux machine without any hassle just by connecting it to the system.
Conclusion
TypeMatrix 2030 is a very typist friendly keyboard without a doubt. But it is very specific in terms of use case. As a gamer, you won't be able to gel with it very easily. But for typing purposes and casual usage, the ergonomic design of this keyboard is pretty amazing for a decent price. 
So, if you're looking to type, program, or casually browse the internet, I'd definitely say the TypeMatrix 2030 is worth the price and you should get it for a great typing experience.
---
Video Review
You may also be interested in: Top 5 Best Membrane Keyboards