If you're looking for a laptop with a decent keyboard then you've come to the right place. I've compiled a list of laptops ranging from fairly expensive to pretty affordable, as you will see in the table below.
In order from cheapest to most expensive, the top 8 laptops with amazing keyboards are the Asus Vivobook S15, Surface Laptop 2, Google Pixelbook, Dell XPS 13, HP Spectre x360, Lenovo ThinkPad X1 Carbon, Aorus G15, and the Apple Macbook Pro 16″.
Let's take a look at these laptops in a little more detail and hopefully answer any other questions you might have.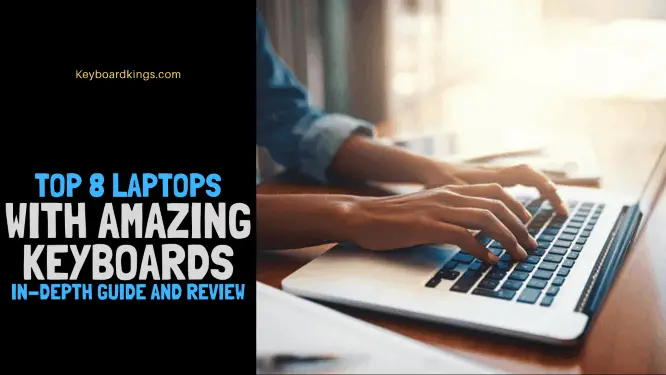 Top 8 Laptops with Amazing Keyboards
Price comparison chart for all 8 laptops:
| Laptop | Price Comparison |
| --- | --- |
| Aorus G15 | $$$$$$$ |
| Lenovo ThinkPad X1 Carbon | $$$$$$ |
| Google Pixelbook | $$$ |
| Apple Macbook Pro 16″ | $$$$$$$$ |
| HP Spectre x360 | $$$$$ |
| Dell XPS 13 | $$$$ |
| Surface Laptop 2 | $$ |
| Asus Vivobook S15 | $ |
Per Amazon rules, I can't disclose exact prices. This is a visual representation of the price compared to each other. The more "$" means a higher price comparatively.
#1 Aorus G15
Lew seemed pretty happy about the Aorus G15 gaming laptop and its keyboard overall. All he talked about in his video while reviewing this laptop was the fact that this laptop had a mechanical keyboard, and funny enough, he even said that the only thing that stood out for him on this laptop was the keyboard itself.
If you wanna check out his first impressions and overall reaction to this laptop and the mechanical keyboard it has, check it out here in this video: 
I believe everyone who's seen this laptop is crazy about how good it is and how good the keyboard is on this laptop, so it really makes you wanna buy the thing today! haha.
I too really like this laptop because of its mechanical keyboard and the ASMR type feeling that we all get listening to the mechanical keyboards typing and giving that satisfying clicking sound.
It doesn't have RGB I think, because I didn't see any RGB in Lew's video, which seems like a good thing, because RGB distracts you from the typing experience that you'll otherwise enjoy without the RGB lights being there, in my personal opinion.
This is one of the best laptop keyboards you can find out there in 2020 and maybe going into 2021 next year.
I would get this laptop If I was looking for a laptop that featured a mechanical keyboard, but, because I am more into performance and mechanical keyboard at the same time, I'd personally build a custom PC that will give more performance and a better experience overall. But, if you need portability, this is one of the best options you've got right now.
If you'd like to learn more or read more reviews, check it out on Amazon.
---
#2 Lenovo ThinkPad X1 Carbon
ThinkPads have always been legendary when it came to great laptop keyboards. We thought that the keyboard would be ruined when they joined Lenovo back in 2005, but that wasn't the case. In fact, the keyboard improved!
The climax of ThinkPad keyboards came back in 2012 with their first generation of X1 Carbon. I've been using their laptops for the past half a decade now and still using it, because of the amazing experience I've had with their keyboards.
I love typing or writing on their keyboards, and I couldn't find a better laptop that offers the same amount of goodness when it comes to typing, as was mentioned earlier, no one can beat their keyboards.
If you wanna know exactly what it feels like, please head over to YouTube to find reviews about that, as I can't express everything here in this list-post article where I have to feature multiple laptops, otherwise the word-count would increase to the point that it wouldn't be considered a bite-sized easy to digest post.
If you'd like to learn more or read more reviews, check it out on Amazon.
---
#3 Google Pixelbook
Even though the Chromebooks aren't that popular in the computer hardware space, still, the quality of the keyboard on Google's Chromebook is nothing less than amazing!
PixelBook's keyboard is one of the best that I've come across. Its soft-plastic type keyboard feels and types fantastic!
Every keystroke hit is felt, even though there isn't a lot of key travel on this keyboard. Pixelbook keyboards are great for typing fast and accurately, in my experience, because the keys bounce back in nanoseconds under your fingertips, which feels really great and improves your confidence while typing.
The only con about this keyboard is the lower case lettering on the keystrokes that makes it look like a toy really, which is probably not a deal-breaker for most of you but doesn't seem that professional when all you're trying to be, is a professional.
If you'd like to learn more or read more reviews, check it out on Amazon.
---
#4 MacBook Pro 16″
The 2015 MacBook Pro had one of the best keyboards in the MacBook Pro line-up, and then they started ruining the keyboard after that, as well as the port selection that is so much more appreciated now in Windows laptops.
After a couple of new MacBook releases, now they've shifted the keyboard back to where it was in the 2015 MacBook Pro. It is now one of the best keyboards again, that the MacBook Pro line-up ever had.
When they shifted to butterfly keyboards, it was like fixing something that didn't need fixing, not sure who asked them to do that though. But finally and thankfully, they've fixed what they'd broken.
In fact, they brought back the old keyboard design and made it better this time, ironically. How is it better and improved? Well, they brought back the Escape key in the MacBook Pro 16″, which coders really were upset about when they took it away.
Also, they've placed the fingerprint reader or Touch ID on the right side of the Touch Bar now, which makes up for the missing face detection feature on the MacBooks.
If you'd like to learn more or read more reviews, check it out on Amazon.
---
#5 HP Spectre x360
One of the most amazing laptops today and has a great keyboard which can be a great feature for people who're looking for laptops with the best keyboards to type on, to write their ebooks, or just type out their blogs.
The keyboard is also a joy to use, softly backlit in white with nice large keys despite the compact design. There's no Numpad – and the arrow keys are frustratingly truncated – but these are issues that plague almost every 13-inch convertible laptop. The trackpad definitely beats out many of its contemporaries, though, with a wide touch area and satisfyingly firm click.
It's a joy to type on this keyboard. The large keys feel good with soft backlight and compact design overall. It does not have a Numpad though, and these are the things that every 13-inch laptop out there suffers from, so nothing special here other than a good overall keyboard that feels good to type on.
This laptop is recommended for those looking for a dedicated device for their typing related work, not so good for people who want to code though, as it does not have the Numpad, as mentioned earlier.
If you'd like to learn more or read more reviews, check it out on Amazon.
---
#6 Dell XPS 13
You'll face a difficult time coming up with faults with this little 13-inch 2-in-1 laptop from Dell. Great compact design and a delight to use.
It has a keyboard that is good for writing and feels good to type on as well, which then increases your confidence while writing, and you know how important it is to sound confident in your writing.
It's great in terms of performance as well, with its 10th Gen Intel CPU and Intel Iris Plus integrated GPU. It has enough power to pack a punch heavy enough to deal with your daily routine workloads without a sweat.
A matte finish keyboard that feels soft while typing and keeps your fingers from sliding and thus increasing the accuracy of whatever you type as well as increases the comfort and overall just enjoyability of your experience with the keyboard.
You can do simple regular cleaning to remove any oils and fingerprints from the keyboard and the trackpad, as the trackpad also has the same soft and textured woven feel to it, which again also feels good and makes you feel at home while typing out your content.
If you'd like to learn more or read more reviews, check it out on Amazon.
---
#7 Surface Laptop 2
There are times you just wanna look for a laptop that is powerful as well as great to type on, because you want to use it for gaming perhaps, or for productivity workloads as well as writing at the same time, which is why this laptop is here as it has a great keyboard that feels great to type on.
It has a tactile and comfy feeling keyboard paired with the perfect sized display that supports touch functionality. I personally feel that a touch-screen is faster than using a mouse sometimes, don't you think? Because nowadays we're more trained to use our touch smartphones than we are to use mice with computers or laptops.
For writers, it has enough power to open multiple tabs to do the research for their next writing project, but it does not have a Thunderbolt 3 port, which is the only thing that holds this laptop back a little.
If you'd like to learn more or read more reviews, check it out on Amazon.
---
#8 Asus VivoBook S15
Finally, this is the final laptop in our list of laptops with the best keyboards.
This laptop is more suitable for writers because of some other features as well, such as a bigger screen that doesn't increase the weight of your laptop so you don't have to carry around a brick-like laptop.
The screen is helpful in doing your research before you start your next writing project because a bigger screen means more text coverage and less need to scroll. This saves you time while doing research and lets you type more content out.
Along with a great keyboard and large screen, this also comes with a powerful 10th gen Intel CPU that is again needed to have a smooth research experience because you can safely open multiple Chrome tabs. This would otherwise cause your laptop to lag if the CPU couldn't handle all that heavy browsing.
The screen is bright and vibrant, so even if you're doing your research and writing the content outsides, it should keep you engaged and not annoyed because the brightness is so low that you have to squint your eyes to even be able to see what you're typing and whether you're making any mistakes or not.
A great overall laptop for typists of all sorts.
If you'd like to learn more or read more reviews, check it out on Amazon.
---
Conclusion
As you can see, there are a lot of great choices on the market. It was tough to narrow down a great selection but I believe I found the best of the best and even included some budget-friendly options like the Asus Vivobook S15 and the Surface Laptop 2.
In conclusion, the top 8 laptops with amazing keyboards are:
Aorus G15
Lenovo ThinkPad X1 Carbon
Google Pixelbook
Apple Macbook Pro 16″
HP Spectre x360
Dell XPS 13
Surface Laptop 2
Asus Vivobook S15
This was posted by our guest author Umar from ConfusingTech.com
---
If you want to see more of my product reviews, check out my Guides and Reviews category!
---