When you make a move from casual mechanical keyboard typing and gaming to professional level typing and gaming that requires hours and hours of dedication and constant usage, it's time to move to an ortholinear keyboard.
You might be wondering, what's an ortholinear keyboard and which kind is the best? Well, that's exactly what I'm here to tell you.
In this article, I'm going to talk about ortholinear keyboards and their usage. I'm also going to provide you with a review of Planck EZ vs. OLKB Planck vs. Preonic ortholinear Keyboards to identify which one's the best and which one you should choose.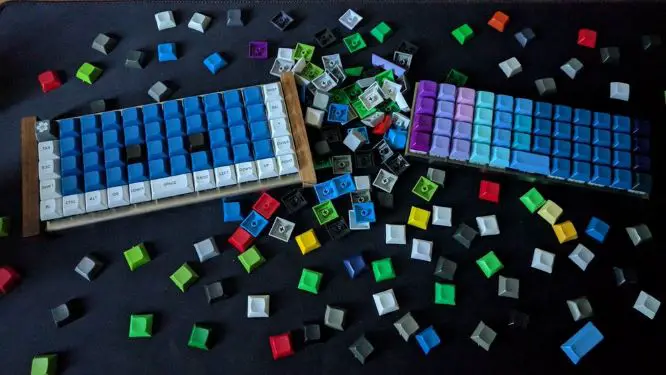 Ortholinear Keyboards
Such keyboards which are designed in a non-staggered layout for increased muscle relaxation, reducing strain, and long-term muscle disorders, are known as ortholinear keyboards.
Ortholinear keyboards come in different shapes and sizes and have different key counts on them. Usually, you will have to assemble these keyboards yourself using the parts because of the sheer customizability of these keyboards.
Ortholinear keyboards have developed such an immense following over the years that avid typists and gamers looking for key pressing comfort are switching in huge numbers to custom made ortholinear keyboards in order to get an ergonomic and smooth keyboarding experience. That's why you should try them out too.
Let's talk about some of the best ortholinear keyboards available in the market as of now.
Related article: Ortholinear Keyboard vs Staggered Keyboard
Planck EZ Keyboard
Planck EZ is a keyboard that is designed with an ortholinear layout having 47 keys in a streamlined non-staggered style. This keyboard takes away the pain of building a custom Planck Keyboard which is great if you're looking for a plug-and-play keyboard device.
When it comes to Planck keyboards, the absolute choice for all beginners would definitely be, the Planck EZ keyboard. It's pre-built, so no rigorous efforts are going to be required.
Features
Let's take a look at some of the amazing features that this keyboard comes with, in order to review it properly.
Compact Design – When we talk about the design of the Planck EZ, there is otherworldly compactness to it. I'm talking about incredible portability. You can move the Planck EZ anywhere you want because it is a really compact 40% mechanical keyboard.
Simple Key layout – With a layout of only 47 keys, everything that you need in a keyboard is here. Nothing excessive, just the appropriate amount of keys you'd use frequently in order to reduce muscle strain and problems related to the arms.
QMZ Firmware Support – When it comes to functionality, this keyboard is designed to support QMZ firmware. You can change the functions and triggers for different keys depending upon the usage of different input functions. Whether you're typing or gaming, you're good to go with the Planck EZ.
Strong Build – The build quality of the Planck EZ is incredible. It is a strong and durable keyboard that will stay intact for a long time to come. So, you can definitely type with it for years without worrying about replacement or wear and tear.
Final Thoughts
Overall, the Planck EZ is a great product for people looking for an ortholinear keyboard. However, it is really expensive. But that's the cost of the pre-building and high-quality components. So, if you don't want to go through the hassle of building the keyboard yourself, go for the Planck EZ keyboard.
OLKB Planck Keyboard
OLKB's Planck Keyboards can be assembled and customized by the user. The process of assembly is more suited to professional typists who have knowledge of keyboards and understand what kind of elements they require to fulfill their needs.
There are different materials manufactured by OLKB which create the Planck keyboard in its entirety.
Let's take a look at all the elements that come with the Planck Keyboard by OLKB:
The aluminum baseboard which houses the entire keyboard itself.
The PCB controls the switches and comes with Backlit LEDs for aesthetic effects.
The steel plate in which the switches will be mounted and over which the keycaps will be placed.
Features
When it comes to features, the following are what you're going to get with the OLKB Planck Keyboard.
Customizability – The great thing about OLKB Planck Keyboard is the customizability it comes with. Since you're going to assemble the keyboard yourself, you can choose your preferred switches and keycaps to ensure you get the most satisfactory result out of your keyboarding experience.
Compactness – In comparison to other Planck keyboards, the non-staggered key layout is perfect for achieving compactness in the OLKB Planck keyboard. This compactness allows you to move it from one place to another with ease.
Durability – The aluminum board and the steel plate ensure maximum durability when it comes to the keyboard. You'll be able to use this keyboard for a long time to come. The durability of the OLKB Planck keyboard is really great in comparison to other Planck keyboards.
Functionalities – Using the QMZ firmware, you can easily manipulate and change the different key triggers and functionalities depending upon your usage and requirements. This makes the OLKB Planck keyboard one of the most customizable and suitable keyboards for people who're looking to type a lot of words.
Final Thought
For a much more affordable price, you can get your hands on the OLKB Planck keyboard. It's definitely a great choice for people who're looking to get a greatly customizable keyboard that suits your typing and gaming needs depending upon whichever you choose.
Preonic Keyboard
Preonic keyboards are the type of ortholinear keyboards that have a 50% key form factor and are designed for comfort and ergonomics. These keyboards are incredible for people who work for longer hours.
In comparison to Planck keyboards, the 10% increase in the form factor really helps a lot when it comes to versatility. OLKB's Preonic keyboards use a lot of high-quality materials in order to give the user the experience that they're looking for in their keyboarding.
Here are all the things that will come with a Preonic keyboard set if you order it right now:
Bottom keyboard base.
Mounting Screws.
PCB
Steel plate
Switches and keycaps
Features
If we take a look at the features of the Preonic keyboard, these are the things you're going to get if you buy one.
Ergonomic Non-staggered Design – The keys on the Preonic keyboard are placed in a non-staggered linear layout. This is to achieve a streamlined typing experience and to reduce muscle tension and finger extension when a person is typing or playing videogames. That's why the Preonic keyboard is such an incredible revelation when it comes to ortholinear keyboards.
Customizability – The fact that you can build the Preonic keyboard yourself, the customizability is endless. From the screws to the bottom to the plate, you can customize whichever part you want to. So, you're in complete control of your keyboard.
Good Price – The best thing about the Preonic keyboard is the price difference in comparison to pre-built Planck keyboards. Yes, the compactness is also voided but still, the better form factor and high-quality materials are just the same. That's why I think that Preonic keyboards are amazing.
More keys – The Preonic keyboards come with a 50% form factor allowing for extra keys to be included in the keyboard. You can change the different functions and triggers depending upon your choice and have a better keyboarding experience than before with the help of these extra keys.
Final Thoughts
Preonic keyboards are not very expensive in terms of comparison to other types of ortholinear keyboards. If you're a fan of building your own keyboard and you're looking for additional keys for your keyboarding purpose, then you should definitely keep an eye out for Preonic keyboards and get them the first chance that you get.
Which Ortholinear Keyboard Should You Choose?
The million-dollar question is, which one of these ortholinear keyboards should you be using? Well, that actually depends – on a lot of things. All of these things hold almost exactly the same high priority importance in the eyes of a keyboard enthusiast.
Basically, the budget you have, the need and requirements you've got, and whichever you feel more comfortable with, all these factors affect which keyboard you should use.
In my opinion, the best Orthloinear keyboard would be the OLKB Preonic keyboard. It's cheap and it has more options for customization as well. However, if it's too much for your requirements, and you're more comfortable with Planck keyboards, then definitely go for the OLKB Planck or Planck EZ keyboard depending upon your budget.
Conclusion
Whichever keyboard you end up choosing out of these, we assure you that you're going to be satisfied with the end result. These ortholinear keyboards are meant for the comfort and ease of typing and playing, and if that's what you require, then you're going to have an incredible keyboarding experience with them.