If you use a computer on a regular basis, no matter whether you spend your time gaming or working on it, you would want to be aware of the click lifespan your mouse offers and how long it will work well.
So, how many times can you click a mouse before it breaks? Well, it depends on the quality and construction of the mouse you're using. If it's a high-quality, advanced gaming mouse, it may offer you more than 40 million clicks in its lifetime. But most average mice currently on the market offer no more than 20 million clicks.
But that's just an estimate. A mouse may break well before that time depending on how you use it. In this article, we will find out what click lifespan you can expect on average and how many times you can click gaming mice.
We will also discuss if it is possible to increase the number of clicks on your mouse, and the best mouse in terms of click lifespan as well.
So, let's get started with this guide right away.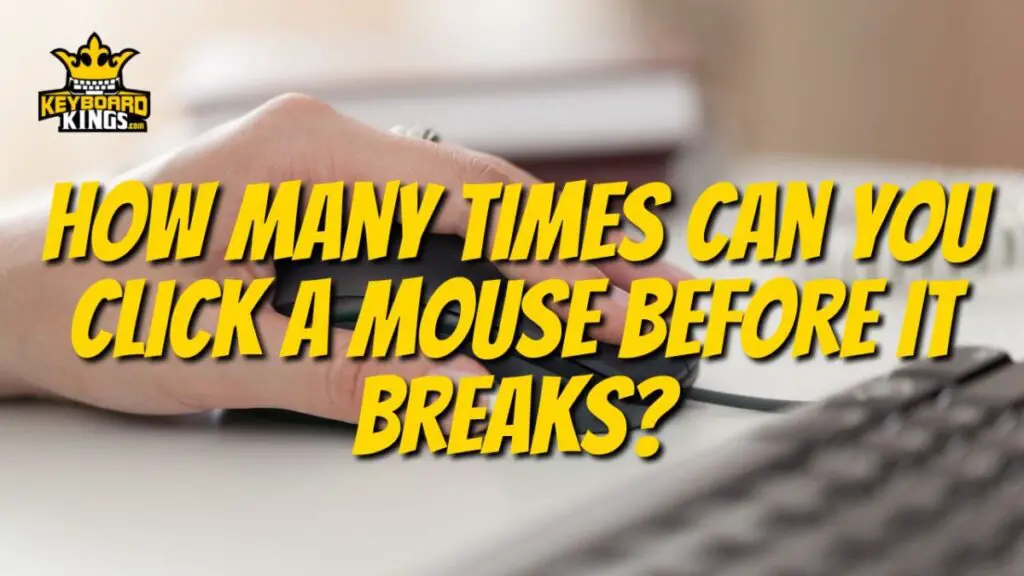 How Many Times Can You Click the Average Mouse?
When it comes to the average, budget mouse, it doesn't offer a very long click lifespan. This is because it comes with low-quality, regular mouse switches and the focus is on affordability than on quality and abundance of features.
That's why the typical average you're going to get in terms of click lifespan on a regular mouse is going to be much less than 20 million clicks.
This particular click lifespan can last you around 2-3 years if you're using the mouse for casual computer usage, but if you're gaming with such a mouse, which is unrecommended, you're going to get 1 year or so with it.
So, it is not ideal for you to get this mouse when you're looking for a high-quality one for your gaming. For such reasons, a gaming mouse with a better mouse switch would be ideal for you.
Can You Click Gaming Mice More Times Than Regular Ones?
Yes, this is one of the major benefits of getting a gaming mouse over a regular casual usage mouse. Along with that, gaming mice also offer tons of amazing features and options that you can explore as well.
The range of gaming mice click lifespan can differ quite a lot. Some gaming mice come with switches that pack over 40 million clicks. The average click lifespan of gaming mouse switches nowadays is 50 million clicks!
On the other hand, you can also get gaming mice that offer even longer click lifespans at times depending upon the brand you're getting your gaming mouse from.
The thing is, you're going to have to pay more to get a better mouse that comes with higher-quality switches, better features, and an improved design as well. But the goal is to find a mouse that comes for an affordable price, but at the same time, it offers all of this. And that's what I'm here to help you do.
Is It Possible to Increase the Number of Times You Can Click a Mouse?
At times, if you really like a mouse or you're thinking of just getting one for a good 10-year run, you must be thinking to yourself, is it possible to increase the number of times you can click a mouse?
Well, yes you can. It is definitely possible to increase the number of times you can click a mouse, but there are two very different and distinct ways of doing it. One is the unrecommended way and the other is what you should generally prefer doing if you want to increase the click lifespan of your mouse. Let's take a look at both of them.
Method 1: Get the switches replaced by a professional
When it comes to a mouse that you've already been using for quite a while and you still feel as if it is in the physical condition that it can work for a few more years, the ideal thing to do would simply be to get the switches replaced because they tend to wear out first.
You won't be able to make all the connections by yourself and keep the physical integrity of the mouse maintained by the end of your replacement experiment, so it is best if you let someone who is capable of doing something this complex handle things.
It is recommended to go to a professional who will be able to help you with this replacement and get your mouse fixed up with brand new high-quality switches that are compatible with the mouse and work perfectly as you want them.
This is, however, an expensive process and will take a few rounds of you taking the mouse to a professional, and even then, things might not work as you thought they would in rare cases.
Method 2: Get a mouse with hot-swappable switches
If you haven't already got a mouse for your computer and you want to invest in a high-quality mouse that will stay with you for years and years to come, consider getting a hot-swappable mouse.
A hot-swappable mouse is one that comes with switches that can be hot-swapped easily. This means that you can change the switches by yourself when they stop working and the mouse comes as good as new.
These mice tend to be on the more expensive side, but the good thing about them is that they're going to be much more featureful and impressive in terms of options as well as compared to regular mice.
So, with this option, you're not going to have to spend too much excessive money on an older mouse and you're going to easily be able to do the swapping process by yourself as well, which is one of the better options.
SteelSeries Prime: Best Mouse in Terms of Click Lifespan
The SteelSeries Prime is one of the highest-quality gaming mice available in the market with presets of professional design, stunning features, and incredible capabilities. It is very decently priced as well. It is very durable and definitely offers great value when it comes to affordability, so do check it out when you're looking for a new mouse.
Features and Specs
Here are some of the major features and specs of this mouse:
Titan Switch – When it comes to the click lifespan, the switch that SteelSeries Prime uses is a Titan switch. This switch offers 5 times the durability of a regular mouse switch and can last for up to 100 million clicks, which is quite amazing.
Ergonomic Design – The design of the SteelSeries Prime is perfectly crafted for comfort and a high-quality experience. It is quite ergonomic and makes for a great mouse option if you're thinking of logging tens of hours a day on your PC without feeling tired or aching hands.
18K CPI – The SteelSeries Prime Gaming Mouse is an amazingly high-quality one that comes with a TrueMove sensor that offers a max CPI range of over 18K, which is perfect whether you're looking to play videogames or do design work or any such thing with it.
Lightweight – This mouse weighs only 69 grams. This is pretty amazing because this weight allows you to easily move the mouse around without experiencing any kind of fatigue or problem over a long period of usage.
Ambidextrous – Another great thing about the SteelSeries Prime Gaming Mouse is the fact that it is ambidextrous. This means that it is perfect for all kinds of grips like claw, fingertip, and palm. It also works for either hand if you want to alternate.
Pros and Cons
| Pros | Cons |
| --- | --- |
| Durable – When it comes to the overall durability of the SteelSeries Prime, it doesn't disappoint. You can expect this mouse to be your go-to choice for quite a long time before you need a replacement. | CPI Button Placement isn't ideal – The CPI button is placed on the bottom so it is quite difficult to change it on the fly, which could be a problem for some users. |
| Aesthetic Design – The best thing about this mouse is how good it looks. It has a very decent professional gaming mouse design with a hint of RGB lighting that just makes it perfect. | |
| Great Price – Even though this is a professional-grade mouse, the price of it is actually quite affordable in comparison to what it has to offer and what other mice in the market are selling for nowadays. | |
Wrapping Up
A high-quality mouse is one that is durable and offers a long click lifespan. It is advisable to get your hands on a good mouse that can work well over a long period of time. Look for a mouse that has a click lifespan of at least 50 million clicks. However, the most advanced gaming mice available out there even offer up to 100 million clicks in their lifespan, which is pretty impressive.