Have you ever wondered what a sleek and slim mechanical keyboard would feel like? Are you thinking of buying a new mechanical keyboard for your computer setup? Well, Das Keyboard seems to have the right mechanical keyboard for your requirements – the Das Keyboard 4 Professional Mechanical Keyboard.
You might be wondering, well, how good is the Das Keyboard 4 Professional Mechanical Keyboard, and should I buy it? Well, you're in the right place because that's what I'm here to let you know. 
In this article, I'm going to talk about the Das Keyboard 4, what it has in store for us, the design, switches, features, specs, pros, and cons, and everything in between to tell you all there is about the Das Keyboard 4 Professional Mechanical Keyboard. Before buying, checking out this complete review would definitely help you make the right decision. Let's get started.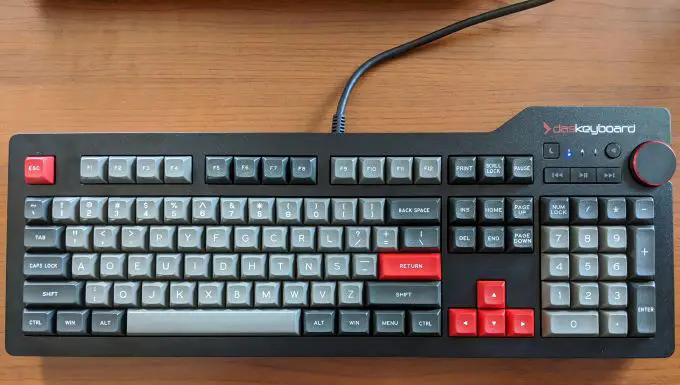 In a hurry? Get the Das Keyboard 4 Professional at amazon.com!
Das Keyboard 4 Professional Keyboard
Das Keyboard 4 Professional is a high-quality mechanical keyboard that comes with 104 dedicated keys, multimedia buttons, and a volume scroller.
The keyboard is claimed to be the slimmest mechanical keyboard on the planet with an incredible design, but it comes for a fortune of a price. So we have to find out if it's worth it or not.
Since its release, keyboard enthusiasts have showered their love for this keyboard, and it has reached high levels of popularity. So, I had to look at it for myself and review it for all of you out there. So, let's do that then.
What's in the Box?
I ordered my Das keyboard 4 a week ago, and it arrived recently. So, upon first look, the design of the box looks pretty slick, and it is slim itself as well, which is an indication that the keyboard is going to be on the slimmer end as well.
Upon opening the box, I saw a decent layer of protection for the keyboard and the components. Here's what I found in the keyboard box other than protective materials:
Magnetic Foot Ruler 
Instructional Manuals
Das Keyboard 4 Professional
The inclusion of the magnetic foot ruler pleasantly surprised me. Usually, these expensive keyboards don't offer any additional components, and you have to buy them on the side. So, this is great.
Sleek Design and Great Construction
The first thing I did was take the keyboard out and observe it on its own, and I have to say this, the Das Keyboard 4 Professional is truly one of the slimmest mechanical keyboards I've seen yet.
The visual appeal is quite similar to the previous version of the Das keyboards, but the frame looks much better, in my opinion. There aren't any attached kick feet which is partly why the keyboard is so slim.
However, you can attach the magnetic foot ruler under the keyboard to give it an ergonomic incline for a better user experience. It just fits in and can be taken out pretty easily as well.
Moving on from the design, we have the construction to look at. And there are more praises to be sung because it is a sturdy boy. The top plate is made of aluminum, and the rest of the keyboard is very durable plastic. So overall, both the design and the construction are great and justify the expensive price point till now. But there's a lot more to review in this keyboard so let's keep an open and unbiased mind for now.
Decent PBT Keycaps and Legend Imprinting
Das Keyboard is known for using high-quality PBT keycaps, which is great because PBT plastic is the best material for manufacturing keycaps. It is durable, textured, and feels very nice when you press it. For the price they're charging, PBT keycaps are the way to go, and I'm impressed by what they've brought to the table. ABS keycaps at this price would've been a problem.
Let's talk about the legend imprints now. The legend imprints look pretty slick and are very high-quality in terms of printing technique. They're fade-free and feel like a part of the keycap itself. The keycap and printing jobs have been done quite well by Das Keyboard for this particular keyboard, and we should appreciate them for what they've done here.
High-quality Cherry MX Blue Switches
Now, it's time we come to the most important part of the review – the mechanical switches. The Das Keyboard 4 Professional Mechanical Keyboard uses Cherry MX Blues. This is amazing. Cherry MX Blues are one of my favorite and actually fan-favorite key switches when it comes to typing. They're loud, proud, durable, and provide a lot of tactile feedback.
When you press these switches, you're going to feel a decent bump, and you're going to hear a noise when you actuate the key, which is cool and makes for better accuracy. Although linear switches are better for general usage, people who love typing and don't want to make any mistakes need to use this key switch; they'll surely love it completely.
Even in the mechanical switch game, Das keyboard has done us proud with their Das Keyboard 4 Professional. The Cherry MX Blue Mechanical Switches are very durable and incredibly stable, which is another great thing.
6.5 Feet USB to USB-A Power Cable
The Das Keyboard 4 is powered by a single USB to USB-A type connector, and the insulation of the wiring in the mechanical keyboard is pretty good, so you can safely use it. Moreover, the length of the Das Keyboard 4 Professional's cable is unbelievably long. It measures around 6.5 feet which is more than I've seen in keyboard power cables, so you won't have to worry about tugging on the wire to comfortably use the keyboard.
Epic Features of the Das Keyboard 4 Professional
Now that we've reviewed the visuals and design elements of the Das Keyboard 4 Professional, it is time that we delve deeper into the epic features that it comes with. Let's take a look.
Mechanical Switches – Cherry MX mechanical switches are the best in the business. The Das Keyboard 4 Professional Mechanical Keyboard uses these switches and provides users with loud tactile feedback, which is great for better accuracy and precise typing.
Media Controls – On the top right corner of the keyboard, just like the previous das keyboard versions, we've got media controls, buttons, as well as a pretty cool volume scroller.
NKRO – Das Keyboard 4 Professional comes with N-key rollover. This means that you can press as many keys as you want without any of them ghosting or rolling over before getting registered. It helps a lot in typing, software projects, and gaming as well.
2 USB 3.0 Pass-throughs – On the right side of the keyboard in the front, you've got 2 USB 3.0 ports which is amazing. Not only can you charge your other devices, but you can power them as well with a lot of speed because of the 3.0 technology.
Ergonomic Design – If you're a fan of ergonomic keyboard designs, you're going to love the magnetic foot ruler that comes with this keyboard. You can easily attach it to the bottom and incline the keyboard according to your requirement.
Multimedia Buttons
A great feature that I wanted to talk about standalone is the multimedia buttons. They've been in the previous version of Das keyboard as well, but they're still very important.
Not only do we have the multimedia control button options like the pause, play, forward, etc. But we've also got sleep or mute options, and along with that, there's also an aesthetic-looking large-sized volume scroller. So, along with the 104 keys, there are other buttons you can mess around with.
Pros and Cons
Before you make a final buying decision on the Das Keyboard 4, it would be good if you took a look at the pros and cons this keyboard comes with. So, let's check them out.
| Pros | Cons |
| --- | --- |
| Durable Design – With the aluminum top-plate as well as the durable Cherry MX key switches, the overall design of this keyboard is very sturdy and strong. | No Macros – One pretty disappointing thing about this keyboard is that there's no focus on macros, reprogramming, or any kind of keyboard profiles at all. |
| Sleek and Slim – Das Keyboard makes claims that this is the slimmest mechanical keyboard on the planet. They well and truly deliver on this promise with the Das Keyboard 4 Professional. | Expensive – Even though there are many great inclusions, I believe the price is still a bit too high for budget gamers and makes it an expensive keyboard that is great for a niche audience. |
| Premium Quality – Each and every single one of the elements and the components that are used in the Das Keyboard 4 Professional is of the best and most premium quality. | |
| USB Passthrough – I believe the USB passthrough inclusion is pretty amazing and not very normally used in mechanical keyboards. That's what makes this one special. | |
Is the Das Keyboard 4 Professional Worth the Price?
Finally, we arrive at this article's million-dollar question: Is the Das Keyboard 4 Professional worth the hype? Well, yes, it is. But it is meant for a higher budgeted gaming and typing audience. This simply means that if you have a larger budget, then getting this keyboard would be a great decision, but if you have a small budget for a keyboard, there are other options that can deliver similar performance at a much lesser price, so you should go for them.
Interested? Get the Das Keyboard 4 Professional at amazon.com!
Frequently Asked Questions
Seeing all the confusion surrounding the Das Keyboard 4 Professional, I decided to answer some of the most commonly asked questions. So, let's take a look at them right now.
Is the Das Keyboard 4 Professional a good keyboard?
Yes, the Das Keyboard 4 Professional might be a bit expensive. Still, if we talk about the price to value ratio, it is definitely a premium quality keyboard by all means.
Can I play games with the Das Keyboard 4 Professional?
Although the Cherry MX Blues on the Das Keyboard 4 Professional aren't the optimal gaming key switch solution, you can actually game with them pretty well since almost all MX switches are good for typing and gaming.
Is the Das Keyboard 4 Professional Compatible with Mac?
Yes! The Das Keyboard 4 Professional is widely known for its compatibility with Mac devices. So, you can easily connect it with a Mac device and have a great time using it.
Conclusion
Das Keyboard 4 Professional Mechanical Keyboard is a great high-budget choice, but it is not meant for reprogramming or macro programming at all. It is a strictly typing and gaming keyboard, and you'll have to keep it that way. I hope you learned a lot from this article and that you're going to have a great time with this keyboard if you decide to buy it. Make sure you have a great keyboarding experience!