Do you know what is even better than a keyboard? A typewriter keyboard!
It is a keyboard where the printed characters can be manually entered, so it is essentially a device that comes with a typewriter's fun and game. It is the most distinctive technique to make typing more interesting. Despite having all the functionality of a modern keyboard, they are meant to feel and appear like a vintage typewriter.
You might be wondering, what are typewriter keyboards and which ones are the best? Well, if that's the case, then you're in the right place because that's what I'm here to tell you.
In this article, I'm going to talk about keyboards that look and sound like typewriters, their advantages, and the difference between typewriters and keyboards.
I know how hard it sometimes gets to find your desired item on the internet. You are searching for one thing, but something else pops up. So, I'm going to talk about the top 5 keyboards that look and sound like typewriters. 
Top 5 Best Keyboards That Look and Sound Like Typewriters:
DoubleW Typewriter Style Mechanical Gaming Keyboard
Lofree Bluetooth Typewriter Keyboard
Azio Retro Compact Typewriter Keyboard
Durgod Taurus K320 Typewriter Keyboard
TISHLED Typewriter Style Gaming Keyboard
So, let's get started.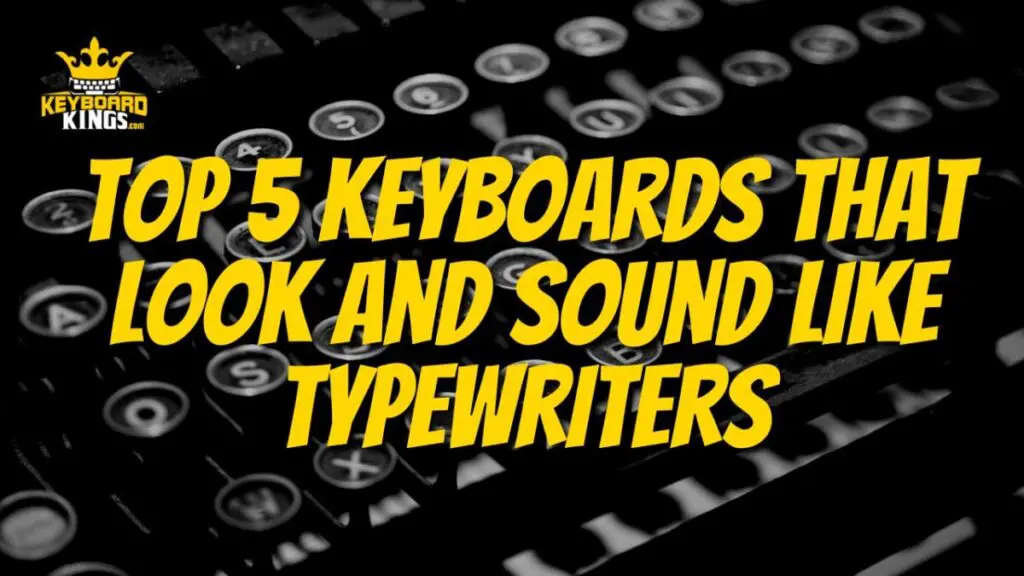 What is a Mechanical Keyboard?
A keyboard is one of the main input methods of computers. A keyboard is made up of buttons that may be used to produce letters, numbers, and symbols, and carry out other tasks, much like an electronic typewriter. There are many types of keyboards that are:
QWERTY Keyboard
Wireless keyboard
Wired keyboard
Ergonomic keyboard
USB Keyboard etc.
Difference between Typewriter Keyboards and Mechanical Keyboards
If you're wondering what differences there are in a typewriter keyboard, here are some that you'll want to know:
Round Keycap Shape
The significant difference between a mechanical keyboard and a typewriter keyboard is the round keycap shape. The round keycaps were a common design feature of vintage typewriters. Therefore, it seems to reason that this style was picked as the typewriter keyboard's retro symbol.
Navigation Keys and Functions
The Return and Tab keys are two examples of typewriter keys that don't produce typed letters. On the other hand, mechanical keyboards feature several keys that are exclusively used by computers. 
Click Sound
Most typewriter keyboards feature blue switches, which sound noisier than those used on traditional mechanical keyboards. So, choose a typewriter keyboard if you enjoy the clicking sound.
Weight
The weight of the typewriter keyboard is a bit heavier and more enormous than the mechanical keyboards, keeping with the designer's intention to emulate the classic typewriter machine.
Vintage Features
Some typewriter boards also include aesthetic elements like return lever and scroll knobs that make them stand out. Paragraph spacing, illumination effects, and brightness adjustments are a few uses of these characteristics that provide users with a typing experience that differs from conventional mechanical keyboards.
Mechanics 
Light-touched wires were utilized for the keys of electric typewriters, which reduced finger fatigue. The keys on contemporary computer keyboards move far less than those on previous models and require little effort to press.
Many keyboard users, especially those who play video games often, have recently switched back to older models with more gratifying and tactile clicks.   
Top 5 Keyboards That Look and Sound Like Typewriters
| Keyboard | Price Comparison |
| --- | --- |
| Azio Retro Compact Typewriter Keyboard | $$$$$ |
| Lofree Bluetooth Typewriter Keyboard | $$$$ |
| Durgod Taurus K320 Typerwriter Keyboard | $$$ |
| DoubleW Typewriter Style Mechanical Gaming Keyboard | $$ |
| TISHLED Typewriter Style Gaming Keyboard | $ |
Per Amazon rules, I can't disclose exact prices. This is a visual representation of the price compared to each other. The more "$" means a higher price comparatively.
Looking for a high-quality typewriter keyboard? Well, to make things easier for you, I've created a list of the 5 best keyboards that look and sound exactly like typewriters. Let's take a look at what they have to offer and their value.
1. DoubleW Typewriter Style Mechanical Gaming Keyboard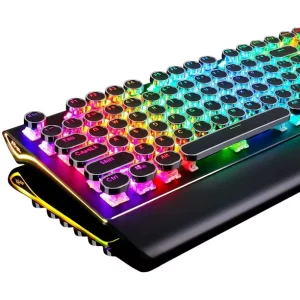 Nothing is better than a typewriter-style mechanical keyboard that gives you all the vintage feels. This bewildering keyboard is the greatest full-size (108 keys) typewriter keyboard with a gaming design. First off, this board is sturdy and comfy. 
This is the finest option for people who enjoy the advantages of both gaming technology and retro flair. You get the best of both worlds. It is a sturdy and warm-wired typewriter keyboard gaming design with high-end materials and advanced functions. You can be assured that it will not break soon as it is built with very sturdy material.
Features and Specs
Let's take a look at some of its features and specs.
Composition – This keyboard is composed of high-grade aluminum alloy with a matte surface that feels excellent and guards against scratches. The built-in legs are sturdy and exquisitely crafted.
Antiquated Touch – Medium resistance, an audible click sound, and tactile feedback are all features of mechanical keys. Classic typewriters like vintage Esque round keycaps provide a pleasant typing sensation and a steady clicking touch. 
RGB LED Backlit Light – This RGB-lighted keyboard has 168 backlit options and seven different color sidelights. The global lighting changes to either a single color mode or an RGB color mode by pressing "Fn+Pause."  The pace and brightness of the backlight are also programmable. Additionally, you have the option to design one customizable backlight. 
Ergonomic design – The ergonomic design and ABS palm support relieve wrist strain when typing and playing video games.
Innovative look – Apart from its other distinctive and fantastic features, the main reason to buy this keyboard is its startling RGB lighting. You may switch to blue, green, or yellow tones. Being able to alter the appearance of your system is always excellent. Gamers understand how fun it is to occasionally change the setup to enhance their gaming experience. 
Pros and Cons
| Pros | Cons |
| --- | --- |
| RGB Effects – Plenty of RGB backlit effects. | Noisy – Switches might be a bit too noisy with the clicks. |
| Ergonomic – A comfortable wrist set for gaming sessions. | |
| Design – The design of this keyboard is amazingly high-quality. | |
| Key Rollover – This keyboard comes with 108 keys and anti-ghosting technology. | |
| Keycap Design – This keyboard has a terrific keycap design that makes it appear vintage. | |
---
2. Lofree Bluetooth Typewriter Keyboard
All you need is a Bluetooth typewriter keyboard that can make your life exhilarating. A distinctive blend of contemporary and antique design elements, as well as dependable and high-performance Gateron switches, contribute to the fantastic typing experience offered by this wireless typewriter keyboard. 
The dished keycaps and adjustable feet of this vintage keyboard make for a more pleasant typing experience. Both the Bluetooth connection and wired USB mode of operation are functional. It is the finest keyboard with solid battery life. 
Features and Specs
Here are some of the major specs of this keyboard:
Unique Design – Influenced by vintage typewriters, this magnificent wireless mechanical keyboard was made for designers, writers, and people who enjoy the old-fashioned look. 
Multiple Functions – You may utilize the Launchpad, mission control, and other function keys from this keyboard since it's compatible with Mac's function keys (F1-F2) without the need for any other configuration on your part. 
Compatible devices – Works with PC, laptop, and smartphone running Mac, iOS, Windows, and Android.
Bluetooth – Bluetooth may operate for up to 3 weeks on a single battery. You can use Bluetooth to connect up to 3 different devices at once and quickly switch between them by presenting the keys fn+1/2/3 on the keyboard. There is also a USB wired mode option. 
Backlit – There are three different backlit settings for use at night. It has enduring and well-known GATERON switches that are durable and responsive with 50 million keystrokes. 
Pros and Cons
| Pros | Cons |
| --- | --- |
| Compatibility – Compatible with iOS, Windows, Mac, and Android | No Swappability – Switches cannot be swapped |
| Compactness – Handy and compact | Expensive – It is a bit more expensive than competing keyboards. |
| Comfort – It has a flexible angle for comfortable typing. | |
If you'd like to learn more or read more reviews, check it out on Amazon.
---
3. AZIO Retro Compact Typewriter Keyboard
An affordable richness with great features, I'm talking about the AZIO Retro Compact typewriter Keyboard that combines the appearance of vintage typewriters with cutting-edge technology like Bluetooth wireless connectivity and multisystem compatibility. It is made with opulent natural wood and leather material. 
It also comes with a magnificent palm rest. To achieve the perfect typing position, interchangeable "feet" allow for some variation in angle and height. 
Features and Specs 
Let's check out its specs and features.
Compatible devices – It has replacement keycaps for the Windows and commends keys and is compatible with both Mac and Windows operating systems.
Great Design – This central keyboard is made of high-quality components, has a classic look, and is simple to use. The RCK is the perfect creative tool for stationary and mobile lifestyles because of its small size. It is the ideal synthesis of past, present, and future and is inspired by classic typewriters and built with cutting-edge technology. 
Changeable stand – Use the keyboard tilt angle to get the ideal wrist position. To adjust the keyboard height, spin the back-pillar style feet.
Bluetooth and USB – Connect up to 3 devices wirelessly at once. Select the USB mode and connect your device to the supplied USB-C cable and then start typing. 
LED Shine – The keycaps are made such that the illumination shines through the middle of the keys, uniformly lighting them in static on/off mode with a white backlight (orange for posh only). The mechanical backlit keys are adjusted to be haptic and emit a click like old-fashioned typewriters. 
Battery – It has a built-in, high-capacity 5,000mAH Li-ion rechargeable battery with months of use duration, making it more durable (depending on backlight usage). 
Pros and Cons
| Pros | Cons |
| --- | --- |
| Wood Design – It has an authentic wood top plate | Not very configurable – It doesn't offer as many configurable features as some other keyboards do. |
| Typewriter Forward – Keycaps with a typewriter-era design | Feet Switching – The feet must be switched to change the angle.  |
| Illumination – The LED illuminated keys are quite nice looking.  | |
If you'd like to learn more or read more reviews, check it out on Amazon.
---
4. Durgod Taurus K320 Typewriter Keyboard
This mechanical keyboard that has an ergonomic dished shape and design reminiscent of a typewriter from the 1980s is the definition of classic. Additionally, it has completely customizable keys and high-performance Cherry MX switches. In addition to excellent durability, Cherry MX switches provide tactile reaction and feedback.
It is a fantastic option for both PC and Mac users since it has fully programmable function keys and software that allows complicated macros and complete key remapping. It is designed for people who want the traditional appearance of the vintage typewriter keyboard but desire the speed and performance of the mechanical gaming keyboard. 
Features and Specs
Let's take a look at what it has to offer.
Compatible Devices – Perfectly functional with Mac OS, Windows 11, Windows 10, Windows 8, Windows 7, and Windows Vista (Remapping possible in software). The keyboard is appropriate for home offices, offices, and gaming venues.
Cable and Connectivity – It includes two alternative USB cables for the K320. On the back of the keyboard, there are two conveniently routed USB type C to USB Type C cables that measure 11.8 and 1 meters, respectively. A dust cover and a wire key puller are also provided.
Epic Design – For a pleasant typing experience, the casing is robust and has adjustable feet in two configurations. With the key-puller that is supplied, durable and fade-resistant double-shot PBT keycaps may be replaced. It is composed of sturdy plastic that doesn't feel cheap and doesn't bend or rattle. 
Extra Features – There are a few more features in this keyboard. To avoid unintentionally minimizing your game, it incorporates Windows key lock functionality and hotkeys for media control. Every key has the ability to be macro-programmed, and you may do this using the accompanying software.
Programming and Software – The Durgod Zeus Engine companion software is compatible with the Durgod Taurus K320 TKL mechanical gaming keyboard. You may set macros and reprogram all the keys from here. Additionally, it appears that custom macros only function while the software is still active on your computer. The program allows you to save an infinite number of different individual profiles.
Pros and Cons
| Pros | Cons |
| --- | --- |
| High-Quality Switches – It has tangible Cherry MX switches | No Backlight – It has no backlighting  |
| Excellent quality – This keyboard offers quite a high-quality design and build. | Low Ergonomics – There is no wrist support on this keyboard. |
| Multiple Cables – It includes three handy USB-C cables | |
If you'd like to learn more or read more reviews, check it out on Amazon.
---
5. TISHLED Typewriter Style Gaming Keyboard
TISHLED offers some of the most stylish vintage products. Their specific typewriter-style keyboard has all the capabilities you would expect from an old-fashioned typewriter. This typewriter keyboard makes excellent use of the color pink and should be high on your list of considerations if you like the pink color. 
The keycaps include mechanical blue switches that offer excellent tactile feedback and a beautiful click sound. Users are treated to 20 lighting effects at the bottom of the keyboard, each with its brightness and speed settings. 
Features and Specs
Here are some of the major features of this typewriter-style keyboard;
Keys and design – Full-size keyboard with 104 non-conflicting keys. Even when many keys are pressed simultaneously during quick typing ad vigorous gaming, every keystroke is logged. It lets you take advantage of top-notch games with a quick reaction. The keyboard panel is constructed with premium aluminum alloy with a matte finish that is strong and durable enough to prevent scratches. 
Lighting Effects – This backlit keyboard features 20 different LED backlit settings. You may make two different DIY lighting effects in addition to the built-in lighting settings. The pace and brightness of the illumination are also programmable. 
Retro Style Mechanical Keys – It has a blue mechanical switch for top gaming performance. Medium resistance, audible click sound, and tactile feedback are all features of mechanical keys. Classic typewriter-like vintage steampunk spherical keycaps provide a pleasant typing sensation and a steady clicking touch. 
Gaming mouse – It has a gaming mouse with five DPI levels and four illumination colors. Excellent gaming keyboard and mouse set for FPS games and MOBA/RTS/CF games. The mouse, while not the best in the world, goes well with the set and has a sensor that isn't too far behind other gaming mice now on the market. Overall, this keyboard and mouse set exhibits outstanding value for money for way under £100, not to mention outstanding design elements.
Compatible Devices – It supports operating systems such as Linux, Mac OS, and Windows. All you need to need to do is to connect and play. There is no need for any drivers or software. 
Pros and Cons
| Pros | Cons |
| --- | --- |
| Illumination is great – Discreet illumination that genuinely shines at night. | Mouse isn't the best – The mouse isn't nearly as advanced as other gaming alternatives. |
| Good Build Quality – Modern construction with a helpful phone holder at the top. | Color not for everyone – Even though I think it has a lovely appearance, the pink hue could turn some people off. |
| Great Value – This keyboard is an excellent bargain. The package includes matching mouse. | |
If you'd like to learn more or read more reviews, check it out on Amazon.
---
Wrapping Up
If a mechanical keyboard sounds dull and boring, you have got to try a keyboard that looks like a vintage typewriter. In this article, we looked at the features of these keyboards, how they are different from traditional mechanical keyboards, and the top 5 keyboards on the market that look and feel like typewriters.
A typewriter keyboard is distinctive. It helps you work, type, and feel amazing when pressing the keys down, and they combine a classic feel with superior materials, multi-use functionality, and high design standards. You get a fantastic vintage typing experience in addition to your favorite gaming features, thanks to the metal construction and round keycaps.