While high-quality, pricey gaming mice are definitely worth every dime, they might not be affordable for some people. These devices are very expertly engineered, offer great functionality, and last for a long time.
People go for gaming mice because they are capable of being programmed and come with lightning-quick response times.
On the other hand, there are affordable gaming mice available on the market that may or may not offer the same level of functionality and performance.   
So, the question is, are these cheap gaming mice any good? Should you spend your money on one of these or wait to have enough money to buy an expensive, sophisticated mouse for an unmatched gaming experience?
Well, these are the questions we are going to answer in today's post. Here is a cheap vs expensive gaming mice guide for you to find the best mouse for your gaming needs.
So, let's get started.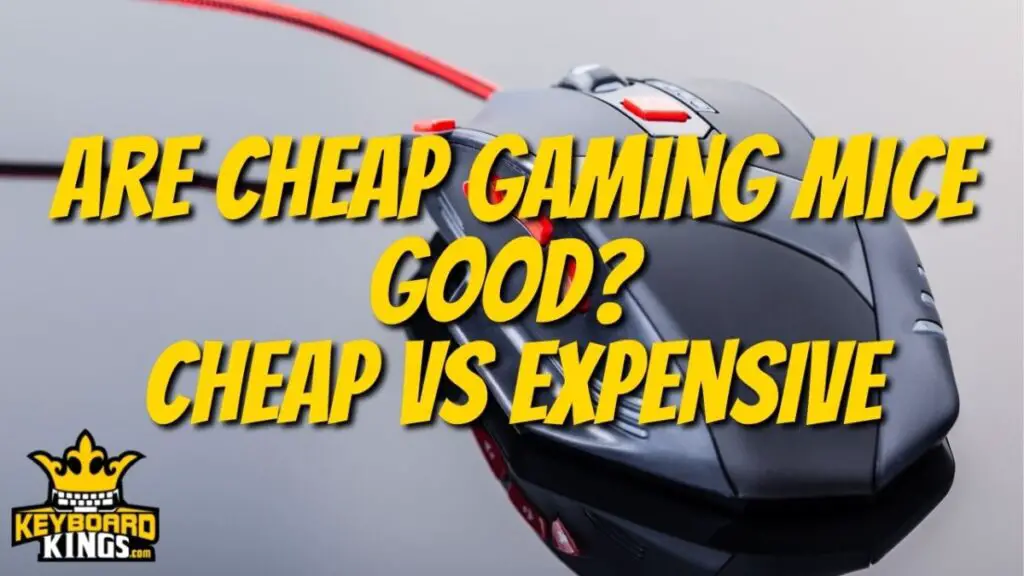 Classes of Gaming Mice According to Price
If you need a mouse just for regular computing and as a substitute for the touchpad on your laptop, you can easily get your hands on a fairly good quality mouse below $30.  
However, as you browse through various mouse categories, you find mice priced much higher than this. So, here is a breakdown of different tiers of computing mice according to their cost.
1. Pocket-Friendly Gaming Mice
These cheap computer mice are designed for regular use that may or may not involve any speed or DPI considerations. They cost anywhere between $10 and $50 and are readily available on Amazon and other marketplaces. Wireless mice in this category might be a bit more expensive than wired ones.  
Some models like Logitech M325 are designed as cheap or pocket-friendly gaming mice and they are available for as low as $30. Below this price, you may not be able to enjoy the extra features that can raise your gaming experience.  
2. Mid-Range Mice
Mid-range priced mice offer more functionality than budget mice and they are also more ergonomic and longer-lasting. Expect to spend anywhere between $60 to $150 for a mid-range mouse with features ranging from programmable buttons, wireless connectivity, a long battery life, and customizability.
What gamers usually look for in their mouse are features like comfortable design and the freedom to customize some extra buttons according to their needs.  
Apple MRME2 Magic Mouse and Microsoft Surface Arc Mouse also fall under mid-range mice and they are available for $125 and $85 respectively.   
3. High-End Gaming Mice
When we go above the mid-range price category, all the other mice will be by default gaming mice because a regular computer user wouldn't want to spend so much on a simple device.
Brands like Logitech, SteelSeries, Swiftpoint Z, Mad Catz, and Razer are currently offering high-end gaming mice in the price range of $150 to $250.  
These mice come equipped with some extra features like OLED display so you can view the input latency and see other stats, customizable RGB lighting, and a speed of 200 to 250 inches per second.
The most expensive mice in this category are priced at $200+ and are known as tournament-grade gaming mice.
4. Most Expensive Mice
These mice may not be designed for gaming; instead, just for enjoying the aesthetics. The most expensive mouse in the world is currently priced at $35,000 and is known as Luxury VIP Mouse by MHJ. It is made of white Austrian strass and diamonds.
While this brand may not be producing functional gaming mice, even brands like Logitech who are well-known around the world for their high-quality and long-lasting mice, have their own luxury mice priced at around $32,000.
There are only a handful of people in the world who might be interested in these types of mice. And even if they do buy them as collectibles or decorative items, the devices cannot be used for the purpose of computing or gaming.     
Cheap vs Expensive Gaming Mice
To compare cheap gaming mice with expensive ones, we need to look at the different features these mice offer. While cheap ones won't have many of these functionalities, they will help you understand why feature-packed mice are useful and efficient.
So, let's look at these features one by one.
1. DPI
More expensive a mouse, more sophisticated is its sensors and DPI. A high DPI indicates that even a small movement will move the cursor quickly to the target. A low DPI, on the other hand, requires the mouse to move a long distance to reach the same target.
Gaming mice nowadays come with high DPI numbers, but in gaming, DPI doesn't really make a difference. However, you may want to consider a mouse that comes with a DPI switch, so you can adjust it high or low depending on the task at hand.  
2. Form Factor
Gaming mice have evolved from the earliest mechanical mice to vertical, trackball, and pen mice, which are quite different from each other and offer some benefits over traditional mice.
Let's look at these types of mice and where they stand price-wise.
Vertical Gaming Mice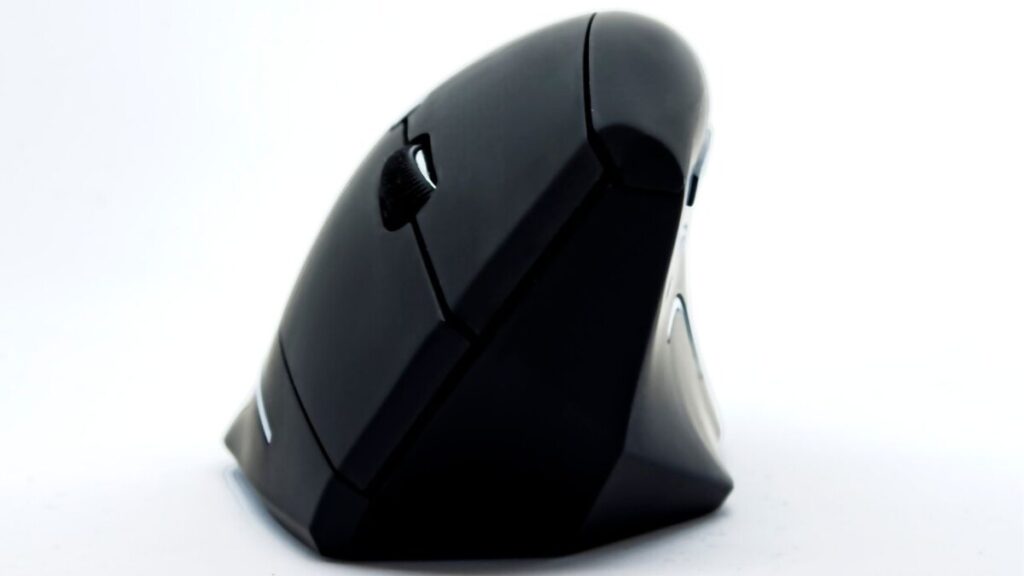 You can get your hands on a good-quality vertical gaming mouse for somewhere around $20 to $120 depending on the brand.
Vertical mice offer an improved grip and more comfort. If you have to use a mouse for long periods of time, this form factor will be very useful because it will reduce the strain on your arm, wrist, and hand muscles.
However, you need to keep in mind that vertical grip is less accurate, so whether this type of mouse will improve your gaming performance is not certain. Another downside of getting a vertical gaming mouse can be the time you may need to get used to this form factor.   
MOJO, Logitech, J-Tech, Perixx, and Zelotes are some of the brands that offer vertical gaming mice.
Trackball Gaming Mice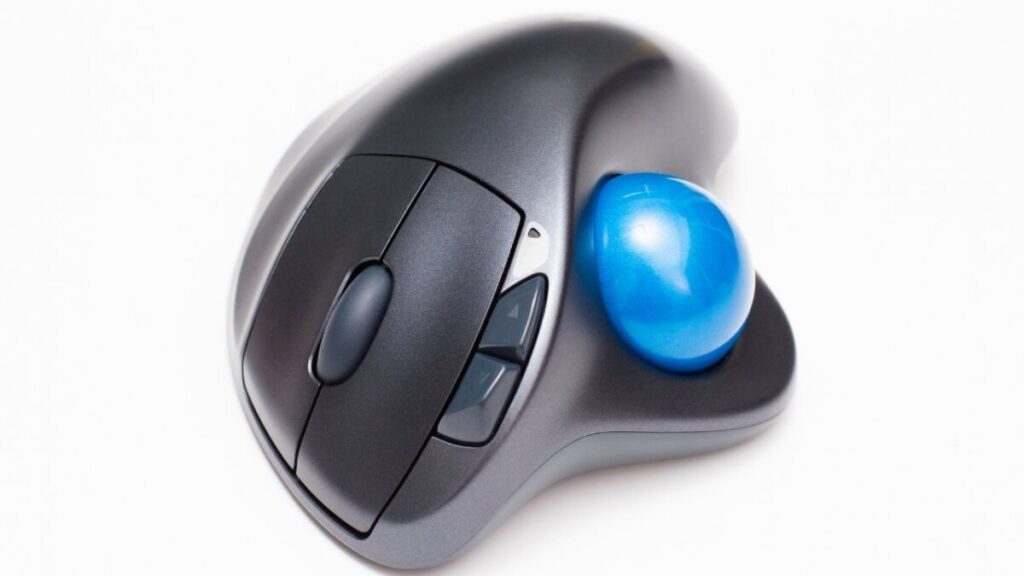 Another form factor in computer mice that is quickly gaining in popularity is called trackball. The logic behind these types of mice is to offer a more ergonomic design so it may help in preventing wrist pain.
This type of mouse will be great when you are working on uneven surfaces, but it will not offer any performance gain in fast-paced gaming.  
Brands that offer trackball mice include Logitech, ELECOM, Perixx, and Kensington, and these are available in the price range of $35 to $100.       
3. Onboard Memory
Pricey gaming mice come with extra features like LED lights, adjustable weights, programmable buttons, onboard memory, silent button click, etc. Programmable buttons and memory allow you to customize your device according to your needs. These are great features to have in a gaming mouse.
If a mouse comes with onboard memory, it can retain the customized settings so you can use it with just about any computer. You can even create different profiles with the help of onboard memory and use them whenever you want.
Some of the brands that offer this feature include Logitech, Razer, and SteelSeries. These mice are not cheap but they are not extremely expensive either.    
4. Programmable Buttons
A good number of gaming mice nowadays offer button macros with additional buttons located on the sides and the top. Gamers who need a lot of controls to keep track of can benefit from these types of mice.
If you decide to go for a cheap mouse, you will not be able to enjoy this feature. At the same time, even popular brands like Logitech offer gaming mice in this category for as low as $45 with around 20 additional buttons, which is a reasonable price for a sophisticated gaming mouse.
Wrapping up this section, we see that you can get your hands on a cheap or mid-range gaming mouse and still be able to enjoy all the great features. Expect to spend anywhere between $30 to $70 to get a great deal.  
Are Cheap Gaming Mice Good? 
Now that you know what features to look for in a gaming mouse, it's time to find out if getting a reasonably priced gaming mouse is a good idea.
Well, if a gaming mouse is cheap, that doesn't mean it is not capable of offering the same level of functionality as a high-end mouse. We have the classic example of Razer DeathAdder Gaming Mouse, which is listed as $49.99 on Amazon and has received great reviews from its users.
Sometimes the price of these mice is further reduced so you can actually save a lot of money and still be able to get a great deal.
Having said that, it's also not necessary that every mouse advertised as a gaming mouse is going to improve your gaming experience. There are mice out there that cost a lot, but they do not offer a lot of features or their design falls short of being perfect for gaming.
Most gamers look for a mouse that will help them enhance their grip. Therefore, form, factor, and ergonomics play an important role in deciding if a mouse is good for gaming.
When it comes to DPI, it is seen that even the most inexpensive mice come with a fairly good DPI rating. It is neither too low nor too high. It is also seen that some gaming mice with an impressively high DPI are very reasonably priced.
Again, I will quote the example of the Razer DeathAdder V2 Gaming Mouse, which comes with a 20K DPI optical sensor. And this mouse is available in the mid-range category priced at $69.99.   
In the context of ergonomics and combining comfort with performance, again, mid-range mice take the lead. We have the example of the Corsair Nightsword Ergonomic Gaming Mouse, which is priced at $79.99 and comes in a very unique design. This mouse has been found to be great for MOBA games.
However, despite its great build quality and weight, some people still find it uncomfortable because they think it's too big.
Trackball mice, on the other hand, are considered more ergonomic and you can get your hands on both thumb-operated and finger-operated trackball mice. Kensington Orbit Trackball Mouse is a good example and it's available for just $34.95.    
If you are looking for a good-quality, programmable gaming mouse to elevate your gaming experience, the best choice would be Logitech G600 MMO Gaming Mouse. Not only the mouse is feature-packed but it also feels good in your hand. This mouse is built to last, and it's available for a very reasonable price of around $45.  
If you're an avid gamer, you may want to invest in a good quality mouse so it would not only improve your game but also last for a long time. However, that doesn't mean you should choose the most expensive mouse available in the world.
Most mice in the mid-range category are extremely good, and they are often available for discounted prices as well. And if your budget allows, go for one of those high-end gaming mice and start enjoying all the great features.
All the best with your mouse hunt!    
Conclusion
Gaming mice come in a number of designs and price ranges. Some of them are quite expensive, ranging from $100 to $200 and even higher. However, there are cheap gaming mice available on the market as well and these devices cost as low as $25.
How much should you pay for a mouse largely depends on your computing needs and the purpose you're buying the mouse for.
We recommend getting a gaming mouse that costs between $50 to $70 so you can enjoy all the modern features along with comfort and good looks. Above this range, the mice are considered too expensive and they may or may not offer any extra or added functionality for basic gaming.  
However, if you play for long hours in a day and with the most competitive games in the world, then, getting an expensive mouse will also prove to be useful.
Remember, any extra dollar you pay towards gaming technology is very likely going to improve your performance in the long run. So, if that's your goal, it will be a wise decision to invest in a high-quality, expensive gaming mouse.  
I hope this guide helped address many of your doubts. You are now ready to purchase your next gaming mouse!