Are you a fan of rhythm games? These could be quite addictive especially if you are into music and specific instruments. These games require you to press keys in a certain sequence. Owing to the popularity of these games, keyboard manufacturers now provide specialized keyboards to take this amazing experience to the next level. 
Standard keyboards can hinder your performance in rhythm games. If you're an avid rhythm game lover and want to rock out to some incredible tunes on your PC, you must get yourself a rhythm game specialized mechanical keyboard for the best experience.
You might be wondering, what's the best keyboard for rhythm games, and how can I find it? No need to worry because that's precisely what I'm here to tell you.
The Top 5 Best Keyboards for Rythm Games are:
Ducky One 2 Mini
Logitech Orion G810 Spectrum
HyperX Alloy FPS PRO
Cherry ML 4100 Ultraslim
ANNE PRO 2 60%
In this article, I will talk about rhythm games, what kind of keyboard is best for them, and some factors that the perfect keyboard for rhythm-based games has. There's a list of the top 5 best gaming keyboards for rhythm games you can choose from, so make sure you read this article till the end before you make a buying decision.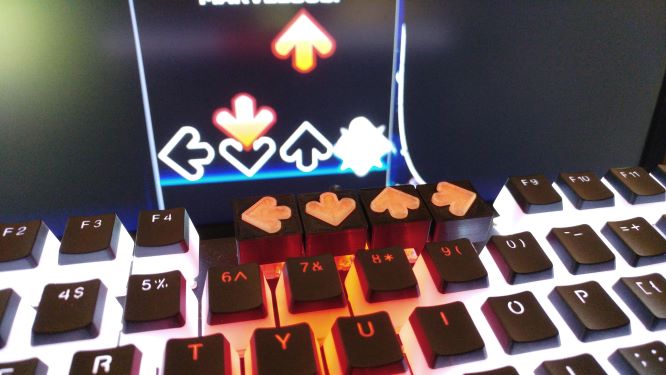 What are Rhythm Games?
You may have played them all your life but still not have known what they're called. Well, rhythm games are music-based games that challenge a player's rhythm senses by displaying keys and buttons on the screen, imitating the sound of a musical piece or a particular instrument.
From Guitar Hero to Rock Band, Osu!, to the newly released Beat Saber, all these games are rhythm-based and are incredibly fun to play. These games have developed such a huge fandom that peripheral companies make specific switches and keyboards, especially for these games.
How to Find the Best Keyboard for Rhythm Games?
Well, if you're a rhythm game player, you must have this question echoing in your mind. Finding the best keyboard for rhythm games isn't that easy. Here are some of the most important factors you need to consider before you settle on buying a keyboard for rhythm games.
Get the Right Switches
The first thing you're going to want to look at in the ideal rhythm game keyboard is the switch used. The best switches would be Cherry MX mechanical switches. Still, any mechanical switch would do just fine because of the higher actuation point, better response time, better feel, and tactility that isn't available in a membrane or Chiclet switch keyboards.
Make Sure it's Durable
The frame and structure, along with the material of the keyboard, are extremely vital as well. While playing Osu! Sometimes, the player's focus can get so intense that the keyboard usability may become fierce and hard. This can take a serious toll on the keyboard if the frame's material isn't high-quality plastic or aluminum.
High-Quality Keycaps
The keycap quality and type are also critical factors while you're choosing the ideal keyboard. Double-shot PBT keycaps that are smooth and durable work very well with Rhythm games because their legend prints don't fade because of excessive in-game key pressing, which isn't something that can be said about lower quality plastic keycaps.
Choose the Right Size
Well, the size of the keyboard depends upon what game you like to play. Some rhythm games require more keys than 60% or TKL keyboards, while some are optimal for compact mechanical keyboards. That's why you can choose a compact or full-sized keyboard depending upon your gaming needs.
Add-ons
When it comes to additional features, the best keyboards have a lot of them. These features can range from RGB to additional keys, functionalities, anti-ghosting, wireless-capability, and many other features and advantages. So keep in mind that you're looking for all the features you can get in your ideal rhythm game mechanical keyboard.
Top 5 Keyboards for Rhythm Games
| Keyboard | Price Comparison |
| --- | --- |
| Ducky One 2 Mini | $$$$ |
| Logitech Orion G810 Spectrum | $$$$$ |
| HyperX Alloy FPS PRO | $$ |
| Cherry ML 4100 Ultraslim | $ |
| ANNE PRO 2 60% | $$$ |
Per Amazon rules, I can't disclose exact prices. This is a visual representation of the price compared to each other. The more "$" means a higher price comparatively.
Looking to get the best rhythm game keyboard to hone your skills and score the highest; Well, you've come to the right place because I've found and listed 5 of the best keyboards in terms of features and advantages Rhythm games that you can find in the market.
1. Ducky One 2 Mini Mechanical Keyboard
One of the best keyboards in the line-up of Ducky is the Ducky One 2 Mini Mechanical Keyboard. It is a compact 60% RGB Mechanical keyboard that works incredibly well with all games and Rhythms games due to a bundle of features and functionalities.
Check out my full review of the Duck One 2 Mini keyboard
Features
RGB Customization – The Ducky One 2 Mini allows you to cycle between many different RGB patterns using on-board controls, and you can customize the patterns according to your liking as well.
Ducky Macro V2.0 – With the Ducky Macro V2.0 technology, you can create and record function macros to help you play rhythm games aptly and give you an edge over other players.
Cherry MX Switches – This keyboard comes with many different Cherry MX switch options, and these mechanical switches are easy to actuate and have a tactile feel which is amazing for rhythm-based games.
PBT Double-Shot Keycaps – The double-shot PBT keycaps are high-quality plastic keycaps with incredibly amazing laser printed legends that won't fade due to excessive pressing in-game.
| Pros | Cons |
| --- | --- |
| Build Quality – The keyboard frame is made of high-quality plastic material that doesn't flex whatsoever, making the Ducky One 2 Mini extremely durable and long-lasting. | No software – The Ducky One 2 Mini doesn't come with any customization software, which is quite a bummer. |
| Decent Price – For the bundle of features and advantages that it comes with, this keyboard's price is pretty fair and decent | Cable Plug Issue – The USB type-c cable can sometimes get disconnected if the keyboard is pulled, which has created some problems for the users over time. |
| 3-level Adjustment – In the case of ergonomics, there is a 3-level angle adjustment capability that allows you to set the keyboard to your comfort height. | |
Final Thoughts
Overall, the Ducky One 2 Mini is a great compact keyboard choice for rhythm games because of how good the keycaps, especially the Cherry MX switches, help the player improve their rhythm senses in-game. So, you can surely buy it for a reasonable price.
If you'd like to learn more or read more reviews, check it out on Amazon. Also available on mechanicalkeyboards.com
---
2. Logitech Orion G810 Spectrum Gaming Keyboard
Logitech is known for its incredibly high-quality peripheral devices, and when it comes to the best gaming performance in keyboards, the Logitech Orion G810 is the cream of the crop. With great features and specs, it is one of the best on this list.
Features
Romer G Switches – With an actuation 25% faster than standard mechanical switches, Logitech's Romer G switches are a great option for playing rhythm games with the G810.
Media Controls – There are dedicated media controls such as volume, mute, brightness, and other media buttons and a volume slider that helps you maintain your focus and control the volume while playing the game.
Software Customization – Logitech Gaming Software allows you to program the keys and change the RGB customization according to your liking.
Macro Capability – There are 12 keys from F1 to F12 that you can program as macros if you want. They can be useful in programs and different games as well.
| Pros | Cons |
| --- | --- |
| Aluminum Case – The G810 comes with an aluminum frame which is quite durable, strong, and high-quality optimal for long-lasting, which you'd need from your keyboard. | Super-Expensive – The Logitech G810 comes with many exciting features, but it comes at a super-expensive cost that everyone can't afford. |
| RGB backlighting – Over 16.8 million colors to choose from when it comes to the RGB backlighting on the Logitech Orion G810 Spectrum RGB gaming keyboard. | No dedicated Macro Keys – There aren't any dedicated macro keys like the 6 G macro keys in other professional gaming keyboards by Logitech. |
| Speedy keypress – The key switches used in this keyboard are much faster and highly responsive than other mechanical switches. | |
Final Thoughts
Logitech's G810 is a very impressive keyboard option, and the key switches and keycaps work perfectly if you're a rhythm gamer, but the price is extremely high, so only get it if you've got a lot of funds; otherwise, you can look for some other keyboard on this list.
If you'd like to learn more or read more reviews, check it out on Amazon.
---
3. HyperX Alloy FPS PRO Gaming Keyboard
HyperX is known as one of the most popular professional keyboard manufacturing companies in the world. Their Allow FPS PRO is a great TKL keyboard that you can buy for a better rhythm game experience and incredible features.
Features
Cherry MX Red – The Cherry MX red is an incredible linear mechanical switch that allows for high actuation and incredibly responsive performance with a low-sounding click.
Solid Steel Frame – The HyperX Alloy FPS PRO comes with a base made of solid steel, which offers no flex at all and is incredibly durable and long-lasting.
Backlit Keys – The keyboard comes with a pre-installed high-quality red backlighting that makes your desktop setup look incredible.
Smooth Keycaps – The keycaps are incredibly smooth, the imprinting is perfect, and the keypress's overall feel is amazing for playing rhythm-based games.
N-key Rollover – The keyboard comes with N-key rollover or anti-ghosting technology, which is super-essential as an additional feature in Rhythm games when the song requires many keys to be pressed simultaneously.
| Pros | Cons |
| --- | --- |
| Portability – The FPS PRO keyboard comes with a detachable power cable and is quite compact, making it very portable. | Limited Customization – The only problem with this keyboard is that it isn't very customizable in RGB because there are only red backlighting and not many other customization options. |
| Strong Build – The build of this PC is quite strong and durable, making it the perfect choice for rhythm-based games. | |
| Good price – This TKL keyboard's price is pretty great if you think about all the incredible features and specs it has to offer for gaming and productivity. | |
Final Thoughts
HyperX Alloy FPS PRO is a brilliant 87 key compact keyboard that comes at quite a slim price, in my opinion. This, along with the amazing Cherry MX red mechanical keys, makes this keyboard the perfect choice for rhythm gamers, so don't hesitate to buy it if you want to.
If you'd like to learn more or read more reviews, check it out on Amazon.
---
4. Cherry ML 4100 Ultraslim Mechanical Keyboard
Cherry is a company most commonly known for its incredible mechanical switches. Still, their Cherry ML 4100 Ultraslim Mechanical Keyboard has made quite an impact in the keyboard industry since its arrival. With a great price and good features, it is also a good option for rhythm games.
Features
Ultraslim Design – This keyboard is incredibly slim and low-profile compared to other mechanical keyboards on this list and perfect for a minimalistic desktop setup.
Cherry ML Switches – Specially designed low-profile tactile switches called Cherry ML switches are used in the Cherry ML 4100 ultraslim keyboard with a good actuation distance.
Durable Design – The Cherry ML 4100 compact keyboard design is quite tough, and if you're planning to keep the keyboard for a few coming years, this would be the perfect choice for you to get.
Plug and Play – The keyboard comes with a USB cable and a PS2 converter that you can use to plug into your system and play without any additional drivers or software.
| Pros | Cons |
| --- | --- |
| Compactness – In terms of compactness, there aren't many keyboards that I've seen being smaller and better shaped than this one. The low-profile design of this keyboard and the small size make for a great simple mechanical keyboard. | No RGB – One thing that makes this keyboard a little less good is the lack of RGB or any lighting for that matter. This isn't what most gamers, including me, like in a keyboard. |
| Great price – Many keyboards come with lesser features and cost much more. In this case, the value of the Cherry ML 4100 is amazing because of the low price point. | ABS keycaps – The keycaps are made of ABS, which isn't that high-quality plastic material, and that is why I'm not a fan of such keycaps. |
Final Thoughts
If your sole purpose isn't just playing rhythm games and you want to use a keyboard for office work and other things as well, then for the price, this keyboard is a great option; otherwise, for flashy designs and better performance, you have to increase your budget and choose a different keyboard option.
If you'd like to learn more or read more reviews, check it out on Amazon.
---
5. ANNE PRO 2 60% Mechanical Gaming Keyboard
ANNE PRO 2 is a magnificent upgrade over the ANNE PRO. It comes with 61 fully functional keys and mechanical switches, and many other features make it a good contender for rhythm gaming and other uses.
Features
RGB Backlighting – With complete customization availability and individual key RGB backlighting, the ANNE PRO 2 is the perfect choice for gamers to make their setup pop and look amazing.
N-key Rollover – If you're a rhythm gamer, the N-key rollover on this incredible keyboard is going to be a great functionality, so all your buttons are registered effectively.
Customization – The dedicated software for ANNE PRO 2 is heavily customizable. It gives you complete control of your keyboard in terms of functions, RGB, and many other elements.
Kailh Switches – Although not as great as the Cherry MX switches, Kailh box switches are pretty great. Their tactility and actuation allow you to play rhythm games with great responsiveness.
| Pros | Cons |
| --- | --- |
| Strong Frame – The aluminum frame of the ANNE PRO 2 makes it incredibly strong, durable, high-quality, and long-lasting if that's what you're looking for. | Software is difficult – The customization software is pretty difficult to use, and the overall interface isn't as easy as some of the other keyboard software. |
| Programmability – The programmability options and macro creation and usability and special functions of this keyboard make it an ideal choice for gamers. | Wireless Response is slow – The Bluetooth connectivity option is great, but the response and actuation aren't very efficient. |
| Wired and Wireless – The Bluetooth connection allows you to connect the keyboard with up to 4 devices. And the wired connection ability is also available. | |
Final Thoughts
The overall crux of this keyboard is that it is a great choice and has many amazing features for a rather high price, but the switches aren't the greatest. This and a few other small reasons make this the second-best keyboard choice on this list. So, if you're still thinking of getting it, you surely won't regret it.
If you'd like to learn more or read more reviews, check it out on Amazon. The black version is available on mechanicalkeyboard.com
---
Conclusion
A lot of people out there love to play rhythm games. These are not only fun to play but also offer a learning edge to some players. 
Rhythm games are highly competitive, and with the popularity of e-sports, they have become even more highly renowned. Therefore, getting your ideal keyboard is an important ordeal that you have to go through before reaching your full performance potential.
This list of elegant and incredible keyboards specialized for rhythm gaming allows you to decide without regretting it freely. I assure you that each of these keyboards will be a great choice if you like playing rhythm games, but if you take my suggestion, the HyperX Alloy FPS PRO will be the best choice. I hope you have an amazing keyboarding experience!