Custom keycaps are the lifeblood of stunning premium quality keyboard aesthetics if you're a keyboard collector or enthusiast. But at times, getting custom artisan keycaps can be a little too expensive on the bank. Well, there's a solution to that – 3D printing custom keycaps.
You might be wondering right now how to 3d print DIY custom keycaps at home; Well, if that's the case, then you're in the right place because that's precisely what I'm here to tell you.
In this article, I'm going to talk about how 3d printing works, whether you can custom print keycaps on your own, the benefits of using a 3d printer for the job, differences between 3d printed custom keycaps and artisan keycaps, and how you can 3d print your very own custom keycaps at home step-by-step. So, make sure you read this article till the end if you want to produce high-quality, inexpensive custom keycaps for your keyboards and display cases.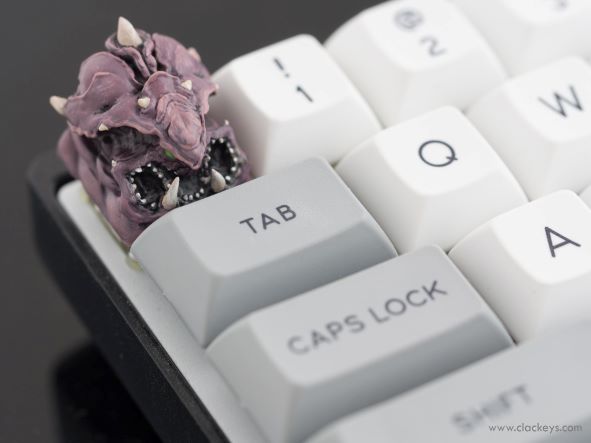 Interested in the above image? Go to clackeys.com for more!
Can You 3D Print Custom Keycaps at Home?
This question might be circulating your mind right now. Well, yes, custom printing 3d keycaps are definitely possible. In fact, with time, it is becoming a very efficient way of printing custom keycaps.
It's a very new entrant in the field of printing methods for keycap creation. Still, since it doesn't require any degree of physical work, it is becoming the number one way of keycap printing for people who aren't very skilled at creating molds, designing, and finishing artisan keycaps the traditional way, so you should definitely try it yourself as well.
How Does 3D Printing Work?
3d printing is the process of creating a three-dimensional model with the help of a CAD model or more formally known as a computer-aided design or 3d digital model. This technique of printing elements has become the way of the future since it is being employed in so many different fields as of now. From architecture to design, gaming, décor, and many other things can be simply created without physical design skills.
And the thing that makes 3d printing so great is that it isn't just limited to high-power industrial work or expensive factories; 3d printers have also become a custom usable household item quite like a simple printer and have become quite affordable.
At this point, you might be thinking, well, what goes into making a 3d model using this printing method; There are a variety of different materials used, but mostly they're composed of plastic. 
Liquid plastics, powder grains, and other elements are mixed to form a material that can easily create the 3d model, which becomes quite durable as well. Most of all, the designs and different models are easily crafted without any knowledge of the craft at all.
How to 3D Print DIY Custom Keycaps at Home?
Well, how can I printed 3D DIY Custom keycaps at home using my 3d printer; That's something you must be thinking right now. Well, lucky for you, I've made a step-by-step guide of how you can utilize the available tools and make yourself some high-quality custom keycaps that look and feel nice. So let's take a look at it.
Step 1: Gather things
The most important step in this process is for you to gather all the things you need for 3d printing custom keycaps. In terms of materials, you're going to need a 3d printer at home along with CAD software, the most common of which is AutoCAD.
Now that you have these things, it would be ideal if you have SLA filament, but PLA filament would also work; it just won't have the same amount of clarity. Get a sanding paper as well as a small knife to cut off any excess if you need to after the printing process.
Step 2: Take Measurements
Now, the next step is going to be taking the measurements for sure. First, you must know that the size of the custom keycaps must be according to the keyboard and keycaps you're using right now.
The unit size of the custom keycaps shall also remain the same. So, take your measurements of the height, depth, stem size, wall width, and everything in between so that you can utilize all these measurements when you're creating the design of the keycaps in AutoCAD. 
Step 3: Create the CAD Model
It is time to create the CAD Model. You can also get the pre-made files from the internet if they're available, but it is best if you do things your own way. You're first going to create the base sides of the keycaps to create an overall frame structure.
Then you're going to create a hollow lower-end with a shell wall width of around 1.25mm and create the ergonomic curve on top of the keycap. Finally, under the keycap, you're going to place the stem of the keycap that will fit onto the mechanical switch keyboard that we're using.
Step 4: Provide the Support Structure
If you've seen 3d printing of things before, you must be familiar with the fact that 3d printed models require a base to print on. This base is oftentimes called the support structure.
You can import custom support structures if you want, but the basic support structure located in the 123D file can also work well if you want to simply use that as the support.
Step 5: Use your custom logo
Now, if you're looking to spice things up and you're not going for a simple curved surface keycap like all the others, you can also add custom logos and designs on top of the keycap.
For this, you can choose a free design from the internet, or if you have the skills, you can get your custom vector or .svg file and import it onto the design in your favored place. As long as the keycap looks decent, you're in for a treat when it prints and comes out.
Step 6: Sanding and Finishing the Keycaps
If you were using a PLA filament, the clarity of the translucent keycap might not be that great, but the clarity would be pretty high-quality if you were using an SLA filament.
In case the clarity isn't great with the use of an FDM machine, you can use sanding paper along with a shiner to make things better. It won't be the shiniest and most clear keycap, but it will surely be much better at showcasing the LED backlight of the mechanical keyboard you're using.
Step 7: Using the 3d printed Custom Keycaps
Now that we have the custom keycaps printed and ready for usage, we're going to gently place them in their spot and check out how they perform relative to the simple keycaps.
The first thing you need to notice is the look. The logo on top and the LED backlight shine is the second most important thing to check. And finally, you're going to check the keypress.
The keypress of a custom printed keycap is going to be layered and rough. Of course, it won't be incredibly smooth, but overall, it will be a great saving on artisan keycaps, and they would surely serve their purpose of looking great and pressing nice pretty amazingly.
Why You Should 3D Print Custom Keycaps at Home
What kind of benefits do you get from printing 3d custom keycaps DIY at home; Well, I've made a list of benefits and advantages you're going to get if you choose to print your own keycaps with a 3d printer. Here it is:
Affordability – One of the best things about 3d custom keycaps is the fact that you don't have to pay incredibly high prices for premium quality designer keycaps to make your keyboard look aesthetic and nice.
Customization Capabilities – Another cool thing about 3d printing DIY custom keycaps is the fact that you get to choose everything about it. From the size to the thickness to the logo on top, if you want it or not, everything is in your control completely.
Easy Installation – If you've designed the keycap well, then you're in great luck. The installation process, especially if you're using a keyboard with mechanical switches, will be simple and easy to perform. So you won't have any kind of problems with it.
Simple Designing – Not familiar with how to mold and customize keycaps physically; Well, you can take CAD tutorials from the internet and simply design the model that you want for your keycaps, and your printer's sharp and steady hands will do all the hard work for you.
Aesthetic Look – Without a doubt, the best part of a 3D printed custom keycap is its aesthetic ability. If you're printing a clear keycap for backlight shine, you're going to see amazing results, and the contrast of keycaps will provide your keyboard with a very premium and pretty feel, making your keyboard collection look epic to any viewers.
3D Printed Custom Keycaps vs Artisan Custom Keycaps
Artisan keys are custom keycaps crafted by hand, are much more valuable, and have that artistic feel to them. If we compare 3d printed custom keycaps to Artisan custom keycaps, there are some distinct differences you're going to witness. To make things clearer, here are some of the major differences between 3d printed and artisan custom keycaps:
More Colorful Options
Artisan keycaps have exactly crafted the way the artist wants. There are customized orders also available at times, but usually, there is a limit to the color options available in Artisan keycaps.
However, when it comes to 3d printing keycaps, you can use as many distinct colors as your printer allows you to, and this is why 3d printing makes custom keycaps more customizable, in my opinion.
Less Artistic Feel
When it comes to artisan keycaps, there is a certain artistic feel to them. They seem hand-made, more premium in quality, and made by a human, which surely increases the artistic feel of it since it doesn't seem manufactured.
This ability isn't in a 3d printed custom keycap. Instead, there's a more machinic feel to the 3d printed custom keycaps, which makes them less valuable overall, even though they serve their purpose, as well as they should and don't seem that different in most cases compared to artisan keycaps.
Affordability
If we talk about price, that's the most important and crucial part of this debate for most people. Nowadays, it costs a lot to be a keyboard enthusiast and give some credit to low-budget keyboard enthusiasts for their loyalty to the community; 3D printing custom keycaps is a very affordable method.
In comparison to artisan keycaps, 3d printed custom keycaps are significantly less in terms of price because less man-labor goes into making them, and there is no hand-made element to them. This might seem like a con to some but to most; it is definitely a great benefit.
Collectibility
A big part of the keyboard enthusiast industry works on collecting premium quality keyboards and keycaps for their hobbies. Unfortunately, 3d printed custom keycaps don't have a lot of value to them, and that's why they don't make the best collectible items.
However, if we compare the value and premium quality of a 3d printed keycap with an artisan one, the latter has much more class, premium finish, and value to it, which makes it one of the highest-rated collectible items in the keyboard market. That's why they're considered more expensive, and they're in higher demand than 3d printed custom keycaps.
Conclusion
3D printing is a revolution in the printing industry, and it has made high-quality custom keycaps available for everyone, whether they're on a high budget or a slim one.
Overall, I believe that these keycaps not only serve their purpose but come with amazing advantages as well. So, you should definitely try printing custom keycaps if you have a 3d printer at home. You're going to have a wonderful keyboarding experience with your brand new DIY custom keycaps!