As a keyboard enthusiast, finding the best mechanical switches with the right acoustics, tactility, and feel is significant, but it isn't always as easy as you'd think. Outemu have made quite a name for themselves as mechanical switch manufacturers in a short while, and their switches are what we're going to talk about today.
You might have a lot of questions about Outemu switches and whether you get them for your keyboards. Well, that's precisely what I'm here to tell you.
In this article, I'm going to talk about Outemu switches, their types, specs, comparison with other switches, and cover every bit of detail you'd want to learn about. So, make sure you read this master guide to Outemu Mechanical switches thoroughly before you make your buying decision.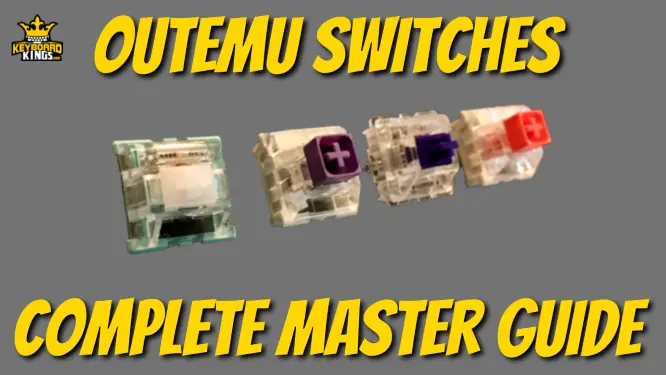 In a hurry? Get your Outemu switches for a great price on amazon.com
---
What are Outemu Switches?
Outemu switches are a series of mechanical switches that are both budget-friendly and high-quality in stabilization and keypress. They're known to be at par with some of the best mechanical switches in the modern switch industry.
Outemu switches are considered to be designed as perfect Cherry MX clones which are great if you want the feel and compatibility of Cherry MX switches but for a much better price. Outemu switches are mostly found in budget mechanical keyboards that are cheaper in price but have great usability in terms of features. They're surely worth a try in my opinion.
Where are Outemu Switches Manufactured?
Outemu switches are manufactured in China. They're Chinese clones of the Cherry MX switches that are made in Germany. Still, they're very identical to Cherry MX switches in terms of specs.
Outemu switches are manufactured by Dongguan Gaote Electronics Co. Ltd who is incredibly famous for switch building in the Dongguan region of China. They're manufactured on a huge scale and are shipped all around the world sold through different retailers.
How Good are Outemu Switches?
The first question that everybody asks about Outemu switches is, how good are they? Well, since they're supposed to be clones of the incredible Cherry MX switches, they're expected to be amazing.
And they really are amazing. They're much better than any other clone out there in terms of both quality and price. The Outemu switches are stable, feel good when pressed, offer great sound, and nice tactility.
But what truly makes them a worthy opponent to Cherry MX switches and Gateron and Kailh switches is the fact that they're very affordable and quite a lot cheaper than the others in addition to great quality.
There's a minimal tradeoff risk when you choose them over Cherry MX other than the fact that Outemu switches are a bit less durable than Cherry and Gateron mechanical switches but they still hold up great in terms of value. So, in my opinion, they're definitely a worthy contender for your mechanical keyboard switch choice.
Build Quality and Durability of Outemu Switches
Outemu switches are known for being very finely crafted and manufactured with quite a lot of care when it comes to build quality. Compared to other clones and even some boutique mechanical switches, Outemu switches have better build quality and sleekness than a Cherry MX clone mechanical switch.
However, when it comes to durability, Outemu switches aren't known for that. They're more on the less durable side but that doesn't mean that you'd have to worry about breaking switches when they're in your keyboard. Just the fact that in comparison to Gateron and Cherry MX, Outemu switches are less durable but still perfect and long-lasting.
---
Related article: How Long do Mechanical Keyboards Last?
Maintaining Your Outemu Switches
If you're the proud owner of a mechanical keyboard with Outemu switches or you've bought Outemu mechanical switches for yourself, maintaining the switches is incredibly important if you want to increase the longevity and keep your switches well-maintained.
There are a few different ways you can maintain your Outemu switches. First of which is keeping them clean. Make sure you remove keycaps and clean your Outemu switches every once in a while. Next, you should lube them to increase the performance. 
You can use a simple lube for the push-stem lubing method and if you're not up for that, you can use a spray lube and spray it onto the Outemu switches and the keypresses will feel incredible and smooth. So, using these methods, you can make sure your Outemu switches stay in shape.
How to Open Outemu Switches?
Thinking of opening your Outemu switches so you can clean and lube them to increase longevity and performance? Well, it is not very difficult to learn and I'm here to help you get through the process.
Outemu switches like Cherry MX and Gateron switches are similar when it comes to housing and switch clamps. There are two plastic clamps that you can use a tester or a key switch opener to get under and separate the housing of the Outemu switch. And then you can easily clean and lube the switch if you want.
Removing Outemu Switches
If you're new to mechanical keyboards, removing your switches can be a bit of a new exciting yet scary adventure. Well, if you've got a hot-swappable keyboard, you won't need to do much.
Simply press the Outemu switch clamps until the switch is released and once that happens, you're going to simply take the switches out and that's all you need to do to remove your switches.
However, in the case of a non-hot-swappable keyboard, if you're looking to remove Outemu switches, you're going to have to first desolder the switches and then remove the Outemu switches easily.
---
Related article: How to Solder and Desolder Mechanical Switches
Replacing Outemu Switches
Replacing Outemu switches or any other switch, for that matter, is only doable if your keyboard has a hot-swappable nature. You can replace Outemu switches with any switch, especially Cherry MX switches if you have a hot-swappable keyboard.
To do this, you need to use a keycap puller to take out the keycaps, along with the key switches. Then you can replace your Outemu switches with any switch by simply placing the switch and pressing it onto the PCB until it clamps and fixes into place, and you've got a brand new keyboard with the switches of your choice.
Are Outemu Switches Hot Swappable?
All switches are hot-swappable. Outemu switches or Cherry MX, all switches are hot-swappable in nature. This is simply because it is not the switch that has to be hot-swappable or not. Hot-swappability is the characteristic of a mechanical keyboard.
If a keyboard comes with a PCB that allows key switches to be replaced, you can easily replace the switches but if the switches are not replaceable, then the keyboard is considered to be non-hot-swappable.
Outemu Switch Compatible Keycaps
Outemu switches are great when it comes to compatibility. They can fit easily with whichever kind of keycaps you might be using. Both OEM and Cherry Keycaps are completely compatible and easily usable with Outemu switches if you're curious.
OEM keycaps are slightly larger in size and more streamlined than Cherry MX keycaps, but Outemu switches are designed so that their housing can be fixed in both kinds of keycaps easily. That is one of the many reasons Outemu switches are great for customization and even if you're planning to change things up anytime soon.
Do Cherry MX Keycaps Fit on Outemu Switches?
This is a question that I've been asked a lot of times by all you keyboard enthusiasts. Yes, since Outemu switches are basically Cherry MX switch clones, they fit perfectly in Cherry Keycaps. This is great because Cherry Keycap keyboards are pretty premium, and replacing the switches once they're worn out can be very expensive. So, getting Outemu switches is the best budget choice you've got.
Outemu Switches for Specific Tasks
Outemu manufactures multiple kinds of switches for different purposes. Like any other mechanical switch, they're especially designed to fit the need for gaming, typing, or both in some exceptional cases. Let's take a look at the best Outemu switches in each of these categories.
Best Outemu Switch For Gaming
The most highly preferred and popular among gamers is the Outemu Red switch when it comes to gaming. The Outemu red switch is a linear mechanical switch that offers a soft and gentle keypress and zero tactile feedback. It doesn't emit a huge sound and gamers can play all the amazing titles with these incredible switches without getting disturbed or having difficulty registering their key presses due to forceful keypress requirements.
Best Outemu Switch For Typing
If you're thinking of making your typing experience smooth, yet clicky and amazing, Outemu has the best and most affordable switch option available for you. It's the Outemu Blue switch. The Outemu Blue is a clicky mechanical switch with a loud audible click and decent tactile feedback, and a bigger force activation requirement. Typists usually like a bit of click in their switches, that's why this is the best for typing in my opinion.
Best Outemu Switch For Both Gaming and Typing
If you're a professional typist as well as a hardcore gamer, then finding the perfect switch that offers the best of both worlds can be difficult. Luckily, Outemu has got your back.
The Outemu Brown switches are perfect if you want a switch for both gaming and typing. Outemu Brown switches are tactile mechanical switches that offer high tactility but low acoustic click. The keypress is smooth and the actuation point is high which means that you can press the key with ease. So, make sure you get this switch if you're looking for a bit of both features.
Choosing the Best Outemu Switch for Yourself
Well, you know which switch is the best for which occasion, but what do you need to know before you can get yourself the best Outemu switch for your requirement? That's the question at hand.
To help you make the right decision, here are some of the most important factors that you should keep in view when you're browsing through Outemu mechanical switches to choose the perfect one:
Usage Requirement – When it comes to the requirement of a person, there are many different reasons people buy a mechanical switch. Different kinds of uses require different kinds of Outemu mechanical switches with different actuation types from gaming to typing to even programmings.
Actuation Height – This is a significant factor that you should surely look out for. The actuation height or the travel distance means that you need to be sure about how high the actuation distance and the point of key registration should be. This varies depending upon how prone to inaccurate keypresses you are okay with being.
Softness of the Keypress – The actuation force or the weight requirement of the Outemu mechanical switch also affects the kind of switch that would be best for your requirement. If you're looking for something gently pressable, go for an Outemu switch with less actuation force and if not, go for a heavier switch.
Price – Price might not be a deciding factor in the end since the price of all Outemu switches is affordable. But if the budget is really tight, you can choose the Outemu switch that perfectly fits your budget.
Where Can I Buy Outemu Switches From?
Outemu switches can be bought from a multitude of retailers and e-commerce stores online. Outemu doesn't have their own website that you can go to and order mechanical switches from.
A few of the best retailers for high-quality Outemu switch delivery for good prices include:
You can get high-quality Outemu switches from these places for an extremely low and affordable price. If you've any mechanical switch retailer in your area, check them out as well, it is highly likely they're selling Outemu switches as well.
Top 3 Best Keyboards with High-quality Outemu Switches
Outemu switches are mostly equipped by mechanical keyboard manufacturers that want to make sure their customers can get a great keyboarding experience for an affordable price. There aren't a lot of big names that offer keyboards with Outemu switches, but here are the top 3 most popular keyboards with high-quality Outemu switches you might want to buy in the market:
1. Tecware Phantom Mechanical Keyboard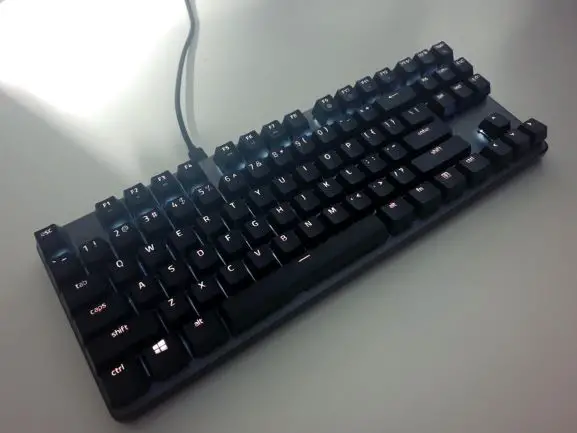 Tecware are known in the peripheral industry as the budget manufacturers with great production quality. Their Phantom Mechanical Keyboard is nothing short of a revolutionary entry-level mechanical keyboard that comes for quite a decent price with a lot of exciting features.
| Features | Description |
| --- | --- |
| Outemu Brown Switches | Outemu Brown switches are tactile mechanical switches that have a lot of tactile bump and low acoustics which is great for both gaming and typing. |
| N-key Rollover | This keyboard comes with an anti-ghosting feature that allows you to press and register as many keys as you want to, without any problems or any key ghosting concerns. |
| RGB lighting | It comes with RGB lighting and 18 pre-defined lighting modes and customization abilities as well that you can use to make your own lighting setup. |
| Double Shot Keycaps | Tecware Phantom 87 comes with double shot ABS keycaps that are good quality, smooth, and can last for quite a long usage time. |
You can get this keyboard at amazon.com
---
2. Motospeed CK101 Mechanical RGB Keyboard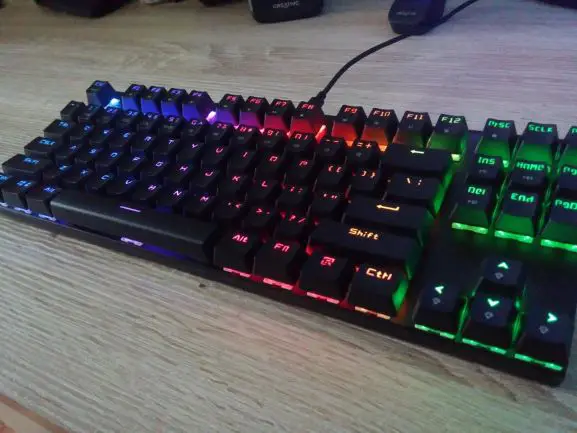 Motospeed makes some of the best RGB mechanical keyboards in the market if we're talking about budget options. The Motospeed CK101 Mechanical RGB keyboard comes with 87 keys, RGB lighting, and a lot of amazing features to look out for.
Feature
Description
Outemu Red Switches
The Outemu Red linear mechanical switches are amazing in linear action with zero tactile feedback and no audible acoustics. Still, a soft mechanical touch that is great for gaming.
N-key RolloverThe Motospeed CK101 comes with N-key rollover which means that you can press all the 87 keys on the keyboard without experiencing any ghosting.
Aluminum Frame
The Motospeed CK101 comes with a firm and durable aluminum frame that has no flex whatsoever and can last for quite a long time.
Compact Design
The keyboard comes with 87 keys and has a TKL compact design that can be placed on any small or large desk space without a problem or concern.
You can get this keyboard at gearbest.com
---
3. T-Dagger Bora TGK-313 Ice Blue Mechanical Keyboard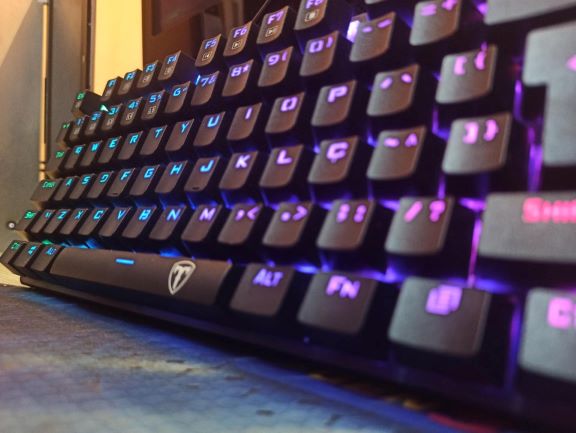 T-Dagger is one of the biggest brands in the market that offer high-quality cheap Outemu switch mechanical keyboards. T-Dagger Bora TGK-313 Ice Blue Mechanical keyboard is not only beautiful but incredibly amazing as a TKL keyboard with 87 keys.
| Feature | Description |
| --- | --- |
| Double Shot Inject Keycaps | The T-Dagger Bora TGK-313 keyboard comes with high-quality double shot inject keycaps that are not only smooth but also fairly durable and good in terms of keypress. |
| Outemu Blue Switches | The Outemu Blue switches are high-quality clicky mechanical switches that come with high tactile feedback and an audible clicky sound as well. |
| Durability | The TGK-313 Bora is an amazing keyboard with a lot of strength and durability that will surely last as long as you want to use it as your primary keyboard. |
| Ice Blue Backlighting | Although the keyboard doesn't have RGB backlighting, it comes with an amazing Ice Blue backlighting that looks beautiful and crisp suiting all kinds of computer setups. |
You can get this keyboard at t-dagger.com
---
Things to Know about Outemu Switches
Outemu switches are great if you're looking for a simple, affordable mechanical switch for your keyboards. There are a lot of different actuation types as well as colors Outemu switches are available in. Let's take a detailed look at all the different major types of Outemu Switches available in the market.
Outemu Red Switches
Outemu Red switches are Outemu's response to Cherry MX red mechanical switches. They're linear by actuation type which means that they provide no tactile feedback and the sound of the keypress is low as well.
The feel of the keypress is soft and smooth, and you're going to love using the Outemu red mechanical switch if you're playing a game because of how good the responsiveness is. 
Outemu Red Switch Specs
Actuation Force – Outemu red switches come with the lowest actuation force requirement of the lot of Outemu switches with only a 50g force required to press the switch.
Travel Distance – The travel distance of the Outemu switches is 4mm, which is the point to which you'd have to press the switch to register the instruction you're planning to perform.
Linear type – Like Cherry MX red switches, these mechanical switches are soft in pressing and linear in nature, which means there's no tactility to them and no audible sound.
Are Outemu Reds good for gaming?
Yes, Outemu red switches are great for gaming. Gaming is something that requires intense focus and absolute attention. When you're playing a game with a keyboard having linear switches like the Outemu reds, you won't be disturbed by the constant clacking of the switches, and since the keypress is smooth and soft, you won't end up having to push hard to press a button at the right time.
Are Outemu Red switches good for typing?
That depends on whether you have these switches already or you're planning to buy them. Although people use Outemu red switch keyboards for typing as well, in my opinion, I wouldn't get Outemu red switches simply for the purpose of typing because there are better options available.
Are Outemu Reds loud or quiet?
Outemu Red switches are linear mechanical switches. These switches don't require a lot of force and don't provide any tactile feedback which is why they're more on the quieter side and don't have a loud audible click sound to them when pressed.
Outemu Red vs. Cherry MX red switch
Outemu Red switches are complete clones of the Cherry MX Red switches and a great choice over the Cherry MX reds in terms of affordability. Still, if we go into the details, there's more finesse in the Cherry MX red and also more stability and durability, so in that case, Cherry MX reds are better.
Outemu Red vs Outemu Blue switches
Outemu Red switches are nothing like Outemu Blues. This is simply because Outemu reds are linear switches whereas Outemu blues are clicky switches and both switches are good for different purposes.
Outemu Blue Switches
Outemu Blue switches are high-quality clicky mechanical switches that come for quite an affordable price. These switches are considered the Cherry MX Blues clones, and they do a great job imitating the Cherry MX flair. Let's get into the details of the blue switch.
Outemu Blue Switch Specs
Travel Distance – This switch also comes with a standard travel distance of 4mm which you'll have to reach before the instruction gets registered.
Clicky switch – It is a clicky switch that offers high tactile feedback and a loud audible clicky sound when pressed.
Actuation Force – It requires over 60g of force, which is a lot compared to the other switches by Outemu.
Are Outemu Blue switches good for typing?
Yes, Outemu blue switches are the best for typing because they require a larger actuation force and when you're typing, a large actuation force helps you reduce typing inaccuracy.
Are Outemu Blues good for gaming?
Not really. Outemu Blue switches are sometimes used for gaming but they aren't able to provide the best experience because in gaming fast-paced smooth presses are required and the Outemu Blues have a large actuation force that must be applied to press a button to register it.
Are Outemu Blue switches loud or quiet?
Outemu Blue mechanical switches are clicky by nature, which means that they offer a large audible sound when pressed and are very loud compared to other switches.
Outemu Blue vs. Outemu Brown Switches
Outemu Blue switches cannot be compared fairly to Outemu browns as the former are clicky switches, whereas the latter are tactile switches. The only similarity is that they both have a decent tactile bump to them.
Outemu Blue vs. Cherry MX Blue
As Outemu Blue switches are Cherry MX Blue clones, they're pretty great in comparison if you take a look at their price but in terms of durability, quality, and overall finishing, the Cherry MX Blue switches are much better than the Outemu Blue switches.
Outemu Brown Switches
Outemu Brown switches are tactile by nature. They're made as clones of the Cherry MX Browns and are incredibly high-quality. They're one of the most popular Outemu switches for consumer use. Let's take a look at Outemu browns thoroughly.
Outemu Brown Switch Specs
Tactile Switch – These are tactile switches that provide a significant tactile bump but do not provide a large clicking sound.
Actuation Force – The Outemu Brown switches come with an actuation force of 55g.
Travel Distance – Like the other Outemu switches, the travel distance of the Browns is also 4mm.
Are Outemu Browns good for both typing and gaming?
Yes, Outemu Brown switches are great for both typing and gaming. They're great for typing because of the larger actuation force than linear switches which allows accurate typing and they're great for gaming because of a lower actuation force than clicky switches and gentle tactility.
Are Outemu Browns quiet or loud?
Outemu brown switches can neither be classified as loud nor can they be considered quiet. They're right in the middle. They emit a standard clicking sound which is decent enough.
Outemu Brown vs. Romer G switches
Outemu brown switches might be cheap and high-quality, but Romer G switches are incredibly fast. Their speed is what sells them and what makes them better than Outemu Brown switches.
Outemu Brown vs. Cherry MX Brown
Cherry MX Browns have a slight tactile bump while having a low sound as well, just like the Outemu browns and there isn't much difference in construction either, so I'd prefer the Outemu Browns.
Outemu Black Switches
Outemu Black switches are linear switches. They're the complete clone of the Cherry MX black made for POS usage because of their high actuation force. Let's take a look at how they work.
Outemu Black Switch Specs
Travel Distance – These switches come with an overall travel distance of 4mm.
Linear Switch – The Outemu blacks are linear switches that come with an inclination to the clicky switches with their high actuation force but less audible less.
Actuation Force – The actuation force of an Outemu black switch is 60g which is a lot for linear switches.
Are Outemu Black Switches loud or quiet?
Surprisingly enough, Outemu Black switches are not very loud. They're more on the standard audible sound side even though they require 60g of force for actuation.
Are Outemu Blacks good for gaming?
I wouldn't say Outemu Blacks are good for gaming. They're tough switches and meant for accuracy. Gaming requires quick-paced button presses and that's not something Outemu blacks are made for.
Are Outemu Black switches good for typing?
Outemu Blacks are good for typing, surely. In fact, they're most suitable for Point of Sale usage. The reason being that such spaces require the utmost accuracy, and with the high actuation force of the Outemu blacks, you can achieve this accuracy.
Outemu Switches Pros and Cons
We know all that there is about Outemu switches. So, now you must be ready to make your buying decision. Well, wait a minute. The most important part is taking a look at the pros and cons of Outemu switches that will come with their usage. Let's take a look at these advantages and disadvantages.
| Pros | Cons |
| --- | --- |
| Affordable – One of the best advantages that come with Outemu switches is affordability. They're much better in terms of value in comparison to other boutique mechanical switches. | Less Durable – Outemu switches have one proper con compared to other boutique switches like Razer, Cherry MX, Logitech, Gateron, and Kailh switches. This con is less durable. These switches aren't known to be the most durable and come with less guaranteed keystroke ability than that of other mechanical switches. |
| Great design – The design of these switches is simply great. They're perfectly designed as Cherry MX clones. | |
| High-Quality – The quality is something Outemu mechanical switches do not compromise on. They're incredibly high-quality and offer the best for the price. | |
| Different Actuation Types – Outemu switches are of many different types. You've got multiple actuation options, including linear, tactile, and clicky if you want to get. | |
Should You Get Outemu Switches?
Finally, the million-dollar question is, should you get Outemu switches? Yes, I believe you should definitely get Outemu switches if you're on a tight budget and you want an experience fairly closer to that of expensive Cherry MX mechanical switches.
However, if you're okay with saving money and getting a long term mechanical switch solution for your keyboard, then I'd suggest you wait, save up, and go for Gateron, Kailh, or Cherry MX switches in due time. You'll have a great experience either way.
Get your Outemu switches for a great deal on Amazon
---
Conclusion
Outemu switches are some of the best in the market as of now. Getting Outemu switches won't only be great for your wallet but also epic for your mechanical keyboard due to their quality and similarity to Cherry MX switches. With the help of this guide, you'll be able to find the best Outemu switches as per your requirement and make the best of your keyboarding experience!