Known for their incredible success in the software department of the tech industry, Microsoft came up with an impressively comfortable keyboard for office workers and gamers alike.
If you're considering getting a keyboard from Microsoft this will be a complete run-down of the Microsoft Wireless Ergonomic Keyboard 5000. Hopefully, this will help you decide whether or not this keyboard is for you.
In this article, I'm just going to talk about the keyboard half of the Microsoft Wireless Comfort Desktop 5000 mouse and keyboard combo. I'm going to review the quality, design, keycap quality, ergonomics, and features. 
I'm also going to review the programmability and software requirements for this keyboard along with some of the pros and cons. So, sit back, relax, and read this article till the end.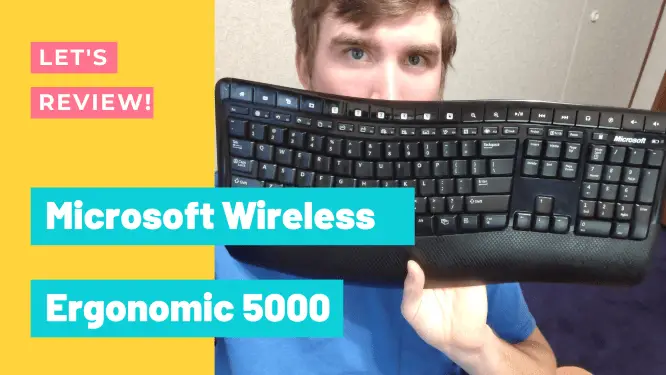 Interested? Get the Microsoft Wireless Ergonomic Keyboard 5000 available on Amazon
Ergonomic Design and Build Quality
The Microsoft Wireless Ergonomic Keyboard is a very decent and high-quality computer keyboard in terms of durability and design.
The Ergonomics of this keyboard are focused and highlighted with the curved QWERTY layout that it uses which arranges the keys in such a way that they can be easily accessed and pressed without the user having to bend or twist their wrist in order to type effectively.
The build quality is very high as well. Although a bit expensive for my taste, the keyboard is a pretty nice one. There's little to no flex to it and it will definitely last you a few years if you're thinking of typing, working, and gaming using this keyboard.
Overall, the design and build quality are pretty great. Definitely, one of the strongpoints of this keyboard when it comes to price to value ratio for the Microsoft Wireless Ergonomic Keyboard 5000.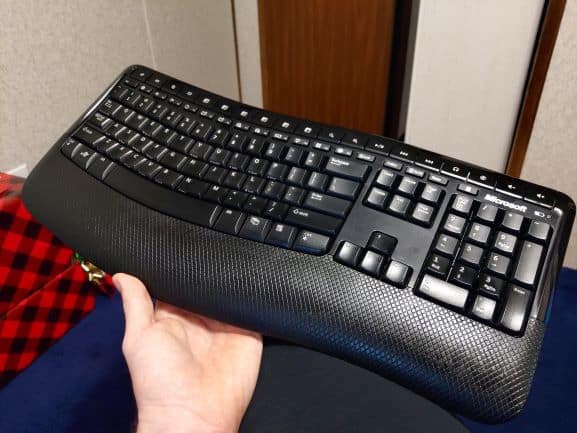 High-Quality Keycaps
The keycaps on this keyboard are pretty great as well. The legend imprints along with the smoothness and keycap quality are pretty amazing. The overall feel while pressing the keyboard is good.
Not at the level of newer mechanical keyboards though. However, it's not really fair to compare this to a mechanical keyboard. The keyboard's keycaps also lack LED or RGB backlighting so that could be a bummer for some of the gamers out there.
That should still not take away the high-quality keycap design and build that the Microsoft Wireless Ergonomic Keyboard 5000 sports on it. You're definitely going to want to press it again and again.
Linear Feel and Decent Membrane Switches
The key switches that this keyboard utilizes are membranes. All the key points are placed on a membrane sheet and are actuated as soon as the keycap comes in contact with that point.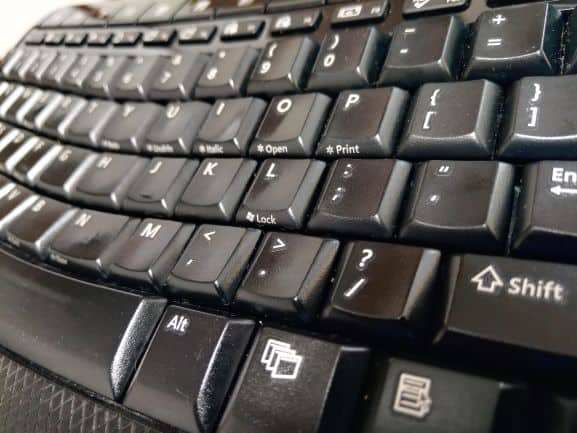 The membrane switches in this keyboard are actually very quiet. Most membrane switches are, but this one is exceptionally quiet.
You might be expecting this keyboard to be janky and underwhelming in terms of tactility. And that is somewhat true. These switches offer very little resistance and feel more like a linear switch than anything else.
The overall quality and durability of these switches are quite good. They should last you a very long time which is good since you can't really buy replacement parts without buying a whole new keyboard.
Wireless Connectivity with a Dongle Connector
Since the keyboard is wireless, it doesn't use a power cable. It is also not a Bluetooth keyboard otherwise it would be able to connect to your device without any additional equipment.
The connectivity of this keyboard is 2.4GHz wireless. It actually uses a USB dongle in order to connect to a particular PC. What you're going to have to do is to connect the USB dongle to the jack of your PC and then you'll be able to use the keyboard.
The battery timing of the Microsoft Wireless Ergonomic Keyboard is actually quite good which is necessary seeing the expensive price tag that it has. I've been using this keyboard with the original batteries for a few weeks now with no issues. Another user said:
I've been using the original batteries in the keyboard and mouse at least 45 hours a week for three months

Scott N.
So it's safe to say, battery life is not an issue for the Microsoft Wireless Ergonomic keyboard 5000.
If you're on the road and thinking of connecting it to a laptop, you're definitely going to need to remember to bring the USB dongle with you because without it this keyboard is useless. Forgetting the dongle at home could be very frustrating.
Features of the Microsoft Wireless Ergonomic Keyboard 5000
When it comes to features, this keyboard has all the basics and a few additional ones but not anything incredibly mind-blowing. As I said, it is a fairly decent option for both work and casual usage. Let's take a look at some of the features that it provides to the users.
Ergonomic Design – This keyboard is great when it comes to ergonomic design. Everything from the keys to the arrangement and overall layout is designed to provide you a minimum arm and muscle strain for a better keyboard experience.
Plastic Palm-rest – If you're thinking of using your keyboard for a long period of time, what could happen is that your wrist might start hurting. This keyboard provides you a large plastic pad on the lower end of the keyboard to keep your wrists from hurting and straining while using the keyboard for long periods of time.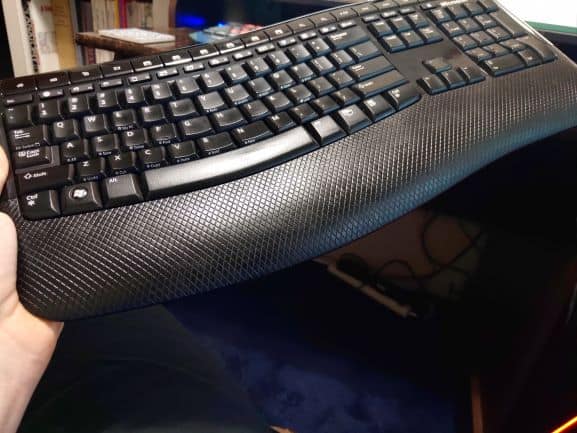 Shortcut Buttons – Over the ESC and Function keys, there are many different shortcut buttons that can be programmed but are also provided default functions to be used with Microsoft software like Office, Excel, Word, and others.
Rubber Feet – If you want to elevate the height of your Microsoft Wireless Ergonomic Keyboard 5000, you can do so with the help of included rubber feet by placing and twisting them at the bottom of the keyboard in the dedicated holes.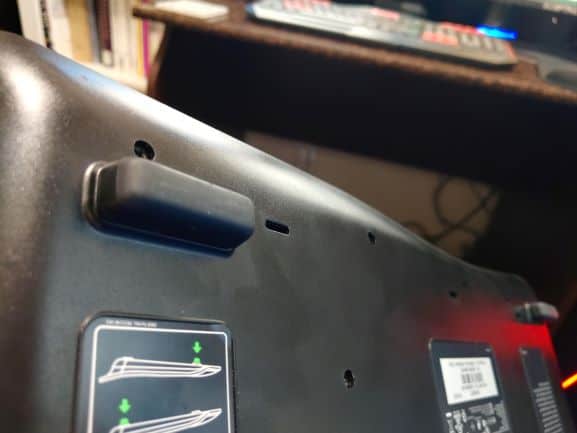 Programmability Options
Looking to use this keyboard for performing work with familiar software and applications every day? Well, you're definitely going to want to assign your own shortcuts and programs to each of the keys.
That is definitely very possible with this keyboard. You're not limited at all when it comes to programmability options. Each and every key on the keyboard including the function and shortcut buttons can easily be programmed to whatever you like or want for your daily programs.
Microsoft's IntelliType Pro Software
The brand driver and manipulation software for Microsoft peripheral devices especially the Microsoft keyboards is the amazing IntelliType Pro software by Microsoft.
This software is incredibly versatile. From changing the layout of the keys to the roles of each button and programming each of the keys present on the keyboard, the IntelliType Pro was and is still able to do everything you would want from it for your Microsoft Wireless Ergonomic Keyboard 5000.
From assigning tasks and commands to the primary keys to giving customized functions to function keys and changing the default shortcut options of the extra buttons on top, the possibilities are endless and you should definitely get a copy of this application with your 5000 series keyboard.
A Few Weak Points
Despite being a fairly decent and high-quality keyboard, the Microsoft Wireless Ergonomic Keyboard 5000 still has its problems. I'm going to talk about some of the flaws that I believe this keyboard comes with.
Small Function Keys – The function keys stuck between the shortcut buttons and the digit keys are incredibly small in size. It is basically difficult to press them if you're thinking of efficiently using the keyboard which can be a problem for many people out there.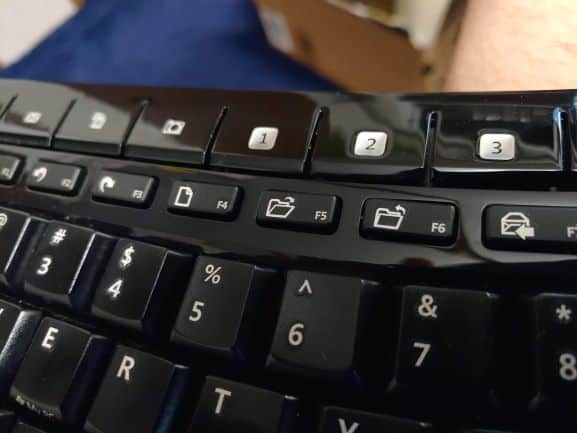 No Bluetooth Support – Using a USB dongle, this keyboard doesn't support Bluetooth technology. That could be a major problem if you've lost your USB dongle and you want to use your keyboard in a state of emergency.
Not the Best for Gaming – Although it does get the job done and I've used it for gaming as well, it doesn't come with any specific game features or anything. That's why I don't believe this keyboard is the best for gaming, especially in this price range.
Microsoft Wireless Ergonomic Keyboard 5000 vs 5050 vs 3000
Overall, the Microsoft Wireless Ergonomic Keyboard 5000 is a pretty nice keyboard. It has some flaws but it also works very well for offices and casual computer users. But how does it compare to some of the older and newer Microsoft keyboards? This question is definitely a great one.
Well, if you compare the 5000 series keyboard with the Microsoft 3000 series, you're going to see that it is definitely an improvement as far as the comfort, ergonomic design and functionalities go. 
However, in comparison to the 5050 keyboards, the 5000 keyboard by Microsoft proves to perform even better in some areas even though the price difference is in favor of the 5050. You can look at the Microsoft Ergonomic 5050 Keyboard on Amazon.
That's why if I was going to choose a standard Microsoft keyboard for myself, I would definitely opt for the 5050. But 5000 is also a great choice, outperforming 5050 in terms of comfort.
Interested? Get the Microsoft Wireless Ergonomic Keyboard 5000 available on Amazon
FAQs
How to Connect my Microsoft wireless keyboard? Where is the Connect Button?
In order to connect your Microsoft Wireless Ergonomic Keyboard 5000, you're going to have to press the connect button on the USB receiver plugged into the system. Then you're going to have to press the connect button situated on the keyboard itself and the connection between the receiver and the keyboard will be established.
How do I turn off my Microsoft Wireless Mouse 5000?
There isn't any manual on and off button on the Microsoft Wireless Mouse 5000. However, there is an automatic power-saving feature that this mouse uses which allows it to turn off if not used for a long time. You can press a mouse key to wake it up and use it again. Another way to turn it off is to remove the receiver from your system and plug it back into the mouse which will turn off the indicator on top of the mouse.
How do I sync my Microsoft wireless keyboard with a different receiver?
If you have a different receiver USB and you want to sync your Microsoft Wireless Keyboard to it, you're going to first have to plug it into the system. Then, press the connect button for five seconds. The Microsoft Connection Wizard will appear. Follow all the instructions on the screen and your connection will be established without any problems.
Conclusion
Is it worth the money? A question that you might be asking yourself right now. Well, I think the Microsoft Wireless Ergonomic Keyboard is worth its price because of the ergonomics of the keyboard.
Sure, there are better-performing keyboards at a similar or lower price but if you're someone who cares less about RGB and the most about comfort while using keyboards, the Microsoft Wireless Ergonomic Keyboard is definitely a great choice for you.
---
Video Review of the Microsoft Wireless Ergonomic Keyboard 5000
---
You may also be interested in: Top 5 Best Membrane Keyboards