If you have a minimalist computer setup and a small budget to get a quality keyboard, you must be on the lookout for a compact yet complete keyboard. The good news is, there are keyboards out there that are actually 20% smaller than a standard-sized keyboard and they are still quite practical and functional. 
Logitech is a renowned company that has claimed to offer many specs and amazing quality in its Logitech K360 Wireless Keyboard, which fits the description of a compact keyboard quite well. Our job is to see how true the claim really is.
You must be wondering, is the Logitech K360 a solid keyboard? Well, if that's the case, then you're in the right place because that's precisely what I'm here to tell you.
We will talk about the keyboard, its design and build quality, value, features, pros, and cons to completely review it. Before you end up getting a cheap keyboard, make sure you give this a read. Without wasting any further time, let's get started.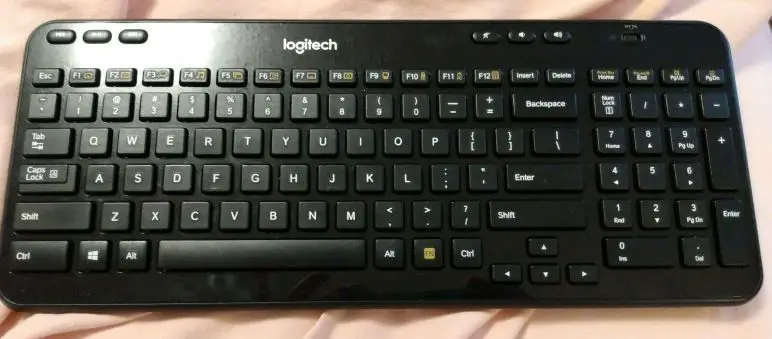 In a hurry? Get the Logitech K360 at amazon.com!
Logitech K360 Wireless Keyboard
Logitech K360 is a wireless full-sized standard keyboard with 104 dedicated keys, multimedia buttons, a stylish design, and a good connectivity range for a minimal and affordable price.
Due to so many epic things and features being a part of its intro, it obviously became trendy among budget gamers and casual computer users. It was only fitting that I would buy and review this keyboard. So, that's exactly what I did.
What's in the Box?
I ordered my Logitech K360 a few days ago and finally received it yesterday. The packaging of the Logitech K360 wireless keyboard was actually pretty amazing. It was nicely designed, durable, and overall gave a premium feel.
I opened the package and there it lay, the keyboard in front of my eyes. Here's what I found in the package of the Logitech K360 Wireless keyboard:
The Logitech K360 itself.
USB Dongle for Wireless Connection.
Instructional Manuals.
I don't say this quite a lot, but I really admire Logitech for launching this keyboard. This is because, unlike other expensive keyboards with no additional elements to offer, this one has two AA batteries included in the package, which were already inside the keyboard.
Decent Design and Good Build Quality
Let's talk about the design first. This keyboard has a skinny body and a compact frame even though it houses all 104 keys. So, that's a great job by Logitech.
I'm not a huge fan of the glossy finish on the top plate of the keyboard. It will be a proper fingerprint magnet once you've used the keyboard for a few weeks.
On the back of the Logitech K360, we've got the battery holder, as well as a few rubber feet. And there are also a couple of kickstands that allow you to change the height of the keyboard for ergonomic purposes.
Build quality-wise; it is better than average. The body is entirely made of plastic, but there is little to no bend in the keyboard despite its size. So, in terms of both design and build quality, the Logitech K360 is a good keyboard.
Durable Keycaps and Visible Legend Imprints
Now it's time to look at the details of the keyboard. First, let's talk about the keycaps. The keycaps themselves seem to be made of standard plastic and don't have a premium feel to them, but at this price, that's understandable.
However, one good thing about them is that Logitech K360's keycaps offer 10 million keystrokes which is quite a lot for a wireless keyboard. So, in that case, the K360 is good.
If we talk about the legend imprints, the printing job is fine. I am not a fan of the color combination of white and yellow accents, but the legends look good enough visually. Overall, in the case of the keycaps and the legend printing, the Logitech K360 is a decent keyboard that doesn't have any apparent flaws other than the glossiness of the top plate, which is a little annoying.
Chiclet-styled Switches
If we talk about the switches in this keyboard, you can expect low-profile ones because of the low-keycap design of the Logitech K360. Well, it actually uses chiclet-style key switches. Chiclet-styled key switches are great in terms of being very low-profile but offering a decent amount of tactile bump. They feel nice, and the keypress is great as well. In comparison to mechanical key switches, they require less force, are lighter, and are smoother.
However, if you're a fan of larger keycaps or mechanical key switches, you're going to be on the fence about them. But at this price, I don't believe we'd be able to see a wireless keyboard that has better switches to offer than the Logitech K360 Wireless Keyboard.
Wireless Connectivity
If you haven't noticed yet, the Logitech K360 Wireless keyboard is, surprise-surprise, wireless by nature. It comes with a USB dongle that allows you to use it from a long distance. The keyboard has an On/Off button on the top right side. The USB dongle with this keyboard offers usability for distances up to 33 feet or 10 meters which is actually quite nice. You can comfortably sit and use this keyboard without having to change your posture or sit close to the screen in a non-ergonomic fashion.
A good thing to note about this keyboard is that there's a dongle holder available in the back of the keyboard next to the battery compartment, making it easier to keep the dongle around when you're not using the keyboard.
Features and Specs of the Logitech K360
Now that we've looked at the Logitech K360 wireless keyboard from all possible angles, it is time that we see what it has in store for us in terms of specs and features. So, let's take a look at the features of this keyboard.
Multimedia Buttons – One of the most surprising and best features of the Logitech K360 keyboard are the multimedia buttons included in it. You can see the pause play forward back and mute buttons on the top of the keyboard, which make life and computer usage much easier, so that's something pretty epic.
Two AA Batteries – As I said before, this isn't something that keyboard manufacturers usually do when we talk about wireless keyboards. But Logitech has included a pair of AA batteries and installed them directly into the K360 wireless keyboard that will last the keyboard for up to 36 months.
Long battery life – Another really great feature that the Logitech K360 has is its extensive battery life. It can work well without any problems with a couple of AA batteries within it for at least 2-3 years, and that is more than enough time for you to swap out the batteries if you want to. This is what adds value to this amazing wireless keyboard.
Hotkeys – Another thing that you might not see prioritized in wireless keyboards but an important part of the Logitech K360 wireless keyboard are hotkeys. This keyboard comes with hotkeys for the internet, email, volume control, etc. So, you don't have to change all the settings manually.
Compatibility – The Logitech K360 wireless keyboard is a simple plug-n-play device that can connect to all kinds of operating systems. It supports Windows as well as Mac. This means that it is compatible and will not cause issues when you connect it to your PC.
Pros and Cons
If you're thinking of buying the Logitech K360 wireless keyboard, before you do so, make sure you read all the pros and cons that come with this keyboard. Then, let's get to them.
| Pros | Cons |
| --- | --- |
| Dongle Holder – A really cool thing about this keyboard is that you're not going to lose the dongle because it comes with a dongle holder at the back of the frame, so you can store the USB there whenever you're not using it. | Glossy Finish – I really didn't like the glossy top plate finish of this keyboard. It is not a great design choice and will attract all kinds of smudges and fingerprints so, that's a bummer. |
| Durability – Although the frame is mostly made of plastic, the keyboard has no flex. Along with that, the keycaps are pretty durable as well for the price of this keyboard, as they offer around 10 million keystrokes. | No Indicator – Another very shocking thing was the lack of any indicators on the keyboard. There are no LEDs for Numlock or Caps Lock or any other command buttons available on the keyboard. |
| Compact design – The Logitech K360 wireless keyboard has all 104 dedicated keys that come in a full-sized standard keyboard, but even despite that, the Logitech K360 has a very compact and thin design which is quite cool. | |
Is the Logitech K360 Worth the Price?
Finally, the million-dollar question that arrives is, is the Logitech K360 worth the price? Since the price of the K360 is so low, I would say, for sure, the Logitech K360 is definitely worth the price and the hype. In addition, it is a decent generic use wireless keyboard, filled with features, and even has multimedia keys. So, getting it would definitely be a good decision for you in the long run.
Interested? Get the Logitech K360 at amazon.com!
Frequently Asked Questions
I read many questions on the internet regarding the Logitech K360 by all you keyboard enthusiasts out there. So, I thought of answering some of the most frequently asked ones. Here you go:
Q. Is the Logitech K360 Bluetooth compatible?
A. No, the Logitech K360 wireless keyboard comes with wireless connectivity, but the connection method is through a USB dongle. There are no Bluetooth options, and that's why you can't connect this keyboard to mobile devices through Bluetooth technology, which is fair for its price.
Q. Can I connect the Logitech K360 to my Mac pc?
A. Yes! You most certainly can. The Logitech K360 keyboard comes with a plug-n-play design compatible with most of the operating systems available right now. Those include Mac, so you'll definitely be able to connect this keyboard to your Mac device.
Q. Can I play games on the Logitech K360?
A. Well, I guess you can play games and type with the Logitech K360 keyboard, but it is meant more for general computer usage. So, it is best if you keep the gaming and typing light with this keyboard.
Conclusion
For its price, the Logitech K360 wireless keyboard is one of the best in the market, without a doubt. If you have a small budget, you should definitely go for it because it's the perfect mix of specs and value. However, if your budget goes over, you can spend the money on a more advanced keyboard if you want.
I hope you learned a lot from this article and that you will use this information to have a great keyboarding experience. May you have a great day ahead!