The GMMK keyboard is the worlds first modular mechanical keyboard. The best part about it is it's super customizable. You can choose thge keycaps, switches, size, and more.
The GMMK is also hotswappable so it's great for a beginner. Just order the parts you want and assemble. It took me about 30 minutes to put mine together.
However, if you're not into building a keyboard, there is a GMMK with Gateron brown switches prebuilt on Amazon. The prebuilt has one major benifit as well, the keycaps have sceond images to show what the keys do when using the FN key. Very handy!
In this article, I'm going to be giving my honest review of the GMMK moduler mechanical keyboard. I unboxed it, and built it myself.
In a hurry? Don't build it yourself, get the GMMK pre-built on Amazon
What's in the Box?
Glorious Gaming Keyboard
Keycap Puller Tool
Switch Puller Tool
Glorious ESC Keycap
Braided USB Cable
Manual Book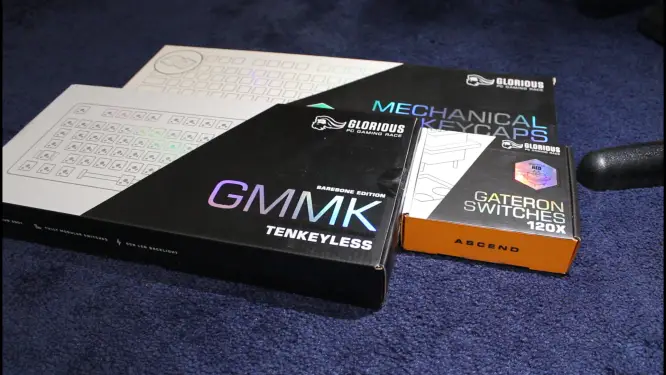 Custom Design – Size, Color, Switches, Keycaps, and layout
One thing I love about the GMMK glorious modular mechanical keyboard is that it's so customizable. I got mine from the official site and I was able to customize the size, color, switches, keycaps, and even the layout.
Pick a Layout
You can choose one of two layouts for the GMMK. Either ANSI or ISO. I chose Ansi as it's what I'm used to and it's the most common layout.
However, if you prefer the ISO layout, which is more popular in Europe, then you'll be happy to know that's an option.
Choose a Size
The GMMK mechanical keyboard comes in three sizes, full size, TKL, and compact. Personally, I think the compact version looks the best. However, I like having the extra keys so I went with the TKL instead which is still very nice looking.
In a recent article, I went over the sizes of mechanical keyboards. But basically, a full size keyboard is just a standard keyboard while the TKL is the same minus the numpad.
The compact keyboard is very similar to the TKL, however, the keys are closer together and there's no dedicated arrow keys.
Decide on a Switch
As stated by the manufacturer, any MX compatible switch should work on the GMMK mechanical keyboard. However, the only options on the official website are the Kailh and Gateron switches.
I chose the Gateron red switches. I've heard they are one of the best linear switches on the market. Obviously, I haven't tested every linear switch, but I can say these switches are very smooth and sound amazing.
Select a Keycap
Your key cap selection is pretty simple, either black or white. Though, you can also get the aura version which have see-through sides for better LED allumination. I don't like to overdo the RGB so I just went with the standard keycaps.
All their key caps seem to be high quality and made from a high quality ABS plastic rather than the standard thin cheap plastic. So it should last longer.
Optional Orings
Finally, you can add optional o-rings to your purchase. Your choices are 40A, thick or thin and 70A thick or thin. It's all personal preference on what you think feels the best. I chose not to get any o-rings this time around.
Are GMMKs Keycaps Any Good?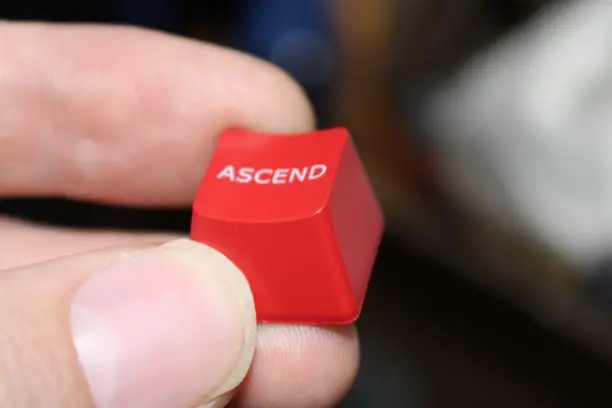 From my experience the GMMK keycaps are excellent. The Keycaps are thick and made with ABS plastic through the double-shot process. I can tell they are made from a high quality material.
All the legends on the key caps are straight and centered. They are also see-through which looks great with the RGB effects on this keyboard.
GMMK uses the cherry profile for their Keycaps which is shorter and thicker then other companies. There's also a slight curve on top of the Keycaps which makes typing and gaming on this keyboard a great experience.
My Thoughts on GMMKs Mechanical Switches
You have a few choices for mechanical switches when purchasing the GMMK. Any MX switch will work on this keyboard. The ones I got are the Gateron red mechanical switches.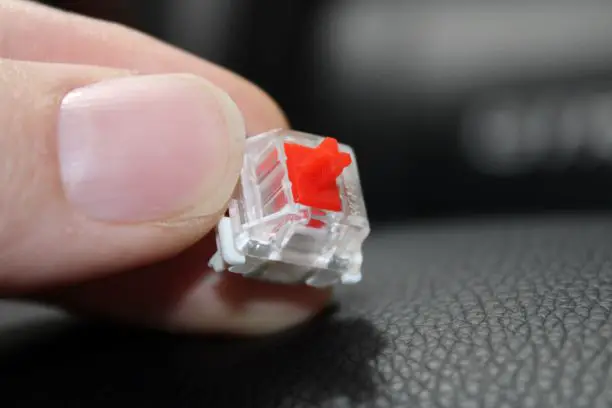 Putting the switches on my GMMK keyboard wasn't too hard since they were hot swappable. Though, after putting it all together I realized a few of my keys didn't work. That's because the metal prongs missed the hole and bent rather than making the connection.
When assembling your keyboard, make sure to have a keyboard tester active so you can test each switch as you put them in.
It's easy to put your switches in but taking them out is pretty hard. GMMK gives you a tool to pull out the switches, which basically just looks like tweezers, but it's still very hard.
Needless to say, try to get it right the first time to avoid the headache of pulling 15 switches, unbending the prongs, and sticking them back in.
GMMK Typing Test
6ft Braided USB-C Power Cable
Not a whole lot to say about GMMKs power cable. It's just a standard cord, but definitely high quality. It's a nice braided USB-C power cable with plenty of length to it, at 6 ft. I was easily able to plug it into my PC and have extra wiggle room to move around as I needed.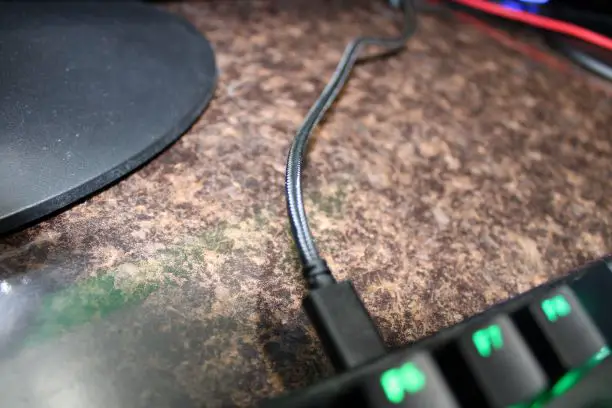 Features
Here's a quick rundown on some of the best features of the GMMK modular mechanical keyboard:
Pre-built keyboards come with secondary icons printed on the keycaps
Using the GMMK software you are able to create macros and assign them to any key you wish
There is a light to indicate nums lock, caps lock, and windows lock.
Compatible with any MX switch you choose, such as Gateron and Cherry.
Collapsible rubber feet and a keycap puller attached to the keyboard.
This keyboard has built-in stabilizers so you don't need to worry about assembling them.
The compact and TKL versions of the GMMK keyboard have a detachable power cord
The GMMK has full NKRO N-key rollover
GMMK Software Review
For a great keyboard you also get a fantastic software to go with it. The amount of things you can do with this software are amazing.
GMMKs software allows you to fully customize the RGB lighting. The way it flashes, which keys are lit up, and also the brightness are just a few of the options.
You can also customize the polling rate for your keyboard. So, if your CPU can handle it, you can increase the polling rate to decrease the input lag. However, if you have a lower end device, you can decrease the pulling rate to better optimize it for your computer.
You can also set up keyboard macros. You can assign these to any key on the keyboard.
Can you Switch Between GMMK Profiles With a Keyboard Shortcut?
Once you've customized the settings to your liking you can save them to one of three profiles.
Unfortunately, at the time of writing, you cannot switch between profiles by pressing any keyboard shortcuts. In order to switch profiles on your GMMK keyboard you will have to log into the software and switch it that way.
How to use GMMKs Software?
It's easy to get started with GMMKs software. Just click the link here to go to the download page. Make sure you download the correct one which will depend on your S/N number found on the back of your keyboard. It will be the first four digits.
If you have any other questions about the software, here is an article looking at it in more detail.
Function and Media Keys on a GMMK Keyboard
For media keys on the GMMK keyboard you have the standard nothing real special, but here's a quick rundown:
FN + F1 – My Computer
FN + F2 – Web Browser
FN + F3 – Calculator
FN + F4 – Media Player
FN + F5 – Previous Track
FN + F6 – Next Track
FN + F7 – Play/Pause
FN + F8 – Stop
FN + F9 – Mute
FN + F10 – Volume Decrease
FN + F11 – Volume Increase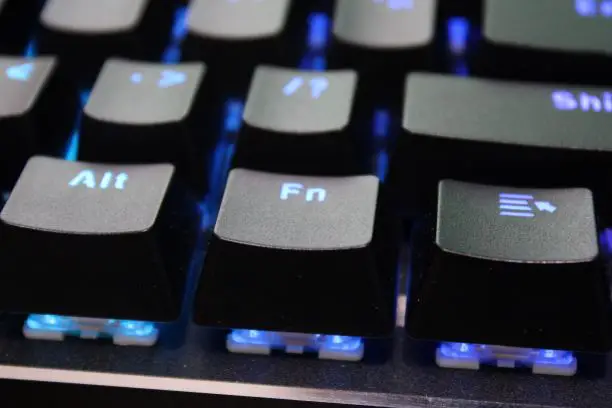 I think the most useful hot key on the GMMK is the volume up and down buttons with FN + F10 and F11. When playing games, the full screen can block the volume control on the screen so it's nice to know the keyboard shortcut to change the volume.
Unfortunely, the hotkeys programmed on GMMKs function keys can NOT be changed with GMMKs software. The question was asked and answered here.
If you have more questions about what keys do what, or need a guide to using the GMMK keyboard, the manual can be found here.
Drawbacks
In my opinion, there are 5 major drawbacks to the GMMK Keyboard. They are as follows:
Have to build it yourself (but it's easy)
Only 2 colors to choose from
Only offers two switch choices on the website
The full-size keyboard doesn't have a removable power cable
Price
Have to build it yourself – The first obvious drawback to the GMMK modular keyboard is you have to build it yourself. You pick the parts you want and then put them together. Though they do have some pre-built options, your choices are limited if you go that route.
Only 2 colors to choose from – Another small complaint is there are really only two color choices for this keyboard. You have either white or black. If you were hoping for a blue, red, or any other color keyboard, you're out of luck.
Only offers two switch choices on the website – Another thing, with the switches, you really only have two choices if you purchase the keyboard on the official website. If there's a specific switch you want you will have to purchase them separately, which could end up costing even more.
The full-size keyboard doesn't have a removable power cable – Another drawback is if you want the full-size keyboard, unfortunately, the power cable is not removable. I personally prefer the detachable keyboard cable as it's easy to replace if the cable breaks. Also, if you wanted a custom keyboard cable it's easy to swap out a detachable cable but not a built-in one.
Price – The final complaint I have is the price. It's not too bad if you get the pre-built keyboard, but if you get the separate parts to build your own keyboard the way you want it it's definitely not a cheap keyboard. Still, for the price, it's definitely a worthwhile purchase.
Interested? Get the pre-built version on Amazon here, or customize your own here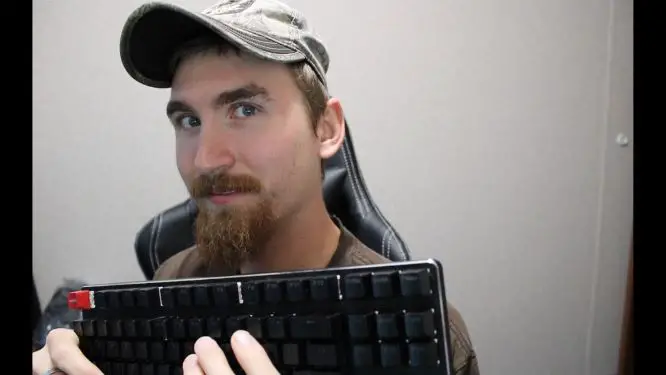 Conclusions
The GMMK modular mechanical keyboard was definitely money well spent. I loved being able to choose which parts I wanted and building the keyboard was actually kind of fun.
The price really isn't that much when you think about what you're getting. A high-quality keyboard, with amazing switches, Keycaps, and excellent programmability to go with it.
For the price, it's really hard to beat this keyboard. And if you've never built your own keyboard before it's super easy because the GMMK is hot-swappable. It's all just plug and play which is excellent for a beginner.