Finding an LED-backlit gaming keyboard that comes with a bunch of gaming-forward features and specs can be difficult especially if you have a small budget. We decided to do some research in this regard and have found Eastern Times Cooling LED Keyboard to meet our specs accurately. 
How good is the Eastern Times Cooling LED Keyboard, and is it really worth the price? If that's what you are wondering right now, that's what we are here to discuss today.
In this article, I'm going to talk about this keyboard, the design and build quality it offers, what kind of features it comes with, the pros and cons of the keyboard, and everything in between so that we can thoroughly review it. So, without wasting any further time, before you end up buying your next keyboard, let's get started with this review.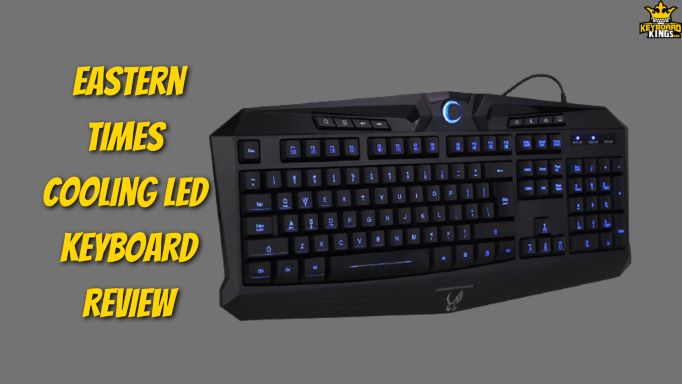 In a hurry? Get the Eastern Times Cooling LED Keyboard at amazon.com!
Eastern Times Cooling LED Keyboard
The Eastern Times Cooling LED Keyboard is a full-sized keyboard that comes with 104 dedicated keys, multiple media keys, a brightness scroll wheel, and many other features and capabilities at quite an affordable price.
Since its release, it has become a trendy choice among budget gamers who like LED backlighting and gaming-forward keyboard designs. Well, I wanted to check this keyboard out for myself as well. So, I ended up ordering it to give you all a proper review.
What's In the Box?
A couple of days ago, I received this keyboard. Surprisingly enough, the packaging was quite decent, and even the keyboard box is designed very lovelily, which is excellent.
Upon opening the top of the box, I saw a decent layer of protective material and wrapping, which was impressive. Here's what I was able to find inside the box:
Eastern Times Cooling LED Keyboard
Instructional Manuals
There were no additional components or anything, but a full-sized keyboard is enough at this price range, and there's not much to complain about. So, let's just move on.
Gaming Design and Build Quality
First off, I held the keyboard in my hand and observed it to get an idea of the design approach, and I have to say, it was a hefty boy. However, the look is perfectly gaming-forward. The curves and edges, all the accents, and the overall shape are also very modern and techy, which some like and others don't. In addition, the keyboard has a kind of an ergonomic feel to it.
On the back of the keyboard, there are a bunch of spill holes so that your keyboard doesn't get damaged if you end up spilling your beverage or even water on it by accident. In addition, there are two rubber feet at the bottom and two adjustable kick feet on the top with rubber heads which is great for a solid grip while using the keyboard.
The Eastern Times Cooling LED Keyboard seems to be entirely built of plastic, but it is high-quality nonetheless. This is especially great, seeing that this keyboard comes for an average price. So, in terms of design and build quality, this keyboard is pretty good.
Keycaps and High-quality Legends
Now it's time we talk about the keycaps and the legends on the Eastern Times Cooling LED keyboard. The keycaps seem to be smooth and high-quality; however, they are made of ABS plastic. It isn't the best material for keycaps, but their surface isn't as rough as you'd expect it to be, even though these keycaps are not made of PBT material.
On the other hand, if we talk about the legend imprinting, the look and feel of the legends and the print are of excellent quality. The keycaps are shine-through, and the type-face is impressive as well.
Overall, we can say that Eastern Times has done quite a decent job in terms of using keycaps and placing high-quality legends on them in their Cooling LED Keyboard.
Rubber Dome Keyboard Switches
The tricky bit comes in this part of the review. This keyboard uses rubber dome switches isn't the norm for these keyboards, which are mechanical switches. But that really isn't a bad thing. Also, the controls used in this keyboard are actually not inadequate. I used this keyboard to get an idea of the clicks for a while, and I ended up liking the little tactile feedback that these switches provided.
They're not very heavy either so that you can use them for typing and gaming without hesitation. One thing that you're going to want to know is that the actuation occurs at a lower point.
If we talk about the noise, these switches are relatively quiet and will not be so noisy that you can't use the keyboard in an office environment if you want to. So, we can say that the switches are above par as well. If you're a fan of mechanical controls, you should probably steer clear of this keyboard, though.
Blue LED Backlighting
Now, let's talk about the central gaming-forward design aspect of the Eastern Times Cooling LED Keyboard, the LED backlighting. You're going to see it shining through the keycaps as well as the brightness wheel.
The color of the LED lighting is a tasteful blue. Unfortunately, there isn't any RGB involved in this keyboard. However, it does look pretty great with the single blue lighting as it complements the black quite nicely. Additionally, on the top-right above the Numpad, you have multiple indicator lights, which are also blue in color. So, the inclusion of the Blue LED backlighting definitely helps your case if you're decking out your gaming rig.
5.5 Feet USB Power Cable
The cable that the Eastern Times Cooling LED-backlit keyboard uses is a USB. Unfortunately, this cable is the generic kind; it doesn't look expensive, isn't braided, or anything, so that's a bummer.
However, in terms of length, it is pretty nice. The power cable is around 5.5 feet in size which means you can use it comfortably from a reasonable distance.
Included Features with the Eastern Times Cooling LED Keyboard
Now that we've looked at the design-build quality and keycaps of the Eastern Times Cooling LED keyboard, it is time that we take a look at some of the significant features and specs it comes with. Here they are:
Brightness Scroll Wheel – Right in the top-center of the keyboard, you have a nice-looking scroll wheel with the sides of the wheel being lit by the Blue LED backlighting of the keyboard. This wheel can be used to increase or decrease the brightness of the LED backlight on this keyboard.
Numpad – Another great feature in this keyboard is that there's a fully decked out numpad as well as all the numpad and function button indicators that you're going to need if you're working on a project or programming with your keyboard.
Media Control Buttons – On the left and right side of the brightness wheel, you have an array of different media control buttons that you can press and effectively communicate with the computer.
LED Backlight – We've got a very tasteful and decent-looking Blue LED backlight in the Eastern Times Cooling LED Keyboard which looks pretty nice when turned on. But, of course, you can also switch it off if you want to use the keyboard without any backlighting.
Secondary Functions – On the media control buttons and the function keys, there are secondary functions and hotkeys that you can use along with the Fn key to perform different tasks, which is excellent.
Pros and Cons
Are you thinking of getting the Eastern Times Cooling LED Keyboard for yourself? Well, before you make that decision, make sure you read the pros and cons list of this keyboard. Then, let's take a look at it.
| Pros | Cons |
| --- | --- |
| Affordable – One of the best things about this particular keyboard is the fact that it comes for such a great price. You can't expect many full-sized keyboards to be this affordable with such specs and features in them. | Very large – The Eastern Times Cooling LED Keyboard is a full-sized keyboard which means it would already be big. Still, the problem is that the bezels on this keyboard are even more significant than you'd expect, which makes it quite challenging to place on a smaller desk. |
| Ergonomic – Although the ergonomic design isn't a focal point in this keyboard, the user experience has shown me that it is actually naturally very ergonomic. | Generic USB Cable – The USB power cable that comes with the Eastern Times Cooling LED is actually a generic plastic cable that doesn't look very appealing and isn't easy to route either. |
| Durable – If we talk about the material of this keyboard, it is pretty durable. There's no flex whatsoever to the keyboard, and it is going to last you a pretty long time to come. | |
Is the Eastern Times Cooling LED Keyboard Worth the Price?
So, finally, the main question we're gathered here for; is the Eastern Times Cooling LED Keyboard worth the price? Well, I'd say it actually is. It is a full-sized keyboard with solid features and a few flaws, but for the price it comes for, we can say that it is a good keyboard for all purposes. So, you should get it if you've got a small budget.
Interested? Get the Eastern Times Cooling LED Keyboard at amazon.com!
Frequently Asked Questions
Since I was researching people's concerns about this keyboard, I found a bunch of questions posted by you keyboard enthusiasts about the Eastern Times Cooling LED Keyboard that needed to be answered. So, I'm doing my best by trying to answer some of the most frequently asked questions here.
Q. How compatible is the Eastern Times Cooling LED Keyboard?
A. Well, the Eastern Times Cooling LED Keyboard is fully compatible with the Windows Operating System and the many versions of it. However, if you're a Mac OS or Linux user, you might face connectivity problems with it.
Q. Is the Eastern Times Cooling LED keyboard durable?
A. The Eastern Times Cooling LED Keyboard is made entirely out of plastic, but the quality of the plastic is quite lovely, which makes this keyboard solid and durable enough to last for a few years until you decide to change the keyboard yourself.
Q. Can I exclusively play games on the Eastern Times Cooling LED Keyboard?
A. The Eastern Times Cooling LED Keyboard is more of a general-purpose keyboard, I believe. This is because of the rubber dome switches this keyboard uses. So, I wouldn't suggest using it for competitive gaming, but if it is casual gaming you want to do on this keyboard, you can definitely do that without a doubt.
Conclusion
The Eastern Times Cooling LED Keyboard is a very decent choice if you're on a minor budget. But if you have more money to spend, I'd suggest going for a mechanical keyboard. They're not very expensive nowadays and many come with similar features as well. I hope you learned a lot from this article and that you're going to have an epic keyboarding experience with this keyboard!